Ford welcomed an extensively facelifted version of its iconic Mustang sports car to South Africa earlier this year and we were eager to find out if the sum of these changes had strengthened the muscle car's purchasing proposition…
We Like: Engine sound, performance, styling, generous spec
We Don't Like: 10-speed auto detracts from driving experience, ongoing interior build quality issues
Fast Facts
Price: R915 800 (as of September 2019)
Engine: 5.0-litre V8
Power/Torque: 331 kW/529 Nm
Transmission: 10-speed automatic
Fuel Consumption (claimed): 12.1 L/100 km
What is it?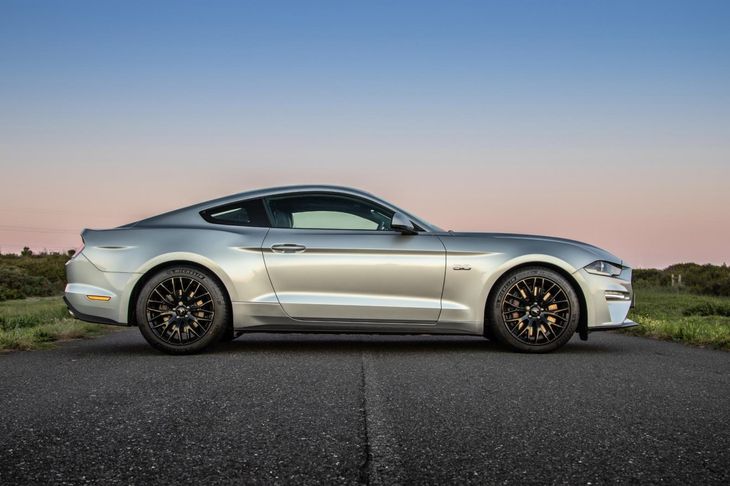 The 5.0 GT Fastback has head-turning appeal, with large 19-inch wheels and flared rear wheel arches that add to its powerful stance.
The Mustang needs little introduction – it's the world's most popular sportscar, with a storied heritage that captures the imaginations of even those who've never driven (let alone travelled in) a '60s version. Since its local introduction in 2016, the Mustang has become a common sight on South African roads. To keep the model fresh and exciting, Ford has dispatched updated versions to showroom floors, replete with enhanced styling, uprated engines, Ford's 10-speed automatic transmission, as well as a host of new and attractive interior- and driver assistance features.
The Mustang still turns heads everywhere and it's still achingly pretty in the metal (if American muscle is your thing). We sampled the latest 5.0 GT Fastback in Ingot Silver metallic to find out just how significant the changes are. Is the Mustang is still a worthwhile offering? Let's go for a gallop...
How it fares in terms of…
Performance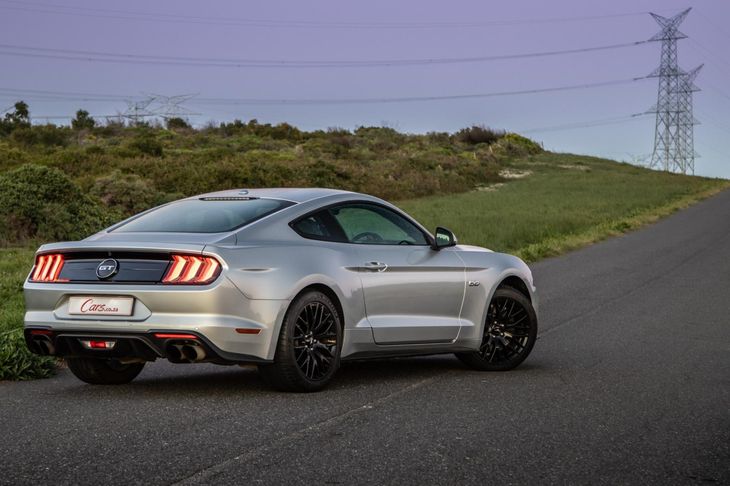 The quad exhaust system makes a delectable sound at full throttle...
The characteristic we love most about this Mustang is undoubtedly the sonorous soundtrack of its uprated 5.0-litre V8 engine. It's just marvellous to listen to that V8 rumble and roar – it's an utterly addictive experience! The Mustang's quad exhaust system now features active-valve technology that allows the driver to manage the extent to which they can "disrupt the peace and calm" around them. We definitely like it loud!
Power output of the naturally-aspirated 5.0-litre V8 engine has also been bumped up substantially to 331 kW (previously 306 kW) with torque now at 529 Nm, a mere 1 Nm less than before.
Sadly, Ford no longer offers a manual transmission (this is reserved for the limited-edition Mustang Bullitt). It has also replaced the previous 6-speed automatic 'box with the 10-speed automatic transmission that also does duty in the Ranger/Raptor bakkie and Everest SUV, but with different ratios.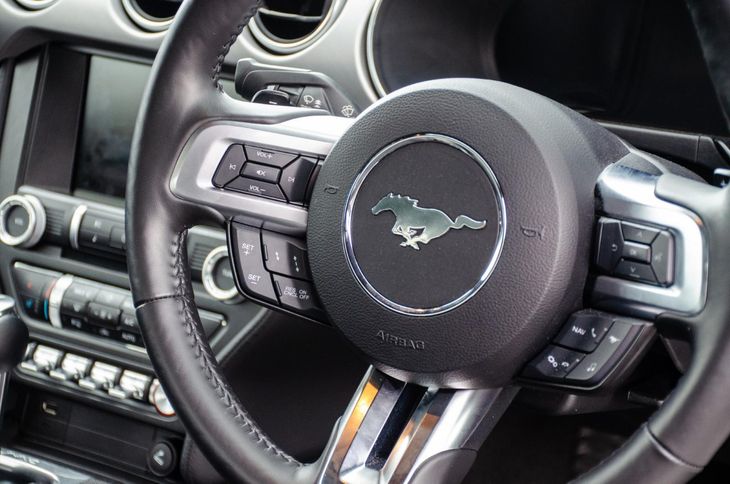 Paddle shifters behind the steering wheel enhance driver engagement with quick snappy shifts.
Some of our test team members weren't impressed with the performance of the transmission, at least in its application in the Mustang, anyway. On spirited runs and when left to its own devices, the transmission copes well, but it has moments where it fumbles over gears and sometimes fails to catch the right gear for the driving situation. Under hard acceleration, you don't get to enjoy the sensation of thrusting acceleration because the 'box rushes through its ratios so quickly that the satisfaction of the naturally-aspirated V8's high-rpm limit is reduced by the thuds of multiple gear shifts.
Some buyers will, of course, prefer the long-legged nature of the Mustang's motor – it's tailor-made for leisurely cruises and the occasional spirited gallop (from a canter, as opposed to straight out of the blocks). Should you wish to spur the 5.0 GT Fastback into action a bit quicker, you can make the use of the steering-mounted paddle shifters to effect manually-actuated shifts. That does improve matters somewhat, but because there are so many gears, gearing down, or up, requires a few quick flicks, which inadvertently also turns into a bit of pot-luck in selecting the right gear...
Nonetheless, the Mustang still kicks up dust and in Sport mode, it hauls off-the-line with a claimed 0-to-100 kph sprint time of 4.3 seconds, which compares favourably with the previous 4.8 seconds of the pre-facelift version.
In terms of fuel consumption, Ford claims 12.1 L/100 km, which is achievable if you adopt a conservative driving approach (the 10-speed auto certainly helps), but given that aural satisfaction is always just a prod of the accelerator away, you can expect to see figures higher than that...
Ride and handling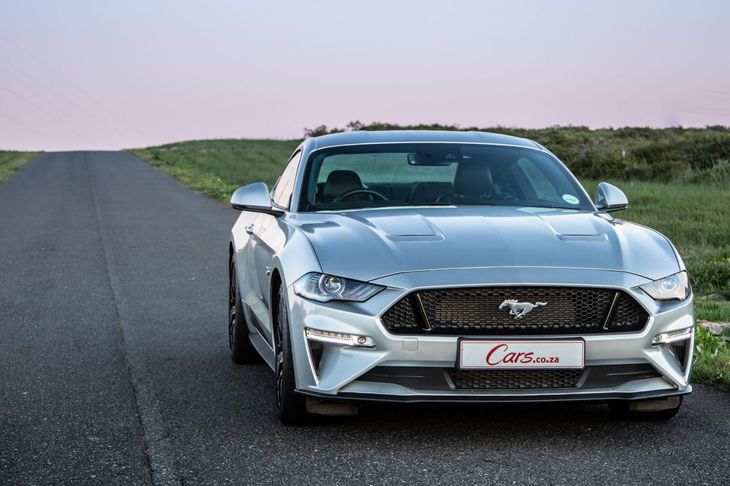 The Mustang delivers admirable cruising ability over long distances but it's not a sharp-handling sports car.
Seeing that it is marketed as a grand tourer, as opposed to a dyed-in-the-wool sportscar, the Mustang prioritises ultimate ride comfort over sporty damping and, as a consequence, the 5.0 GT Fastback is an absolute pleasure to drive over long distances – it munches kilometres with palpable ease. Whereas its German rivals ride stiffly, the Mustang is more forgiving and softly-sprung. As a result, it rides better over harsher surfaces.
The Mustang, however, is less than gifted when it comes to tackling corners. Compared with similarly-priced continental machinery, it's not nimble or wieldy. While the steering wheel is light in feel and relatively responsive to inputs, the heft of the vehicle is ever-noticeable and, given the softer suspension, turn-in is not that sharp. To put it another way, it's not a coupe that inspires enthusiastic cornering. There's lots of grip – but little verve.
Nonetheless, for this facelift, Ford has revised the calibration of the shock absorbers in an effort to improve cornering stability, while the rear suspension has been stiffened with a cross-axis joint to reduce flex and improve handling. Moreover, thicker anti-roll bars are fitted to reduce body roll. Let's just say the updates will make the Mustang more forgiving/controllable in the event that you breach the limits of its handling abilities...
Standard features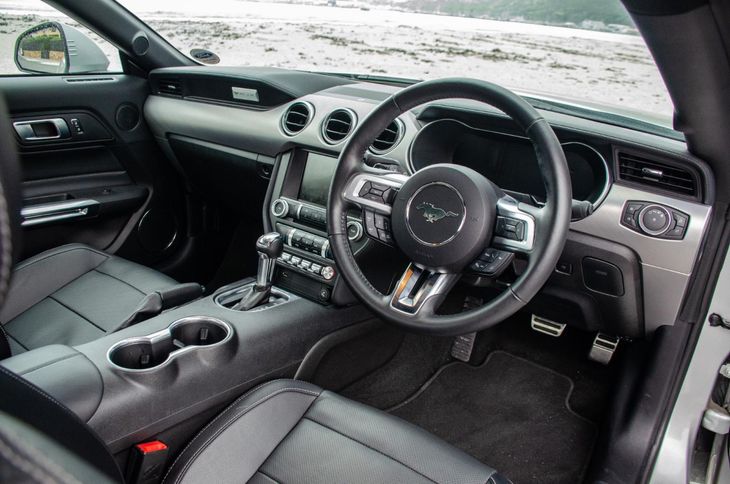 The Mustang is packed with nice-to-have standard features. A new instrument cluster is a nice addition to this latest model...
Ford didn't skimp on the Mustang's standard features list – in fact, the 5.0 GT Fastback comes very well-equipped. The most noticeable change inside the cabin is the fitment of a new 12-inch LCD instrument cluster, which looks far more attractive (and contemporary) than the previous cylindrical analogue dials. The display changes according to the drive mode and it can be further customised using the steering wheel controls.
In-car entertainment comes in the form of Ford's 8-inch SYNC3 infotainment system, which is excellent with an easy-to-use, legible layout. The system is Apple CarPaly and Android Auto compatible and integrated navigation is standard as is Bluetooth, voice activation and USB support.
Ford has also fitted additional safety features, such as Pre-Collision Assist with Pedestrian Detection, as well as driver assistance features such as adaptive cruise control, lane-keeping aid and lane departure warning, to the 5.0 GT Fastback. A total of 7 airbags are standard issue and the Mustang is further equipped with ABS with EBD, brake assist and electronic stability control with traction control.
Other notable standard features include leather trim, rain-sensing wipers, climate control, rear park distance control (in conjunction with a reverse-view camera), as well as electrically-adjustable (and heated) front seats.
Practicality and interior execution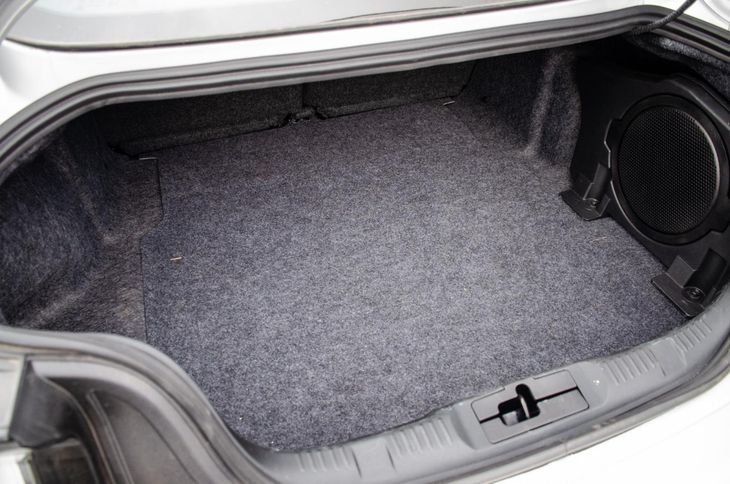 For those that care, the load bay is sizable and puts most compact hatchbacks/crossovers to shame.
The Mustang is a 2+2 sports car and the rear seats are therefore not entirely suitable for adult occupation (unless you really have to and don't mind being uncomfortable); they're best utilised for additional storage space. Space for the driver and front passenger, however, is very generous. The boot area is surprisingly spacious with 382 litres of luggage space on offer, which is bigger than most compact hatchbacks and small crossovers.
An ongoing gripe with the Mustang is the quality of some of the cabin materials. The plastic trim on the dashboard, around the centre console and on the door finishes are of marginal quality for a car in the near R1-million price range. Also, the buttons and switchgear could feel more substantial.
Price and after-sales support
The Ford Mustang 5.0 GT Fastback is priced from R915 800 and is sold with a 4-year/120 000km warranty and a 6-year/90 000 km service plan.
Verdict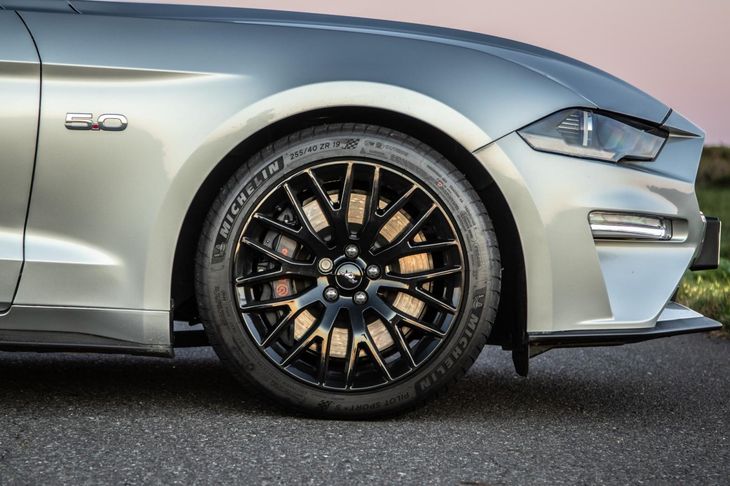 The latest Mustang is better in many ways; its nostalgia value overrides its most obvious flaws. It's not perfect, but it's very likeable...
The Mustang, even in its latest guise, is far from perfect... if we judge it purely against the potent sportscars that are priced around it. The fussy transmission detracts from the overall driving experience and we would much prefer to wield a manual transmission in this particular application. Buyers will also have to accept that the Mustang is not an agile handler and some of the interior finishes could be more befitting of its price tag.
However, and despite its shortcomings, there is still so much to like about the Mustang, which is why it has been selected as a semi-finalist in the Performance Car category of the 2019/20 Cars.co.za Consumer Awards – powered by WesBank. The nostalgia surrounding the name and the badge counts for a lot and to a large extent makes its flaws easier to accept and possibly even easier to forgive. It has loads of kerb appeal and the sound that bellows from the exhaust tips is music to any petrolhead's ears. It's fast and hugely enjoyable to drive on straight roads. As a GT, the Mustang is great, but not so much as a sportscar. Even so, there's simply nothing quite like the Mustang and that, in itself, makes it a special car.
Looking to buy a new/used Ford Mustang?