The Volkswagen Golf – one of the world's most popular vehicles – has just been facelifted. Whereas the focus of the local media launch was the GTI flagship, we felt that further investigation of the range was necessary. Among the armada of Golf GTIs on the launch was the humble 1.0 Trendline – a vehicle that was almost overshadowed by its performance brothers, but delivered one of the most satisfying drives of 2017 instead.
We all expected that the Volkswagen Golf GTI (version 7.5) would be good, but this good? Well, based on its manufacturer's fanatical attention to detail and build quality, we'd be surprised if the 2017 Golf GTI derivative didn't remain the segment leader in terms of sales. If you'd like to read our First Drive of the GTI and its GTD (turbodiesel) sibling, or peruse an overview of the new range and its pricing detail, click below:
Volkswagen Golf 7 GTI & GTD (2017) First Drive
Update: VW Golf Facelift (2017) Specs & Pricing
For more detail on the 1.0 Trendline derivative, which retains for R289 900 (May 2017) read on...
What's new?
The entire line-up has been rejigged and offers a broader appeal. The range begins with a derivative powered by the new 1.0-litre engine, a powerplant we recently sampled in the Polo 1.0 R-Line. Meanwhile, the 1.4-litre petrol motor has been carried over and the GTI's 2.0-litre now features a tad more power. Turbodiesel derivatives, including the GTD, and the Golf R flagship model, are scheduled to arrive in July.
There are some mild changes to the exterior of the vehicle, most noticeably at the front: daytime running lights are all standard, with the (DSG-only) GTI now featuring LED headlights. The latter also sports Audi-style directional pulsing indicators.
The infotainment units have been replaced with a new series of systems. Composition Media features an 8.0-inch screen, while Composition Colour has increased from 5-inches to 6.5-inches. What you really want is the Discover Navigation Pro with its high-definition 9.2-inch screen, which is beautifully integrated into the dashboard. Discover Navigation Pro also features gesture control.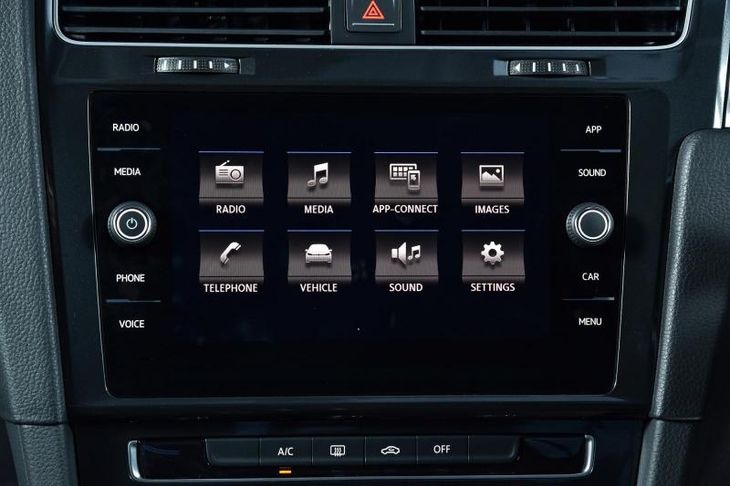 New infotainment screens are just some of the changes in the Volkswagen Golf 7.5
Standard Features
Trendline
Start/Stop Technology
ESP with Hill-hold assist
Electronic parking brake
Electronic adjustable heated side mirrors
Electronic windows (front & rear)
Manual air conditioner
Cloth seat covers "Basket" design
Fatigue detection
LED taillights
6.5-inch Composition Colour Radio System with Touchscreen, USB, Bluetooth Connectivity and 8-speakers
15-inch Lyon alloy wheels
Leather multi-function steering
LED daytime running lights
Comfortline
In addition to the Trendline standard features, Comfortline includes:
Drawer under front passenger seat
Front central armrest
Lumbar support for front seats
Cloth seats cover in "Zoom" design
Front foglights
16-inch "Hita" alloy wheels
Cruise control
Rain sensors
Auto-dimming rear view mirror
Auto headlights with leaving/coming home function
GTI
Sport suspension
Exhaust chrome twin tailpipes (right and left)
Ambient lighting (light strips in red)
Progressive steering
18-inch "Milton Keynes" alloy wheels
Automatic air-conditioner "Climatronic"
Heated front seats
Auto high-beam
LED headlights
Dynamic cornering lights
8-inch Composition Media Radio System with Touchscreen, USB, Bluetooth Connectivity and 8 speakers
App Connect
Voice Control
The driving experience
The launch gave us the opportunity to sample the bottom of the range model, the 1.0 Trendline manual as well as the flagship GTI. While we'd all love to own a Golf GTI, this vehicle now retails for over R500 000, which is well out of reach for some customers. However, the 1.0 Trendline, which we drove for 250 km from the Karoo to Port Elizabeth on a variety of road surfaces, is priced at just under R300 000; we think it offers a lot of value.
With 81 kW and 200 Nm on tap from its 1.0-litre turbocharged petrol engine, the 1.0 feels anything but lethargic (did you know the first Volkswagen Golf GTI produced the same peak power output when it was launched back in 1976?). Mated with the 3-cylinder motor is a 6-speed manual gearbox with a light but positive shift action and uncomplicated clutch movement. Out on the open road, there's a reassuring positivity with each gear change and the car doesn't mind building up speed quickly when you're pressing on: with 200 Nm on tap from the small-capacity motor, there's no shortage of overtaking ability and you're able to power past slower traffic with ease... once you've dropped down a gear.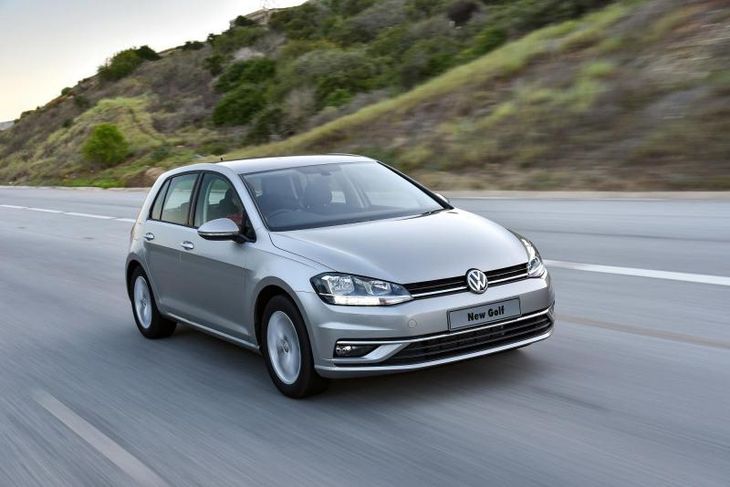 Although a 1.0-litre 3-cylinder motor may seem a trifle small for a car of the Golf's size, the powerplant performs dutifully.
Sections of the R75 before Uitenhage are wonderfully curvy and we had the chance to exploit the excellent balance of the MQB-based Golf chassis. Its handling is calmingly neutral and the steering offers feedback that could almost qualify as "mildly enthusiastic". Look, the Golf's overall demeanour is composed and pliant, arguably at the cost of outright dynamism, which is the case even with the GTI, but its a worthy tradeoff in this application. Ride refinement is class-leading and we appreciate the lengths that Volkswagen has gone to focus on cabin quality and spaciousness. Wind noise at national highway speeds is negligible and engine noise is only apparent when the motor ventures into the upper end of its rev range.
Our long journey was unaccompanied as our peers opted to sample the GTI units. The solo drive was a great chance to sample the in-car entertainment and despite the lack of a South African version of Android Auto (blame Google, not Volkswagen), the system integrates into and charges your smartphone. The standard 8 speakers offer good-quality audio output.
Summary

Full LED taillights and redesigned bumpers round off the exterior package. You can also spec an R-Line body kit.
Given how popular the Volkswagen brand is in South Africa, the news of a new Golf range elicited a fair number of comments on via social media. Most commentators weren't impressed by the GTI's price tag and some asked us to highlight "what's new" about the new car. Yes, the exterior changes are minimal, but the key changes are under the skin and the addition of technology such as the all-digital Active Info Display dashboard and new high-quality infotainment screens elevate the vehicle well into the digital era. The car is currently rated at Autonomous Level 1, which can be defined as "most functions are still controlled by the driver, but a specific function (like steering or accelerating) can be done automatically by the car."
While most public attention will be focused on the utterly desirable and class-winning GTI performance model, the rest of the Golf range also deserves recognition. While it has half the engine capacity and offers half the performance (of the GTI), the 1.0 Trendline's cabin space, levels of comfort, build quality and refinement are as excellent as that of its flagship sibling.
The Golf's rivals from Ford and Opel both offer 1.0-litre engines (in the Focus and Astra) and they're significantly more affordable than the Wolfsburg offering, but you can feel the difference in terms of the former's superior build quality and premium feel. Sure, the Focus feels more agile when you're driving enthusiastically and the value-packed Astra represents a massive leap forward for Opel, but both will feel the brunt of what Volkswagen has achieved with Golf 7.5. You pay for what you get with the 2017 Golf facelift – and it's worth every cent.
Facelifted Volkswagen Golf – prices in SA
81 kW 1.0 TSI Trendline R289 900
81 kW 1.0 TSI Comfortline R304 200
92 kW 1.4 TSI Comfortline DSG R356 400
81 kW 2.0 TDI Comfortline Price to be confirmed at a later stage
130 kW 2.0 TDI GTD DSG Price to be confirmed at a later stage
169 kW 2.0 TSI GTI DSG R545 800
213 kW 2.0 TSI R DSG Price to be confirmed at a later stage
Further reading
Volkswagen Golf 7 GTI & GTD (2017) First Drive
Update: VW Golf Facelift (2017) Specs & Pricing
Volkswagen Golf Facelift Revealed [with Video]
Volkswagen Golf GTI Clubsport S (2016) First Drive
Volkswagen Golf GTI Clubsport (2016) Video Review
Volkswagen Golf GTI Clubsport (2016) Review
Is The Golf Segment Dying?
Comparative Review: Opel Astra vs Volkswagen Golf 7
Would you like to buy a Volkswagen Golf?