The Ford Figo has been a popular budget car for the Blue Oval, but the segment has moved along significantly. Can the updated version continue to offer value-for-money motoring, or should you look elsewhere? We test the 1.5-litre Trend automatic derivative.
We Like: New punchy engine, smooth auto' transmission, comfortable and quiet ride, spacious cabin
We Don't Like: Some poor interior finishes, steering-wheel controls would be nice, small luggage bay
Alternatives
The popular choice: The Volkswagen Polo Vivo is the perennial favourite, but if you have to compare like for like, the equivalent automatic 1.6 Comfortline auto retails for R222 900 and doesn't have a service plan as standard.
The newcomer: There's an all-new Suzuki Swift in town and we're quite impressed with what it has to offer. However, we haven't tested the automatic version yet, but it is significantly cheaper than the Figo at R189 900.
If you want a manual: Also playing in this space is the venerable Toyota Etios, which offers that peace of mind associated with Toyota ownership, a respectable 1.5-litre engine and decent space. However, there's no automatic option and for a spec-for-spec match, you're looking at R178 800.
Compare the Ford Figo to its rivals here
Facts & Figures
Price: R205 700
Engine: 1.5-litre naturally-aspirated 3-cylinder petrol
Transmission: 6-speed automatic
Power: 88 kW
Torque: 150 Nm
Fuel Consumption: 6.5 L/100 km
0 -100 kph: 11 sec (estimated)
Top speed: 175 kph
SERIOUS ABOUT BUYING?
What is it?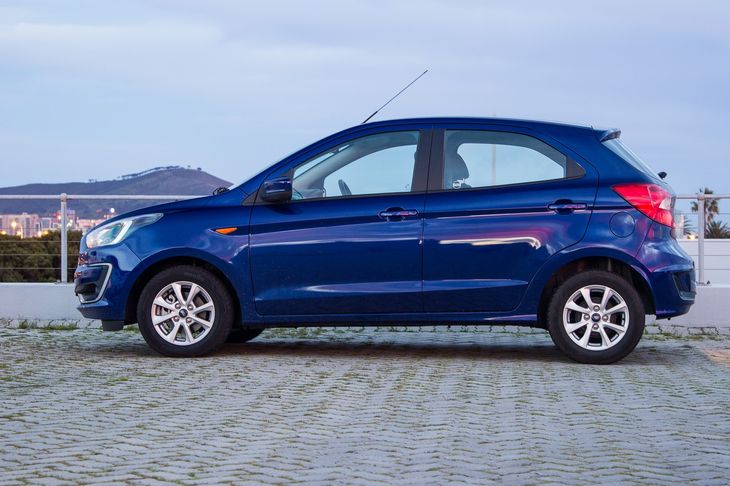 Tested here in 1.5-litre Trend automatic spec, the Ford Figo is lined up to combat the Volkswagen Polo Vivo.
Ford has refreshed its budget-oriented Figo for 2018. The pre-facelift version of this iteration of the (Indian-built) Figo was not a bad car, but because newer competitors have moved the goalposts since the hatchback/sedan range's introduction, an update was in order. The changes are comprehensive: a new engine and gearbox, some new-look exterior addenda, plus the cabin's received a bit of a makeover. At first glance, it's a good upgrade and the 2018 model looks fresher and sharper than ever before. However, visual appeal can only carry a product so far, so we spent some quality time with the newcomer to see if it's worth its R200 000-plus price tag.
The Good
Engine/transmission combo
The Figo is powered by a new 1.5-litre naturally-aspirated 3-cylinder petrol engine – and it's a peach. Sure, its outputs of 88 kW and 150 Nm may not be awe-inspiring, but in terms of its ability to hustle the 1 047 kg Figo around, the motor provides more than adequate performance. There's a new 6-speed automatic transmission too and it's refreshingly smooth-shifting, both under hard acceleration and when driven at a leisurely pace (in daily traffic, for example). We suspect the software mapping of this traditional torque-converter unit has been tuned to imitate the crisp gear changes of a dual-clutch gearbox... It really seems well-calibrated and unflappable.
What's impressive is that the Ford proved particularly frugal even though it was driven quite enthusiastically (in bursts). Ford claims an average fuel consumption of 6.5 L/100 km and during our evaluation, we saw figures in the low-7s on the trip computer, which are acceptable. The Figo has a 42-litre petrol tank, which is a fair size.
Pleasant 'ride and drive'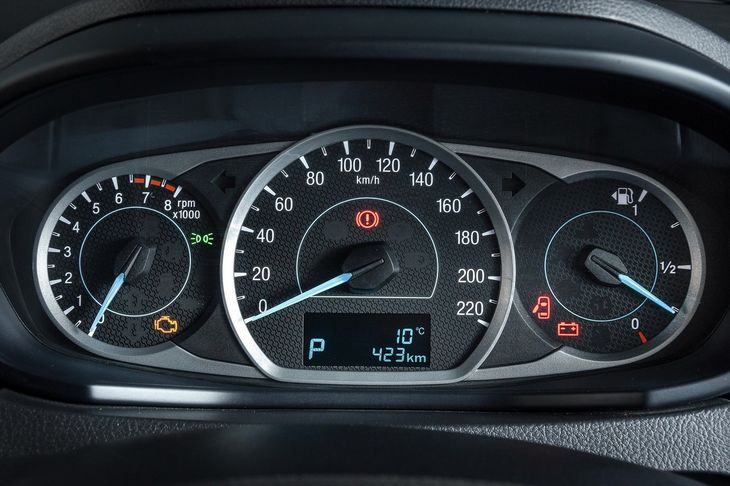 We like the simplicity of the instrument cluster; it demonstrates that you only need to see information that is pertinent to driving.
As a vehicle for the daily commute, the Figo has a fuss-free nature. The driving position is comfortable, although the steering column lacks reach adjustment, and convenient satellite radio controls are noticeably absent. In terms of steering, the feel is acceptable, but it's light enough to make tight parking maneuvres simple. The ride quality is fair (for a vehicle in this segment) and the Figo rides on 14-inch alloys wrapped in reasonably thick 175/65 tyres, which soak up most of the road bumps.
The gearbox/engine combo works a treat and there's sufficient in-gear shove for highway overtaking. The engine is particularly smooth for a 3-cylinder mill (they typically sound quite rough) and emits a pleasant thrum when you press on. During the Figo's media launch in Johannesburg, the engine felt adequately eager at altitude, despite suffering from a 17% power deficit due to the thinner air. At sea level, the 1.5-litre mill punches well above its weight; we rank it among the best engines in its class.
The after-sales plan
Ford has introduced a beefed-up service plan, which it claims will "create a stir in the local market", for the updated Figo. It extends the 2-year/40 000 km plan of the outgoing model to a comprehensive 4-year/60 000 km plan, which covers the vehicle for up to 4 services, which is highly competitive in the budget car segment.
The Not-so-good
No steering wheel controls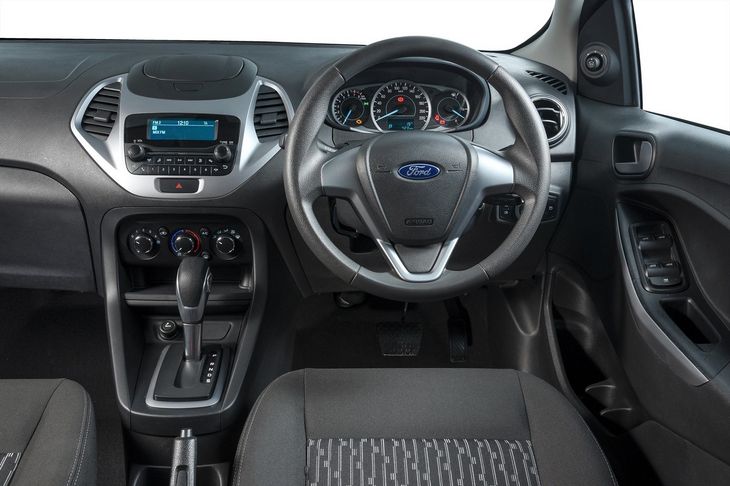 The cabin is simple and uncluttered. We wish the steering wheel featured mounted audio controls at this price point.
A multifunction steering wheel (as in equipped with remote audio controls) can be regarded as a safety feature because it allows you to operate the audio system (such as adjusting the playback volume) without the need to take your hands off the steering wheel. Although the fascia-mounted volume control knob is big and easy to use, the Figo's steering wheel feels a bit bare... We also found that the cellphone dock (situated at the top of the dashboard) was only suitable for smaller devices.
Some questionable quality materials
In budget cars, we don't judge the quality of cabin materials harshly; they're meant to keep production costs low. However, we found some of the Figo's cabin plastics very flimsy. We're worried that, over time, these pieces might warp, especially if they're likely to be disturbed by movement, such as around the transmission tunnel.
Pricing and warranty (as of August 2018)
This particular Ford Figo is the flagship derivative in the range and it retails for R205 700. The range kicks off from R181 300, and the Figo is available in both a sedan and hatchback guises. All derivatives come standard with Ford Protect, comprising a 4-year/120 000 km comprehensive warranty, 3-year/unlimited distance roadside assistance and 5-year/unlimited km corrosion warranty. The service interval is 15 000 km.
Ford Figo 1.5 Trend auto R205 700
Verdict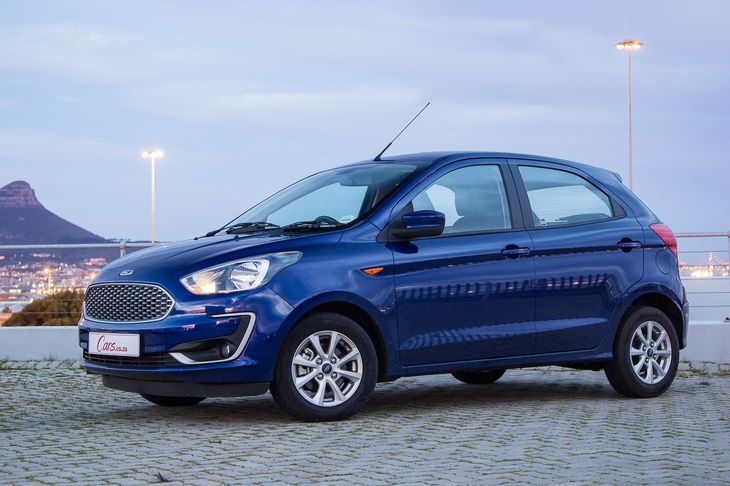 The new grille and new engine/gearbox are just two changes in the 2018 Ford Figo
With sales of the latest Volkswagen Polo Vivo going briskly, and other rivals (such as the Suzuki Swift) entering the budget car space, the Figo needed to up its game. The highlight of the Ford's revitalisation has to be its excellent engine and gearbox combination. It delivers a comfortable and commendably fuss-free driving experience.
The front of the Figo's cabin is spacious, but the Blue Oval's budget hatchback offers rather mediocre rear legroom (adults will find the rear bench cramped, especially on longer journeys). Furthermore, the Figo's luggage bay is smaller than those of its rivals, but you can, of course, fold the rear seats down in a 60:40 split to increase carrying capacity. In the interest of keeping costs down, Ford has removed 2 airbags, but there's still a driver and a passenger airbag as well as plus ABS with EBD.
When it comes to the Ford's overall value proposition, things get tricky. In a market where brands are desperate to keep cars under that critical R200k barrier, this Figo derivative creeps over that psychological threshold, making it one of the most expensive vehicles in the segment. The competition is fierce and while there's no catching the Volkswagen Polo Vivo in terms of sales, the fight for 2nd place is close! Can the Ford Figo justify its price tag? Yes, but only just. Perhaps consider whether you really need an automatic transmission (as convenient as it is for city driving), because there's more value to be found if you opt for the manual – it costs R15 000 less.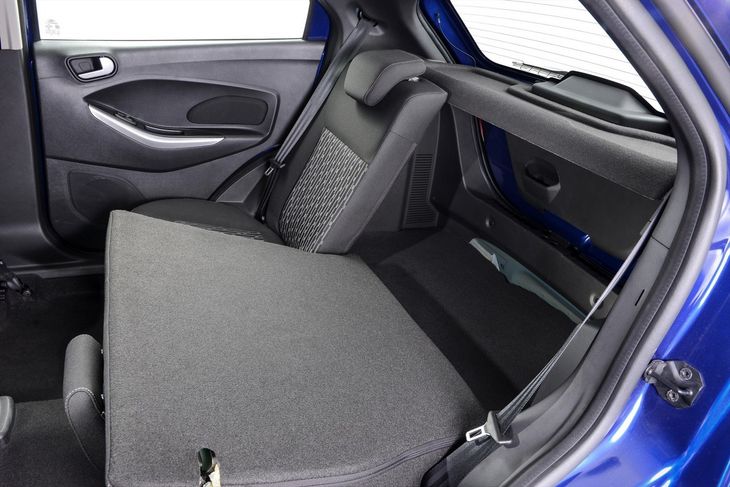 The luggage bay is not the biggest in the Ford Figo, but you can fold the rear seats down in a 60:40 split to increase loading capacity.
Further Reading:
Check out new Ford Figo specs and request a test drive here
Check out used Ford Figo stock here
Should Ford's New Freestyle Come to SA? [w/Video]
The Next 5 Ford Models Coming to SA (2018)