Ford has launched its new Freestyle budget car crossover in the Indian market and we believe it is a newcomer that the Blue Oval could offer in South Africa too. Let's take a closer look…
Ford calls its latest Freestyle crossover a Compact Utility Vehicle (CUV) and it's based on Ford's entry-level Figo hatchback. Like the Figo, it's produced at Ford's Indian plant in Sanand, Gujarat. Before we make a case for the Freestyle to come to South Africa, let's see what it offers…
Key features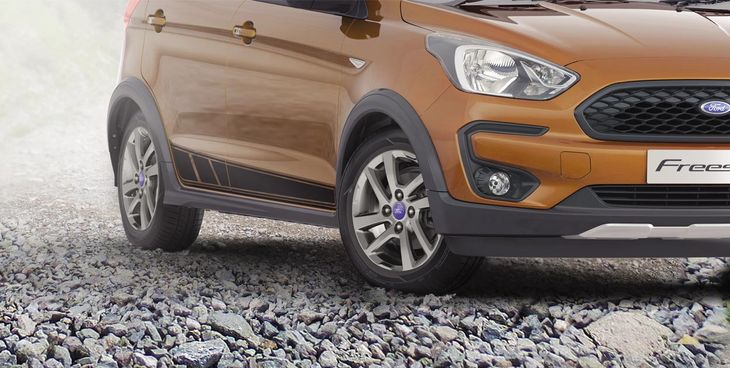 A raised ride height and body cladding give the Freestyle some rugged appeal.
The launch of the Freestyle in India heralds the introduction of a new 1.2-litre, 3-cylinder engine with 71 kW and 120 Nm of torque. The familiar 1.5-litre turbodiesel engine producing 74 kW and 215 Nm also does service in the Freestyle. Both engines are paired with a 5-speed manual gearbox.

Although the Freestyle shares its platform with (and bears some resemblance to) the Figo, its design is differentiated by its headlights, wide striking grille and C-shaped foglamp surrounds. The Freestyle also gets some extra crossover treatment in the form of plastic cladding, as well as functional roof rails and a tailgate-mounted roof spoiler. The rear-end is further differentiated with a redesigned bumper and taillights. Furthermore, the Freestyle features an increased ride height with a ground clearance of 190 mm, which is some 16 mm higher than that of the Figo.

The Freestyle shares its interior styling with the EcoSport and is offered with the latest SYNC3 in-car infotainment system.
The Freestyle is offered in Ambiente, Trend and Titanium derivatives and the interior design is similar to that of the new Ford EcoSport. High-spec derivatives are equipped with a 6.5-inch touchscreen with SYNC3, which offers Android Auto and Apple CarPlay, while safety features include up to 6 airbags, ABS with EBD, active rollover prevention, hill launch assist, electronic stability program and traction control.
So what makes it suitable for South Africa?
Compact crossovers are hugely popular in South Africa and there's a strong business case for affordable crossovers in the lower-end of the crossover spectrum. Current offerings in this segment include cars such as the Toyota Etios Cross, Renault Sandero Stepway, the previous Volkswagen Polo Vivo Maxx and the forthcoming Hyundai i20 Active, which is due to launch in South Africa in May 2018.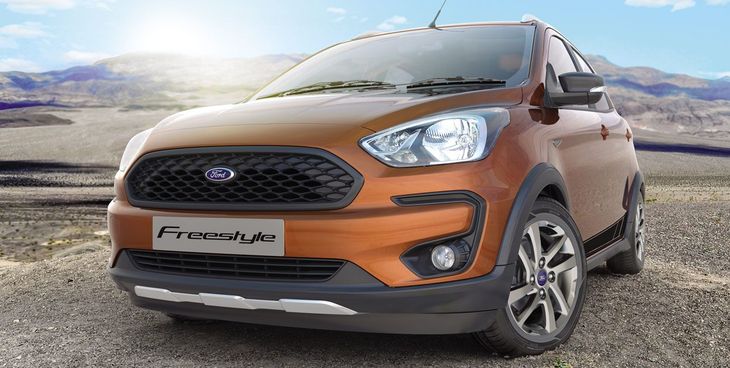 We think the Figo-based Freestyle crossover will sell well in South Africa. Would you agree with us?
South Africans love exploring the outdoors and it's also worth noting that roads in South Africa are generally in poor condition and many people access rural areas on gravel too, which means that the higher ride height and additional cladding makes this type of vehicle suitable for South African conditions.
Also, Ford already imports the Figo and Ecosport from India anyway, so why not add the Freestyle to the local lineup? It may very well be that the costs of importing the Freestyle to South Africa will result in an unfavourable local pricing structure. However, we believe there is merit in offering the Freestyle on local soil provided that its price is competitive. It's also worth mentioning that international reviews of the Freestyle are very positive, highlighting the Freestyle's good performance and excellent ride quality.
We reached out to Ford South Africa for comment and there are currently no plans to introduce the Freestyle in South Africa. That situation can, of course, change. Would you like to see the Freestyle in South Africa... Should Ford's South African subsidiary reconsider and launch it here?
Share your thoughts with us in the comment section below!
Related Content
Most Fuel Efficient Budget Cars in SA
5 Small Crossovers for Under R200k