Fiat has released the South African specification and pricing of its good-looking new 124 Spider. The big news is that it will only be offered in flagship Abarth guise.
Available from local Abarth showrooms from December, the stylish new Abarth 124 Spider will be priced at R649 900. This, we can hear you say, is rather steep for a vehicle based on the Mazda MX-5, which is offered in South Africa for around R200 000 less. But a direct comparison is probably unwise, as the Abarth 124 Spider is not only more powerful and faster, but also loaded with features, some of which is not even available on the Mazda – the only option offered for the Abarth is metallic paint (R4 500).
Focus on Performance

The Abarth's 1.4-litre turbo engine promises sizzling performance to match the racy looks.
Unlike the Mazda MX-5, which makes use of a 2.0-litre, naturally aspirated engine that delivers 118 kW and 200 Nm of torque, the Abarth 124 Spider has a turbocharged 1.4-litre powerplant under its long hood that punches out 125 kW and 250 Nm of twist. This gives the lightweight Abarth an appreciable turn of speed – Fiat claims a 232 kph top speed and a 0-100 kph time of 6.8 seconds (compared with 214 kph and 7.3 seconds for the MX-5).
Standard equipment includes the dual mode Record Monzda exhaust, which is said to be able to modify "the path of the exhaust gas according to the engine speed", to generate a "satisfying, deep sound." We can't wait to hear for ourselves...
Dynamic Prowess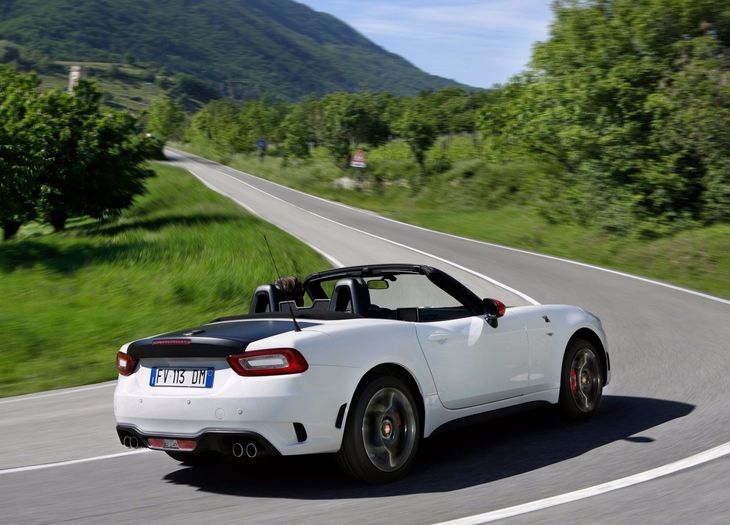 The Abarth's suspension and steering have been tuned with enthusiast driving in mind.
The suspension set-up also appears to have been honed with sizzling dynamics in mind. The Mazda MX-5, a current Cars.co.za Consumer Awards - Powered by WesBank Fun Car finalist, is certainly a good starting point in that regard.
It features double wishbone front suspension and a five-arm multi-link arrangement at the rear. The 124 Spider also gets Abarth by Bilstein shock absorbers, specially calibrated springs and "oversized" anti-roll bars. The power steering system is said to have been given a specific sports calibration to optimise feedback and precision.
The Abarth 124 Spider features a Drive Mode Selector, which offers two different performance settings, selectable by means of a lever on the transmission tunnel: "Normal" and "Sport". The system is said to adapt the driving characteristics in various ways, including steering and throttle responsiveness, stability control thresholds and even the exhaust sound. Of course, the electronic nannies can also be switched off when you want to hit the track.
A standard mechanical self-locking differential is part of the deal, too.
All the toys
Thus far the Abarth 124 Spider sounds like quite an uncompromising sportscar, but the specification sheet appears to suggest that luxury, comfort and safety were also priorities.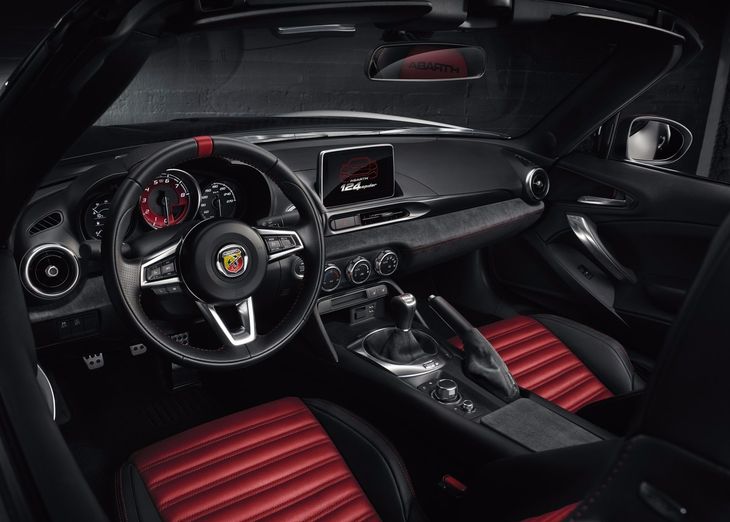 Snug cabin is loaded with features and retains much of the MX-5's controls.
Let's start with the eye-catching visuals – Abarth spec means you get dramatic 17-inch Forgiato Grey alloy wheels as well as LED headlamps and taillights. Inside the snug cabin you get leather upholstery, heated seats, keyless start and the Sound Plus pack with its integrated infotainment system consisting of a 7-inch colour touchscreen and control knob on the transmission tunnel. A 9-speaker Bose sound system is fitted, and two USB ports, an Aux port and Bluetooth connection features are also included.
As is the case with the Mazda, opening and folding the double-layered soft-top is done manually and easily in seconds.
The Abarth 124 Spider will be sold with a 3-years/100 000 km warranty and maintenance plan. Five colours are offered: two pastel, "Turini 1975 White" and "Costa Brava 1972 Red", and three metallic, "Isola d'Elba 1974 Blue", "Portogallo 1974 Grey" and "San Marino 1972 Black".


You may also be interested in;
Best Fun Cars under R600 000
Extended Test: Mazda MX-5 (with video)
Fiat 124 Spider is an MX-5 clone - but we don't care
Want to buy an Abarth?