Mercedes-Benz is readying the facelifted S-Class for market introduction in Q4 of 2017. The updated S-Class will introduce a host of new features and technology as well a range of new engines. Take a look at what you can expect from the S-Class...
The tech-laden Mercedes-Benz S-Class has received a facelift and it will go to market later this year flaunting a flurry of new features. The flagship S-Class will rival products such as the BMW 7 Series and new Audi A8.
Exterior and Interior Styling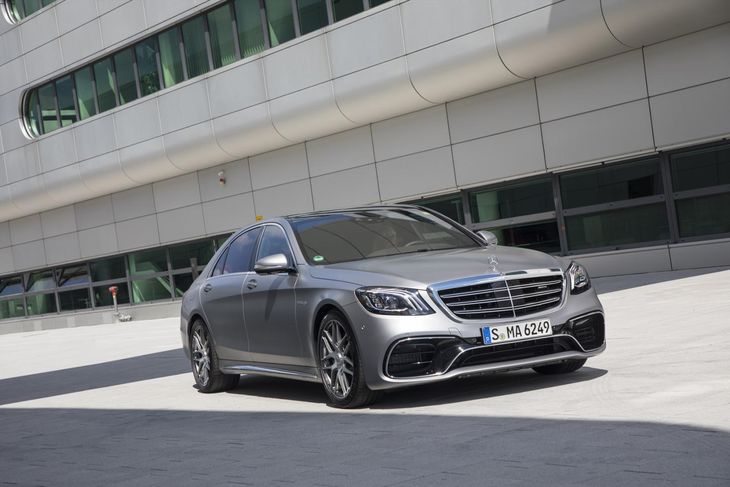 The facelifted S-Class has been enhanced with a new grille, bumpers, headlights and taillights.
The S-Class benefits from exterior design updates which include a new grille design complemented with new Multibeam LED headlights with 3 distinct 'torches of light' providing a distinct lighting signature. The front bumper is also new and houses large air intakes giving the S-Class a sporty look. LED taillights with a crystal effect are seen at the rear with 3 new horizontal pairs of fibre optics. The lower bumper has been redesigned and the integrated tailpipes are framed by a chrome element that spans the width of the car. Mercedes-Benz will offer 7 new light-alloy wheel designs with diameters between 17 and 20 inches available as standard or as an option.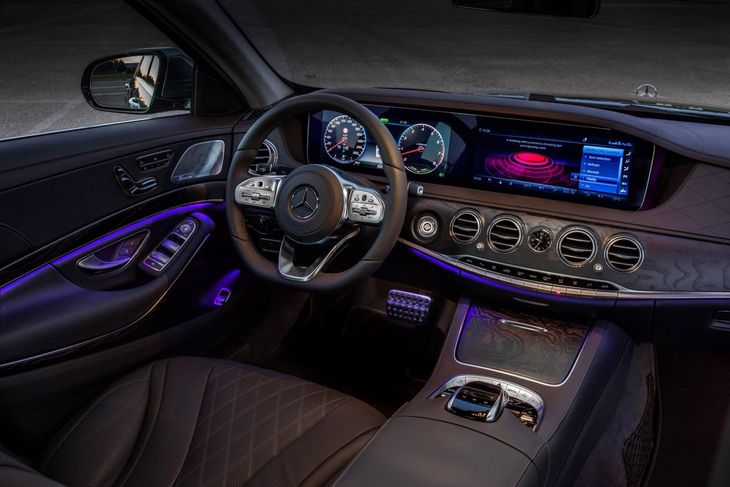 As you would expect, the S-Class offers a top-notch interior with high-quality materials and comfort features.
Interior highlights include a widescreen cockpit, much like that found in the new E-Class, comprising of 2 high-resolution displays under a single glass cover to create a both a digital instrument cluster ahead of the driver and infotainment system above the centre console. The digital display can be customised with 3 different display styles including Classic, Sporty and Progressive. The system can be fully controlled via Touch Control buttons found on the steering wheel or using the touchpad controller in the centre console. Voice control can now, for the first time, be used to control vehicle functions such as the air conditioning and seat heating/ventilation, interior lighting, seat massage and head-up display. A Burmester 3D high-end surround sound system is fitted.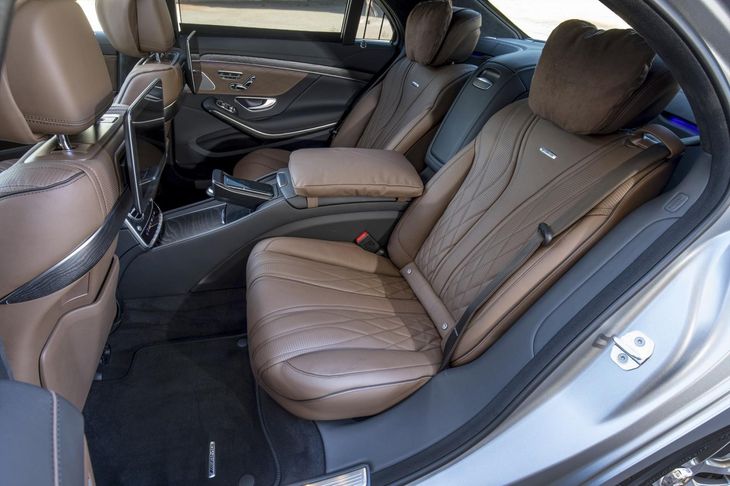 Passengers travelling in the S-Class will experience high levels of luxury and comfort.
The S-Class will also be offered with optional Energizing Comfort Control which links comfort systems (fragrance, seat heating/ventilation/massage, lighting, music) to create 'wellness' programmes for the driver and passengers. The programmes include Freshness, Warmth, Vitality, Joy, Comfort and Training. The programmes run for 10 minutes at a time and are displayed on the head unit. Qi-enabled smartphones can be charged wirelessly on a charging pad found in the storage compartment at the front of the centre console and is optionally available for rear passengers. Optional Multifunction Telephony can also connect mobile phones using the exterior aerial.
Engine Choice

The S63 AMG is good for 450 kW and 900 Nm of torque from its biturbo 4.0-litre V8 engine.

A total of 8 derivatives makes up the S-Class range including the petrol-powered S450, S560, S600, AMG S 63, AMG S 65 and the Maybach S650. Diesel models include the S350d and S400d.
The S450 features a systematically electrified 6-cylinder, 3.0-litre engine offering 270 kW and 500 Nm of torque with a claimed fuel consumption figure of 6.9 L/100km.
The S560 employs a biturbo 4.0-litre V8 engine with cylinder deactivation with 345 kW and 700 Nm of torque. Fuel consumption for the S560 is claimed at 8.2 l/100km.
The S600 is powered by a 6.0-litre V12 engine with 390 kW and 830 Nm of torque. Fuel consumption is claimed 11.6 L/100km. In the Maybach S650, this engine develops 463 kW and 1 000 Nm of torque.
As for S63 AMG, a 4.0-litre V8 biturbo engine with cylinder deactivation replaces the previous 5.5-litre V8 biturbo. Outputs are 450 kW with 900 Nm of torque and fuel consumption is claimed at 8.9 L/100km.
The S65 AMG employs a 6.0-litre V12 engine with 463 kW and 1 000 Nm of torque. Fuel consumption is claimed at 11.9 L/100km.
The diesel-powered S350d and S400d feature a 6-cylinder, 3.0-litre turbodiesel engine offering 210 kW/600 Nm and 250 kW/700 Nm of torque respectively. Both have a claimed fuel consumption figure of 5.4 L/100km.

You can expect even higher levels of interior comfort inside the facelifted Mercedes-Benz S-Class.
High-Tech Safety and Autonomous Features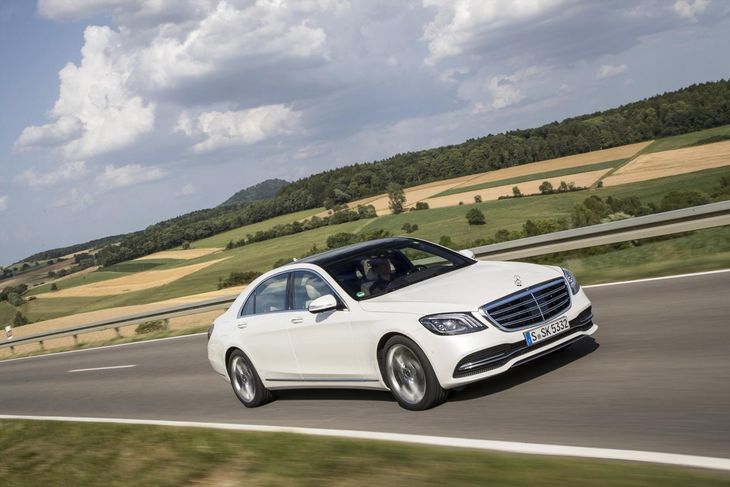 A host of driver assistance and safety features will be offered in the facelifted S-Class, making it one of the safest and technologically advanced cars on the road.
The facelifted S-class will feature a wide range of safety and autonomous features. As standard, the S-Class will be fitted with Active Braking Assist, Crosswind Assist, Attention Assist, Traffic Sign Assist, Pre-Safe occupant protection and Pre-Safe Sound.
Active Distance Control Distronic with Active Steering Assist will better aid the driver to keep a safe following distance with steering support. The system automatically adjusts speed ahead of bends and junctions and is complemented with features such as the enhanced Active Lane Changing Assistant and Active Emergency Stop Assist.
Camera and radar systems have been improved to provide a better view of surrounding traffic and for the first time, makes use of map and navigation data to calculate driving behaviour. Distronic Active Proximity Assist can assist the driver in many situations and conveniently adjust the vehicle speed according to the route. Active driver assistance features are displayed in the instrument panel and in the head-up display with all functions controlled using the steering wheel.
A new Driver Assistance Package includes, but is not limited to the following features: Active Distance Control Distronic, Active Steering Assist, Active Lane Changing Assist, Active Emergency Stop, following vehicles in a tailback and Traffic Sign Assist.
The S-Class will also feature Remote Parking Assist, allowing the driver to park the vehicle using a smartphone. The vehicle can be manoeuvred into parallel and end-on parking spaces and can be moved forwards and backwards. An Explore Mode will allow forward and backwards movement up to 15 metres while avoiding obstacles with small steering corrections.

"The development of the new S-Class was extremely extensive. With a whole series of new features and functions the S-Class remains the technological pioneer", says Ola Källenius, responsible on the Board of Daimler AG for Group Research and Mercedes-Benz Cars Development.
Related Content
Mercedes-Benz S-Class Cabriolet (2016) First Drive
Mercedes-Benz E-Class Coupe (2017) International First Drive
5 Tech Highlights Of Mercedes-Benz E-Class Coupe
Unveiled: Mercedes-Benz E-Class Cabriolet [with Video]
First SA-Built Mercedes-AMG Comes to Life
5 Mercedes-AMGs that Define the Brand
Mercedes-Benz X-Class: Finally Revealed
Mercedes-Benz X-Class: Off-road demo & video wrap
Want to buy a Mercedes-Benz?