Mercedes-Benz has unveiled the production version of the X-Class, the brand's first double-cab bakkie, in Cape Town. The newcomer, which will be introduced in South Africa early in 2018, will be available in 3 trim levels, powered (initially) by a pair of turbodiesel engines and, in terms of its product focus for the domestic market, the X-Class will be aimed at "trend-conscious individualists".
The X-Class, the de facto flag bearer for the burgeoning luxury bakkie segment, is powered by 4 or 6-cylinder engines, available with rear-wheel drive and (engageable or permanent) all-wheel drive, a 6-speed manual transmission or a 7-speed automatic transmission. In addition, there are 6 different upholsteries, including a pair of leather variants, 3 sets of distinctive cockpit treatments and a diverse range of accessories. The exact South African derivative line-up has yet to be confirmed, however.
Proclaiming the X-Class "the Mercedes among pickups", the Sindelfingen-based brand says its newcomer is a "tough performance pickup (that) delivers driveability and handling that matches many demands – both with regard to driving dynamics and ride comfort. This is attained thanks to a comfort suspension with the fine tuning expected of a (Benz)". The bakkie is underpinned by a ladder-type frame, rear multi-link solid axle, front independent wheel suspension and coil springs on both axles.
Built on this platform, the X-Class is available in 3 model variants to suit different lifestyles and work environments:
The X-Class Pure basic variant is ideal for rugged, functional use. It fulfils all the demands placed on a workhorse. At the same time its comfort and design make it perfect for visiting customers or suppliers and for private activities.
The X-Class Progressive is aimed at people seeking a rugged pickup with extra styling and comfort functions – as a calling card for their own business, while also being a comfortable yet prestigious vehicle for private use.
The X-Class Power is the high-end design and equipment line. It is aimed at customers for whom styling, performance and comfort are paramount. The X-Class Power is a lifestyle vehicle beyond the mainstream – suitable for urban environments as well as for sports and leisure activities off the beaten track. Through its design and high level of equipment, it reflects an independent and individualistic lifestyle.
Thanks to its long 3 150-millimetre wheelbase, the short and cladded front overhang, the backward shifted passenger compartment and the very long rear overhang, the X-Class has an elongated vehicle body. The newcomer's tracks measure 1 632 millimetres at the front and 1 625 millimetres at the rear, and Mercedes-Benz claims to be the only manufacturer in the segment to fit large, internally vented brake discs on both axles (32 cm front, 30.8 cm rear) as standard. In all markets outside Europe, the X-Class comes with the higher, more off-road friendly, suspension (222 mm) as standard.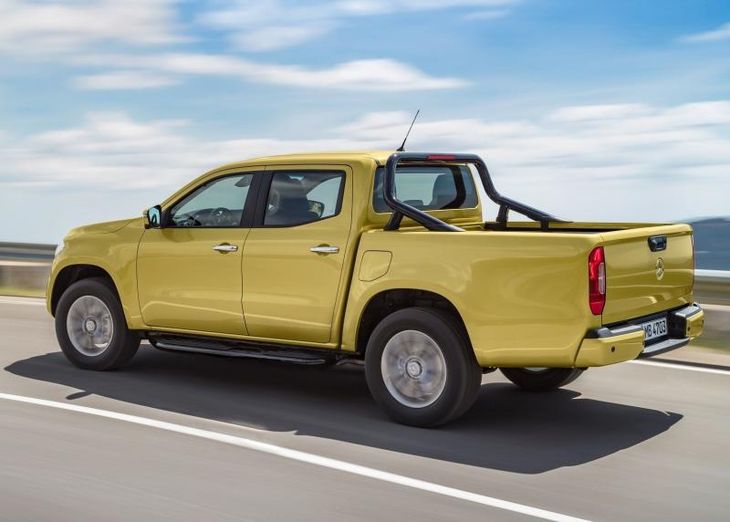 Tale of 3 personalities...
The front bears the imposing looks of one of the brand's SUVs – with the centrally positioned star, twin-louvre radiator grille, high bonnet and headlamps that extend far into the wings. The front apron emphasises width and has its own distinct character depending on the chosen design and equipment line....
On the Pure basic variant it is unpainted and with the Progressive design and equipment line it is painted in the vehicle colour. The Power high-end model variant likewise has a bumper painted in the vehicle colour and also comes with a chromed underbody panelling. There are 9 colours and 17-, 18- or 19-inch alloy designs to choose from.
Like the front apron, the rear bumper also varies depending on the selected design and equipment line: it is painted black for the Pure line, in the vehicle colour for the Progressive line and chromed for the Power line. To conveniently access the cargo area for loading and unloading, the bumper has an integral step. If the standard 90-degree tailgate opening is not enough, as an option the X-Class can be ordered without the rear bumper. Then the tailgate opens to 180 degrees.
In terms of width, the (illuminated) load bed is designed in such a way that a Euro-pallet can be loaded straight between the wheel arches. The third brake light contains LED lights which illuminate the whole load bed... Operation is by a switch in the centre console and as soon as the ignition is switched on, those lights turn off automatically. A 12V socket to power additional equipment such as compressors, for example, is also part of the standard equipment in the load bed.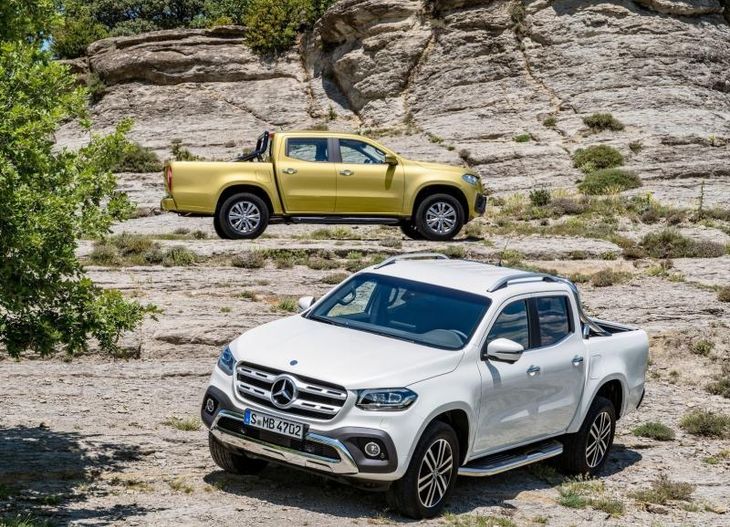 Dimensions of the X-Class

Vehicle length

5 340 mm

Vehicle width

1 920 mm

Vehicle height

1 819 mm

Wheelbase

3 150 mm

Load bed length

1 587 mm

Load bed width

1 560 mm

Load bed height

474 mm

Maximum payload capacity

1 042 kg

Braked towing capacity (depending on engine and equipment)

1 650–3 500 kg
In the interior, the X-Class elevates comfort and quality feel to a new level within the segment for mid-size pickups. The instrument panel has the concave trim element typical of a Mercedes. It stretches across the entire width of the instrument panel – a novel feature in this vehicle segment. It creates an open feel and purist modernity. There are three trim variants to choose from for the X-Class Power: a pixelated look in matt black, an aluminium effect with longitudinal grain and a brown matt woodgrain effect. To complement the high-quality feel, the upper section of the cockpit is available with Artico man-made leather in either black or nut brown.
Depending on the design and equipment line, the round ventilation outlets come in either high-gloss black or silver shadow, creating a high-end cool touch effect. With the Progressive and Power design and equipment lines, the centre console is also prominently framed by a decorative trim in silver shadow. The large door handles are also finished in silver shadow. The cool touch effect is reinforced by the freestanding central display, which is familiar from the V-Class. In conjunction with the Comand Online multimedia system it has a screen diagonal of 8.4 inches, making it the biggest display in the segment. With a resolution of 960 x 540 pixels and the high-contrast IPS technology (In-Plane Switching), it offers a brilliant display that markedly increases the image quality of the 360-Degree Camera and the navigation maps.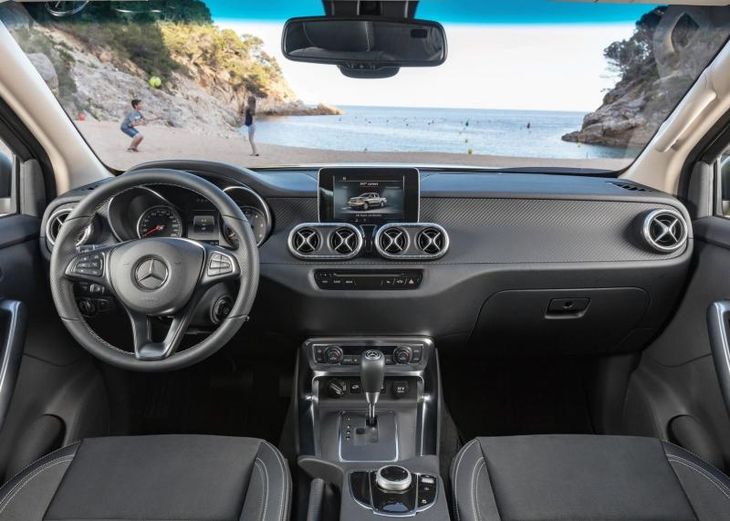 The control and display concept shows the familiar high levels of convenience and ergonomic comfort. The instrument cluster consists of the large, analogue round dials from the C-Class and V-Class. A 5.4-inch colour multimedia display is nestled between the round dials. Thanks to the push-buttons on the standard-fit three-spoke multifunction steering wheel, the settings on the colour display can be controlled without drivers having to take their hands off the steering wheel.
The steering wheel with its 12 buttons in total is height-adjustable, thereby improving ergonomic posture and allowing a relaxed seating position. In the X-Class Progressive and Power, the steering wheel, shift lever knob and handbrake lever are also covered in leather. In conjunction with the Audio 20 CD and Comand Online multimedia systems, and in addition to the central control unit, the X-Class contains the multi-function touchpad familiar from the passenger car model series. It is located in an ergonomic position on the centre console and, like a smartphone, it can be controlled using gestures or by entering letters and characters.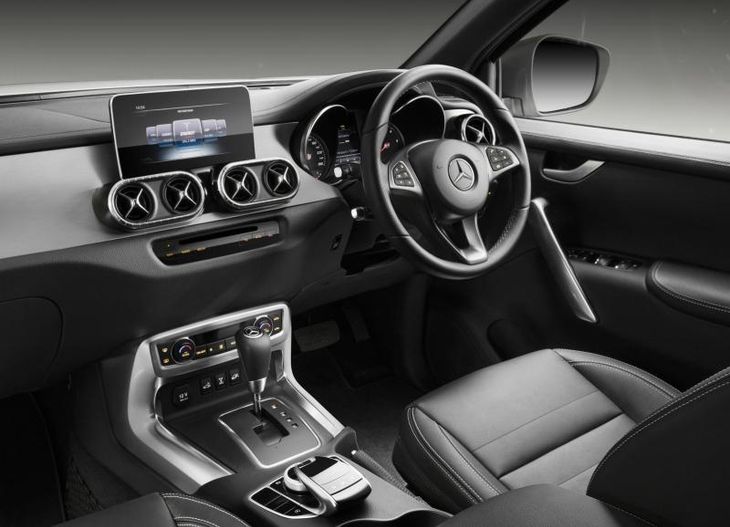 Electrically adjustable comfort seats also available with lumbar support
Plenty of attention was paid to comfort when developing the seats, Mercedes says. Premium materials and a seat structure featuring optimum lateral support, a high seat position and the use of ergonomically formed soft foam make sitting comfortable for both the driver and front passenger, even on longer journeys. With their clear, ergonomic and functional design, the comfort seats can be adjusted in the longitudinal direction as well as for height and backrest tilt. The X-Class Power has electrically adjustable seats and electric two-way lumbar support as standard. The rear seat row for three people is positioned at a comfortable height and has reinforced seat side bolsters for optimum support in the outer seating positions. These seats are also equipped with attachment points for an i-Size/ISOfix child seat as standard.
Engine/transmission line-up
From its market launch, the X-Class will be powered by a 2.3-litre common-rail turbodiesel motor available with a choice of two power outputs. In the X220d with a single turbocharger it generates 120 kW and, in the biturbo X250d, 140 kW. Both diesel models will be offered with purely rear-wheel drive or with engageable all-wheel drive. All engines are characterised by quiet, low-vibration running and excellent power delivery coupled with low consumption figures, Benz says. Power is transferred via a 6-speed manual transmission. A 7-speed automatic transmission is available on request for the 140 kW X250d and X250d 4Matic derivatives.
A high-torque V6 diesel engine, with peak outputs of 190 kW and 550 Nm, will be released in 2018. The X350d model will come as standard with permanent 4Matic all-wheel drive and the 7-speed automatic transmission with steering-wheel shift paddles and Eco start/stop function. The Dynamic Select drive programme switch enables the driving experience to be tailored to individual preferences – from relaxed comfort to engaged sportiness, will be standard. There are five drive programs to choose from: Comfort, Eco, Sport, Manual and Offroad. These modify the engine characteristics, the automatic transmission's switching points and the Eco start/stop function.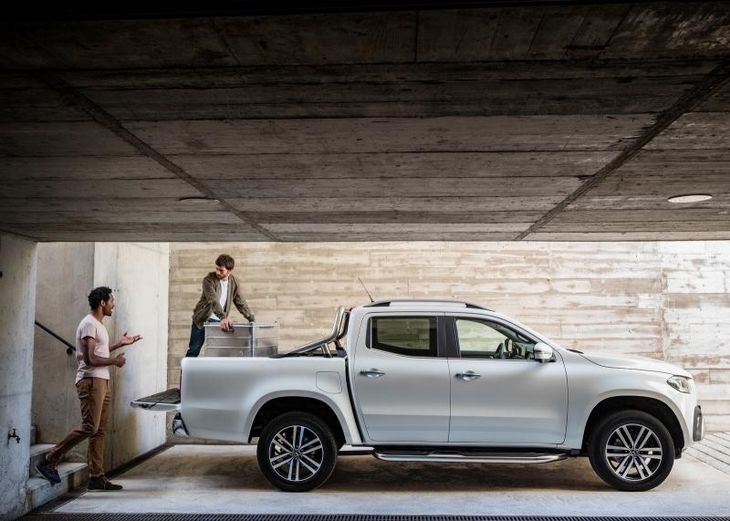 Engageable – or permanent – 4MATIC all-wheel drive
Engageable 4Matic all-wheel drive, which is available on the X220d and X250d turbodiesel models, masters any terrain. With it, the front wheels can be engaged or disengaged by electric means depending on the surface. As from mid-2018, Mercedes-Benz will also make its pickup available with permanent all-wheel drive, but it will only be offered in conjunction with the 6-cylinder engine. Off-road, both 4Matic variants benefit from the same superior assertiveness thanks to the low-range gearing and optional differential lock on the rear axle. All the all-wheel drive models come with Downhill Speed Regulation (DSR) on board as standard.
Excellent off-road characteristics

Fording depth

600 mm

Ground clearance

Front axle 202 mm

Rear axle 221 mm for suspension with raised ground clearance

Angle of approach/departure front/rear

28.8°/23.8°

30.1°/25.9° for suspension with raised ground clearance

Maximum tilt

49.8°

49° for suspension with raised ground clearance

Ramp breakover angle

20.4°

22° for suspension with raised ground clearance

Maximum gradeability

100%
Comprehensive range of safety equipment
The X-Class's high level of occupant protection results from its especially solid car body with a high-strength passenger cell and a structure with a front and rear that can absorb energy through well-aimed deformation. Furthermore, passive safety is provided thanks to standard equipment such as seven airbags and the i-Size attachment system for two child seats.
The airbags in the front for driver and front passenger come with a two-stage, deferred triggering mechanism. For active safety, three driver assistance systems are at the ready, simultaneously increasing safety and comfort: Active Brake Assist, Lane Keeping Assist and Traffic Sign Assist. Additionally, there are Trailer Stability Assist, tyre pressure monitoring system, emergency call system, cruise control and LED headlamps that deliver the brightest light output in the segment thanks to six LEDs respectively. If required, a 360-Degree Camera is available in addition to a reversing camera.
The first intelligently connected mid-size pickup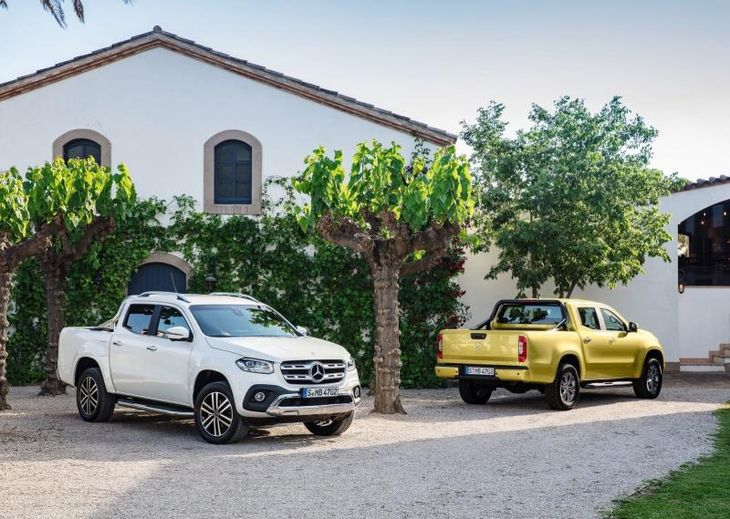 The X-Class is the first mid-size pickup to feature a communications module with an integrated SIM card. This makes it possible to use the extensive Mercedes Me connect services and to access the vehicle by smartphone. Thus X-Class drivers in 21 European markets can, for example, call up useful information such as fuel level and tyre pressure, and find out the X-Class's location when it is parked or being driven by someone else. In addition, with the Mercedes Me app complete door-to-door navigation is possible. Further Mercedes Me connect services include the Mercedes-Benz emergency call system and the standard services Breakdown Management, Accident Recovery and Maintenance Management as well as Remote Vehicle Diagnostics.
In addition to this, control and display systems – that have already been used successfully in the Mercedes-Benz passenger car series – are being introduced in the pickup segment for the first time: these include the multifunction touchpad and fully integrated Comand Online multimedia system with hard-disk navigation, Linguatronic voice control and internet access via smartphone. Other than COMAND Online, the Audio 20 USB and Audio 20 CD audio systems are also available.
Live Traffic Information
Transferring traffic information in real time is a further highlight of intelligent connectivity thanks to the communications module with an integrated SIM card. In conjunction with an account in the Mercedes Me portal, and within Europe, the Comand Online navigation system can show the beginning and length of a traffic jam on a map to within 100 metres of the exact position and compute a dynamic route with shorter travel times. The potential loss of time is taken into account automatically in real time for the arrival time displayed by the system. It also provides a 3D view with 3-dimensional urban models, making orientation in unfamiliar city centres easier. Moreover, special personal destinations can be saved or imported via SD card, and alternate routes can be displayed on the map, one of them a particularly economical variation.
In conjunction with the optional Garmin Map Pilot system, in most European countries the Audio 20 CD also becomes a fully-fledged navigation system with Live Traffic Information. With both systems, X-Class drivers benefit from early information about disturbances such as traffic jams, increased traffic volumes or other possible delays along the route, allowing them to adjust their route planning in good time. The relevant pre-installation for the Garmin Map Pilot is likewise available as an option.
Related content:
Double-cab bakkies are the new SUVs
Volkswagen Amarok 3.0 V6 TDI (2017) Video Review
Why Navara shakes up the double-cab market
The World's Most Badass Toyota Hilux [with Video]
Toyota Hilux 2.8GD-6 DC 4x4 Raider Auto (2016) Review
6 Most Fuel-Efficient Double-Cab Bakkies in SA
Most Powerful Double-Cab Bakkies in SA
2016 Toyota Hilux vs Ford Ranger – Offroad & Review