Audi has previewed sportier versions of its e-tron electric SUV. Meet the soon-to-be-revealed Audi e-tron S.
Given the instantaneous torque from an electric engine that is addictively good fun, it was only a matter of time before electric car makers started applying liberal doses of sportiness to its EV range.
Audi will be making S versions of its e-tron range and released some details and images of its forthcoming products. What you see here are prototypes wrapped in Audi's infamous testing colours. If you see a vehicle with a black, grey and orange colour scheme, it's most likely a new Audi product which is close to release.
The new Audi e-tron S will be available in 2 body styles. Audi claims this is a 3-motor electric setup with enhanced quattro and electric torque vectoring, and total outputs are rated at 370 kW and 973 Nm. Those are serious numbers and Audi claims a 0-100 kph sprint time of 4.5 seconds and a top speed of 210 kph. Interestingly, the car can only produce that insane amount of power and torque for a short period of time. Standard outputs are not too shabby either at 320 kW and 808 Nm. The secret to this performance is the addition of a 3rd motor. In the standard Audi e-tron, there are just the 2 motors producing 265 kW and 561 Nm, but in its sportiest of settings, it'll deliver 300 kW and 664 Nm.

The new electrical torque vectoring replaces the conventional sport differentials by being able to send the power directly to each wheel. The responsiveness is near-instantaneous and Audi claims if a driver accelerates out of a curve in a sporty manner, the electric motor gives the rear wheel on the outside of the curve up to 220 Nm more torque than the wheel on the inside of the curve. Can you say electric SUV power slides? There's also adaptive air suspension which can vary the ride height by up to 76 mm. If you favour sporty driving, it'll lower by 26 mm and conversely, if you want to go offroad, it'll rise up to clear obstacles.
As for charging and range, Audi didn't give exact figures other than when it's plugged into its high-powered 150 kW charger, the Audi e-tron S can go from 5% to 80% in about 30 minutes. We should see the Audi e-tron S revealed at the 2020 Geneva Motor Show. The standard Audi e-tron should arrive in South Africa before the end of 2020.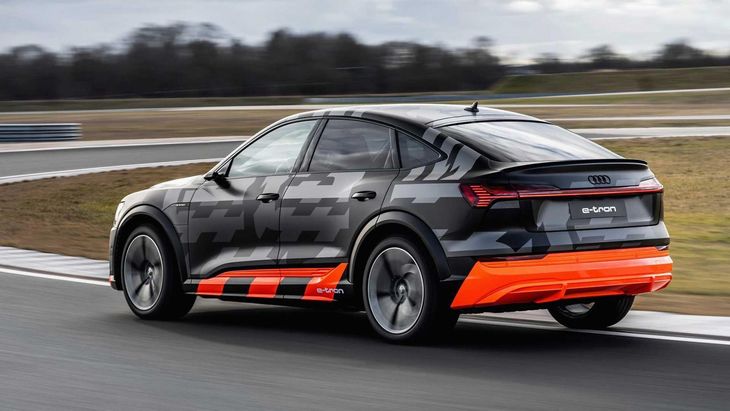 Further Reading
Audi e-tron (2019) International Launch Review
Audi e-tron first drive - An electric SUV you can actually use
Audi Is Pressing Ahead With Its Future Plans
Sportback adds style to Audi EV