Given the diversity of manufacturers in the Volkswagen Group (and their various fields of expertise), what strategy is Audi following to stand out from its sibling brands? We button down Audi's big plans for an electrified and (by and large) autonomous-driving future.
Each brand within the VW Group has a plan to introduce production electric vehicles by 2020, at least that is if reports are to be believed. So, when you're in a group that consists of Volkswagen, Porsche, Bentley, Lamborghini as well as brands we don't get in South Africa (Skoda and Seat), what can Audi do to make itself stand out from its peers? A recent venture to a motor show in Singapore shed a bit of light on how Audi wants to be seen within the group.
By looking at Audi's concepts, such as Elaine and Aicon, it seems Audi is determined to be the primary innovator. Positioning itself as the VW Group brand that brings ideas to market first certainly suits a premium brand that competes directly with trendsetting marques like BMW, Mercedes-Benz and Jaguar. Has the Ingolstadt-based firm got the jump on any of those brands in terms of bringing new tech to market? Well, let's take a look at a few of these "upcoming" models and see what in store.
Audi e-tron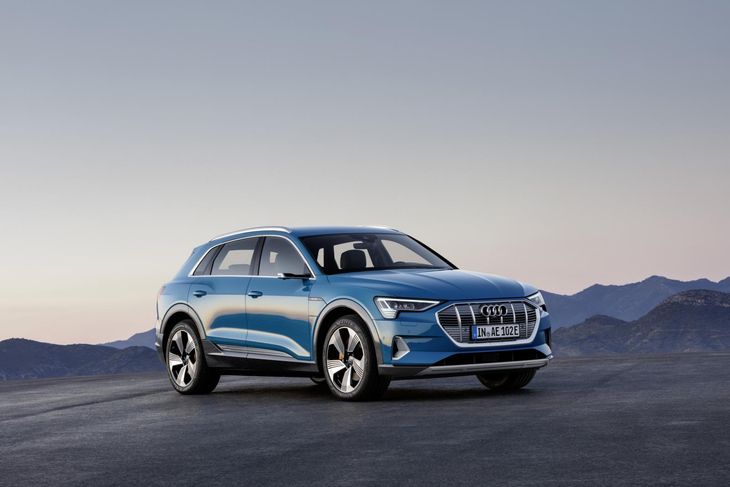 The Audi e-tron will arrive in South Africa during the 3rd quarter of 2019.
The e-tron is Audi's first series-production electric car and we expect it to be introduced in South Africa during the 3rd quarter of 2019. It's not innovative in the sense of being the VW Group's first electric car to market (the European market already has the Volkswagen e-Golf and e-up!). The e-tron does do something different, however. It's an electric model built to be a purpose-made electric car, as opposed to a combustion-engined car with electric bits. It also enters the segment that's showing positive growth globally. People are stepping out of their 3-box sedans and buying SUVs, so Audi has made an electric SUV that offers enough range for long-distance trips.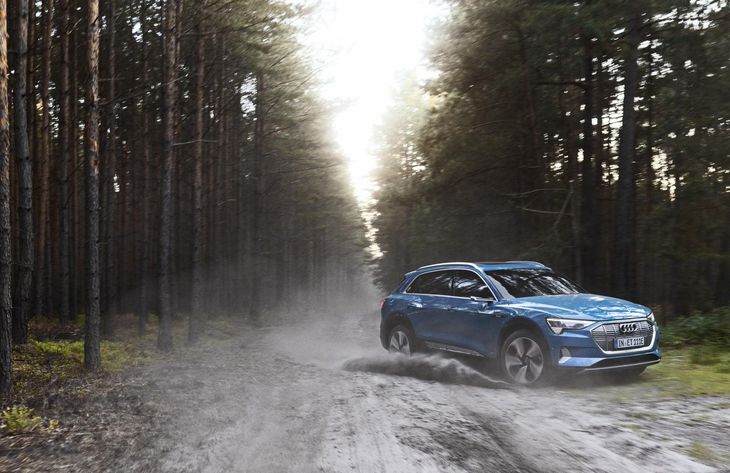 400 km of range and fast charged to 80% in 30 minutes.
It's also a rebuff to "range anxiety" and "charges too slowly" detractors. Audi claims the e-tron has an effective range of 400 km per full charge and if you find a fast 150 kW charger, you can get 80% charge within 30 minutes. It's not quite a 10-minute fuel station stop, but it will cost you about half as much to "fill your tank". Audi arch-rival BMW has electric cars on sale in South Africa, but the i3's 180-km range and compact size limit the hatchback's appeal for commuting. Audi's major competitor will be the Jaguar iPace, which will beat it to market in SA by a good 6 months. The electric Jaguar will also be cheaper to recharge at charging stations beyond city limits.
Audi Elaine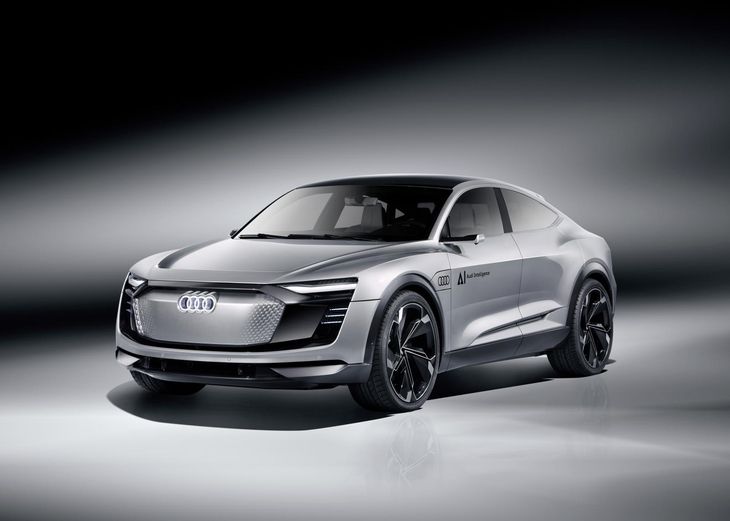 The Audi Elaine introduces the next level of electric powertrain technology.
Gaze a little further into Audi's future and you will come across the Elaine. Elaine might sound like the name of your favourite aunt, but that's sort of the idea Audi has in mind this concept... That's because when you start integrating artificial intelligence into a vehicle, you still need it to come across as "human-like" (something that almost anyone can interact with), which goes a long way to explain why the Ingolstadt-based brand has given this concept a human name.
Audi may have been playing a little bit of catch up with the e-tron, but futuristics ideas start to align with the Elaine. For starters, it uses the next generation of electric propulsion with a projected range of in excess of 500 km. Three electric motors operate the all-wheel-drive system (2 at the rear and 1 at the front); they produce up to 370 kW collectively and are said to accelerate Elaine from 0 to 100 kph in 4.5 seconds. All this in a car that's effectively an SUV version of the Audi A7.
The real innovation comes in the form of artificial intelligence systems that allow for autonomous freeway driving. Audi says that when travelling on a freeway, the Elaine will be able to drive itself and overtake traffic on its own at speeds of 60 to 130 kph. The driver is free to take over driving duties at any time as well.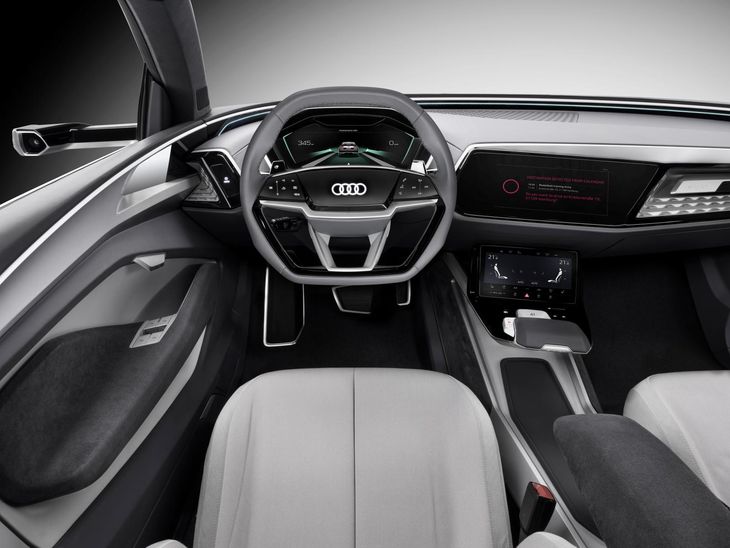 An interior not too far-fetched from Audi's current A7 Sportback and A8.
Audi is also almost ready to roll out what it calls AI Zones. Let's say you're driving in the city and looking for a parking space. In that scenario, instead of searching endlessly on your own, you can get out of the car (and, basically hand over driving duties) in an AI Zone, from where the car will find a parking space in a parking lot or street all by itself. How it gets past security booms and paid parking services isn't yet disclosed, but an "e-tag type of thing" could be an interim solution.
Audi Aicon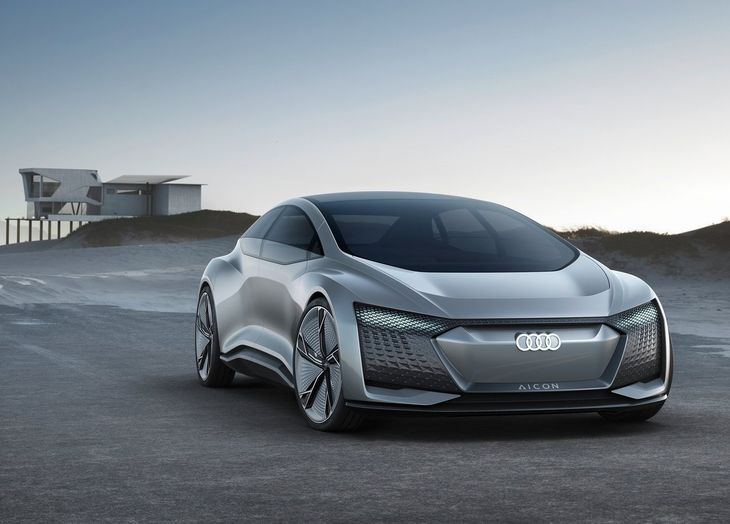 The Audi Aicon focuses on the future of mobility and beyond driver involvement.
The Audi Aicon concept anticipates a time when cars are there for the sole purpose of mobility. It's a form of personal public transport, if you will. It has no steering wheel, so it's fully autonomous and comes with an electric motor located at each corner of the car. With no real need for driver involvement, the Aicon is set up for maximum comfort and efficiency. It is claimed to have a range of 800 km(!) per charge and by virtue of wireless charging capability, it doesn't even need to be plugged in.
The future of mobility may seem boring for car enthusiasts right now, but for most of the public who sit in hours upon hours of traffic to and from work every day, this sort of thing could take the hassle out of commuting. The Aicon also has some gimmicky bits, such as the ability to adjust the car's interior lighting to suit the types of music being played through the audio system (in other words, "adjust the cabin mood"). And speaking of the cabin, you may have noticed that you get a stool and bar table with some screens to play with... Those screens extend to the door linings as well, which suggests you could interact with whichever feature you want from where you want.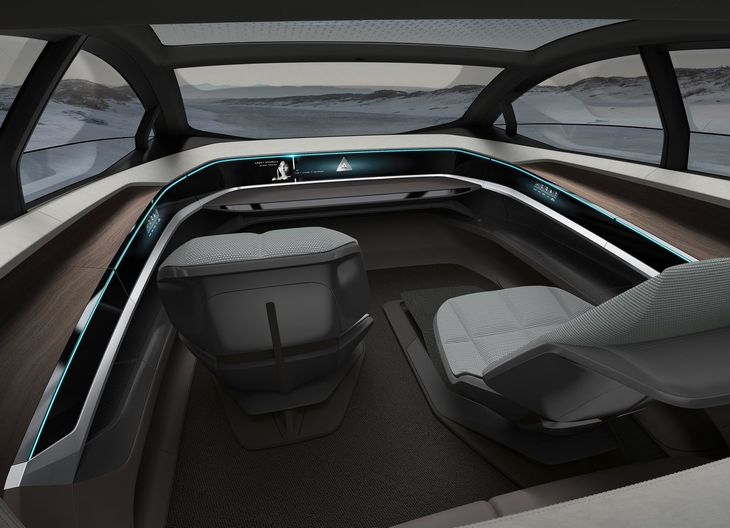 The seats fully recline, allowing occupants to nap on the way to their destination.
The seats recline to lie flat, so, if you want, you could nap on your way to and from work. It won't be cramped either; the Aicon is about the same length as a LWB A8.
In our lifetime?
Audi's status as an innovator within the Volkswagen Group is underlined when you consider how much further the Ingoldstadt-based brand has developed electric vehicle and autonomous driving technology than its sibling brands. The Aicon, with all of its "blue sky" ideas, will have level 5 autonomy (steering wheel optional) ready to roll out as soon as 2021. At that point, most other manufacturers will still be bridging the gap between level 3 (hands-off periods) and level 4 (autonomous zones).
The all-out electric push is coming too, and that can be seen in its most basic form – motorsport. Manufacturers such as Audi, Jaguar, Nissan, Porsche, Mercedes-Benz and BMW have all entered into Formula E for 2018/19. If the series proves popular and lucrative, it could be the injection of development that electric and battery power needs to really become mainstream.
What are the 5 levels of autonomous driving?
Related content
Jaguar's Plan to Own SA's Electric Car Market
Jaguar Invests in EV Charging Stations for SA
BMW SA to launch more powerful i3