BMW has redesigned the X1 to look more like an SUV, but can its on-road bias and smaller size justify its upmarket price tag? We tried out the turbodiesel AWD derivative to find out
We like: Improved design, build quality, road holding, spaciousness
We don't like: Noisy ride, expensive if you want to spec it up
Also consider: Mercedes-Benz GLA, Audi Q3
If you want more space then consider: Volvo XC60
Not worried about badge appeal then look at: Mazda CX-5?
Want something that can actually go off-road then opt for: Land Rover Discovery Sport.
What is it?
Having shed its predecessor's raised station wagon looks, the BMW X1 now resembles a real compact SUV. It's compact in appearance but relatively spacious inside with excellent engines and on-road dynamics. The new platform allows for front-wheel drive/all-wheel drive configurations and frees up more interior space, so that X1 adds practicality to its proficiency list. We have already tested the top-of-the-range xDrive25i petrol model but now it's the diesel's turn to take the spotlight.
How does it fare in terms of?
The X-factor
It has a BMW badge on its nose – that's bound to count in its favour. Because the badge offers a premium appeal that most other crossovers cannot match, many customers will buy it just because it's a BMW. Seeing that SUVs remain in high demand, a reasonably-packaged car with a BMW badge seems tailor-made for the school run or corporate car park.
Practicality
As mentioned, the new platform creates more space for passengers and avails more room in the luggage bay, of which the capacity has swollen to 505 litres. That makes the X1's loading space bigger than those of the competition from Mercedes-Benz and Audi. There are neat additions such as bag hooks and elastic netting to hold stored items firmly in place. The rear seats fold flat to free up a class-leading level of utility space. The optional electric boot lid adds that little bit of ease when loading or unloading with your hands full. Sitting space is very good for rear passengers, even behind taller drivers. Some of the testers complained that the front seats were a bit too narrow and uncomfortable to occupy during longer periods.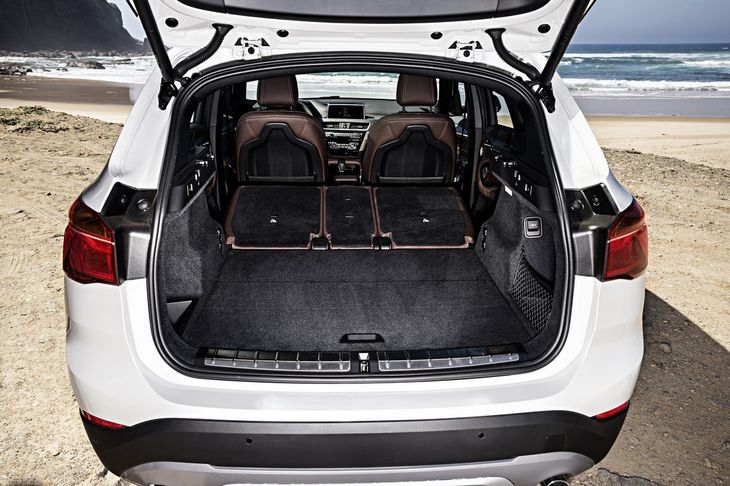 Adaptable luggage area with areas to store and hold loose items
Premium interior
The X1's interior sits at the lower end of BMW's premium ladder, but that doesn't mean it's spartan or unimpressive. It's well put together and the quality of the leather trim and smooth soft rubber finishes is impressive even if, below the eye line, the surfaces appear a little more of the hard, durable variety. The iDrive screen above the dash (in standard 6.5-inch form), makes everything in the display look cramped, especially when you're trying to view maps and real-time traffic alerts. There is an optional bigger screen available, it must be said.
The stash-away space in front of the gear lever is a clever addition as it can be closed up entirely to avert prying eyes from your keys and personal items. Other notable standard features include rear park distance control and a sporty leather steering wheel, but almost everything else is optional. If you want to splash out, then you can spec up the X1 with a host of extras, including everything from a head-up display to adaptive cruise control and the latest crash prevention systems. Options we believe are most worthwhile are a reverse-view camera, LED headlights and a Harmon/ kardon audio system.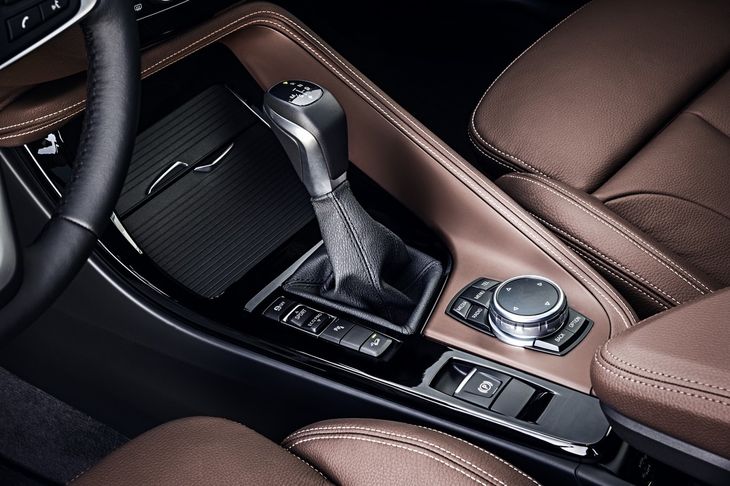 Neat retractable storage bin big enough for phones and keys
Driving refinement
In terms of finding an optimal engine and gearbox calibration, BMW has hit the mark perfectly. The 2.0-litre turbodiesel offers plenty of torque (400 Nm) with almost no turbo lag from very low revs. Power figures suggest 140 kW and despite the short rev range, it can be quite fun to hustle the X1 through its gears at pace. The combination of the 8-speed transmission and turbodiesel motor results in very good fuel efficiency, with claimed consumption of just 4.9 L/100 km. We achieved 6.2L/100km during our test but under normal conditions, returns in the 5L/100km range should be attainable.
Ride and handling on and off-road
The model on test was specified with 18-inch wheels and tyres, which delivered a more pliant ride quality than the 19-inch rims and boots that were specified on the previously-reviewed xDrive25i, but we felt it the former was still too low in profile to provide good ride comfort. The standard 17-inches might be a better choice, but will obviously not be as aesthetically pleasing. The run-flat tyres are also quite noisy on the tarmac; their rumbling noise can be quite irritating on long journeys.
The "sporty" ride does have a pay-off, however – the X1 handles with all the agility of a 3 Series sedan. In fact, its on-road prowess is arguably surplus to what would be required from a practical run-around. On a dirt road, the xDrive all-wheel-drive system works well at preventing wheel slip, but with only 183 mm of ground clearance, it's probably best to stick to the tarmac, because the BMW's firm ride can become bothersome on longer routes on unsealed surfaces.
That's also why we recommend your save R50 000 and opt for a standard front-wheel-drive X1 sDrive derivative.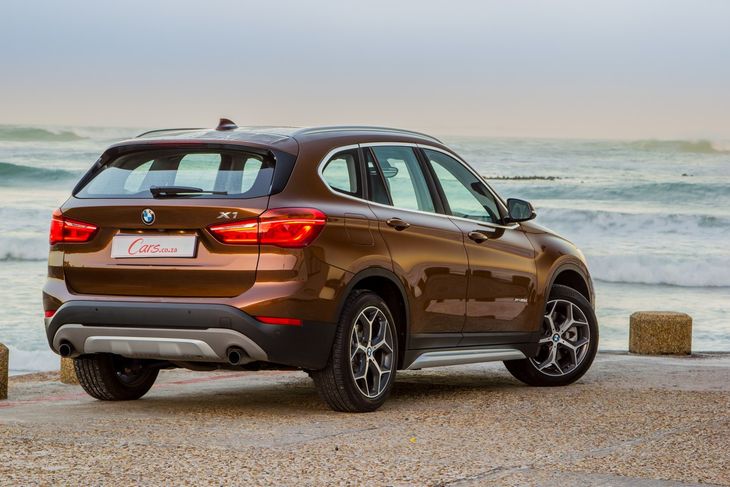 Verdict
The BMW X1 xDrive20d has an excellent engine and gearbox combination. It changes gears smoothly, pulls strongly and uses little fuel while doing so. The turbodiesel is certainly the best engine in the range, but the all-wheel drive models make little sense by virtue of their below-average ground clearances and overtly sporty ride qualities.
The X1's exterior treatment is much more appealing than its predecessor's and, inside, the BMW is sufficiently spacious and quite practical with storage bins and hooks aplenty. In terms of how it compares with its rivals, it's difficult to place the X1 as it's not as spacious as an XC60, but costs the same. A Mercedes-Benz GLA will garner more attention and an Audi Q3 is a bit cheaper. It leaves the BMW with the "premium sporty SUV" card to play, which is very appealing, but even then, if you aren't worried about badge appeal the Mazda CX-5 is right up there in terms of style, but it costs much less.
BMW X1 xDrive20d pricing
The standard auto xDrive20d can be bought for R566 821 but, given the fitment of options such as 18-inch wheels, reverse- view camera, electric seats, LED headlights, cruise control, navigation, the xLine exterior kit and the Harmon/kardon sound system etc. the price as tested leaps up to R678 970.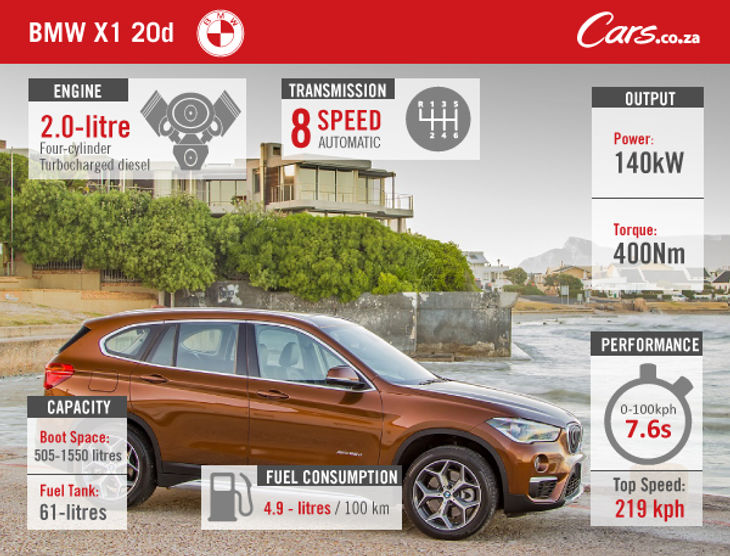 Interested in buying a new/used BMW X1? Search for one on Cars.co.za