The BMW M4 GTS is one of those halo performance cars that doesn't come around very often. It's a special vehicle that's not just a tricked-out BMW M4. There's so much more to it and here are some cool things that separate the BMW M4 GTS from its standard sibling.
Stupendous engine
Lurking under that matte-grey bonnet lies the award-winning 3.0-litre turbocharged 6-cylinder engine found in the normal M3 and M4. However, in the GTS, some clever engineering in the form of smart water injection technology results in a startling power hike. Without getting too technical, the water is sprayed into the intake manifold where it evaporates.
This evaporation causes the intake air temperature to drop dramatically, which results in higher boost pressures while reducing wear and tear. The number one enemy when it comes to turbochargers is heat, and the water injection counters this beautifully. The water tank is located in the boot in place of a spare wheel and it requires to be topped up with distilled water. During the four days we had the BMW M4 GTS, it didn't ask for water, which is a great sign.
What does this all mean? Peak power now sits at 368 kW, while maximum torque is rated at a monstrous 600 Nm. BMW claims the M4 GTS will hit 100 kph in 3.8 seconds and will go onto a top speed of 305 kph. Also, thanks to the lightweight special exhaust, the BMW M4 GTS happens to sound rather special.
Let's get racing!
The BMW M4 GTS gains some interesting performance-related upgrades in the cabin. While many performance vehicles boast some go-faster bits, most of these just turn out to be just for show. In the M4 GTS' case, the upgrades are significant and very necessary. Let's start with that roll cage. It forms part of BMW's Clubsport Package for this vehicle and is mounted behind the front seats. Splashed in Acid Orange paint, it not only looks great, but provides additional rigidity and occupant protection. It's also where you can mount 6-point racing seatbelts, which are available as well. These are ideal for high-performance track driving, but you can always revert to the standard (and eye-catching) seatbelts.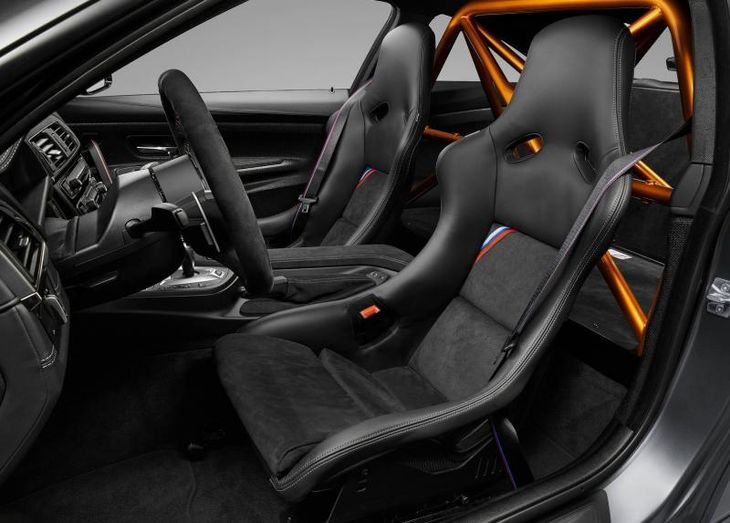 Ah, the carbon fibre bucket seats... while some sports seats are a bit of a gimmick, these are functional and necessary. They keep the driver and passenger secure, even during high-speed cornering. Finally, a 2 kg fire extinguisher is bolted just behind the two seats. Due to the positioning of the roll cage and the fire extinguisher, the M4 GTS loses its rear seating bench, something we're okay with. More passengers would just add weight and slow the car down.
The go-faster diet
BMW has put the M4 GTS on a diet, which obviously improves performance. The standard BMW M4 with a Dual-Clutch Transmission (DCT) tips the scales at 1 653 kg, whereas this BMW M4 GTS comes in at 1 510 kg. How did this happen? Well, the GTS was put on a strict diet and there are carbon-fibre bucket seats, a lightweight centre console without storage compartment, the rear seat panelling and boot area partition are lightened, while the front driver and passenger doors have been stripped of some material. They look like they're finished in unpolished carbon fibre, which looks very purposeful. The attention to detail is impressive and even the interior door handles have been replaced by (M-colour coded) fabric pull loops.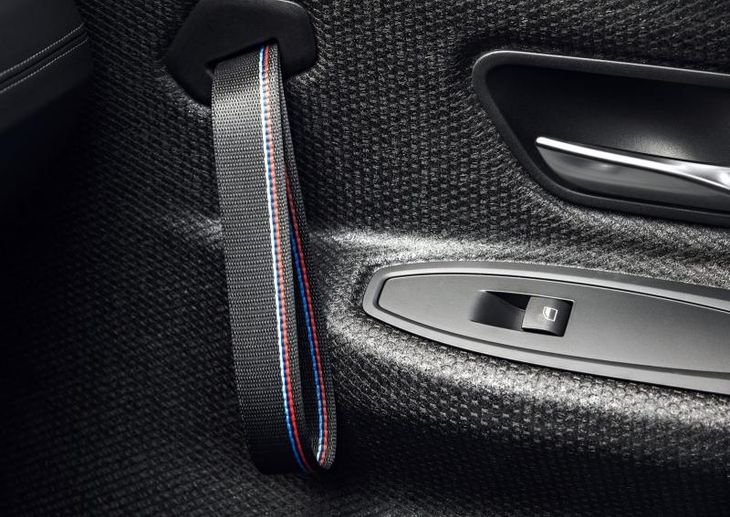 The exterior also gets the lightweight treatment. The redesigned bonnet, roof and front splitter are assembled from carbon-fibre-reinforced plastic (CFRP). The adjustable rear wing is also made from this light-but-durable high-tech material. Finally, the exhaust system gains a titanium muffler that lowers the car's kerb weight even further. The sound produced by the exhaust system is nothing short of awe-inspiring.
Aero hero
Meanwhile, the BMW M4 GTS features a purposeful splitter on the front and a Deutsche Touring Car (DTM) wing on the rear. While many onlookers scoffed and made comments that the Bimmer looked like an aftermarket effort, there were a few that knew exactly what the GTS is all about. Both the wing and splitter are functional aerodynamic addenda help keep the M4 GTS glued to the road.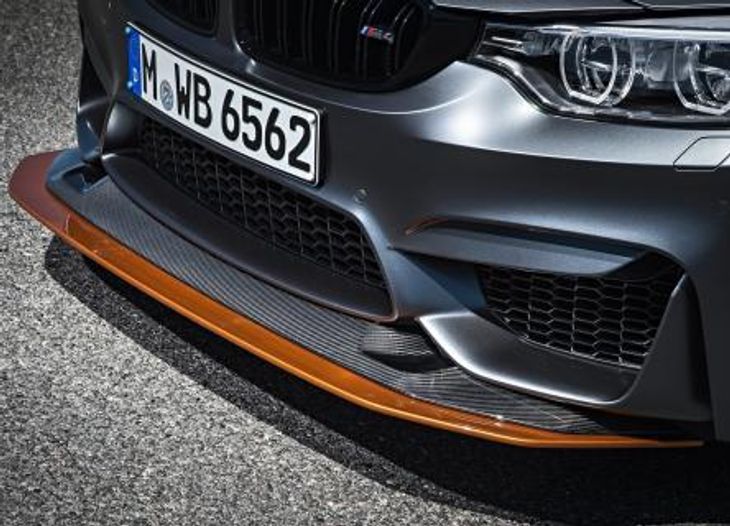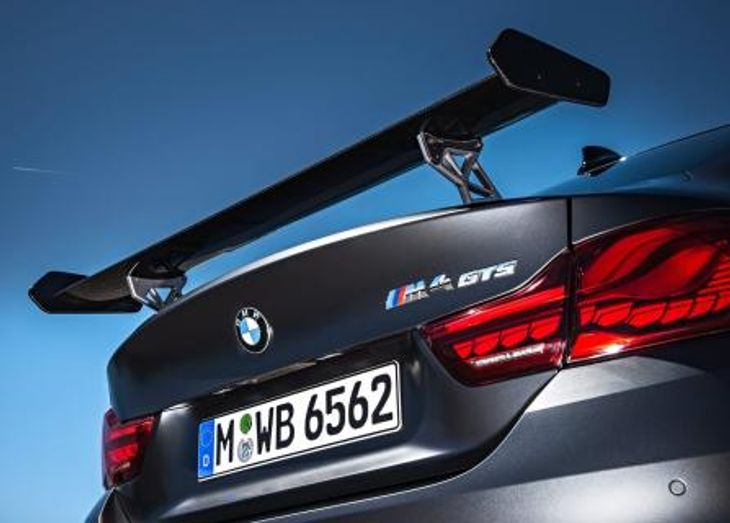 Bespoke toolkit
It gets better, the wings are adjustable! After digging through the owner's manual, we stumbled across some incredible info. The manual gave guidelines on how to set the suspension, wing and splitter to cope with various conditions and surfaces. There was even a recommended settings page for those owners in Europe who were wanting to take their cars onto the Nordschleife section of the Nurburgring!
We discovered a neatly packaged toolkit in the boot (shown below), which can be used to adjust various parts, and even if you don't intend on changing anything, the toolkit itself is a work of art. It's this level of detail which we really appreciate and admire.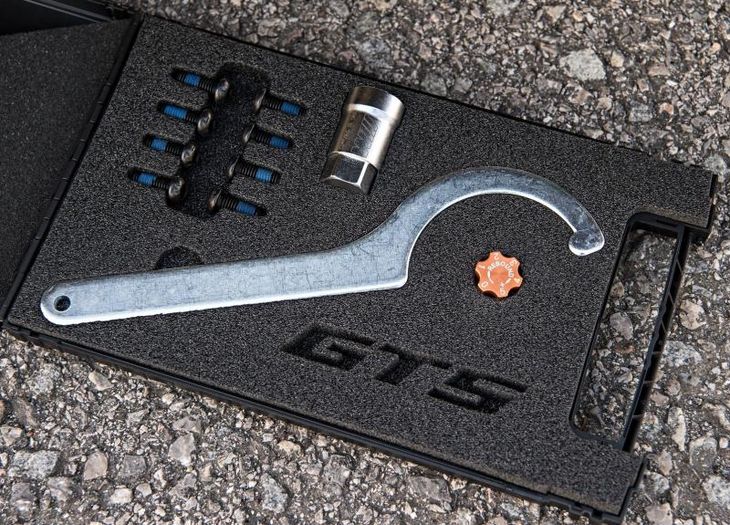 Related content:
BMW M4 GTS (2016) First Drive
BMW Reveals M4 DTM Champion Edition
BMW M4 with M Performance Parts (2016) Video Review
BMW M4 M-DCT with M Performance Parts (2016) Review
BMW M3 and M4 Competition Pack (2016) prices in SA
BMW M3 Special Edition "30 years M3" Coming to SA
Just 6 BMW M5 Competition Editions for SA
BMW M5 Pure Metal – The Most Powerful M5 Ever Made [Video]
BMW M5 Pure Metal (2016) Review
Interested in buying a BMW M4?