The BMW M4 is a sublime sportscar that combines sizzling performance with luxury and everyday usability with aplomb, but, in the hearts and minds of some purists, perhaps a tad too well. Whether the M4 ultimately lacks the sound and fury demanded by the most ardent M car aficionados may be debatable, but BMW has moved to silence the M4's critics by offering a catalogue of OEM-approved aftermarket parts to give the Bimmer a more hardcore edge. We give it a blast...
We like: Indulgent soundtrack, brutal performance, cabin comfort and space, build quality

We don't like: Slightly lacking in low-rev responsiveness, steering could offer more feel
Alternatives:
A familiar, but new foe: If you're more of a Benz person, then the brand-new Mercedes-AMG C63 is the obvious alternative. For the M4's money (including M Performance Parts as fitted to this test model), you can just about afford the C63 S, which offers more power and torque. We've yet to put the C63 S Coupe through our test routine, so can't quite make definitive statements yet about its dynamic abilities. Read our first drive report on the C63 Coupe here.
A bargain Audi: The current Audi A5's successor has already been shown overseas and is on the way to South Africa. However, it'll take a little longer before the new RS5 arrives. So, if you can twist your Audi dealer's arm for a good deal on the outgoing model, you'll still be getting a very good car. Can't match the BMW dynamically, however, and is showing its age inside. Look for used examples on Cars.co.za.
Compare the BMW M4 M-DCT with the Mercedes-AMG C63 S Coupe and Audi RS5
What is it?
This is not the so-called M4 Competition Pack, but rather an M4 equipped with goodies from the BMW dealership network's M Performance Parts catalogue. Does the M4 really need this? Well, by all measurable standards the current, F82-generation M4 is a superb vehicle. It offers stupendous power, driving precision and comfort, all wrapped in a muscular coupe shape. And yet there are M-division fanatics who wonder whether the M4 has become too mild and long for the brutal soundtrack of the E92-generation V8 model, or the soulful straight-sixes that preceded it. And what about the looks? If you are one of those who think the basic M4 shape is a tad too restrained, then a selection of M Performance parts provides ample opportunity to add some visual drama.
How does it fare in terms of...
Upping the drama?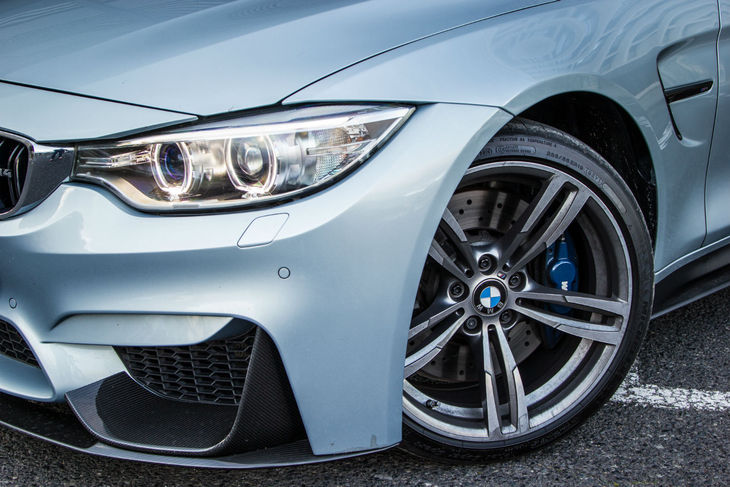 There is carbon-fibre addenda everywhere, but other trim elements are highlighted in gloss black finishes.
We're big fans of the M4's musclecar-esque looks here at Cars.co.za. But we can appreciate that owners who spend upwards of R1.2 million on a vehicle (that is clearly not used for the daily commute) might want to individualise their steeds, whether to draw more attention, or simply for their own enjoyment.
With a generous helping of carbon-fibre (CF) adornments, our M4 test unit certainly turned plenty of heads, most notably from other M4 drivers. So, if you do want your M4 to have greater visual presence, provided you're not one of the 25 lucky locals who are set to procure the fearsome M4 GTS, then this may very well be an avenue worth exploring.
But what exactly can you get, and how much does it cost? This test unit featured 3 individual pieces of CF at the front and collectively they endow the M4 with a more menacing facade. These 3 pieces will set you back approximately R32 000. Then there are the CF mirror caps (around R14 000), CF side sills (R5 000 approx.), CF rear spoiler (just shy of R8 000) and the CF diffuser (R22 000 approx.). Finishing touches include a gloss black grille finish for about R2 000.
Then there's arguably the biggest change, and it's one that can be seen and heard – the exhaust system. For an eye-watering R57 000 BMW will fit an M Performance "silencer" that will be the cause of sporadic ear-bleeding. The big-bore pipes also look the part, as they're finished in CF (for an extra R24k-odd). Consequently, you are now likely to hear this M4 long before you see it. On cold start-up it wakes up neighbourhoods with an almighty snarl before settling into a loud, angry idle. Out on the road it is quieter, but a loud roar is never more than a 2-cm flex of the right foot away. Switch to Sport or Sport+ modes and you (as well as everyone within earshot), will be treated to an aural assault courtesy of that quad-megaphone rear arrangement. Subtle it isn't.

Performance?
According to BMW's specifications, the parts fitted to this vehicle have not affected the claimed power outputs, so ultimately this M4 test unit provides us with an opportunity to reassess the M4's performance, as it is as standard. To a large degree the character of the M4's turbocharged 6-cylinder engine can be deduced by looking at the power and torque figures. The 317 kW of peak power arrives at a heady 5 500 rpm, and remains available until 7 300 rpm.
So, even though the addition of turbocharging (two small turbos, in fact) has added a lot of torque low down in the rev range (550 Nm available from 1 850 to 5 500 rpm), the engine retains the sweet high-revving characteristics of the naturally aspirated 6- and V8-engined M3 models that preceded it.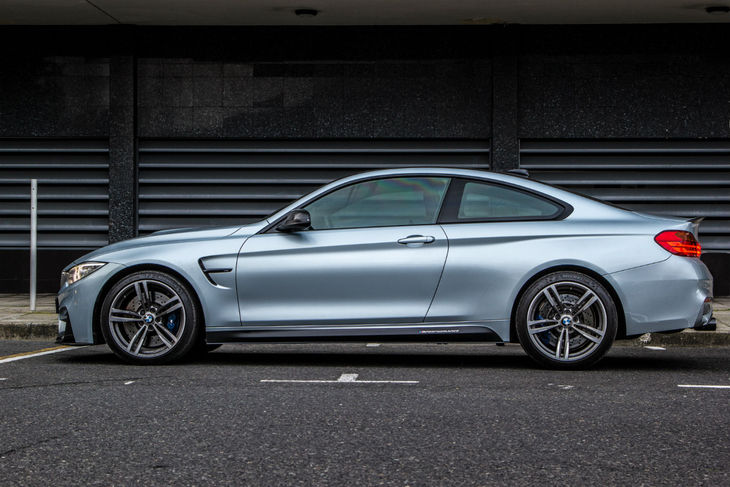 The parts fitted to this M4 has not made it any faster... but it's plenty fast enough!
BMW claims a 0-100 kph sprint time of 4.1 seconds for this M-DCT equipped car (with Launch Control), and provided you have access to a grippy surface, it will achieve that sprint time with relative ease. The manual-transmission M4, by the way, is said to take 4.3 seconds to complete the benchmark sprint, but that time will not be something most drivers will easily achieve. The M-DCT 'box, along with the various driving modes, endow the M4 with numerous personalities, and it really is up to the driver to spend time with the vehicle and learn which settings are best suited to their own driving styles.
Lazy drivers could initially be frustrated by what appears to be a lack of low-speed responsiveness, but dial in the correct gear and match it to the power and, and all such perceptions will be shattered quickly... The M4 is ferociously quick, and the power delivery is relentless once you're in the (generously large) sweetspot of the rev range. Ultimately, however, the coupe's initial throttle response is subjectively not as sharp as those of previous-generation M3s.
If you do crave more power than the standard M4 can muster, then BMW offers the Competition Pack for an additional price of R135 900 over the standard car. It raises the M4's power output to 331 kW and lifts the top speed to 280 kph.
Ride and Handling?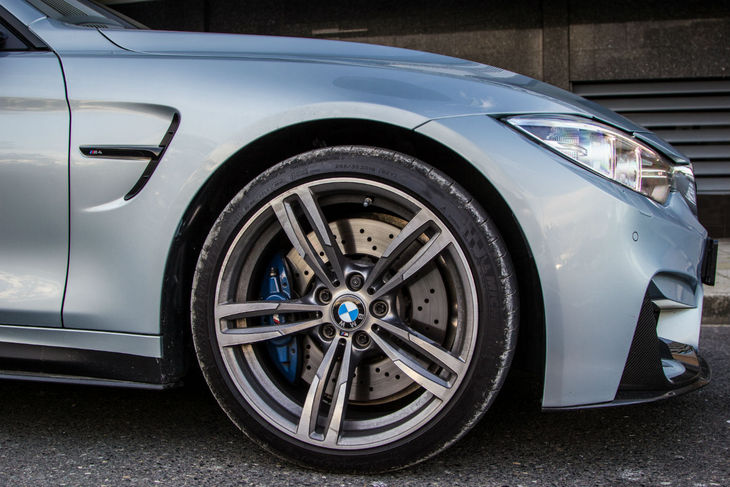 Massive compound structure, internally ventilated and drilled discs provide superb stopping power. You'll need it.
Once more, the parts fitted to this vehicle do not extend to the hardware underneath the muscular, carbon-adorned body. In fact, our test unit didn't even feature the Adaptive M Running Gear (suspension), which is a R27 200 option on all M4s. It does, however, like all M4s, feature the Active M differential, which is an electrically controlled mechanical limited-slip differential.
In truth, the M4 serves up a remarkably comfortable ride given the hardcore nature of its performance. The suspension is pliant in most instances, perhaps aided by the fact that unlike other 4 Series models, it doesn't ride on RunFlat tyres.
At the same time, it is also very resistant to roll and pitch/yaw characteristics in the bends. The latter is particularly impressive, because the M4 is by no means a light car, notwithstanding all the applications of CF (roof, driveshaft etc.). The active diff plays a big role in the car's dynamic charisma, fighting understeer upon corner entry and allowing for some controllable tail-out antics at the exit. The electrically assisted steering is probably the weakest link in the package. Though you can firm up the feel by switching to the sportier modes, it never feels particularly sharp. Pity...
Of course, most hardcore drivers will want to switch off all the electronic nannies as soon they reach a suitable track, but we'd caution against that. Explore the track-oriented settings first, as they allow for a fair degree of slippage before intervening and saving your bacon. Ultimately, the M4 may not be lithe, pin-sharp machine its forebears were, but there is plenty of fun to be had here if you dig into the staggeringly large number of layers of this car's personality.
A final note on the M4 dynamic ability – we'd recommend ticking the Adaptive M Running Gear option box. Although the ride quality delivered by the M4's standard suspension is not atrocious by any means, anything that potentially helps traction, particularly on poorer surfaces, is welcomed. Keep in mind that this system is included if you select the Competition Package (R135 900), or alternatively offered separately for R27 200.
Cabin comfort?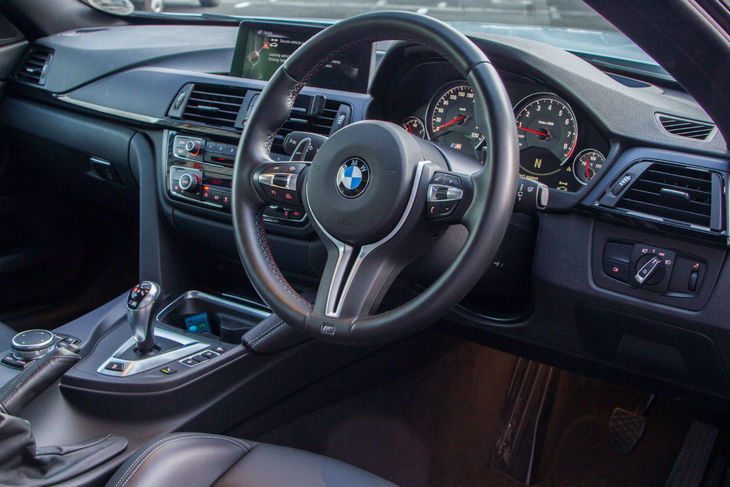 No M Performance Parts fitted to the cabin of this test unit. No problem...
The cabin of this M4 was entirely standard, save for a selected few extra features, including head-up display, ConnectedDrive and Concierge Services, among others. The predominantly dark trim of this car also suited its "sinister" exterior finishes but the clever use of satin silver/aluminium finishes bring some welcome relief. It's a smart, well-made cabin that's also surprisingly big on space. It offers usable rear legroom and the boot, at 445 litres in (claimed) capacity, will rival many a hatchback. The way in which the M4 manages to be both luxury grand tourer and rapid junior supercar is quite something.
Standard features on the M4 include shapely M Sport seats with illuminated logos, rain-sensing wipers, auto-on adaptive Xenon headlights, electric rear roller blind, driver's seat electric adjustment with memory, cruise control with a brake function, climate control, front and rear park sensors and rear-view camera, Professional 3D navigation system, 20Gb of music storage and a Hi-Fi Loudspeaker system with 9 speakers, among many other comfort, safety and luxury-boosting features.
Pricing and Warranty
The standard BMW M4 is priced at R1 207 836, and collectively the M Performance Parts fitted to this vehicle is approximately another R170 000. The good news is that these parts do not affect the standard 2-years/unlimited km warranty and 5-years/100 000 km Maintenance Plan.
Verdict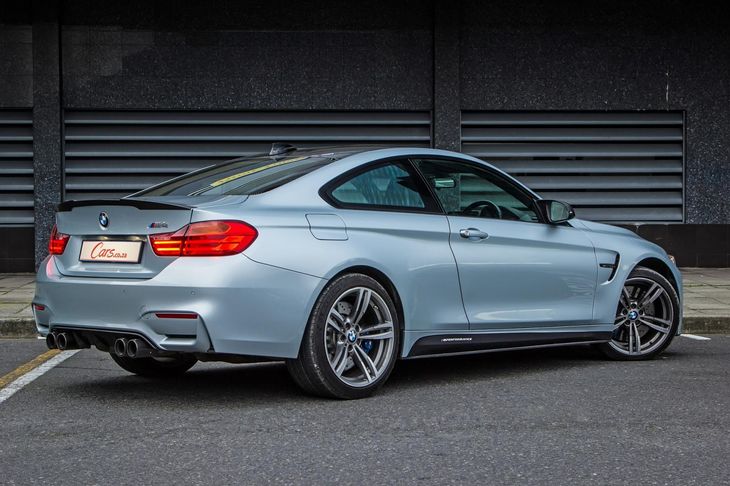 If this review is anything to go by, the M4 is arguably under-appreciated by M fanatics.
Ultimately the M Performance Parts fitted to this M4 have not improved the package in any measureable way (except decibels), but simply represents a way for those interested in heightening the drama associated with what remains arguably the best performance car at the price, to have their kicks. And there's certainly nothing wrong with that. If, however, you want to up the appeal of your M4 in a less superficial way, then may we suggest the Competition Pack?
Priced at R135 900, the Competition Pack includes a sports exhaust (which adds an edgier timbre to the standards M4's aural characteristics, but is admittedly not as raucous as the M Performance version), Adaptive M suspension, M seats, a power hike to 331 kW and the upping of the top speed to 280 kph, among other goodies. This means you'll still have more than R30 000 left to spend on BMW's tempting optional extras catalogue...
Watch the BMW M4 with M Performance Parts Video
Quick facts about the BMW M4 with M Performance Parts:

Related content
First Drive: BMW M4 GTS
Spied: BMW M4 facelift for 2017
Interested in buying a BMW M4?