This is the final hurrah for the flagship of the F10-generation BMW 5 Series. It's the most powerful and exclusive M5 to make landfall in South Africa, and we spent 7 days holding on for dear life.
We Like: Effortlessly fast, gorgeous paint finish, immense brakes
We Don't Like: Underwhelming noise, cabin feels a little dated despite recent updates
Alternatives:
German alternative one: Audi RS7 Sportback. This biturbo brute offers quattro all-wheel drive, which helps it match the M5 Pure Metal Edition off the line. There's no sedan option as the RS6 is a station wagon, but at least the RS7 is a 4-door "coupe". It's more affordable, but not a limited-edition car.
German alternative two: Mercedes-AMG CLS63 S. Benz doesn't have a direct rival to the BMW as the new E-Class AMG is still some way away. However, the CLS63 S offers performance that runs the M5 very close. It's fractionally down on power, but offers 100 Nm more torque.
Something a bit different: Porsche Panamera Turbo. The Panamera is a four-door 2+2 and in Turbo guise, its delivers substantial punch. It offers less than 400 kW, but a mighty 770 Nm will help it keep up with the M5. It's a bit more expensive, however, and due for replacment too.
We don't have the exact specification of the BMW M5 Pure Metal Edition on our site, but you can compare the standard BMW M5 Competition Pack to see how it compares with the Audi RS7 Sportback and Mercedes-AMG CLS63 S here.
What is it?
The BMW M5 is such an iconic performance sedan that many unit sales could be attributed to the truncated name of the top-of-the-range 5 Series alone. The M5 badge carries tremendous gravitas and prestige, and the world's premium marques have no choice but to sit up and pay attention to every new iteration of this Autobahn-storming uber saloon, which offers searing pace, seats 4 adults in sumtuous comfort and can haul all their luggage too.
It's a great recipe and that's the reason why each successive version of the M5 to roll off the production line carries with it great expectations. The current M5 represented a departure for the BMW... the introduction of turbocharging made the F10-generation version somewhat less intense and, ultimately, charming, than its predecessors, but the 4.4-litre forced-induction V8 – not least its dual-clutch transmission – delivered far more flexible performance.


BMW M5 30 Jahre with the older M5 versions. We didn't get the derivative here, so BMW SA made its own version.
The current M5 was unleashed upon the world a few years back and now, as we cross the middle of 2016, it's almost time for this model to be replaced. An all-new BMW 5 Series is imminent and a new M5 is sure to follow shortly thereafter. To celebrate the end of the (F10) BMW M5, there was a limited edition model called the 30 Jahre. This vehicle never made it to South Africa, but BMW South Africa chose to make its own special version, again. We say again, because BMW SA created the 333i and 325iS Evo I and II when the first-generation M3 was unavailable for the local market. Let's not forget the E92-generation M3 Frozen Edition either, which made up for the BMW M3 GTS' non-arrival... Thanks, BMW SA, you're permanently on our Christmas card list.
So, what is this BMW M5 Pure Metal Edition all about? Let's start with that colour. It's called Pure Metal Silver Metallic and, at first glance, it almost looks like a chromed finish! The paintwork simply glistens in direct sunlight and is quite dazzling. If you want this exterior finish on a standard M5, it will cost you a tidy R100 000 extra. It's a one-of-a-kind paint option and, as you'll see in the video below, it's the product of a unique manufacturing process.
How does it fare in terms of…
Performance and ride quality?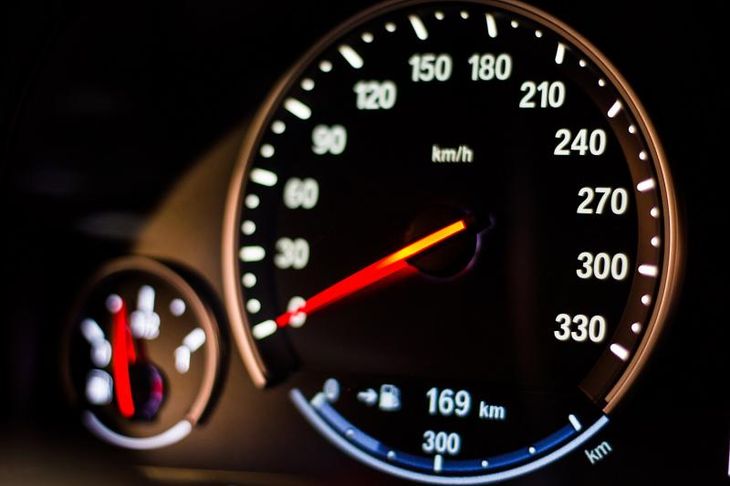 Speedometer reads to 330 kph. While most cars are marked to an optimistic number, this M5 feels like it could get to 330 kph.
This particular M5 also has a 4.4-litre twin-turbocharged V8 motor, but whereas in standard guise this engine produces 412 kW and 680 Nm, this version has been upgraded to deliver peak outputs of 441 kW and 700 Nm (power is transmitted to the rear wheels via a 7-speed dual clutch transmission).
Climb into the Pure Metal Edition, click your seatbelt into place and stab the "Engine On" button. When the V8 bursts to life, its engine notes is – by the standards of modern performance machinery – seriously underwhelming. At the time of writing, a shiny BMW M4 fitted with an M Performance exhaust system arrived for testing and compared with the M5, it sounded nothing short of demonic... So, when we look back at our time with the Pure Metal Edition, we missed some snarl from the quad pipes. It sounds a bit rorty from a cold start, but the note becomes muted once the M5 is up to operating temperature.
Noise (or lack thereof) aside, driving the Pure Metal Edition was an unforgettable experience. The typical BMW M configurable driving modes are available and you can alter the steering weighting, engine responsiveness, suspension pliancy and even adjust the severity of the gear changes. Set everything to comfort and you could fool people into thinking you're in a normal 5 Series. Start playing with the settings and flick the M gearbox into its most aggressive mapping and prepare for neck-snapping shifts. The tiller is equipped with shift paddles and they're a joy to use thanks to near-instantaneous responses.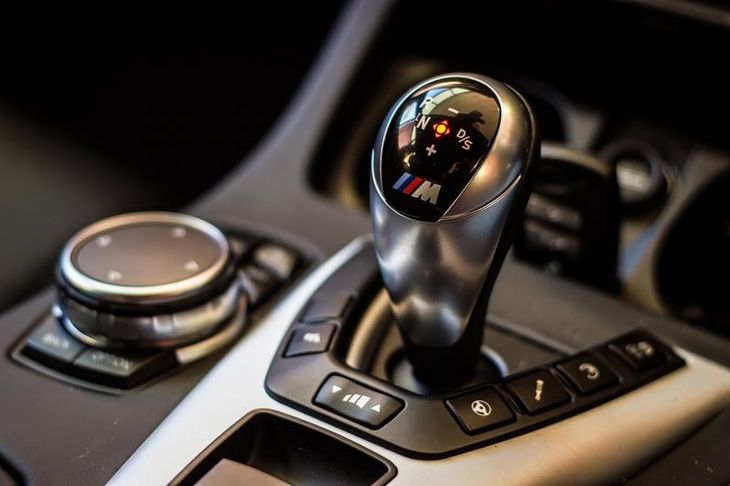 Typical BMW M stubby gear selector. Note the gear severity button just aft of the stub, and engine/suspension settings to the side.
The M5's fitted with launch control, but we opted not to use it, because the BMW M5 Pure Metal Edition's party trick is not turning in sheer obliterating sprint runs, but attacking the asphalt from speeds where it can lay its awe-inspiring power down. Obtaining a benchmark 0-100 kph time is not easy as the rear tyres tend to be overwhelmed by the BMW's sheer grunt, but the way the super sedan accelerates in-gear from 80 kph is almost... terrifying.
If we had access to an Autobahn, this Pure Metal Edition could warp from 100 to 200 kph and if the road was long enough, go on to hit 300 kph. Acceleration is one thing, but the braking prowess is more impressive. The ceramic discs require a little more time to get up to peak operating temperature than steel ones, but once they're primed, you can bring the Pure Metal Edition to a halt in such a manner that it feels like your eyes may pop out of their sockets!
When it's not trying to defy the laws of physics, the BMW M5 Pure Metal Edition still does the basics right. When all the modes are set to comfort, it's a comfortable and spacious executive sedan with plenty of overtaking power just a stab of your right foot away. The feel conveyed through the wheel is just right for driving enthusiasts who bemoan the fact that the overwhelming majority of executive cars feature overly numb (comfort-driven) steering setups.
Technology and comfort?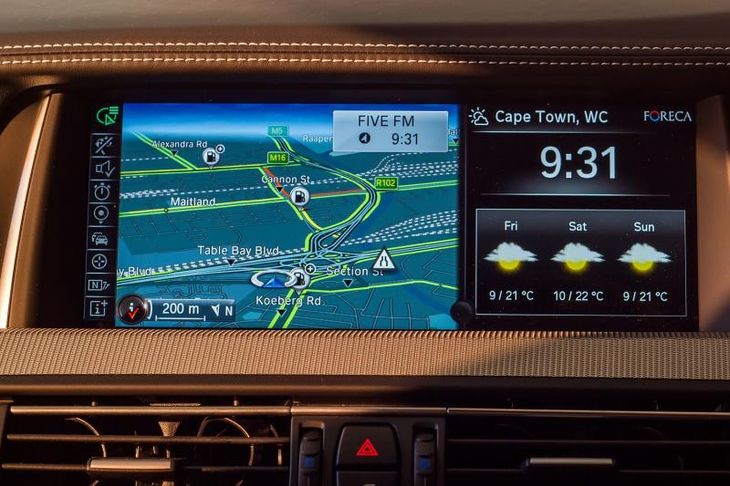 Live traffic updates are useful. BMW Connected services include weather and the car will even read news stories to you.
It must be noted: the Pure Metal Edition is not only impressive because of its monstrous engine and the fact that its driving experience can be customised to individual tastes. The head-up display is excellent, the satellite navigation features live traffic updates and when we landed up in traffic jams, the car amused us by reading out news headlines. Heated seats are a welcome addition, but we wish the Bang & Olufsen sound system was standard.
If you want a sporty and comfortable driving experience, then set the engine to sport and suspension to comfort. Easy. If you're finding the gearshifts a little too savage on your neck, then dial the shift-severity down. You can further program your favourite Drive Mode settings into the M1 and M2 buttons on the steering wheel and even pre-disengage the stability control (although the onboard system will ask for confirmation). Do the latter at your own risk, however.

Switching of the M5 Pure Metal Edition's stability control system should be avoided unless you feel particularly brave...
Value for money?
There are 2 ways to look at this. On the one hand, this is a limited-edition BMW M5 and, as the plaque on the dashboard points out, it's one of 20 units that will be produced. Generally speaking, limited-edition performance vehicles hold their value well and (eventually) become highly sought-after collector's items. If the BMW 1M is anything to go by, the BMW M5 Pure Metal will surely command high prices.
Then, on the other hand, when you compare the BMW M5 Pure Metal spec-versus-spec with an M5 Competition Pack (with a few extra boxes ticked), it seems a little expensive for what it is. Owners can, however, take comfort in the fact that they're packing 441 kW, 18 kW more than the Competition pack and a whole 29 kW more than a standard out-the-box M5. You also gain those model-specific, executive-looking 20-inch alloy wheels.
And, the BMW M5 Pure Metal Edition is not just a shiny silver version of the M5 Competition Pack. To justify its high price tag, there are a few other tasty add-ons. Competition Package comprises a revised chassis, lower suspension, an Active M differential, a top speed increased to 305 kph and some electronic tweaks to the stability control and M steering. The Pure Metal Edition specification adds on ceramic brakes and an uprated interior comprising Merino leather-wrapped M seats, which offer a nice balance of support for performance driving and comfort for longer journeys.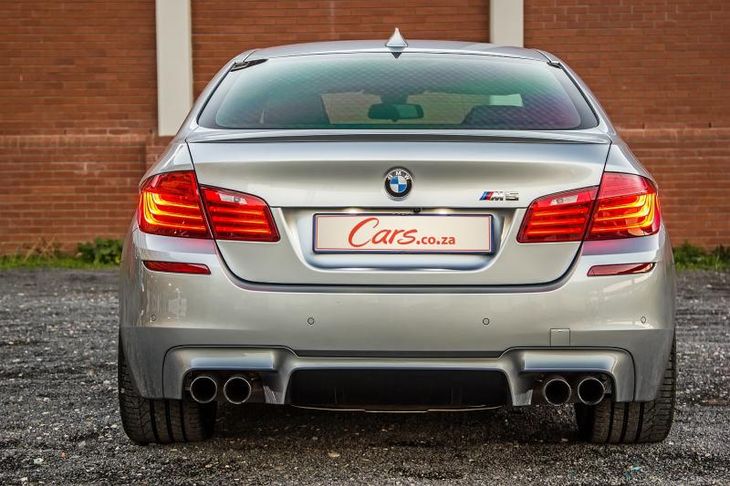 The view which most other road users will see of the BMW M5 Pure Metal Edition.
BMW M5 Pure Metal Edition price in South Africa
This limited-edition derivative costs R1 948 000, which includes a 5-year/100 000 km maintenance plan.
Verdict
The BMW M5 Pure Metal Edition is one special vehicle. By virtue of its near 2-tonne kerb weight, it should be appreciated more for its ferocious in-gear performance and high-speed cruising ability than its outright handling prowess (on tight, twisty roads). As great as the tyres are, they simply cannot cope with the sheer torque and unless you're circumspect with the throttle, you'll find the stability control light flashing in time to the rubberwear's audible protests. We had an in-office joke about this car: it only has three gears: first, second, and HOLD ON FOR DEAR LIFE. Once it found some grip, the BMW M5 Pure Metal Edition would effortlessly lunge towards the horizon with passengers sitting in the back wondering how it was possible to be so brutal.
But not everyone is in the mood to drive at scenery-distorting speeds at all times, so with the Pure Metal Edition's engine in its tamest setting, you're behind the wheel of a supremely-specified BMW 5 Series, and while it does feel a tad dated, it's superbly comfortable and refined. It offers one of the finest driving positions and even though it is a hefty car, it doesn't feel dramatically larger than a 3 Series and is effortless to pilot in the confines of the city.
This generation of BMW M5 hasn't quite won over the hardcore M5 fans whose eyes glaze over in happiness when you mention the sedan's V10-powered SMG predecessor. They need to face the facts: engine downsizing and turbocharging are the way of the future, whether they like it or not. The next-generation BMW M5 is likely to use a similar engine and all-wheel drive, as featured on the mighty X5/X6 M, in on the cards.
As for the Pure Metal Edition, it's a desirable swansong for this generation of the BMW M5. It's not only stupendously fast, but involving to drive and let's not forget those practical elements of a big boot and enough seating for four adults. If only it was louder/more dramatic in the aural department…
Did you enjoy this review? Now watch the video to see the BMW M5 Pure Metal in action
Interested in a used BMW M5? Find one on Cars.co.za
Or perhaps a brand new M5 is more appealing? If so, click here