Some driving enthusiasts prefer sportscars with manual 'boxes, but now that quick-shifting dual-clutch transmissions are widely available and well proven, those aficionados seem to be in the minority. But what if they're justifiably old-school? We've been enamoured with the BMW M2 Coupe since we reviewed and track tested an M-DCT automatic version of BMW's visceral sportscar, but our UK correspondent is adamant that the 6-speed manual M2 is the one to have. Here's why...
As I park up, my wrists feel like numb stumps on aching forearms. Fingers still grip the steering wheel like frozen bear claws and my skull sits rigid atop my spine. What remains of my innards have morphed into mush and the pounding of my racing heart could awaken the dead.
But I've never felt so alive in my life!
On the ragged edge of legal velocities somewhere deep in the English countryside, I've just spent a thrilling few hours piloting the 6-speed manual version of BMW's astonishing M2. Some cars should only be sold with stick shifts – BMW's M2 is one such car and in 6-speed manual guise, it's stupendously the better for it.
The case for the BMW M2 manual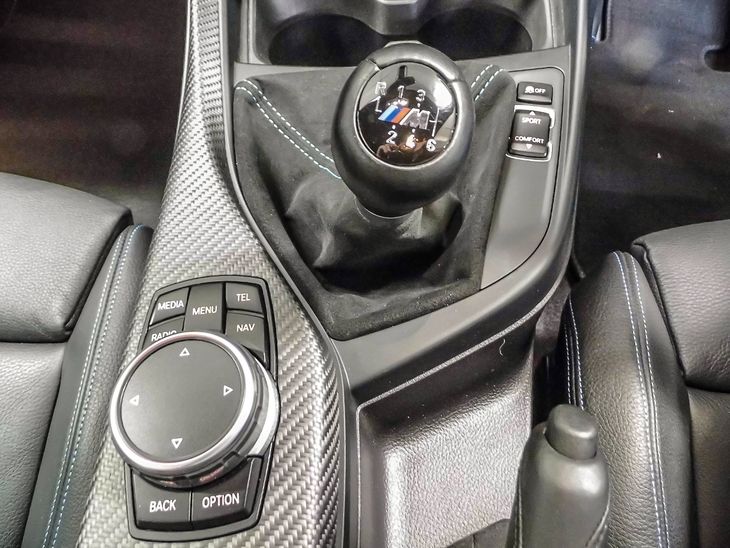 The BMW M2 manual adds a level of engagement that enhances the overall driving experience.
Manufacturers sing the praises of their automatic gearboxes, with some dual-clutch systems able to, not only to shift faster than a human ever could, but return marginally better fuel economy figures as well. I don't have an issue with that, as that's the way technology should advance...on a Volkswagen Passat. Some brands hardly bother with manuals at all; Ferrari doesn't sell a single manual model and news that Jaguar was to offer a manual 'box in the F-Type was considered quite a big deal a little while back.
BMW's M2 occupies unusual territory in the automotive market. As the German automaker has evolved, filling its line-up with gargantuan crossbred models, single-purpose performance vehicles mean less to the brand's luxury buyer base. However, to the shrinking, yet vocal group of BMW traditionalists, the M2 embodies hope for the future of driver-focused engineering.
The M2 differentiates itself from the rest of BMW's line-up with a "less is more" philosophy. Though it's possible to add a number of safety and convenience features to the M car's interior, the standard-issue M2 is relatively fuss-free. Instead of a massive infotainment screen, massaging seats, and semi-autonomous technologies, drivers engage with a 6-speed manual transmission, a thick-rimmed steering wheel, and sport driving modes.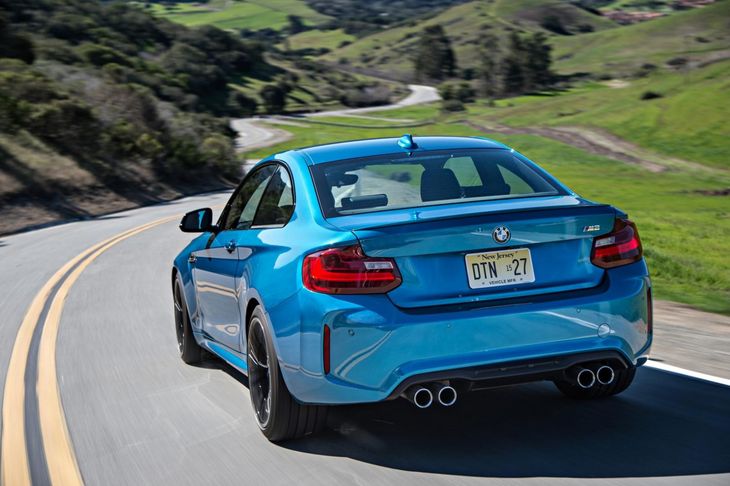 The M2 is a visceral performance machine that thrills driving enthusiasts, but without intimidating novices.
The beauty of the M2 is in its agility, responsiveness, and precision. Extracting these elements requires driver finesse and attention; Unnecessary 'amenities' tend only to muddy the experience. While the BMW M2 may pretty much only be a 1-Series in an inflatable sumo wrestler's suit, its flared wheel arches (4cm in the front and 7 cm over the rear), and stretched low profile rubber look the business. Its short wheelbase adds purpose and the aerodynamic front-end styling oozes menace.
With an output of 272 kW at 6 500 rpm and maximum revs of 7 000 rpm, the 3.0-litre straight 6 engine in the BMW M2 fires a warning shot across the bows of its rivals in the high-performance compact sports car segment. Fuel consumption with the 6-speed manual gearbox is a reasonable 8.5 L/100 km, while the CO2 emissions are tagged at a tree-felling 199 g/km.
However, it's the Germanic efficiency of the M2's engine's peak torque that really leads the way here; a thumping 465 Nm is on tap between 1 400 and 5 560 rpm, with the overboost setup increasing this by 35 Nm to 500 Nm between 1 450 and 4 750 rpm.
From a standing start, 100 kph arrives in just 4.2 seconds with the speed topping out at an electronically limited 250 kph.
Along with most performance cars of this calibre, it's often about the noise. The soundtrack of the M2's stirring six-pot was engaging but not overstated, with only a whisper of turbo plumbing evident: the mechanical serenade and rousing quad-outlet exhaust dominated the on-road orchestra.

The M2 joins the M3 and M4 as the only M Division products to be offered with a manual transmission.
The 6-speed manual gearbox stands out with its compact design and low weight. Throws are perfectly short and the gates are narrow. The use of a new type of carbon-fibre friction lining enhances shift comfort. An engagement speed control function, which blips the throttle on downshifts and lowers the engine's revs on upshifts, makes urgent gear changes smoother and affords the car greater stability during hard driving.
The lighter manual 'box balances the axle load distribution to nearly 50:50, enabling the car to give more neutral and stabilised driving characteristics in pretty much every situation. When the argument in favour of the stick shift is based on how much fun it is, it's undeniable.
Pushing the limits
So, finally... let's get out on the road.
It's the M2's cornering tenacity that stands out on the road. On occasional broken and greasy surfaces, the M2's grip and communication saw its electronic nannies disturbed, but the BMW never felt twitchy or perilously "on edge".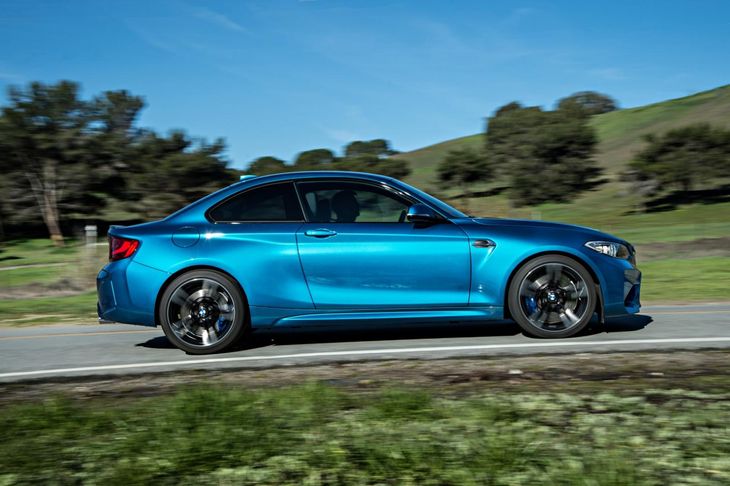 The M2 ushers its nimble body through corners with unending confidence.
At a recent McLaren track day, a pro racer advised me to "trust the grip, Wayne. Just trust the grip". Such sage advice is all well and good when proffered around a track with forgiving run-offs, but our narrow British roads are an entirely different story. They're well-policed, for a start!
The accurate and perfectly weighted steering is brilliant, allowing the front-end to clearly communicate its intent to my hands, while the perfectly executed throttle-blip during manual downshifts made me appear rev-perfect. Thanks, BMW.
In its element on a winding road
Pushed to its limit in corners, the BMW M2 can generate 0.99 G of grip, about the equivalent of being tackled by a tight-head prop with score to settle. In its element on a winding road, the M2 ushers its nimble body through corners with unending confidence. Its athletic handling stems from M's suspension tuning mastery, plus the sticky rubber measuring a chunky 265 mm wide at the rear.
Though the M2's Sport+ driving mode dials in a bit of tail-happy compliance, skilled drivers can choose to turn off the M2's stability control system entirely. While some cars transform into widow-making machines without electronic policing, the manual M2 breaks away with calculated precision. Rear-end rotation can, therefore, be used as a tool, rather than a scare tactic.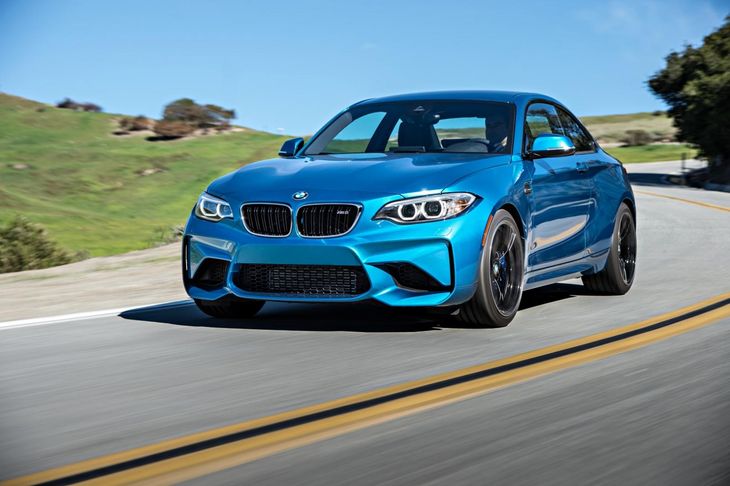 The BMW M2 is all about the thrills, but it's also reasonably comfortable for the everyday commute.
At present, the only direct rival to the BMW M2 is the redesigned Audi TTS (until the TT RS arrives), the Porsche Cayman S and the Mercedes-AMG SLC43. While the Audi is truly a magnificent blend of performance and technology, it simply can't match the power and precision of the M2, the Cayman S is, by all accounts, an eminently wieldy dynamic machine (if powered by a dull-sounding turbocharged 4-pot) and as for the Benz, I've reliably been told that whereas its 270 kW twin-turbo V6 motor is snarly and sonorous, the SLC43 is more a brawny convertible than a serious sportscar.
Summary
Whereas BMW's migration away from bare-bones performance machines raised doubts that the Munich-based carmaker's M division could still churn out a no-frills sportscar, the M2 has resolutely silenced the naysayers.
Surprisingly, the M2 was rather comfortable in the ride department, considering the standard set-up may best be described as firm. It's a very liveable hard-charger but was slightly let down by excessive road noise from the front-end and poor attenuation of tyre noise on all but the smoothest surfaces.

The manual-geared M2's performance is thankfully still analogue in nature – a product of driver manipulation, not computer-actuated machination. It doesn't politely ask for driver co-operation, it demands focus, skill, and precision to extrapolate the depths of its ability.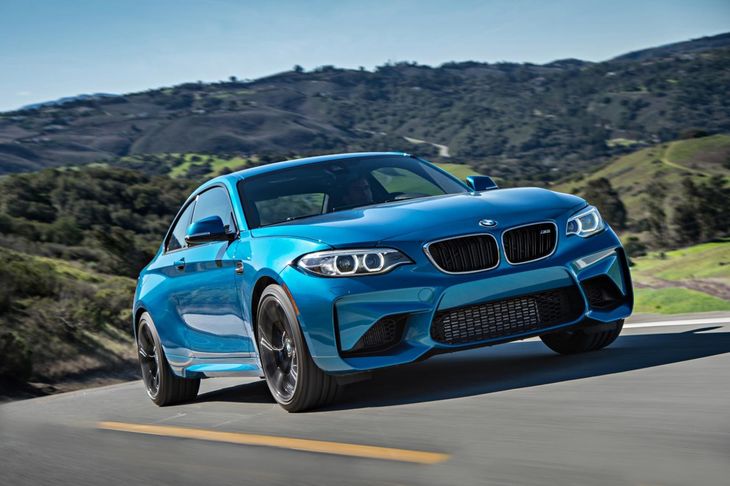 Hardcore driving enthusiasts will argue that getting the most out of a manual 'box is rewarding in itself.
When discovered, the overwhelming sense of satisfaction is immense. I quickly came to terms with the fact that far smarter men than me have designed the car to make me feel like a world-class driver, rather than building a car that only a skilled driver could make the most of.
Anyway, feeling has returned to my wrists, my fingers have reassumed their natural shape and my stomach and heart have finally stabilised, so I'm off for a well-earned cup of tea and perhaps, a biscuit...
Related articles:
BMW M2 Coupe Auto (2016) Review
BMW M2 vs Mercedes-AMG A45 vs Audi RS3 vs Honda Civic Type-R: On-track analysis [Video]
Track Race: Audi RS3 vs Merc-AMG A45 vs Honda Civic Type R vs BMW M2 [Video]
Drag Race: BMW M2 vs Mercedes A45 AMG [Video]
5 Things We Learned about the BMW M2
BMW M2 Coupe (2016) First Drive
Interested in buying an M2, M235i or M240i?
Click here to enquire from a dealer
Search for a used example on Cars.co.za