Hidden in the shadows of its illustrious M3/M4 siblings sits the svelte, but rapid and entertaining 440i coupe. Could it be the ultimate modern-day Q-car?
We like: Performance, dynamics, surprisingly spacious, relaxed tourer
We don't like: Could be a little more special inside
Alternatives
A new rival from 'Benz: German rival Mercedes-AMG has just launched the C43 Coupe on the South African market, and while we have yet to test this model, it appears impressive on paper. Powered by a new turbocharged 3.0-litre V6 that delivers superior power and torque (270 kW/520 Nm) the C43 also makes use of 4Matic all-wheel drive to lay its power down. It's a little faster to 100 kph than the BMW, too.

Full-house cruiser: If your preference is more for a sophisticated, luxurious cruiser, then the Lexus RC350 F-Sport deserves a closer look. Its silky smooth naturally aspirated 3.5-litre 6-cylinder engine can't quite compete on power (233 kW and 378 Nm), so it lags in the performance stakes, but what you do get is an impeccably finished car, loaded with all the features as standard and great long-distance comfort.

Can you wait a few months? The all-new Audi S5 Coupe has been revealed in Europe and should reach South African shores within the next few months. The slick newcomer is powered by a turbocharged 6-cylinder engine that delivers a strong 260 kW, coupled with an 8-speed automatic transmission.
Compare the BMW 440i Coupe M Sport with the Mercedes-AMG C43 Coupe and the Lexus RC350 F-Sport
What is it?
BMW made a few tweaks to its pretty 4 Series line-up earlier this year, with most of the engines being slightly upgraded to push out more power. BMW used the opportunity to rename some of the models, with the 440i you see here being the flagship if you discount the M4. The 440i is aimed at buyers who want significant helpings of the performance and dynamism that BMW products are known for, but also a greater emphasis on ride comfort, refinement and "fly-under-the-radar" appeal than the M cars can deliver.
How does it fare in...
Performance and Efficiency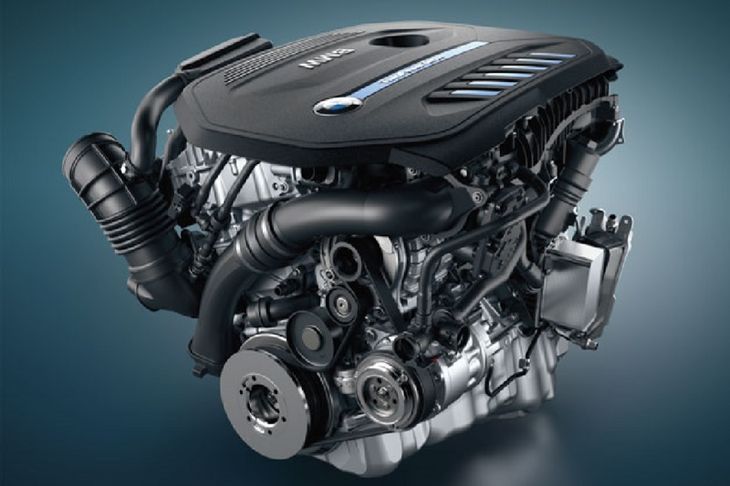 Internally known as the B58, the 440i's turbocharged straight-six is part of BMW's new modular engine line-up.
Underneath the long, heavy bonnet of the 440i is one of BMW's new modular engines. It is code-named the B58 and replaces the respected N55. Like its predecessor, it is a straight-six cylinder powerplant, 3.0-litres in size and boasts single, twin-scroll turbocharging and direct injection. It pumps out a whopping 240 kW and 450 Nm of torque, with the latter figure being available across a wide rev band that stretches from 1 380 to 5 000 rpm. It is red-lined at a heady 7 000 rpm.
Mated with BMW's creamy smooth (but quick and decisive) 8-speed automatic transmission, the 440i can leap to 100 kph in 5 seconds flat. That, by the way, means that this car is faster than an E46 generation M3 equipped with the SMG 'box... So, it doesn't exactly hang about. Nevertheless, the 440i's performance is an ability that is there for you to tap into when needed, while in the M4 the performance ability is always there, in your face, begging to be exploited. By comparison, the 440i is quite willing to trundle around town quietly, smoothly and efficiently. BMW claims a combined cycle fuel consumption figure of 6.6 L/100 km for this model, which is comfortably better than what the competition can do.
Being a 6-cylinder, the engine also endows the 440i with a bit of BMW character that is fast becoming extremely rare. Yes, the turbocharging does rob this engine of a howling top-end, even near that 7 000 rpm redline, but there's enough of its typical warble left to make the 440i a pleasure to listen to. It's completely different to the overly aggressive roaring of the recent M division cars.
So, what you have here then is a car that is deceptively fast (because it is also so refined), and one that offers significant drivetrain engagement and entertainment should you be in the right mood (and driving mode). Yet it is also a car that doesn't scream "go faster" all the time.
Design & Packaging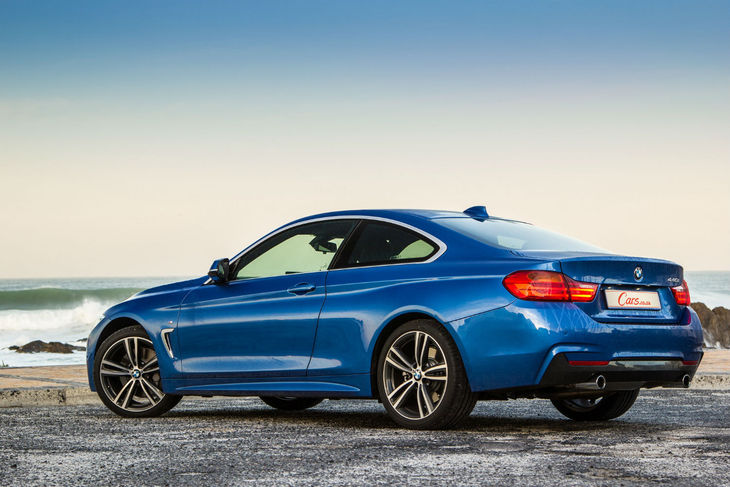 Striking 18-inch wheels and subtle M Sport bodykit add to the 4 Series' inherent appeal.
The 4 Series coupe is arguably one of the most attractive and balanced designs in the BMW stable at present, and this 440i's M Sport package adds just enough visual muscle to the otherwise svelte body shape. There is nothing garish or outlandish, just tasteful detailing that emphasises the sporting bent of this particular model. Aerodynamic addenda includes front and rear aprons, a rear diffuser insert and sill covers. Most of the "accessories" are in body colour, but the subtle use of gloss black here and there adds to the visual appeal. Our model was finished in a very attractive metallic Estoril Blue paint finish. This model also rides on striking 18-inch wheels as standard. Our test car turned numerous heads during its time with us.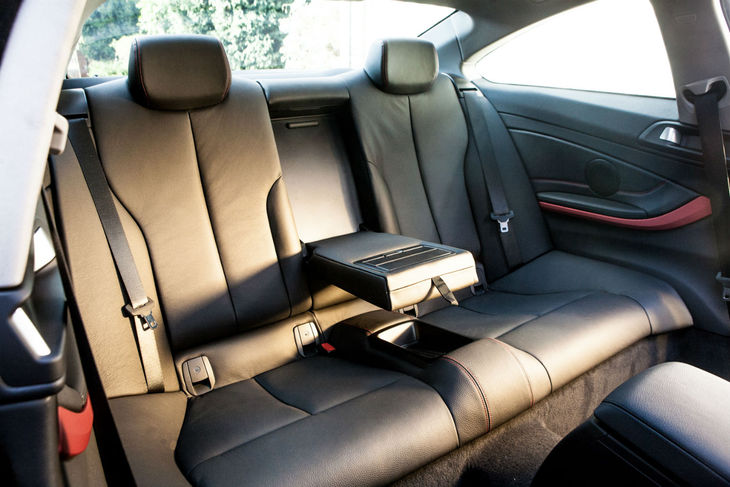 Surprising space in the rear makes the 440i a talented tourer for four occupants.
Inside, too, the changes compared with the 4 Series launch models are limited, but we do appreciate the finer attention to detail. The more modern M steering wheel is very attractive, and the leather-upholstered front sport seats are inviting. BMW offers a vast number of further options, including having the entire fascia covered in leather (R13 900 option). And while strictly speaking the infotainment system shouldn't be classified under "design", it has to be said that the presence of the comprehensive 3D Professional system, with its large, crisp, split-screen display does heighten the sense of modernity in a cabin that is otherwise somewhat staid in appearance.
In terms of packaging, the 4 Series is one of the few coupes with genuinely usable rear-seat space. Swing open those long doors, flip the front seatbacks forward and entry will require some bending, but once seated occupants are often amazed at the amount of rear legroom on offer. Of course, taller folk may struggle with headroom, but for what it is, the 440i is as practical as coupes come. The boot measures a claimed 445 litres, which is bigger than what's on offer from the competition, too.
Ride & Handling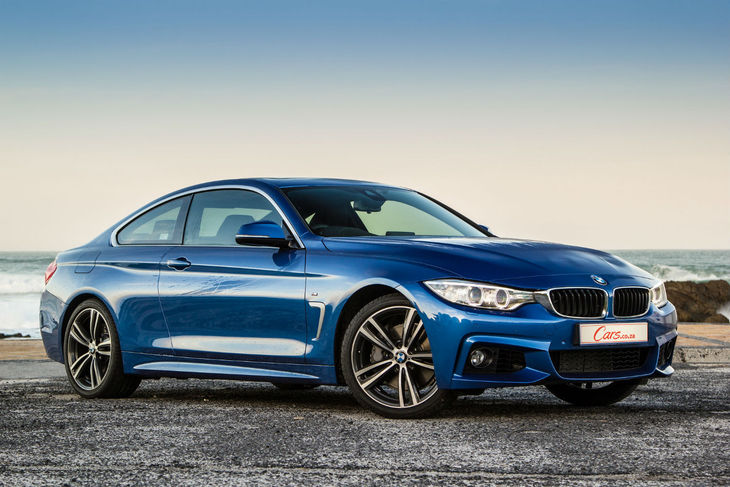 It may not be an "M", but the 440i delivers more than enough dynamic thrills.
With its standard M Sport suspension and low-profile rubber the 440i may appear somewhat uncompromising in terms of ride set-up, but the reality is a car that can comfortably be driven daily. The key word during its development appears to have been "balance". Unlike many fast BMWs, the 440i isn't consistently egging on its driver to go faster – it's a vehicle that is comfortable with whatever speed you want to go. You'll have to pay R11 350 extra if you want the adaptive suspension, but we rate the standard set-up highly. The suspension seems to cope with most road conditions well, with only extremely coarse or uneven surfaces catching it out. Out on the open road and at higher speed, it feels unflappable, supple and poised.
The steering set-up – like the engine and suspension – seemingly attempts to camouflage the dynamic and performance talents that are on offer here. It's not particularly sharp in feel around the straight-ahead where you'd be most of the day if you're just pottering about. However, get involved on a series of twisty bends and it will delight with its weighting and speed.
Standard Features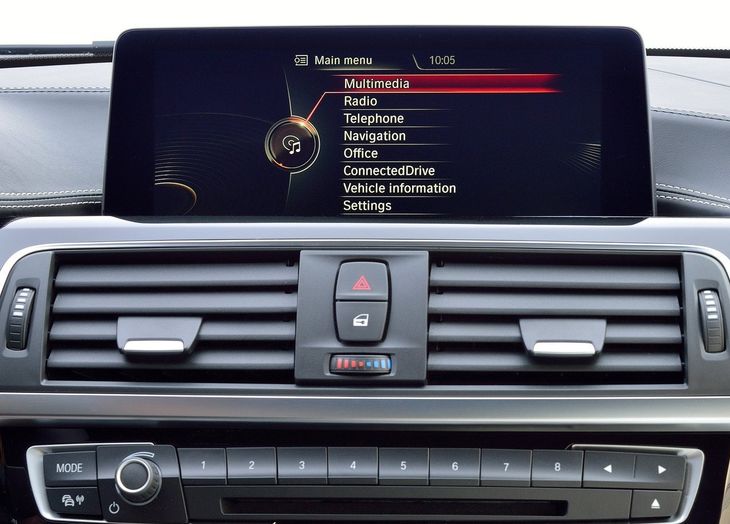 Standard on this 440i model is the full 3D Professional infotainment system.
BMW and its fellow German premium brands are often criticised for their sparse standard equipment lists, but to be fair this 440i M Sport seems to pick most of the must-have boxes. We've already mentioned the leather upholstery and 3D Professional infotainment system (which includes 20Gb of music storage). You also get a 205 W hi-fi loudspeaker system, the ConnectedDrive services, rear park-distance control (with camera view), electric seat adjustment with memory, cruise control with a braking function, rain-sensing wipers, auto lights and automatic air-conditioning, amongst others.
Some of the options aren't even that expensive; a Harmon Kardon sound system is yours for R5 100 and Active Cruise Control costs a reasonable R15 300.
Pricing & Warranty
The BMW 440i Coupe M-Sport sells for R851 376 and comes backed with a 2-years/unlimited km warranty and 5-years/100 000 km maintenance plan.
Verdict
While a coupe as visually arresting (and pricey) as the BMW 440i M Sport can't easily be described as a "sleeper" or Q-car, there is nevertheless an element of surprise about its abilities that will catch out many drivers of flashier cars. There is immense depth to the abilities on offer here, but arguably the 440i's greatest talent is its adaptability. It's a car that can merely be a sophisticated, stylish way of getting to work and back on a daily basis, yet when the mood grabs you, will deliver sportscar-slaying performance and (almost) sports car dynamics. Need a car to take three friends on a long-distance trip in comfort and luxury? The 440i will do that as well; It just somehow manages to always rise to whichever occasion presents itself. A real charmer, this...
You may also be interested in:
Read a review of the BMW M4 with M Performance Parts, and watch a video
Read a review of the BMW M2 M-DCT (2016)
Check out the upcoming Audi S5 here (with video)
Want to buy a BMW 4 Series?