Audi has launched its new A5 business class coupe and its S5 flagship in South Africa this week (March 2017). Here are some specifications and pricing, plus stay tuned for a comprehensive launch report...
Based closely on its A4 sedan sibling, the latest A5 features a freshly revised exterior design, more powerful engines and compared with its predecessor, all-new underpinnings. Similarly, power in the S5 coupe has been bumped up and its design has also been sharpened to highlight its sporty character. Let's take a closer look at what's changed…
New and improved Audi A5 coupe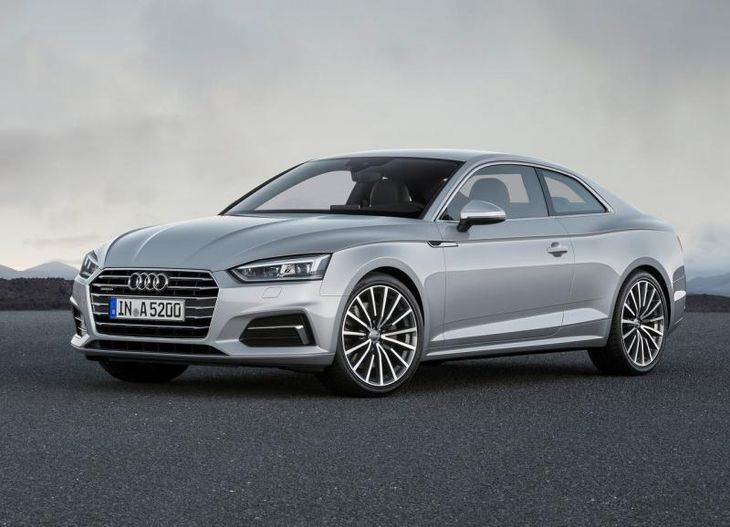 The new Audi A5 coupe is lighter and more efficient than its predecessor.
The second-generation Audi A5 coupe retains the elegant and sleek features that made the first version so distinctive. As Audi's new design language dictates, the single-frame grille is flatter and wider than the model it replaces, but the characteristic wave-like shoulder line is still a prominent feature on this new model.
The A5 coupe has also shed up to 60 kg and has been aerodynamically enhanced, exhibiting a drag coefficient of 0.25. The new chassis is claimed to further improve comfort and agility levels. The electromechanical power steering is new and is claimed to deliver higher levels of feedback to the driver.
Engine options
Engine power ranges between 140 kW and 185 kW. On average, the engines offer 17% more performance than those of the outgoing range, while fuel consumption has been reduced by as much as 22% (depending on derivative). The big news is that the newly developed 3.0-litre V6 TFSI engine fitted in the S5 Coupe now offers 15 kW more than before, taking the total power output up to 260 kW. A 7-speed S tronic transmission is standard and you have the option of either front-wheel drive or Audi's quattro all-wheel drive configurations.
The first engine up is the 2.0-litre 4-cylinder turbopetrol. It produces 140 kW and 320 Nm, which is enough to see it reach 100 kph from standstill in a claimed 7.3 seconds and go onto a limited top speed of 250 kph. The 2.0-litre 4-cylinder turbodiesel motor is next and it too offers up 140 kW, however torque is a monstrous 400 Nm. Its real strength is fuel economy, which sits at a claimed 4.1 L/100 km. If you're wanting to sprint, it'll reach 100 kph in a claimed 7.7 seconds.
Finally, we'll see an uprated version of the 2.0-litre turbocharged petrol now pushing out 185 kW and 370 Nm, which should be good for a mid-6 second sprint to 100 kph. For those craving even more performance, there is the Audi S5. It features a 3.0-litre TFSI motor with 260 kW and 500 Nm, and it's capable of sprinting from 0 to 100 kph in just 4.7 seconds.
Interior features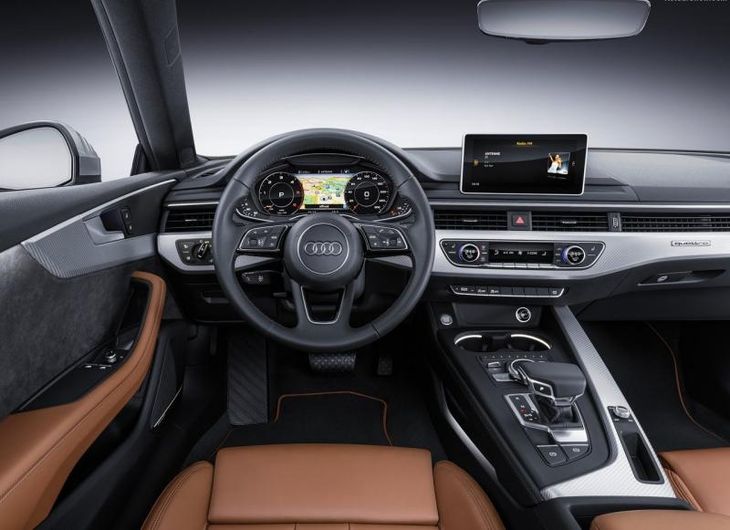 Audi's Virtual Cockpit will be offered as an option for the new A5 coupe.
The cabin in the new A5 coupe is larger than before and the interior features high-quality finishes including a total of 30 adjustable shades of ambient lighting. The impressive Audi Virtual Cockpit, which features a customisable 12.3-inch TFT display in the instrument cluster (along with MMI Navigation Plus), is optional.
Driver assistance features on offer in the new A5 coupe includes predictive efficiency assist (helps the driver save fuel), active lane assist and Stop&Go active cruise control with traffic jam assist. Safety features include park assist, rear cross-traffic assist, exit warning, collision avoidance assist, turn assist and traffic sign recognition.
Audi A5 prices in South Africa (March 2017)
Look out for a comprehensive first drive report coming soon. In the meantime, this is how much the new Audi A5/S5 will cost you.
| | |
| --- | --- |
| 2.0T FSI 140 kW S tronic | R589 000 |
| 2.0T FSI 140 kW S tronic Sport | R623 000 |
| 2.0 TDI 140 kW S tronic | R619 000 |
| 2.0 TDI 140 kW S tronic Sport | R653 000 |
| 2.0 TDI 140 kW quattro S tronic | R652 500 |
| 2.0 TDI 140 kW quattro S tronic Sport | R686 500 |
| 2.0T FSI 185 kW quattro S tronic | R723 500 |
| 2.0T FSI 185 kW quattro S tronic Sport | R757 500 |
| S5 Coupe 3.0 TFSI | R928 000 |
Related content:
Find a new Audi A5 coupe here
Find a used Audi A5 coupe here
Search for a new Audi S5 coupe on Cars.co.za
Search for a used Audi S5 on Cars.co.za
Take a look at the video below to see the new Audi A5 coupe and S5 coupe in action!
Interested in buying an Audi A5?