The luxury sedan market will be heating up locally in 2021 as two established players go head-to-head. The #CarsAwards-winning BMW 3 Series is a good car, but the arrival of an all-new Mercedes-Benz C-Class will surely ruffle some feathers. Here's how the 3 Series and C-Class will square off!
Despite the emergence and dominance of the SUV, premium carmakers still insist sedans have a role to play in the car market. BMW's 3 Series is still a sales performer and many would suggest that it's the dynamic benchmark. The Mercedes-Benz C-Class still brings in substantial revenue for the Stuttgart outfit, despite the rise of the A-Class sedan and CLA offerings.
Launched in early 2019, the BMW 3 Series offered a new platform, a new infotainment system, and an array of engines. The all-new Bavarian had the market to itself mostly, despite some quiet updates to the refined Audi A4 range. Now the all-new Mercedes-Benz C-Class has been revealed in early 2021 and is determined to elbow its fellow countryman in the sales race. As far as timings go, the Mercedes-Benz plant in East London, Eastern Cape is scheduled to start C-Class production in the middle of 2021, with SA customer cars hitting showrooms in the 3rd or 4th quarter of this year.
We'll be putting both cars head-to-head to see which is the better German sedan to purchase in 2021.
Dimensions
When it comes to sizing, both models have grown when compared to their respective predecessors. The new C-Class has a length of 4751 mm and a width of 1820 mm, with a wheelbase of 2 865 mm. In comparison, the BMW measures 4709 mm, is 1827 mm wide and has a wheelbase of 2851 mm. When it comes to boot space, the BMW 3 Series has a boot capacity of 480 litres, while the new Mercedes-Benz C-Class also boasts a carrying-capacity of 480 litres.
Styling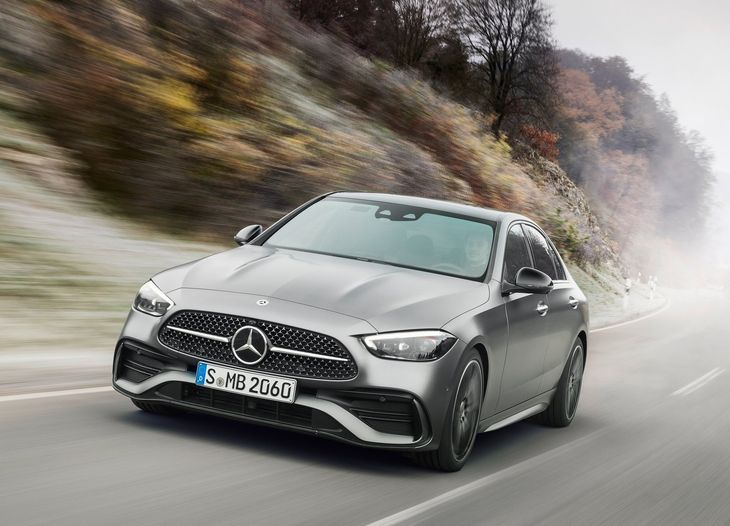 While styling is entirely subjective and down to personal taste, it's interesting to see the design strategy taken by each brand. Whereas BMW has differentiated its 3 Series from its larger 5 Series sibling with the 4 Series adopting the controversial grille, Mercedes-Benz is following a similar design strategy across its entire portfolio, with the C-Class resembling a smaller E-Class, which in turn resembles a smaller S-Class. There will be fans and critics of both directions. You could argue that keeping the family looking alike will keep the brand's image intact, while some might say they don't want their vehicle resembling another. Both models' styling can be given a sporty touch, either with the BMW M Sport or the Mercedes-Benz AMG Line, which will add larger wheels and slightly more aggressive bodywork.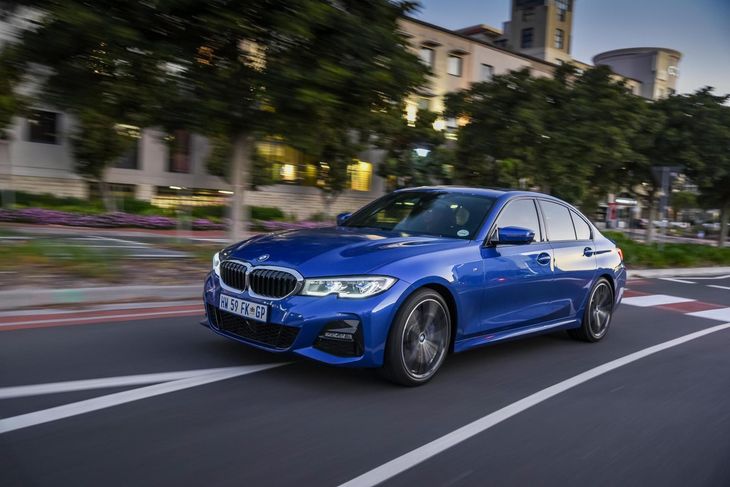 Engines
In terms of powertrain, every C-Class will now feature an electrified 4-cylinder engine. Every engine features an integrated starter generator and 48-volt tech. No more 6-cylinder or 8-cylinder engines and the manual gearbox option for some markets has been removed. Every Mercedes-Benz C-Class will now feature a 9-speed automatic. All the established derivatives have been carried over. The C180 will get a 1.5-litre turbocharged 4-cylinder motor 125 kW and 250 Nm, while the C200 gets the same engine, but in a higher state of tune with 150 kW and 300 Nm. Both rear-wheel drive and 4Matic all-wheel drive are available. Mercedes-Benz claims sprint times of 8.6 seconds for the C180 and 7.1 seconds for the C200 4Matic, while the C200 rear-wheel drive is fractionally slower at 7.3 seconds.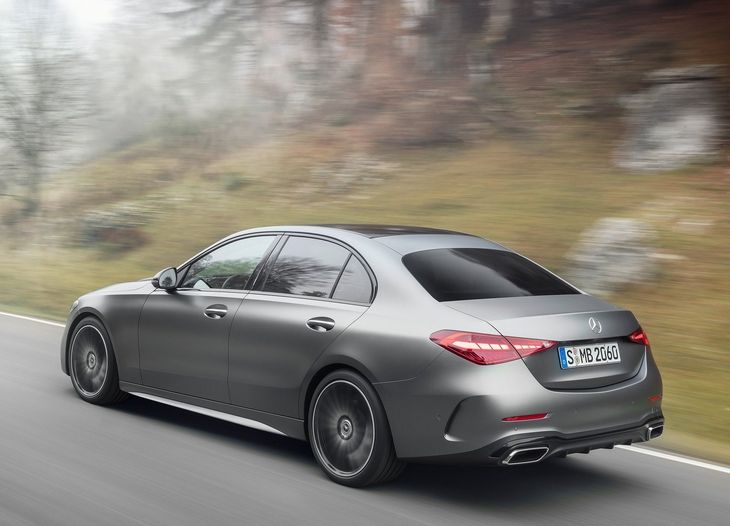 At the top of the range is the C300 which is powered by the M254 motor. It too features electrification and a new twin-scroll turbo setup and thanks to its 190 kW and 400 Nm, it should hit 100 kph in a claimed 5.9 seconds. Diesel models are still available, and Mercedes-Benz will be offering C200d, C220d, C220d 4MATIC, and C300d mild-hybrid diesels for the European market. All are equipped with the 2.0-litre turbodiesel motor with varying power and torque outputs. The entry-level model has 120 kW and 380 Nm, but the top-spec model features 195 kW and 550 Nm! This powerful diesel C-Class is good for a 5.7 second run to 100 kph.
BMW offers a variety of petrol and diesel engines for its 3 Series. Kicking off the range is the 318i, with its 2.0-litre 4-cylinder producing 115 kW and 250 Nm. It's good for an 8.4 second sprint to 100 kph. Next up is the 320i, with the same 2.0, but in a higher state of tune. It delivers 135 kW and 300 Nm, and BMW says it will sprint to 100 kph in a claimed 7.1 seconds. The BMW 330i packs 190 kW and 400 Nm from its 2.0-litre 4-cylinder motor and is claimed to sprint to 100 kph in 5.8 seconds. At the top of the petrol pile is the M340i xDrive, with its turbocharged 3.0-litre 6-cylinder pumping out 285 kW and 500 Nm.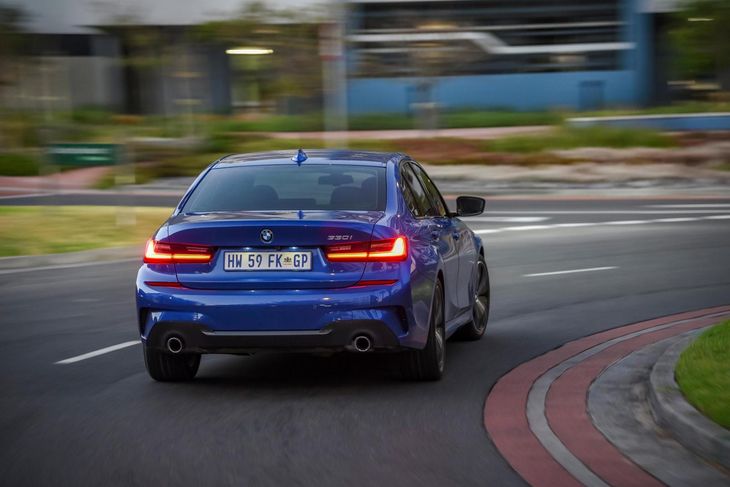 Diesel fans are catered for with the 320d and its 2.0-litre turbodiesel delivers 140 kW and 400 Nm. The mighty 330d develops 195 kW and 580 Nm from its 3.0-litre straight-6 engine. The latter is capable of a zero to 100kph sprint in a claimed 5.5 seconds, while consuming an impressive 5.5 L/100 km.
Infotainment and technology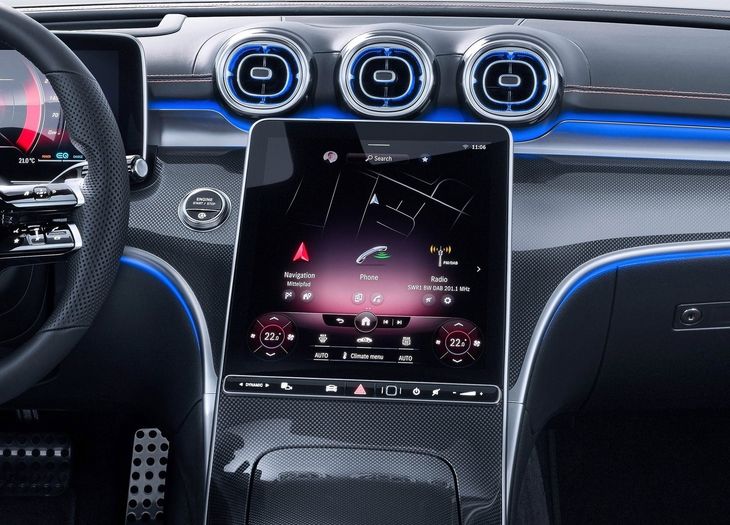 The all-new Mercedes-Benz C-Class cabin is dominated by the fitment of this enormous tablet-style infotainment screen. Resembling an iPad, it's expected this unit will take control of the HVAC controls, audio, media, navigation, and car settings. It appears there are very few physical buttons in the all-new Mercedes-Benz C-Class.
The BMW 3 Series received the all-new BMW Live Cockpit and BMW Operating System 7.0, bringing some much-needed freshness and digital connectivity. The graphics are crisp and the menu interface is slick and easy to use, however, there are still some physical buttons to control certain features. Some consumers have said they'd prefer to have everything on a digital screen, while others have said they prefer the feeling of knobs and switches.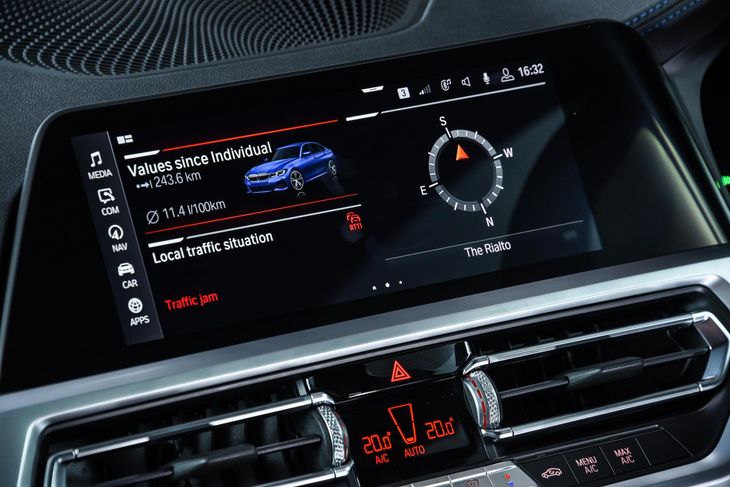 BMW M vs Mercedes-AMG
While the majority of BMW 3 Series and Mercedes-Benz C-Class sales will be non-performance derivatives, the flagship BMW M and Mercedes-AMG offerings need to be desirable and fast, without compromising on their core roles as luxury sedans. At the time of writing, the all-new Mercedes-AMG C 63 S had yet to be revealed, with a debut expected in 2022. Sadly, it has already been confirmed that the mighty 4.0-litre twin-turbocharged V8 engine is no more and the new model will feature a modified version of the 2.0-litre 4-cylinder unit found in the A45 S, but given an extra boost in the form of electric power. Official details are yet to be confirmed, but the rumour mill says just under 400 kW and all-wheel drive are strong possibilities. While it will no doubt be fast, we're going to miss that iconic V8 signature soundtrack.
BMW launched its all-new M3 and M4 performance offerings in March 2021. Power comes from the 3.0-litre turbocharged 6-cylinder motor, but in this iteration, power and torque have climbed significantly. The local lineup is initially limited to the Competition models, which produce more power (375 kW/650 Nm compared with 353 kW and 550 Nm) and are exclusively fitted with an 8-speed dual-clutch gearbox. The South African allocation will initially be rear-wheel-drive only. Later on, BMW will bring in the xDrive version which is equipped with all-wheel-drive and a selectable rear-wheel-drive mode. Expect these towards the end of 2021. The standard M3 and M4 is claimed to accelerate from 0 to 100 kph in 4.2 sec and the Competition versions are said to shave that time to 3.9 sec!
Want to purchase a Mercedes-Benz C-Class? Browse stock
Want to purchase a BMW 3 Series? Browse stock
Further Reading
All-new Mercedes-Benz C-Class Debuts