SUVs are all the rage, but Audi reckons the A4 still has its place. The updated sports-executive sedan arrived in SA towards the end of 2020 and we've evaluated the newcomer thoroughly. Can the facelifted A4 match BMW's 3 Series and Mercedes-Benz's C-Class? Should you buy one over a comparable crossover/SUV?
We like: High levels of fit and finish, excellent connectivity, refined ride/handling balance
We don't like: Lacks personality and driver involvement, expensive
Fast Facts:
Price: R663 000 (January 2020)
Model: 35 TFSI Advanced line
Engine: 2.0-litre turbopetrol 4-cylinder
Power/Torque: 110 kW/270 Nm
Transmission: 7-speed dual-clutch automatic
Acceleration: 0-100 kph in 8.9 seconds
Top speed: 225 kph
Fuel consumption: 6.1 L/100 km (claimed)
What's new?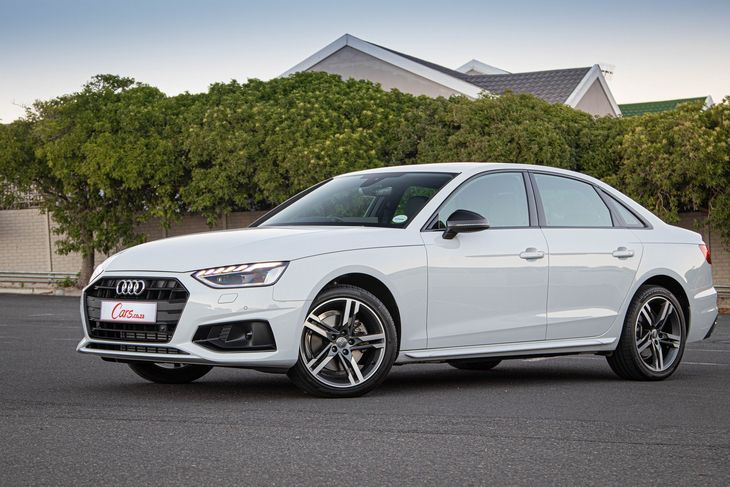 Those who bought an A4 shortly before the facelifted version's release won't feel that their cars have been dated.
The B9-generation Audi A4 has been updated, but the changes incorporated in the facelift aren't dramatic. From the front, you can tell the newcomer apart from its predecessor by its new-look single-frame grille, which is flanked by slightly redesigned daytime running lights. At the rear, the A4's tail lamps have a fresh LED signature, but the biggest updates can be found in the cabin, even if they seem simple.
This generation of the A4 sees the introduction of Audi Connect to the SA market (the sedan comes with a data SIM card and over-the-air support). A new touch-responsive MMI screen and the latest iteration of the 12.3-inch Virtual Cockpit are also fitted. The engine lineup gains mild-hybrid tech, which, of course, Audi says improves fuel economy. Speaking of engines, the A4 line-up includes 3 petrol engines, with a turbodiesel option coming later in 2021. The subject of this review is the 35 TFSI Advanced line, but there is a 40 TFSI derivative too. If you want muscular performance, Audi South Africa also offers an S4.
With these subtle changes, does the Audi A4 stand out enough and, if you're in the market for a sports-executive sedan, is it worthy of your consideration?
How it fares in terms of…
Performance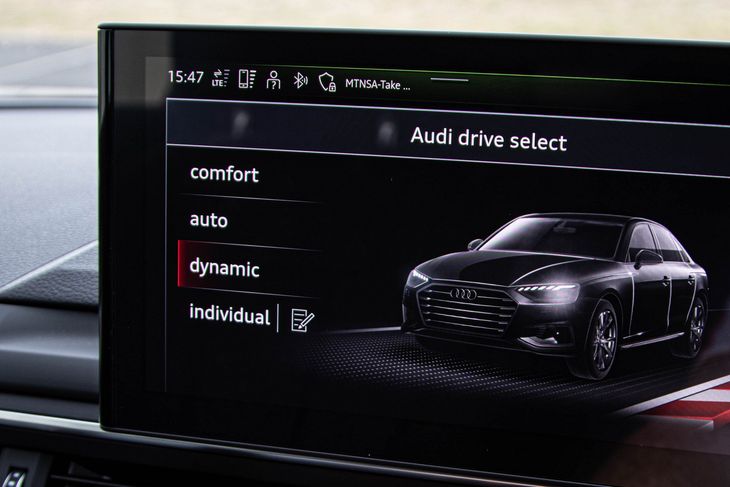 The drive modes make the A4 a bit more interesting to drive, but we sense this Audi's more geared towards comfort and refinement.
The 35 TFSI's 2.0-litre 4-cylinder turbopetrol engine is a proven quantity – it's been utilised in many VW Group models. However, in this guise, it incorporates 12V mild-hybrid technology, which makes the engine's revs drop as you coast towards intersections, for example. Does it really optimise the Audi's fuel economy? Well, let's get straight to it... Audi claims an average of 6.1 L/100 km, which we thought was too optimistic for a midsized petrol-engined sedan, but our expectations of "mid 8s" were happily smashed when the test unit indicated 7.5 L/100 km (and we hadn't even adopted a frugal driving style).
The clever software would politely ask us to lift off the accelerator (by displaying a little green icon on the instrument cluster) when the navigation system detected a traffic circle ahead. The system encourages the user to employ a coasting technique, as opposed to overusing the brake pedal. Now you're probably wondering how the car performs when you're in a hurry (and not hell-bent on saving the polar bears)...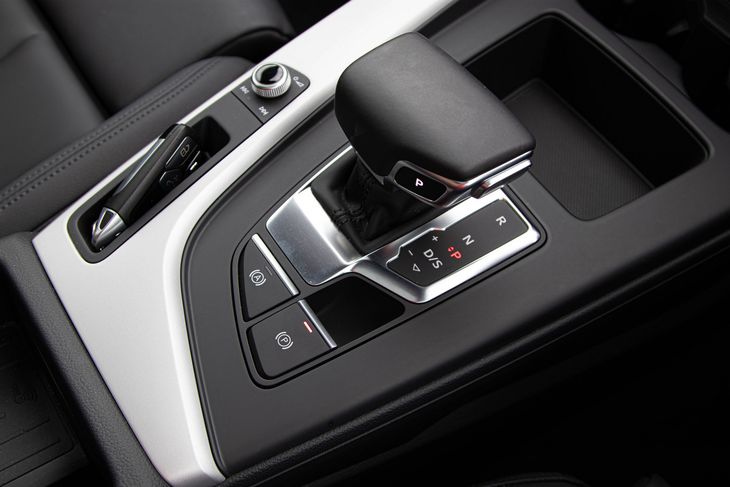 The A4's 7-speed dual-clutch automatic transmission is a gem.
Look, the 2.0-litre turbopetrol motor blends economy and willing performance in a refined package. Outputs of 110 kW and 270 Nm are good, but if you suspect that's not enough, you can opt for the 140 kW/320 Nm 40 TFSI! Dual-clutch automatic transmissions are standard throughout the range, which is a plus; they shift quickly and without fuss. In fact, there'll be times when the shifts are barely discernable. Granted, the powertrain can baulk a bit in traffic when the 1st gear engages from a standstill, but you can offset this by being gentler with the accelerator. Once you're rolling, progress is "as smooth as silk".
Despite being the least-powerful derivative in the facelifted range, the 35 TFSI Advanced line is nonetheless capable of delivering a decent turn of speed when required, thanks to the aforementioned quick-shifting and responsive transmission (it speaks of excellent software/calibration), as well as the various Audi Dynamic Select drive modes. If you select the Dynamic mode, the throttle response sharpens up appreciably, which makes the driving experience instantly more urgent. When tasked to corner with enthusiasm, the Audi A4 performs competently, but it trails the 3 Series in terms of outright driving thrills.
Ride comfort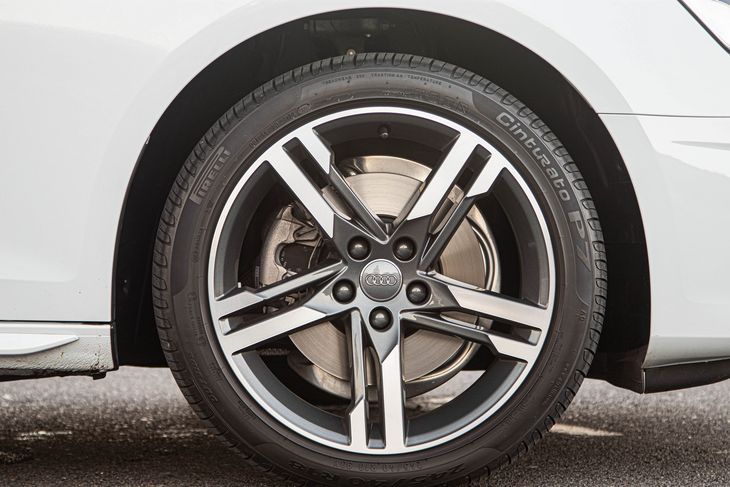 The 18-inch alloy wheels look the part, while the tyres' plump sidewalls contribute to a smooth ride quality.
If you look past outright performance (as you probably should for a lower-end A4 sedan – its target market is... conservative), the Audi truly excels in terms of ride comfort and -refinement. Few cars in its class are this quiet and comfortable. In fact, you could easily drive a few hundred kilometres and arrive at your destination still feeling fresh. You can feel there's been an intense focus on noise suppression – the cabin lets through only the faintest of rumbles. Our Audi rode on 18-inch alloys wrapped in Pirelli 245/40 rubber; the firm has evidently prioritised pure comfort and relaxation over driving satisfaction and thrills.
Granted, our test unit came with the optional sport seats (part of the optional Sports Package – for an extra R9k), which we found supportive (as expected) and comfortable. As a bonus, they're heated!
Practicality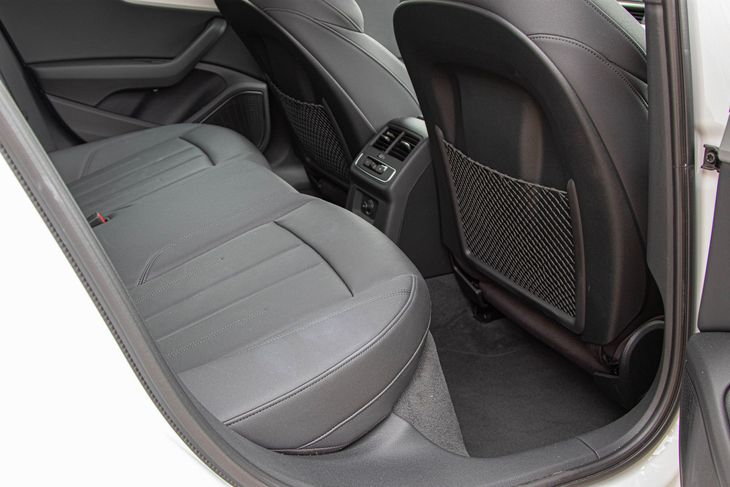 The Audi A4 has been on the market for a while, but it offers acceptable rear legroom.
The A4 is based on the MLB platform, which lends itself to superb refinement and generous cabin space. Rear legroom is fair, but at least the boot is capacious. Audi claims a cavernous 460-litre capacity, with as much as 960 litres of utility space available if you fold the rear seats down. Surprisingly, the A4's boot capacity is about 20 litres smaller than those of its main rivals, but it's certainly not a deal-breaker.
The front cabin has a handful of nifty storage compartments and while Audi's smartphone box might cost R6 200 extra, it's a worthwhile option because it incorporates wireless charging and, thanks to the convenience of Android Auto/Apple Carplay, you can store your phone safely out of sight. What's more, convenient storage solutions are located in front of the transmission lever (ideal for a wallet or keys).
Interior quality & onboard tech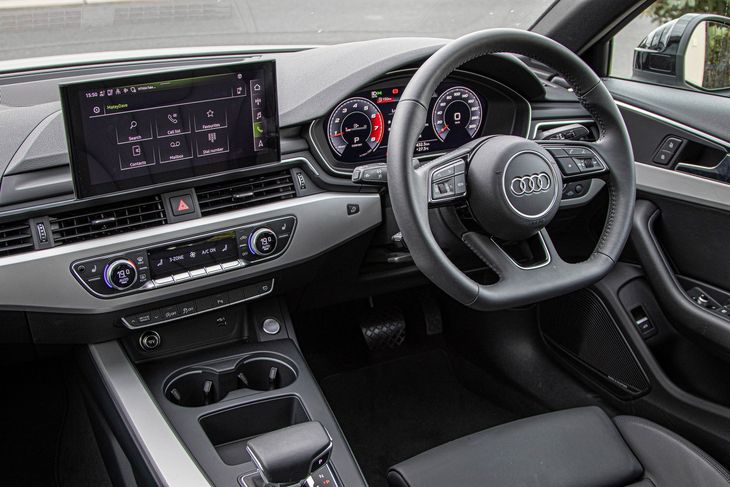 The Audi cabins continue to impress with excellent ergonomics, as well as fit and finish.
Audi cabins are arguably (still) the market benchmark for quality, user experience and design excellence. Not only do they look the part; they're straightforward to use. Audi's Virtual Cockpit continues to be a masterclass in both visual execution and ease of use. Not only does it look like something out of a car from the future, but its wonderfully simple to use and explore. To reiterate, the A4 comes with Apple Car and Android Auto, and the interfaces' menus look terrific on the high-resolution central display. If you don't want to go the smartphone-mirroring route, the native Audi operating system (first seen in the Audi Q8) has a similar look and feel to a tablet, plus it works like a charm. Our only gripe is the MMI screen's propensity to show smudged fingerprints – it's best if you keep a cloth handy to wipe the touch surface clean!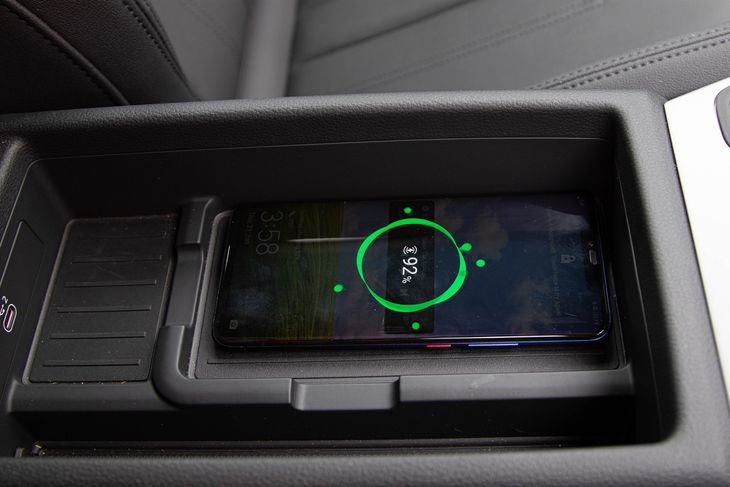 The wireless charging pad is a must-have in contemporary premium sedans.
Price and after-sales service
The Audi A4 35 TFSI Advanced line costs R663 000, but the test unit was fully loaded with options, which raised the price to R856 300. The vehicle is sold with a 5-year/100 000 km Audi Freeway plan.
Verdict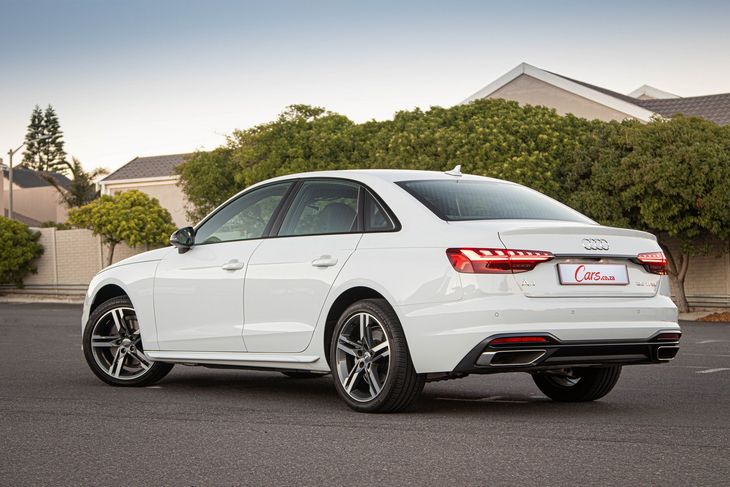 While there's very little to fault the Audi A4, especially with regards to its cabin execution and refined driving experience, some will undoubtedly question its relevance in a market that's moving away from sedans... Given Audi's incredibly diverse portfolio, is there still a need for the A4? Market trends indicate crossovers/SUVs are – and will continue to be – all the rage. Worse still, if you're considering an Audi sedan, the A3 4-door offers comparable levels of space and features for less money. Plus, a new A3 is due in Mzansi this year, so the refreshed A4 might soon have new competition from within its own ranks.
Should you buy one? If you have your heart set on an A4, you're unlikely to be disappointed with your purchase. It may lack the verve of a BMW 3 Series, but its interior quality and refinement are more than a match for the Mercedes-Benz C-Class. To be fair to the Three-pointed Star, an all-new model is due in 2021. We suspect Benz dealers are desperate for it to arrive, given the freshness of the BMW and Audi.
The revised A4 is unlikely to sell in huge numbers, because we predict the majority of the Ingolstadt sedan's potential customers may be inclined to lean towards the brand's generously specced (and highly rated) Q3 premium family car instead. Having said that, for those sedan die-hards, Audi's mid-sized sedan represents an excellent interpretation of a comfort-orientated and technology-laden luxury car.
Related content:
Audi A5 and S5 (2021) Specs & Price
BMW 330is Edition (2020) Specs & Price
Spy Shots: 2021 Mercedes-Benz C-Class