After what seems like an eternity of teasers, leaks and spy shots, the all-new Mercedes-Benz C-Class has been revealed. Here's all you need to know about Mercedes-Benz's answer to the BMW 3 Series and Audi A4.
Mercedes-Benz has just revealed its bread-and-butter model, the all-new C-Class. Given its sales record of over 10.5 million units finding homes around the world, its vital the Stuttgart-based brand doesn't deviate too radically with the newcomer. For many years, it's been the entry point into Mercedes-Benz ownership but the arrival of the A-Class sedan and CLA threaten to undercut it. Let's not forget about Merc's unrelenting SUV strategy either, with plenty models to suit all needs and pockets.
Despite such a vast portfolio, Mercedes Benz reckons the new C-Class still has an important role to play. Visually, it adopts many of the styling cues seen on the E-Class and S-Class sedan.
Physically, the new Mercedes-Benz C-Class has grown. In comparison to the old model, its 6.35cm longer, 1cm wider, but its roofline sits 1cm lower. In terms of luggage capacity, the new C-Class has the same capacity as the old version. Inside, the cabin dimensions have improved, with the wheelbase now 2.5cm longer, headroom 1.5cm higher while the front seat passenger get a bit more shoulder room. Mercedes-Benz has added rear-wheel steering as an optional extra which will tighten its turning circle. At higher speeds, the wheels turn in the same direction, enhancing agility.
In terms of powertrain, every C-Class will now feature an electrified 4-cylinder engine. Every engine features an integrated starter generator and 48Volt tech. No more 6-cylinder or 8-cylinder engines and the manual gearbox option for some markets has been removed. Every Mercedes-Benz C-Class will now feature a 9-speed automatic. All the established derivatives have been carried over. The C180 will get a 1.5-litre turbocharged 4-cylinder motor 125 kW and 250 Nm, while the C200 gets the same engine, but in a higher state of tune with 150 kW and 300 Nm. Both rear-wheel drive and 4Matic all-wheel drive are available. Mercedes-Benz claims sprint times of 8.6 seconds for the C180 and 7.1 seconds for the C200 4Matic, while the C200 rear-wheel drive is fractionally slower at 7.3 seconds.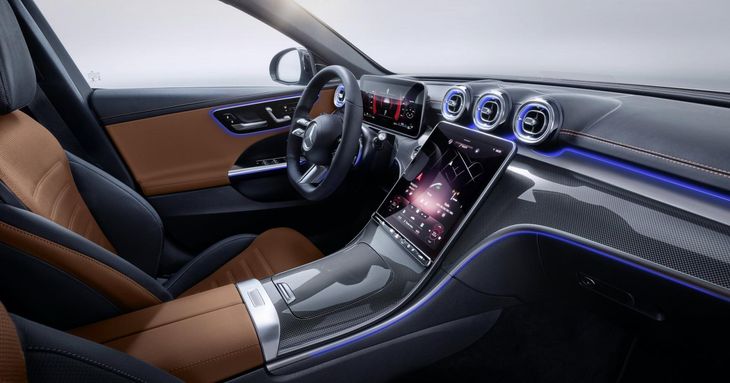 At the top of the range is the C300 which is powered by the M254 motor. It too features electrification and a new twin-scroll turbo setup and thanks to its 190 kW and 400 Nm, it should hit 100 kph in a claimed 5.9 seconds. If you're wanting news about the 4-cylinder AMG models, we're afraid you're going to have to wait.
Diesel models are still available, and Mercedes-Benz will be offering C200d, C220d, C220d 4MATIC, and C300d mild-hybrid diesels for the European market. All are equipped with the 2.0-litre turbodiesel motor in various power and torque outputs. The entry-level model has 120 kW and 380 Nm, but the top-spec model features 195 kW and 550 Nm. This powerful diesel C-Class is good for a 5.7 second run to 100 kph.
The cabin is the where the most changes have been applied and the new Mercedes-Benz C-Class interior resembles the flagship S-Class setup. A large tablet infotainment screen dominates the central cluster and the latest iteration of MBUX has been fitted. OTA updates and an optional augmented reality are available too.
The new Mercedes-Benz C-Class is assembled right here in South Africa at the Mercedes facility in East London. The North American market will start receiving its cars in early 2022, Europe will be getting theirs in July/August and we're awaiting feedback from Mercedes-Benz SA with regards to a local arrival.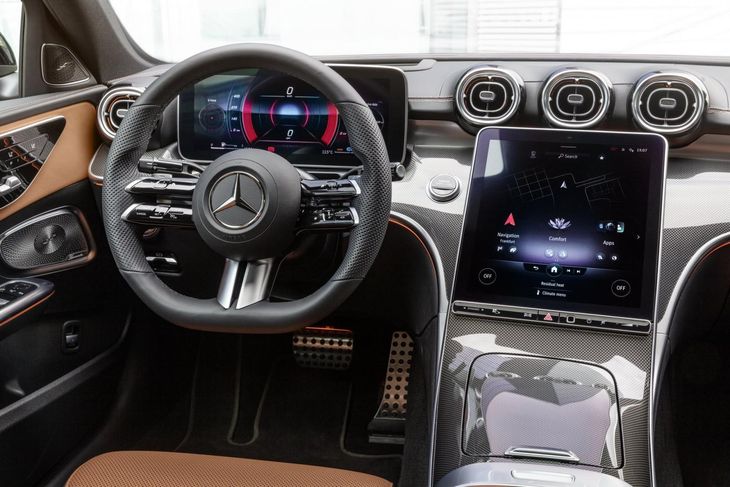 That giant tablet screen dominates the cabin
Want to buy a Mercedes-Benz C-Class? Browse units for sale
Further Reading
Mercedes-Benz S-Class (2021) Specs & Price
Key Insights: 2021 Mercedes-Benz C-Class