Pricing for the BMW 128ti has appeared on BMW's local website and we can share specifications. Here's what you can expect to pay for the Bavarian front-wheel-drive hot hatch.
The front-wheel-drive hatchback market will be the scene for quite a showdown as BMW attempts to steal a few sales from the Volkswagen Golf 8 GTI. The BMW 128ti is something very un-BMW, a front-wheel-drive and 4-cylinder turbocharged hatchback, as opposed to the manic 6-cylinder rear-wheel-drive coupes we've come to know and love over the years.
Power comes from a 2.0-litre turbocharged 4-cylinder petrol engine, but unlike its European-spec counterpart, the SA version is detuned to 180 kW and 380 Nm, from 195 kW and 400 Nm. Power goes to the front wheels via an 8-speed automatic gearbox. This engine is very similar to the flagship BMW M135i xDrive's 225-kW unit, but has been detuned and the all-wheel-drive has been converted to a front-wheel-drive setup.
The vehicle features model-specific tuned M Sport suspension and the BMW 128ti sits 10 mm lower. There's also a Torsen limited-slip differential and a bespoke steering setup.
Acceleration is claimed to be brisk, with the standard 100 kph sprint dispatched in 6.3 seconds. The fuel consumption claim sits at 6.8 L/100 km.
Standard specification according to BMW SA's local website is good, with just a handful of options to tickle your fancy. A panoramic roof for R13 900, Harmon Kardon R4 400, wireless charging R5 800 and tyre pressure sensors for R4 500 would be the options we'd look at.
The vehicle comes with 18-inch alloy wheels, M seats, M suspension, Connected Package, sports seats, LED headlights, red brake callipers and an M leather steering wheel.
The BMW 128ti goes on sale in South Africa in the first quarter of 2021, before the Volkswagen Golf 8 GTI arrives. We're eager to put the two in a showdown to see which is the best premium sporty hatchback.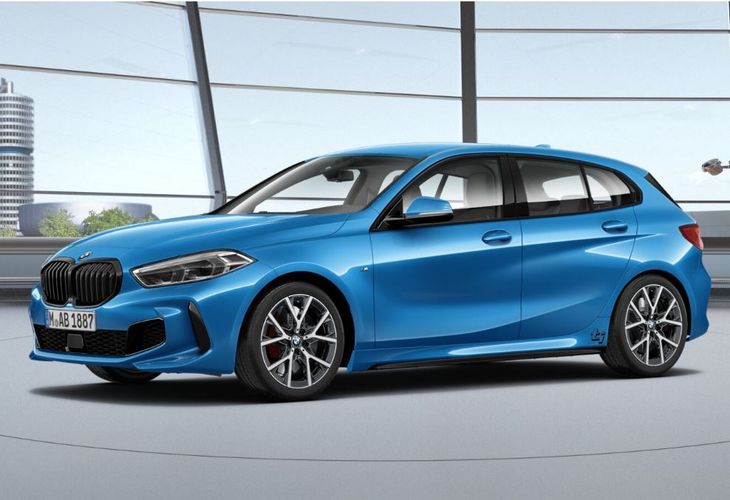 Good news if you are not a fan of the red accents - certain colours like this blue are paired with black TI badges.
BMW 128ti Price in South Africa (February 2021)
The price below includes 15% VAT and CO2 tax.
BMW 128ti R687 418
Further Reading
BMW 128ti (2021) International Launch Review
BMW 128ti: How it compares with GTI & i30 N
BMW 118d (2021) Price Announced