Pricing and specifications for the diesel-powered BMW 1-Series have been announced. Want the diesel BMW hatchback? Here's what you need to know.
Usually, new model announcements from car companies come in the form of a press release, complete with a picture gallery of the vehicle from every conceivable angle, inside and out. Every now and then, a car will not receive such fanfare and will stealthily just be loaded into our New Car Specifications page. We knew the diesel-powered BMW 1-Series has been on the cards for some time as the local website has listed the option for it.
Finally, all the specs and prices for the BMW 118d have been loaded in their entirety. There are 3 trim levels to choose from, all sharing a common engine and gearbox. The engine choice here is the 2.0-litre turbocharged diesel 4-cylinder and it produces 110 kW and 350 Nm. Power goes to the front wheels via an 8-speed automatic transmission. The claimed acceleration time is 8.4 seconds and BMW says the 118d has a top speed of 214 kph.
The real benefit of going the diesel route is the claimed economy and the BMW 118d is said to consume just 4.8 L/100 km. With a tank capacity of 42 litres, a range of 875 km is claimed.
The M Sport derivative features some body style enhancements as well as sporty alloy wheels, while the cabin gains the M Sport steering wheel. You can also dive into the options catalogue and some noteworthy listings we spotted on the local configurator include panorama glass sliding/tilting sun roof, electrically operated for R13 900, adaptive LED headlights at R19 100, sport seats for driver and front passenger for R7 000 and adaptive suspension for R7 600 to name but a few.
The BMW 118d's pricing puts it more expensive than its 118i petrol-powered sibling, but cheaper than the flagship BMW M135i xDrive. It will be interesting to see where the forthcoming BMW 128ti will sit in the family.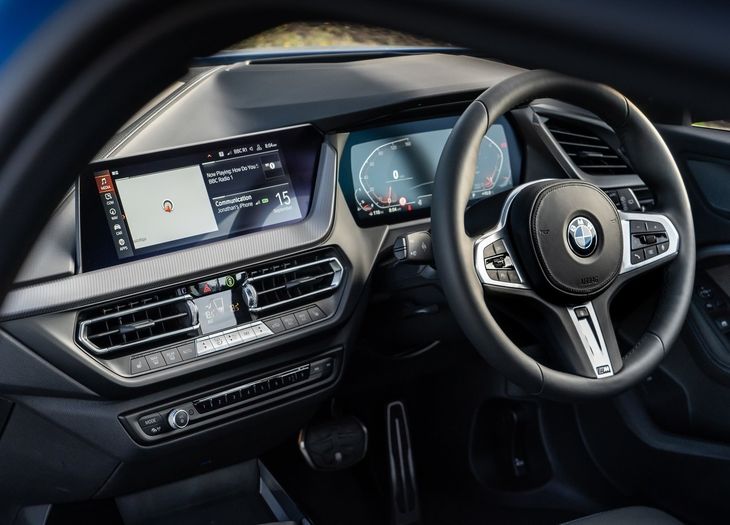 UK-specification BMW 1-Series cabin
BMW 118d Price in South Africa (February 2021)
BMW 118d R644 178
BMW 118d Sport Line R664 878
BMW 118d M Sport R676 878
Further Reading
BMW 128ti (2021) International Launch Review
New BMW 118i Review - Has Front-Wheel-Drive Ruined The 1 Series?