Lexus has updated its IS offering, adding more tech, stylistic upgrades and an increased focus on driving dynamics. We tested the flagship 350 F-Sport derivative to find out whether the Germans should be worried.
We Like: Full-house specification, individualistic looks, build quality, 6-cylinder sound
We Don't Like: Fuel economy, clumsy control interface
Alternatives
Ultimate driving enjoyment: At this price level you really can't beat the BMW 340i. It also packs a 6-cylinder engine, but adds turbocharging, so it's a significantly faster sprinter. The base price excludes a number of items that you get as standard with the Lexus, so you pay your money and make your choice(s)...
Efficiency without a performance penalty: Mercedes-Benz's C300, equipped with the sporty AMG Line package, can be had for less money than this Lexus. Traditionalists may sneer at its 4-cylinder engine, but it delivers enough torque to ensure greater low-down flexibility and the headline performance figures are the same (or better) than the Lexus'. Again, you'll have to delve into the vast and pricey options list to equal the Lexus' features.
Grip & Grunt: The current flagship Audi A4 is the 2.0TFSI quattro Sport. It starts at a significantly lower price point (mind the options list, however), and offers similar torque and performance to the Lexus. It also boasts quattro all-wheel drive as standard. The current A4 has fine dynamics, and a superb interior.
Compare the Lexus IS 350 F-Sport with the Mercedes-Benz C300 AMG-Line and BMW 340i here
Unsung hero?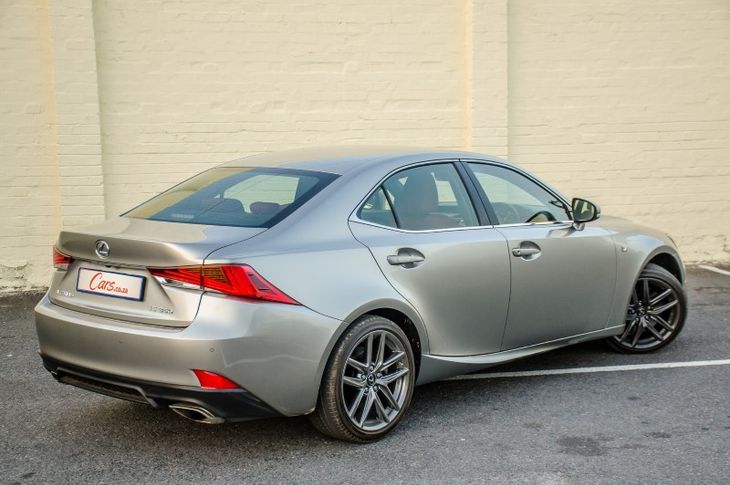 The F-Sport package adds further aggression to the IS's already bold looks.
With only around thirty IS 350 F-Sports sold in the past 12 months, it's fair to say that Lexus' contender in the Business Class segment has not managed to break the German stronghold. Nevertheless, this is (globally) an important segment and having a strong contender is crucial for any premium brand. Consequently, Lexus recently rolled out a round of updates for the IS and we sampled the flagship derivative to figure out whether the nip and tuck is extensive enough to change this Lexus' fortunes.
How does it fare in...
Design and Packaging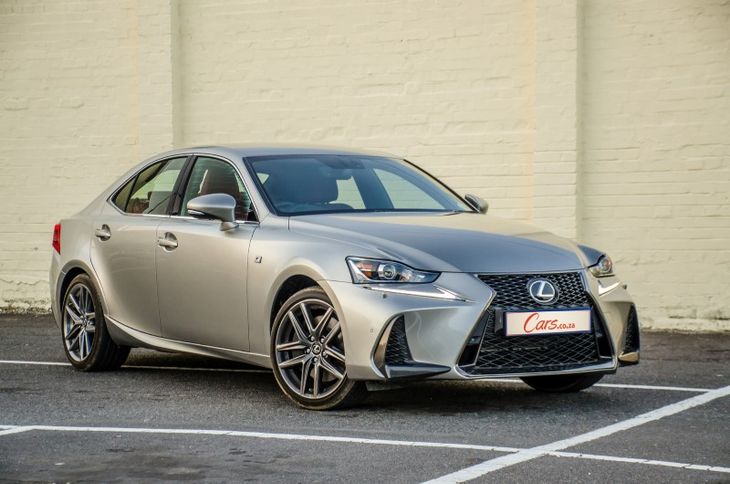 The revised front-end now features an even more aggressive take on the trademark Spindle grille.
For a good few years now, Lexus has been trying to shake a market perception that it makes clinically near-perfect cars that are soulless. That's the reason for the striking "spindle" grille, as well as some seriously eyebrow-raising body surfacing on, for example, the NX. With the latest IS, and particularly in F-Sport trim, this Lexus is now quite possibly the boldest-looking vehicle in its segment. The revised front-end has received a very aggressive, almost protruding version of the corporate grille, flanked by hungry-looking lower air dams. There's new detailing in the LED headlights and at the rear, LED streaks in the light clusters. Riding on its gunmetal-grey, 18-inch multispoke alloys, the IS 350 F-Sport turned many a head and even elicited positive comments from a few onlookers.

The superbly made interior is stocked with many standard features, but ergonomically lags the best in this class.
The oohing and aahing continued inside, where the flagship IS has a lot to look at, starting with striking red leather upholstery in the case of our test unit. Slide in and you're faced with a facia unlike anything else in this segment. Partly futuristic, somewhat cluttered, but probably better screwed and glued together than any of its direct competitors, it takes a while to become familiar with the controls in the IS. It continues with Lexus' mouse-like haptic control-input system, which simply is not as user-friendly as BMW's iDrive or Audi's MMI. The chrome strips that double as temperature control "sliders", however, are very nifty items and we do appreciate the size (10.3-inch) and resolution of the infotainment screen. This F-Sport derivative also features a very smart digital instrument cluster with the sliding centre "gauge", which always garners plenty of attention.
In terms of design appeal then, an already bold, individualistic offering becomes even more so with this update. We're quite sure that Lexus could discover more buyers if only it could find a way of getting more bums into the IS 350 F-Sport. Those who crave expressive design will find a lot to admire...
Ride and Handling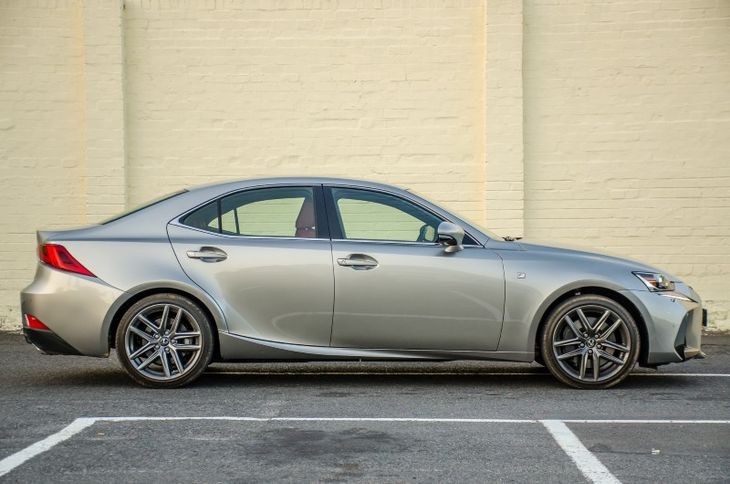 Further suspension and steering finetuning has resulted in a car that remains refined first, sporty second.
As is the case with its extroverted design, Lexus's engineers targeted the Teutonic sedans (primarily the BMW 3 Series) when it settled on a suspension set-up for the IS. Prior to the facelift, the IS was actually already pretty impressive in the ride and handling stakes, so any improvement this time round can be only incremental. The steering feels better-weighted and more linear in feel than before, which immediately makes the IS "feel" like a sportier car.
Underneath, however, the inherent "Lexusness" of this chassis means it offers superb damping and great refinement, though ultimately not the crispness and tight body control of a BMW, for example. But we doubt that this is a deal breaker. In fact, if anything, the Lexus IS' combination of ride comfort and sporty persona is likely to impress those that "give it a whirl". Note, also, that this model features Lexus' Adaptive Variable Suspension as standard.
Performance and Efficiency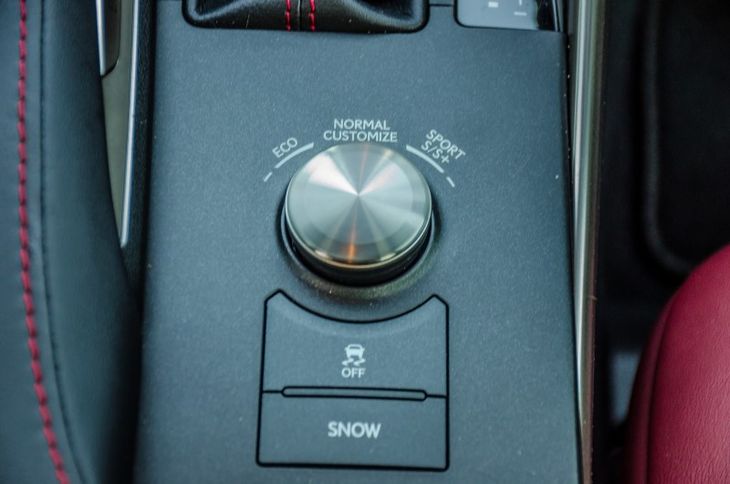 Various driving modes are on offer, with Sport+ being unique to the F-Sport derivative
Powering the IS 350 F-Sport is the brand's proven 3.5-litre, 6-cylinder engine that is renowned for its smoothness. In its current guise it delivers a strong 233 kW, almost as much as the 240 kW offered by the turbocharged 6-pot in the BMW 340i. Lexus claims a 0-100 kph sprint time of 5.9 seconds for this model, which is certainly not to be sniffed at. It's undoubtedly a charming engine, one that gets nicely vocal as the revs rise, and which can deliver entertaining acceleration. The 8-speed gearbox, too, is a good one, offering creamy smooth shifts and being commendably swift in Sport (or Sport+) mode.
But compared with the turbocharged competition there are a few downsides. For one, to access brisk acceleration you have to get the revs up because that maximum power output is only available at 6 400 rpm. Some of the turbo'd German sedans deliver their maximum torque from as low as 1 300 pm (as opposed to the Lexus's peak at 4 800 rpm) and this is very noticeable in general driving. The most memorable characteristic of the drivetrain remains refinement. Drivers who want their cars to be more engaging, sharper and "aggressive" especially in terms of gear shifting, will still find the IS 350 F-Sport somewhat "too" refined.
And then there's the not-so-insignificant matter of fuel economy... Lexus claims a combined cycle consumption figure of 9.7 L/100 km, which is significantly higher than the competition. In reality, you're more likely to achieve around 11.5 L/100 km.
Comfort and Features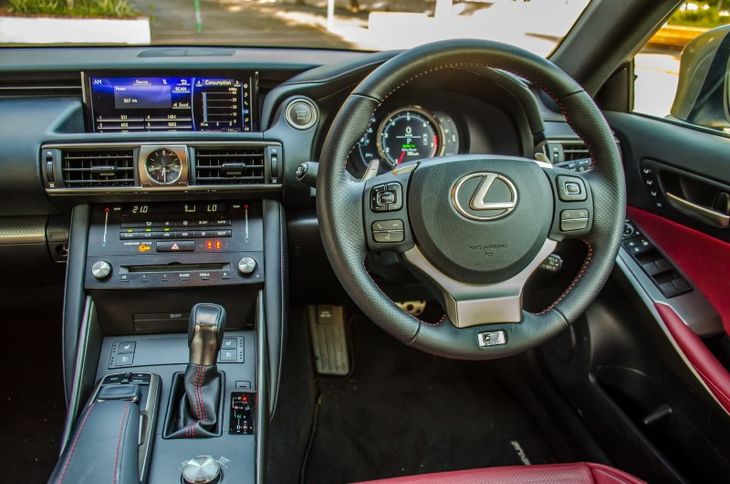 The infotainment screen is now bigger than before, and offers a crisper display.
One area in which Lexus has (thankfully) not followed the example of the Germans, is in the comprehensiveness of its standard specification list – there simply are no option boxes to tick! Those sumptuous, leather-upholstered front seats offer not only electric adjustment and memory settings but also heating and, for the driver, 2-way adjustable lumbar support.
In terms of infotainment, this model comes standard with the Lexus Premium 10-speaker sound system and incorporates 2 USB plug points, voice command, Aux and Bluetooth support and navigation.
Cruise control is fitted (sadly not adaptive), as are auto-levelling headlamps, front and rear park distance control and a rear-view camera. The full complement of airbags are included in a safety package that does, however, lack some of the more modern features (such as auto parking, cross-traffic alert etc.).
Pricing & Warranty
The Lexus IS 350 F-Sport sells for R728 800 (March 2017) and is backed by a 4-years/100 000 km warranty and 4-years/100 000 km Maintenance Plan. Service intervals are scheduled for every 15 000 km.
Verdict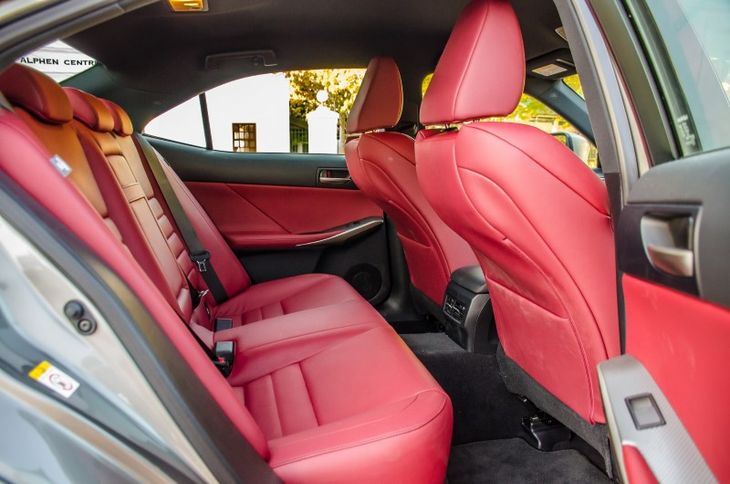 Rear legroom is acceptable for this segment of vehicle, but there are more spacious rivals.
There is a lot to like about this Lexus IS 350 F-Sport. Most members of the test team gave the quirky looks a thumbs-up, while the quality of the interior was unanimously praised. We also like the fact that it comes so comprehensively specified as standard, and dynamically it certainly ticks a great many boxes. But there are some issues which are magnified when you add the context of the competition.
We all love a good, sonorous 6-cylinder engine, but the moments when one gets to enjoy the engine's alluring traits these days are few and far between, and probably won't make up for its daily deficiencies – a lack of low-down punch and heavy fuel consumption. Furthermore, the control interface simply can't match the Germans and it can counter neither the BMW's dynamism, nor the Mercedes-Benz's comfort, or the Audi's all-round blend of talents.
So, ultimately it comes down to the IS's possible trump card, value... There is no Business Class sedan that packs so many toys as standard at this price level. Is that enough to swing it? You know your priorities...
Do you own a Lexus?
Tell us about your experience thus far by clicking here
You may also be interested in;
Lexus IS (2017) first drive
Toyota/Lexus - new products coming to SA in 2017
Cars.co.za Consumer Awards - Best Business Class sedans in SA (2017)
Mercedes-Benz C300 (2015) review
BMW 340i vs Jaguar XE comparison video
Interested in buying a new or used Lexus IS?