The Audi Q4 Sportback e-tron Concept has just been revealed and previews a vehicle that will be going into production in 2021.
When the first Audi Q4 concept was revealed back at the 2019 Geneva Motor Show, we were impressed by its futuristic looks and electric powertrain. Now that concept has been joined by the Q4 Sportback e-tron concept and Audi claims these concepts "gives potential Q4 customers the opportunity to start thinking about which version they prefer roughly a year before the first vehicles will be delivered". This means that what you're looking at here will turn into a production car in 2021.
Under that visually striking body are 2 electric motors with 225 kW driving all 4 wheels. Each axle boasts an electric motor, which should mean excellent traction. In terms of acceleration performance, Audi is claiming a figure of 6.3 seconds and a top speed of 180 kph, which is pretty brisk. The battery boasts a capacity of 82 kW/h which means it will have a theoretical range of over 450 km based on a WLTP claim. There will be rear-wheel drive versions that will be capable of 500 km on a single charge. The battery can be charged with a maximum of 125 kW, meaning it'll take around 30 minutes to get to 80%.
The Audi Q4 Sportback e-tron concept is assembled on the VW Group Modular Electrification Platform (MEB) which underpins things like the ID.3 and soon to be revealed ID.4.
Inside, the Audi Q4 Sportback's cabin is spacious due to the lack of a transmission tunnel. Audi says the cabin is made of sustainable and recycled materials. The next-generation of Audi Virtual Cockpit is on display and the new heads-up display features augmented reality functionality.
Audi is forging ahead with its electric plans and by 2025, the German brand will have more than 20 vehicles with all-electric drive on sale.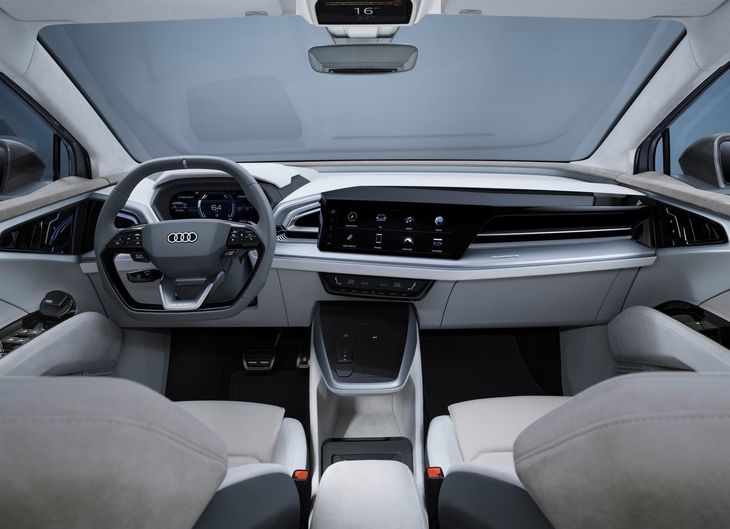 The cabin of the Audi Q4 Sportback e-tronc concept.
Further Reading
Audi Q4 Previews Electric SUV Future
Audi e-tron (2019) International Launch Review
Audi e-tron first drive - An electric SUV you can actually use