Audi has brought a fierce-looking electric e-Tron GT 4-door coupe concept to the LA Motor Show with a production version expected late in 2020.
Developed in collaboration with Porsche, the striking Audi e-Tron GT Concept gives us a good idea of what to expect from the forthcoming production version in 2020 which follows on from the e-Tron SUV and the eTron Sportback.
Power output

With 434 kW, the Audi e-Tron GT Concept is cabable of sprinting from zero to 100 kph in 3.5 seconds.
The Audi e-Tron GT Concept develops a total system output of 434 kW with 2 electric motors driving both the front and rear axles (1 over each axle) making this an electric quattro as there is no mechanical link between the front and rear axle. Audi says that acceleration from zero to 100 kph will take place in 3.5 seconds with a top speed of 240 kph. A 90 kWh lithium-ion battery is said to ensure a range of 400 km. A energy recuperation system increases range by up to 30%.

In terms of charging, the e-Tron GT Concept can gain 80% charge in 20 minutes thanks to an 800-volt system using a cable. Audi Wireless Charging can also be used to charge the car overnight using a built-in charging pad on the floor where the car is parked.
Key styling features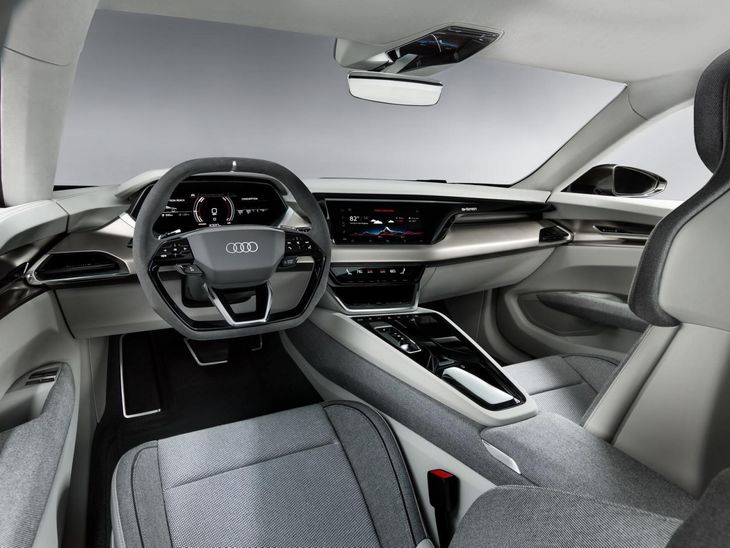 An interior made from non-animal based materials and recycled material is a thoughtful touch to what looks like a sumptous cabin.
This is an electric 4-door coupe that sits low and wide with a long wheelbase of 2.9 metres. It stands 4.96 metres long, 1.96 metres wide and 1.38 metres high. The body is made from various materials such as a carbon fibre, aluminium and high-strength steel.
The front-end is dominated by a sharp and edgy design with a singleframe grille that's complemented with aggressive-looking Matrix LED headlights. A light strip running the length of the rear is similar to that seen on the e-Tron SUV. The exterior is finished in a new colour called Kinetic Dust.
The interior design is simple and futuristic in look and feel with a clear focus placed on the driver with the large infotainment screen angled towards the driver for ease of use. As you would expect, the instrument cluster is all-digital.
Interior materials are non-animal based, so this a vegan interior, as Audi calls it, with synthetic leather used for the seats and trim. Recycled fabric material is used on the seat cushions, armrests and centre console. The deep-pile carpets are made from Econyl yarn which is a recycled fibre made from used fishing nets. The load bay offers 450 litres of space while additional 100 litres of space is found under the bonnet.
Audi aims to have 12 all-electric drive models on the market by 2025 with its electric vehicles expected to account for one third of its sales. First customer deliveries of the production version of the e-Tron GT can be expected in 2021.
Buy a new or used Audi on Cars.co.za
Related Content
Audi E-tron: What it means for SA
Audi Is Pressing Ahead With Its Future Plans
5 New Electric Cars Destined for SA
Jaguar's Plan to Own SA's Electric Car Market