The Jaguar I-Pace, which is scheduled for local introduction in 2019, won't be the first electric vehicle to be offered in the South African new vehicle market... but it might be the most significant one.
In a country characterised by vast distances between its major urban centres, crippling (exchange rate-related) fuel price surges and an abundance of solar radiation – the absence of battery-powered vehicles is one of those profoundly South African ironies.
BMW and Nissan have tried to entice South Africans into battery cars (with the i3, i8 and Leaf products respectively), with extremely limited success. However, now Jaguar has done what no other manufacturer/importer has been willing to: invest R30 million into a charging infrastructure "powerway" that should, theoretically, get you from the inland cities (where money is made) to those coastal destinations (where the money is spent) on weekends and holidays.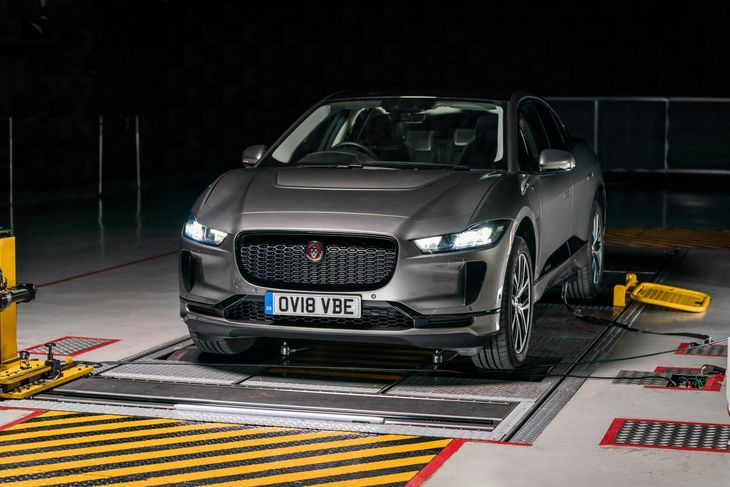 Jaguar's I-Pace will get a march on the competition upon its launch in Q1 of 2019.
Before we analyse why and how Jaguar's South African electric vehicle project is going to work, it's worth pondering exactly who and what we are dealing with. This is Jaguar, a brand born of motorsport, refined into athletic limousines and grand touring V12s. Three years ago Jaguar didn't even bother with manufacturing an SUV. By early next year, the Coventry-based brand wants to sell you an electrically powered SUV with which you can shuttle between Jozi and Ballito on long weekends.
From the tweed-jacket brigade to purveyors of battery-powered SUVs: Jaguar's transformation has been remarkable. In the SA context, it's also about Jaguar's survival.
Spending money to make money
That's because, in South Africa, it's virtually impossible to compete with the established German luxury vehicle hierarchy. Toyota does the most credible job of selling R500k-plus vehicles (mostly SUVs) that aren't produced by Teutonic marques, but all other European rivals hardly make an impact on the local sales charts.
For Jaguar, this represents a peculiar issue regarding its South African business. As local buyers' demand for vehicles has shifted from traditional luxury sedans and sportscars, the German brands have launched a slew of gravel-travel-capable premium vehicles. The result is that Jaguar's traditional core business has suffered in South Africa, a market where its German rivals have strong price hedging, due to their local manufacturing operations and the vehicle export credits that they earn.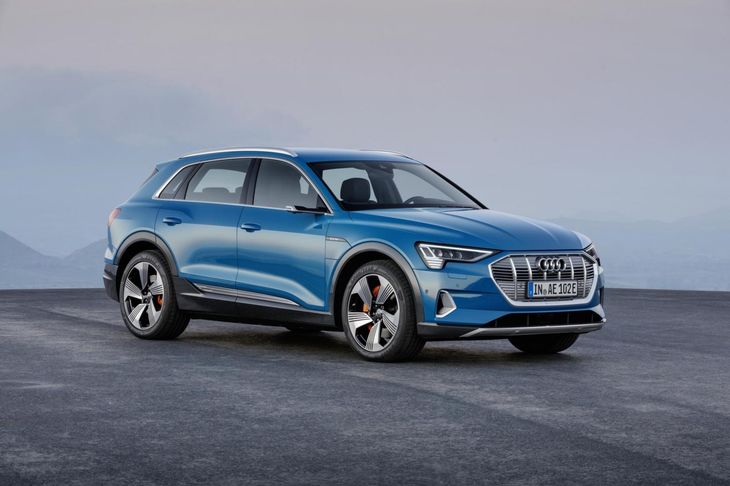 The Audi E-Tron will land in SA during Q3 of 2019. It can piggy-back on Jaguar's countrywide charging network.
Offensive, as it might have been for people who know their XJ6s from their XJ220s, the F- and E-Pace SUVs represented no less than 82% of Jaguar's local business last month (September 2018). These SUVs are what effectively keeps the Coventrian Cat tradeable in South Africa. Most of Jaguar's local customers are now individuals buying into the contemporary specific design, which has nothing to do with Jaguar's storied history. These are new customers and they have little issue with owning a Jaguar which, in configuration, is completely at odds with its legacy. That also makes them ideal candidates to embrace the transition from fuel to electric propulsion.
2019 isn't just about Siya and Rassie
For most South Africans, 2019 is all about the Springboks avenging their defeat to Japan in 2015 by potentially making the Rugby World Cup final in Yokohama. If you are more into cars than rugby, you might be aware that 2019 is finally the year when electric vehicles are supposed to become a viable alternative in South Africa.
The Germans lead local luxury motoring trends and Audi, BMW and Mercedes-Benz all have electrically powered SUVs which should arrive next year or early in 2020. These vehicles (E-Tron, iX3, EQC) will all have similar range abilities to the I-Pace, the converging numbers being 400 km. Jaguar, though, has a few advantages.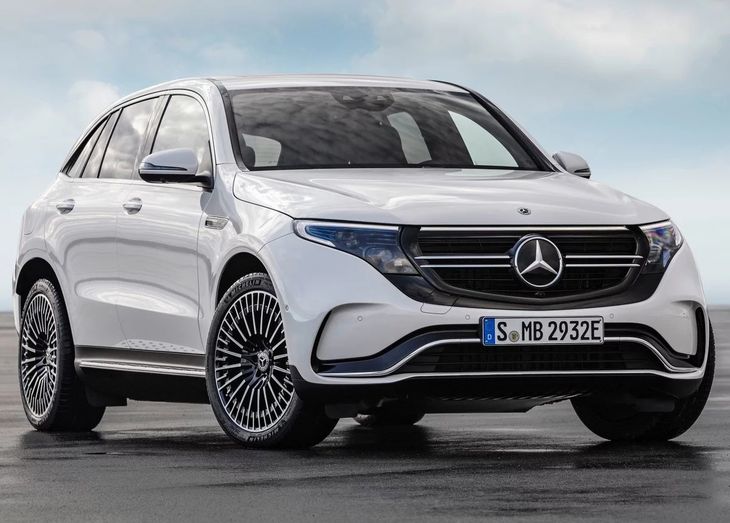 No official statement from Mercedes-Benz SA on whether the EQC will land locally, but global trends suggest it will come here.
Most obvious of these is that possession is 9-tenths of the law and the I-Pace will own the luxury electric vehicle market, for a good few months, before any of its rivals become available. In a market where fuel price anxiety is bothering even high-income individuals, the I-Pace will be the first full-electric SUV on sale in 2019.
Being first will allow I-Pace to leverage the same early-adopter fever Tesla has enjoyed in America. Don't underestimate the "jealousy incentive" either. Although the I-Pace won't sell in volumes large enough to bother local marketing specialists at any of the German automotive brands, it will generate massive interest among early adopters and the technology-obsessed – ironically, the same customers who would never have bought into Jaguar's traditional "tweed and driver's glove" values.
Jaguar's transition risk has passed
At the start of this piece, we mentioned how radically Jaguar has transitioned in the last few years. It has successfully evolved from a brand steeped in a history of producing luxury sedans and sportscars to one that now has an equal weighting (with SUVs) in its portfolio.
The idea of selling an electrically-powered SUV poses no risk to any of Jaguar's other products because the market has already determined that SUVs will be the future. And therein lies the genius, and reduced risk, for Jaguar. The I-Pace allows the British company a clean break with its history and traditional offerings, which has simply become irreconcilable with progressive product demands in South Africa.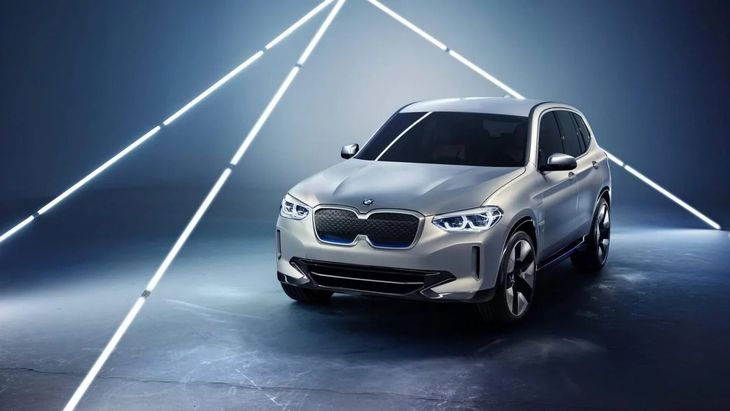 The BMW i-X3 concept is furthest from production but BMW already has the i3 as a fully electric offering in SA.
For the German brands, it is quite the opposite. Their product portfolios are almost entirely liquid fuelled. A transition to electrification would be very disruptive, despite the R&D investments that have already been made. The local business case is still completely with petrol or diesel versions of their many models.
For a German brand in South Africa, electrification delivers with it a lot of implied risk, and much of that is due to scaling. If customers rapidly convert or demand electric vehicles from the German brands, there is a supply problem. Production will be limited and the German manufacturers have a huge and loyal local customer base. Jaguar has a much smaller number of potential I-Pace customers to service, while still making I-Pace a larger proportion of its business.
Even worse, for the Germans, is if their customers expect a service and convenience of recharging ability similar to what Jaguar has achieved with its 82 powerway stations. Those numbers become very challenging to service and maintain as a company, without any government assistance.
How many charging points are enough?
The true test case will be Easter 2019, when the first South African I-Pace customers should have ownership of their battery SUVs and will attempt to replicate the Joburg to KZN coastal journey Jaguar recently did as a test run. If you have ever driven that route on a weekend, you know that Harrismith as a refuelling point can rival any African border crossing for traffic build-up.
Jaguar has one charging point installed in Harrismith, and it is rated at 60 kW, which should recharge an I-Pace to 80% of capacity in little over an hour. That's a very long time to wait, many multiples more than refuelling an SUV with unleaded or diesel fuel. Despite its 400 km ideal scenario range, any I-Pace will require a substantial recharge after the 270 km from Joburg. Especially if it's loaded with passengers and luggage, burdened by climate control and driven enthusiastically.
Imagine if you arrive in Harrismith within minutes of another I-Pace, that could compound to a waiting time of two hours. In Harrismith? Exactly. The charging stations also command prime parking slots in front of the shops meaning you're quite likely to find your charging bay filled by a pesky German sedan/SUV. That being said, Jaguar has planned a further 2 charging stations along that N3 route so that shorter stops will be possible. But, therein lies the great "electric car ownership risk", and it's one that manufacturers are going to have to carry individually, without any government assistance.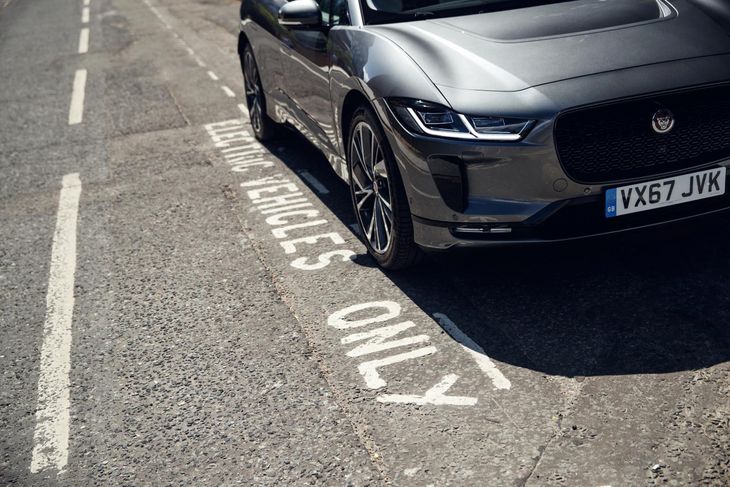 Electric charging stations get prime parking spots outside shopping centres and fuel stations.
In Australia they have a recharging supernetwork that works so well, a retired farmer recently drove her Tesla Model S around the country without issue. But the Australian government has partnered with Tesla to assist with infrastructure setup and many of the Australian chargers are double the power capacity of those Jaguar has built locally.
When Bertha Benz started the automotive industry, by taking her husband's prototype for a drive in 1886, the biggest issue was finding fuel for her journey. In the 130 years that followed, automotive brands have focused exclusively and exhaustively on building vehicles and allowed oil companies and governments to worry about the fuelling network. In the battery car future, which is happening now, the energy which makes their products function is part of the product planning problem. And without government assistance or alternative electricity supplier incentives in South Africa, the bigger you are, the greater that problem scales. That's especially so when you have the electric cars that are ready and a potentially massive customer profile to convert, as is the case with Audi, BMW and Mercedes.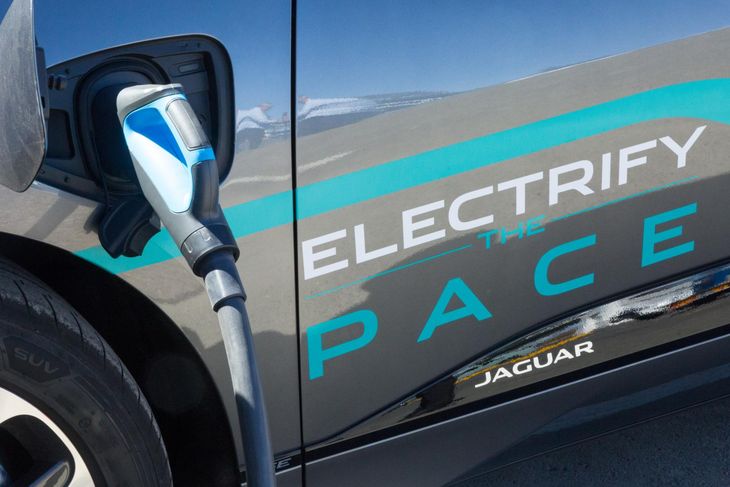 60 kW charging stations provide 100 km of range in 20-30 minutes of charging.
Jaguar doesn't sell many more than 100 vehicles a month. Even if I-Pace becomes 25% of local volumes, the actual numbers will still be low enough not to overwhelm the recharging network Jaguar has put in place. BMW and Mercedes-Benz have a different scenario. They sell between 1 500 and 2 000 vehicles a month and if demand for their EVs escalates to a quarter of the local business, those numbers are sufficiently large to create infrastructure issues.
The battery car revolution won't happen from the bottom-up, but top-down. And premium customers are very demanding, which means the proliferation of 120 kW charging stations needs to happen – quickly, swiftly and seamlessly. Expensively too, it must be said – without any government help. Troublingly for South Africa, electric cars pose a huge revenue risk for the government, which routinely appears to balance fiscal shortfalls by harvesting additional taxation from liquid fuels. Therefore, don't expect the revolution to happen easily...
Related content
I-Pace coming to SA: How Jaguar hopes to make it work