As part of the updates to the Audi A4 sedan range, the brand also introduced a turbodiesel-powered performance S4 into the mix. Here's what you need to know about the 2020 Audi S4 TDI.
The Audi S4 represents the bridge between the hardcore RS4 Avant and the lesser pedestrian A4 range. Seemlessly blending comfort and luxury with performance, the S4 has always been an underrated vehicle. Updated as part of Audi's plan for the A4, the facelifted S4 now boasts turbodiesel power.
The visual changes give the updated S4 some aggression. Coupled to this electric blue paint finish, the updates include bigger wheels, new look front grille as well as a refreshed rear end complete with quad exhausts and a diffuser. It's the engine which has us interested, however.
For the first time, the Audi S4 is powered by diesel. Mating a turbodiesel V6 to a 48-volt electrical system and an electric powered compressor has resulted in what Audi claims beefy acceleration. Essentially the electric-powered compressor keeps the turbo spinning to dial out the turbolag. The 3.0-litre turbodiesel V6 produces 255 kW and 700 Nm - impressive figures indeed. These outputs can fling the S4 to 100 kph in just 4.8 seconds and it'll run onto a top speed of 250 kph.
Power goes to a quattro all-wheel drive setup via an 8-speed tiptronic transmission and there's an optional sport differential for those seeking some driving enthusiastics. There's an S sport suspension fitted as standard, with sport suspension with damper control as an option. Audi will still be offering the petrol S4 with its 3.0-litre turbocharged V6 and this TDI model does not replace it. The petrol S4 produces 260 kW and 500 Nm and does the 0-100 kph sprint in a claimed 4.7 seconds.
The updated Audi A4 range is confirmed for a South African market introduction early in 2020.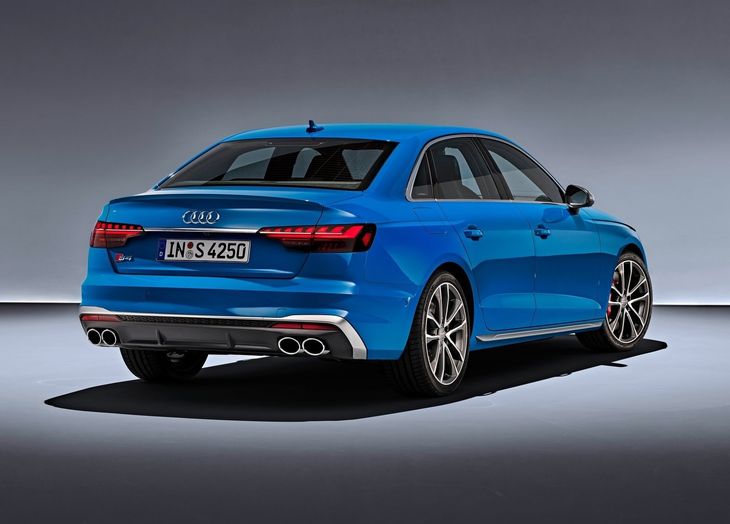 The Audi S4 now with TDI V6 power.
Buy a new or used Audi A4 on Cars.co.za
Further Reading
Audi S4 quattro (2018) Quick Review
BMW 3 Series (2019) Launch Review