Isuzu has launched its most hardcore D-Max to date in the South African market and we had an opportunity to experience exactly what the newcomer's all about. Is the Isuzu Arctic AT 35 worthy of your attention?
What a time to be alive if you're a double-cab convert. Since 4-door bakkies have added lifestyle appeal to their repertoire, the market has shifted dramatically. Buyers are convinced there's more to a double-cab bakkie than lugging building materials and other commercial applications; at the weekend, it can whisk your family to places where the tarmac has long since ended. Now it has a chance to appeal to the performance petrolheads.
Of course, Americans have been doing this (customising and beefing-up pick-ups) for years; there have been numerous iterations of big-engined unsophisticated pickups Stateside. However, the SA double-cab bakkie market has been turned on its head with the recent arrival of the Ford Ranger Raptor. The Blue Oval's headlining double cab puts aside its Builders Warehouse aspirations and prioritises performance, specifically off-road performance. With a dedicated motorsport-inspired suspension, a dramatic kerb appearance and sporty interior, the Ranger Raptor is the first of its kind in Mzansi: a standard bakkie replete with the modifications and accoutrements usually offered only by tuning and customisation firms.
The competition has been a little sluggish to answer, however. Toyota is on the cusp of launching its Dakar Rally-inspired Hilux GR Sport, which looks very eye-catching, but its on-paper specifications are a little underwhelming. You'd think Ford has cornered this market then, but you're wrong – Isuzu has come almost out of the blue with its Arctic AT 35, which effectively gives the Isuzu D-Max range a considerable image boost.
Own an Isuzu? Tell us about your experience here.
Isuzu Arctic AT 35 production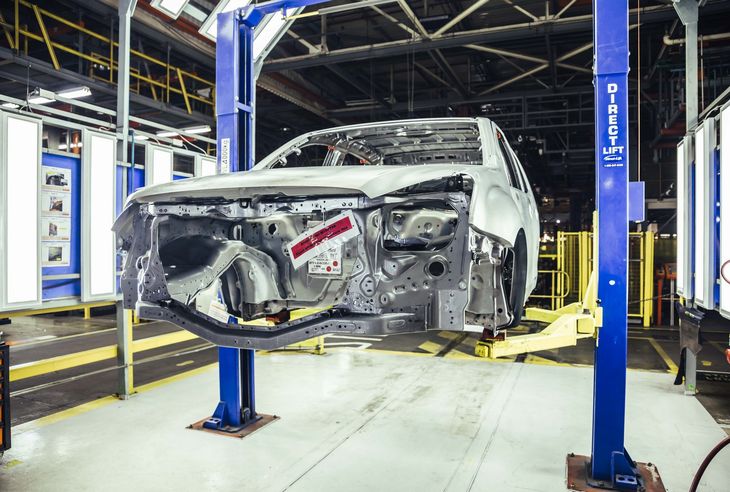 Like watching a child being born... The Arctic AT 35 under assembly at the Isuzu facility in Port Elizabeth.
Remember those crazy Icelandic truck builders who assembled extremely modified Hiluxes for the popular British TV show Top Gear so that they could travel to the North Pole? Arctic Trucks was founded in 1990 and the firm specialises in re-engineering off-road vehicles to perform in the toughest environments. The Arctic AT 35 is not just an imported kit that has been stuck onto a standard D-Max, though. Incredibly, the Isuzu factory in Port Elizabeth is the only Isuzu facility to receive Arctic Trucks' approval to build this model, which is now classified as a production Arctic Truck.
The Arctic AT 35 begins life as a standard D-Max, but once its cabin and load bed are assembled, the bakkie gets pulled off the main production line to undergo its transformation. Isuzu has selected some of its most skilled and experienced technicians to produce the vehicle, and we got a chance to visit the factory to catch a glimpse of an example of the newcomer being built. First up are the wheel-wells and -arches, which must be adapted to accommodate the massive tyres. Once the additional welding and cutting have been completed, the shell is returned to the main production line for painting and rust proofing. In total, the Arctic AT 35 spends 2 days in the body shop, as opposed to only a few hours for standard D-Max...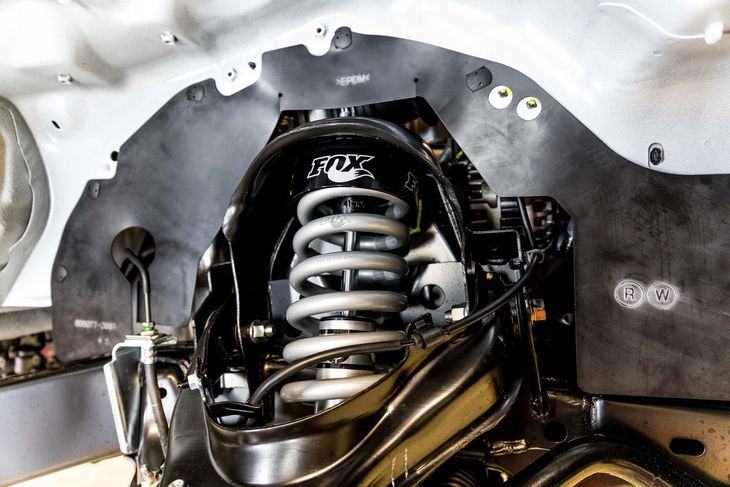 The Fox shocks lurking under the massive wheel arches of the AT 35.
The Arctic AT 35 is then pulled off the line again for the fitment of its flared arches, gargantuan wheels (shod with 35-profile BF Goodrich tyres) and bespoke Fox Performance suspension, before it undergoes a final quality check. After this last stage, which takes 3 days, the vehicle is ready to be shipped to a dealership, after which it will be delivered. Isuzu says it'll make just 50 of these bakkies every year, they should be quite collectable!
What's new?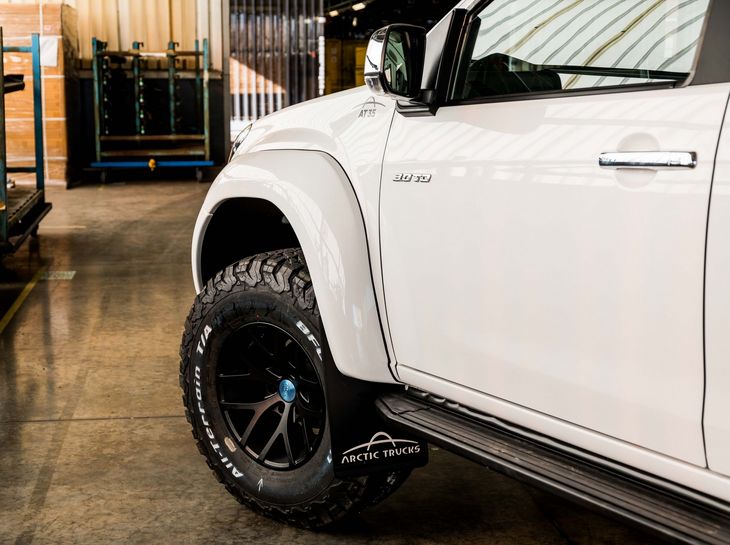 How impressive are these BF Goodrich all-terrain tyres?
Of course, those bold and outlandish looks need to be backed up by some credible mechanical changes and, truth be told, the AT 35 represents considerably more than just an image upgrade for the D-Max. The addition of Fox Performance suspension and dampers are a big step up from the off-the-shelf items and the off-road specifications have also changed dramatically. How does a ground clearance of 268 mm with a wading depth of 718 mm grab you? In comparison, the standard D-Max 3.0 4x4 LX Auto (upon which the AT 35 is based) can only muster 220 mm and 600 mm respectively. Meanwhile, the breakover angle of the AT 35 has increased to 31.4 degrees (22.4 degrees standard), while the approach and departure angles are rated at 36 degrees and 28 degrees respectively. Heavy duty Arctic Trucks-branded mudflaps have been added on too.
As is the case with the 2.0-litre biturbo Ford Ranger and its Raptor brother, the AT 35 utilises the same 3.0-litre turbodiesel motor (130 kW/380 Nm) and 6-speed automatic transmission as the D-Max 3.0 4x4 LX Auto. Isuzu claims an odometer recalibration was the only thing it needed to do to compensate for the larger tyres. Speaking of tyres, these monsters are 35 x 12.50R17 BF Goodrich units. Not only are they claimed to be resistant to punctures – they're engineered for hardcore off-road use. Think of situations like deep sand or snow, where you want the tyres to dig in and grip.
Inside, the cabin is, again, similar to that of the flagship D-Max 3.0 TD double cab 4x4 LX auto. There's also a new infotainment system, which was recently introduced across the Isuzu range, and features Apple CarPlay, Android Auto, Bluetooth connectivity, USB ports, and satellite navigation.
What's it like to drive?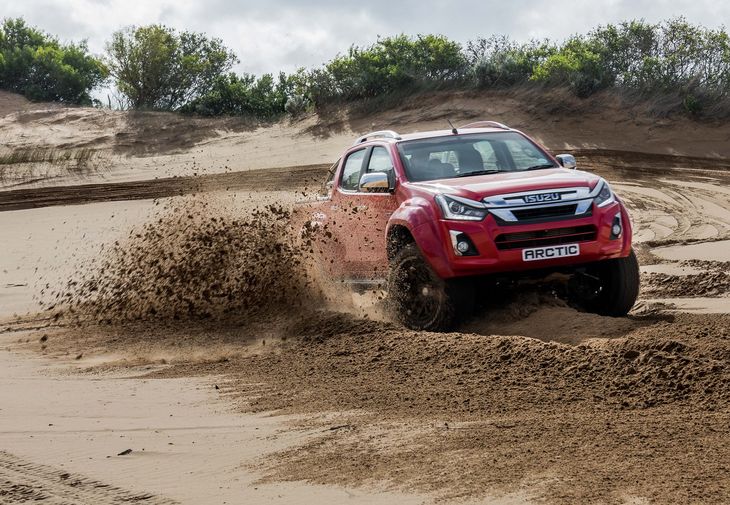 Effortless performance from the AT 35 when it comes to the sand. Those tyres offer tremendously high levels of grip.
After a quick tour around the facilities and seeing how much effort goes into ensuring the AT 35 is assembled to the same levels as its D-Max siblings, it was time to drive the newcomer. We headed to nearby Cape St Francis and Brakkeduine, one of the few inland dune fields. This 4x4 track, surrounded by farmland, presented a real chance to learn the intricacies of the AT 35. First impressions? In red, the bakkie looks suitably imposing. Not only does it stand taller than a standard D-Max – its wider too. With the gearbox sending power to all 4 wheels, which had also been deflated, it was time to hit the dunes. Given the sheer size of those tyres and the additional ground clearance, you'd be forgiven for feeling invincible.

There's no need to engage low-range as 4 High gives you plenty of grip through the rough stuff
You can take liberties in the Arctic AT 35. The big wheels offer so much grip, the feeling of sheer sure-footedness a dune has to be experienced to be believed. When you move off soft sand and onto some rutted gravel, the Fox Performance shocks come into play and work hard, absorbing most of the sharp jarring encountered when driving over rocks at pace. Given the size of the off-road tyres, there was no need to engage low range...
The Arctic AT 35 may be tremendously capable when you put it through its paces on a tough sandy 4x4 course, but we think its real strength lies in traversing gravel farm roads. Not only do those tyres offer tremendous grip, the suspension simply subdues the effect of scrambling over rocks and ruts. We will confess that we pushed the AT 35 beyond its normal operating envelope and traversed some uneven and coarse farm roads at a pace that some would describe as "carelessly hurried." Even in 2-wheel drive, it required some foolhardy coaxing to get the Arctic AT 35 to break traction, a testament to its high-quality tyres. In 4-wheel drive, it exhibited impressive levels of grip. The best part? The mild tyre noise (rumble) on national road tarmac. We found that at 100 kph there's a solid thrum from all 4 wheels, but that was solidly drowned out with a well-curated Spotify playlist.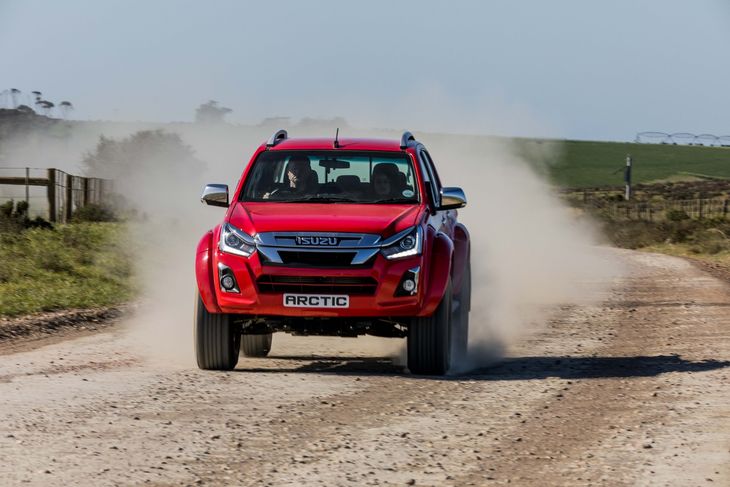 This is where the Arctic AT 35 is at its most impressive. With such high levels of grip, it can maintain lofty speeds on dirt roads.
Verdict
It's great to see Isuzu "the workhorse bakkie brand" stepping into this rarefied lifestyle performance segment of the double-cab market. Given the Arctic AT 35's admirable extreme off-road ability, we're glad it's here and, as a brand-builder, it elevates the recently rebranded D-Max bakkie's brand appeal. We do have 2 criticisms, though. Firstly, that engine, while tried-and-tested, doesn't quite deliver enough punch to match the bakkie's image. Granted, a new or extensively tuned engine would have greatly increased the price tag so we are prepared to cut it some slack. On the bright side, we should be thankful that we have the 3.0-litre motor, as the AT 35 is also available with a 1.9-litre turbodiesel motor in foreign markets.
Secondly, we wish the interior was a bit more special. The exterior of the Arctic AT 35 is majestic and it comes as a bit of a disappointment that when you step inside the cabin, the seats and trim are same as the bog standard, even if top-of-the-range, D-Max derivative. Surely there could have been sportier seats, red seat belts, or similar, just to let proud new owners of the bakkie know that they're sitting in a one-of-a-kind vehicle?
A few manufacturers are now offering bakkies with a distinct offroad performance bias. Our first taste of the Arctic AT 35 was largely positive and expect that demand will outstrip supply. Isuzu is likely to sell every unit that rolls off the Port Elizabeth production line and it wouldn't surprise us one bit if dealers start selling build slots. All we can say is we're eager to pit the newcomer against the Raptor and upcoming Toyota Hilux GR Sport...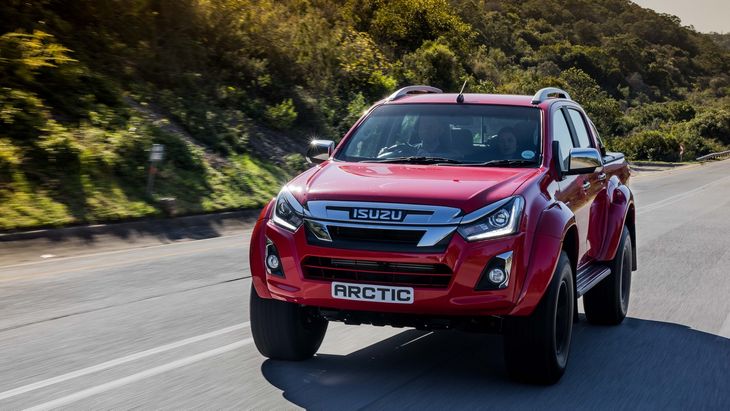 Those tyres are a touch noisy at the national speed limit on tarmac, but you can dial it out with the audio system
Isuzu Arctic AT 35 Price in South Africa (July 2019)
Isuzu is offering its new Arctic AT 35 with the same warranty as its standard D-Max derivatives. This means you get a 5-year/unlimited km warranty and a 5-year/90 000 km service plan. Get a quote / Request a test drive.
Isuzu D-Max 3.0 TD 4x4 LX Arctic Trucks AT 35 R785 000 (including VAT)
Related content:
Isuzu D-Max Arctic AT 35 (2019) Specs & Price
Isuzu D-MAX (2018) Specs & Price
Ford Ranger Raptor (2019) Launch Review
Ford Ranger Raptor (2019) Specs & Price
Interested in buying an Isuzu D-Max?