The luxury sedan segment will see 2 German brands duke it out in the premium sedan segment. Despite the onslaught of the SUV, both BMW and Mercedes-Benz still see value in the sedan market and have revealed updated versions of its 5-Series and E-Class respectively. While we haven't driven either, we can do a spec-for-spec comparison and see what they offer.
Styling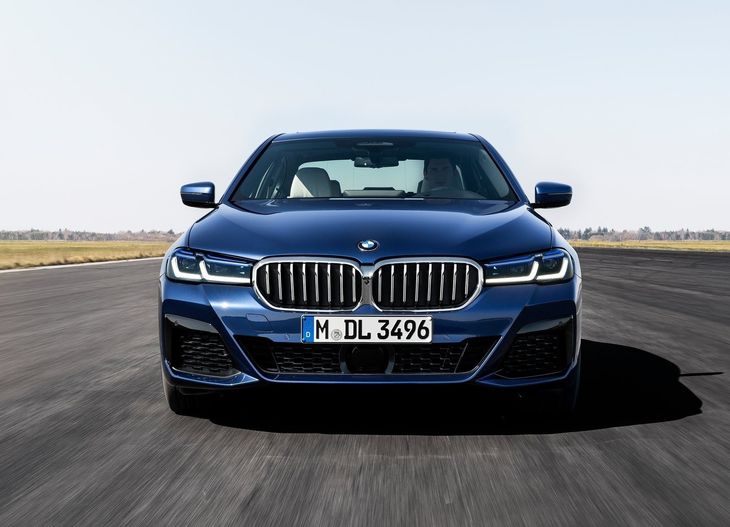 Car design is extremely subjective and one person's art is another's trash. That being said, we will say the Mercedes-Benz E-Class has appeared to change more radically, with BMW opting for a more subtle design upgrade. The new E-Class adopts the new fascia at the front, while the rear gains some new-look tail lamps. BMW has gone for a nip and tuck of the grille, while sharp-looking headlights dominate the front. The rear gets a slight redesign of the taillights.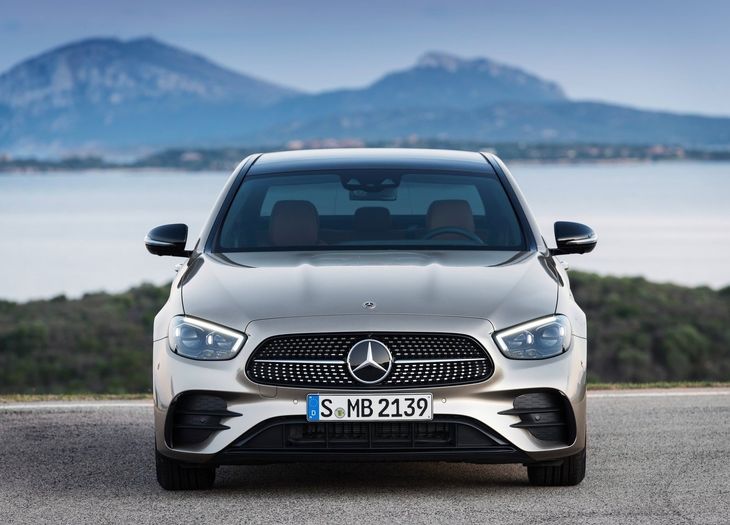 Practicality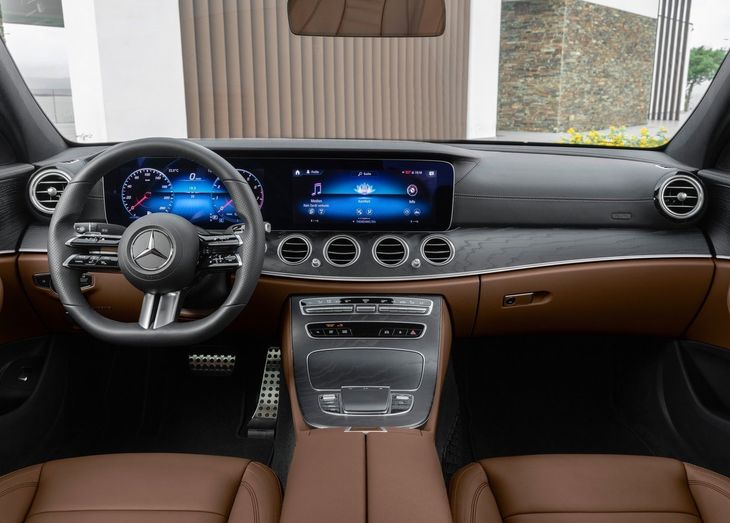 The cabin of the updated Mercedes-Benz E-Class.
Both the Mercedes-Benz E-Class and BMW 5-Series place a huge focus on comfort, cabin space and practicality. The updated BMW 5 Series boot capacity remains at 530 litres, with the rear seats folded down to get a maximum of 1 560 litres. In comparison, the Mercedes-Benz E-Class sedan musters a 540-litre boot and you can fold down the rear seats which will increase the space, but a figure was not given. In both instances, each vehicle offers plenty of practicality, with plenty of in-car storage solutions.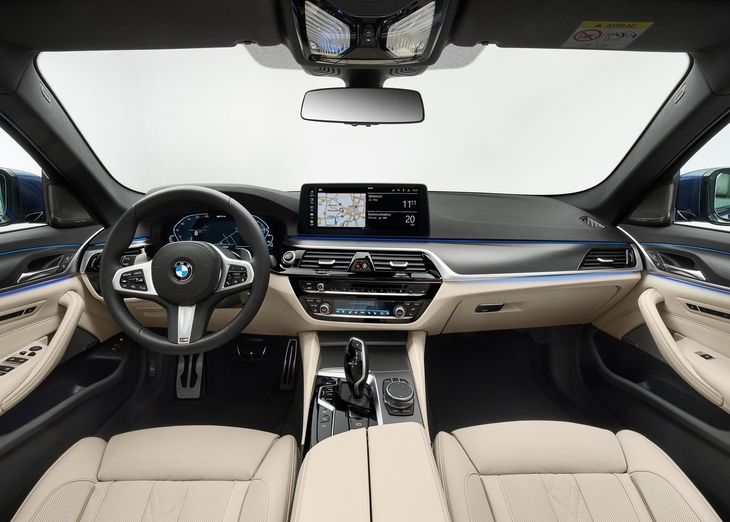 The cabin of the updated BMW 5-Series.
Engines
Both Mercedes-Benz and BMW are making progress in electrification and both cars feature clever tech. The Mercedes-Benz E-Class portfolio will have 7 models available as plug-in hybrids across petrol/diesel and saloon/estate, while BMW will be introducing e models in the 5 Series range.
Mercedes-Benz says that the petrol engine range will cover outputs of between 115 kW to 270 kW while the diesel E-Class will offer between 118 kW to 243 kW. A 200 kW (+15 kW) four-cylinder 2.0-litre turbo-petrol engine and an in-line 6-cylinder, 3.0-litre engine will be equipped with an Integrated Starter-Generator (ISG) and a 48-Volt onboard electrical system. A 6-cylinder, 3.0-litre turbodiesel engine will also be offered in some markets. A 9-speed automatic transmission is standard. In South Africa, however, the current 145 kW and 190 kW 2.0-litre turbo-petrol and 143 kW turbodiesel engines are expected to carry over.
BMW says it has improved the TwinPower Turbo with the 4- and 6-cylinder petrol engines getting optimised petrol injection, while all diesel engines now with 2-stage turbocharging. Euro 6d emissions compliance as well as 48V mild-hybrid technology for all 4- and 6-cylinder models is now available too. Mild hybrid tech has been enhanced with the addition of a 48V starter-generator and a second battery.
Later on, BMW will introduce the 545e xDrive with a 210 kW inline-6 petrol engine and 80 kW electric motor driving all 4 wheels. It will also have 600 Nm and be capable of 54-57 km of pure electric power. Outputs range from the 540i's 245 kW the mighty V8's 390 kW. For diesel fans, the 520d has 140 kW while the 530d packs 210 kW.
Performance versions?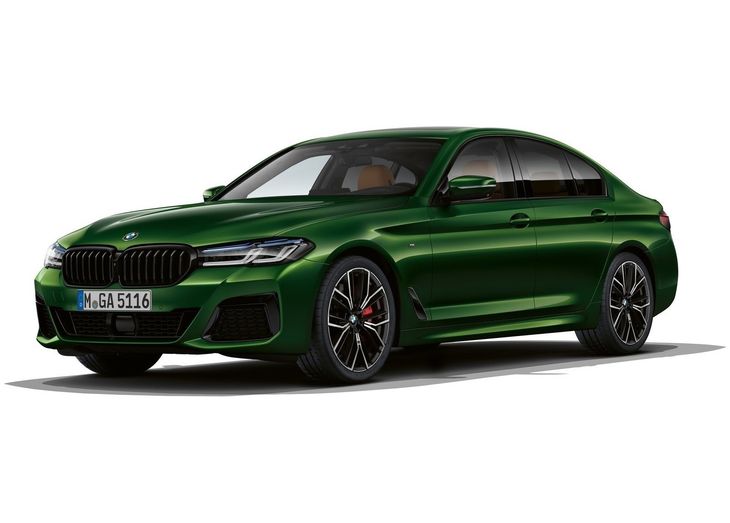 With a gloss black grille and red brakes, this is the baby BMW M5 Lite aka M550i xDrive.
At the time of writing towards the end of May 2020, neither BMW M or Mercedes-AMG had revealed the latest iterations of the high-performance models. We know they're coming as we have the spy shots of the Mercedes-AMG E63 S as well as the hardcore BMW M5 CS, both of which are worth checking it out.
What we do have are the 'lite' versions of the aforementioned vehicles. Pictured in a lovely shade of green is the BMW M550i xDrive, essentially a detuned BMW M5. Packing the 4.4-litre twin-turbo V8 with 390 kW and 750 Nm of torque, it'll sprint to 100 kph in 3.8 seconds.
Below is the Mercedes-AMG E53, which features a twin-turbocharged 3.0-litre 6-cylinder petrol engine. It has 320 kW 520 Nm and is good for a 0-100 kph time of 4.5 seconds.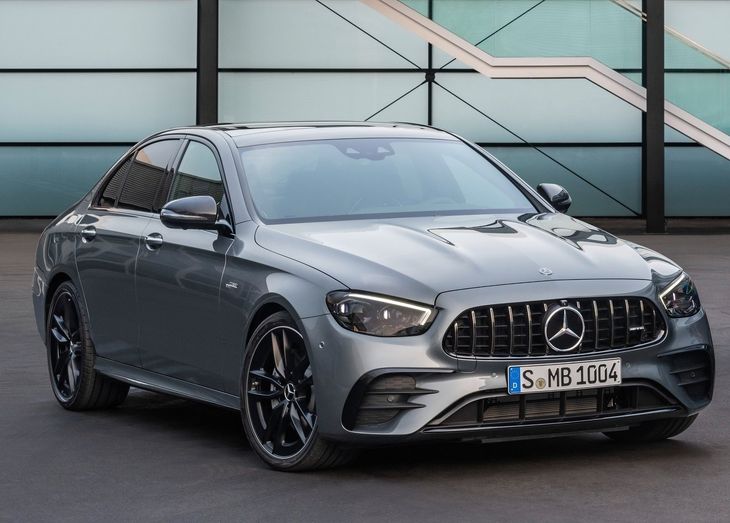 There's no mistaking this E-Class for anything other than the AMG model thanks to the Panamericana grille.
Infotainment and technology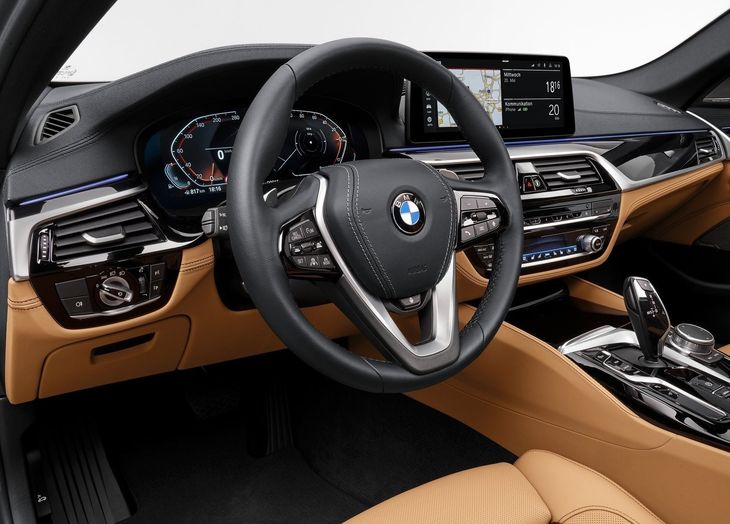 The updated BMW 5-Series showing its new infotainment system
The BMW 5-Series may have only the most subtle of exterior updates, but the cabin updates are arguably more noteworthy and important. The BMW Operating System 7, Live Cockpit Professional and Hey BMW personal assistant make their debut. There are also some tactile changes as well as enhanced connectivity. There are a host of extra digital services, including a cloud-based navigation system that updates real-time traffic data at regular intervals. The 5 Series further supports Android Auto (in addition to Apple CarPlay) and remote software upgrades.

The updated Mercedes-Benz E-Class' cabin now features updated trim finishes as well as a new multi-function steering wheel with capacitive hands-off detection. Another change is the presence of a touchpad to control the infotainment system which replaces the previous rotary controller. A widescreen cockpit featuring two 10.3 inch screens can be had or buyers can upgrade to the larger 12.3-inch widescreen cockpit layout. The latest Mercedes-Benz User Experience (MBUX) operating system will also be fitted with voice control and augmented reality as well as Hey Mercedes, the personal assistant.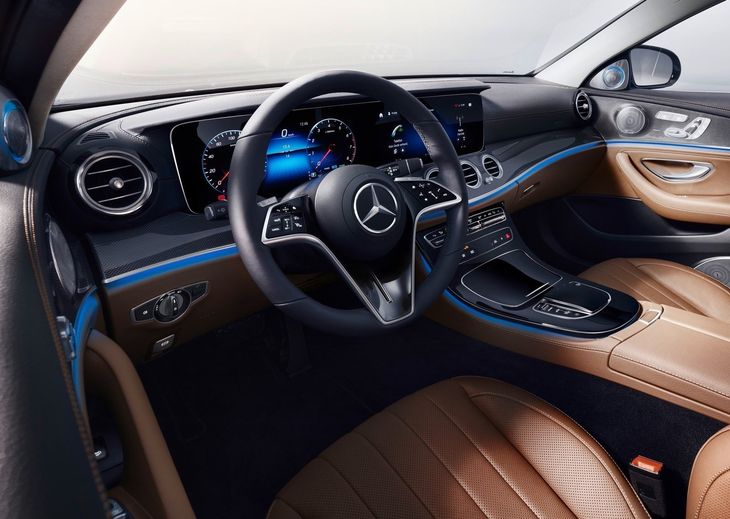 MBUX makes its debut in the updated Mercedes-Benz E-Class
South African availability?
BMW SA has said it expects it to arrive sometime in Q4 this year. The introductory lineup looks broad, with 520d, 530i, M550i xDrive coming. The BMW M5 Competition will follow on later.
Mercedes-Benz SA has yet to confirm anything regarding local E-Class introduction or specification. We suspect it will arrive in South Africa before the end of 2020.
We await pricing for both models and will update with detailed specs and pricing as soon as we have more info.
Further Reading
Mercedes-Benz E-Class Coupe/Cabriolet Revealed
Facelifted Mercedes-Benz E-Class Revealed
Facelifted BMW 5 Series officially revealed
Another BMW leaked: Facelifted 5 Series
Want to purchase one of these German sedans?
Buy a new or used Mercedes-Benz on Cars.co.za