Mercedes-AMG is ready its next iteration of the E63 S super sedan and our spy photographers have spotted a less disguised prototype leaving the Nurburgring.
Picture credit: S. Baldauf/SB-Medien. We have paid for these photos and at the photographer's request, have watermarked them.
The Mercedes-AMG E63 S is slowly losing its camouflage, meaning we're expecting a reveal pretty soon. That being said, we were hoping to get a reveal earlier this year at the 2020 Geneva Motor Show, but with these latest images its clear AMG is not finished with the car yet. As far as powertrains go, we're thinking the 4.0-litre V8 twin-turbo unit will be carried over as before, but how much power will it make is the real question.
The current Mercedes-AMG E63 S delivers a thumping 450 kW and 850 Nm making it good for 3.4 seconds to 100 kph. Interestingly, we do know this powertrain is capable of 470 kW and 900 Nm, evidenced by the mighty Mercedes-AMG GT63 S 4-door. Power will go to all 4 wheels via a 9-speed gearbox and like before, it will offer front axle decoupling resulting in monstrous smokey drifts as the rear wheels are overwhelmed by that V8.
We already have some idea of what the next-generation Mercedes-AMG E63 looks like thanks to this leak.
Now is a good time to grab a bargain Mercedes-Benz E-Class. Browse current stock now.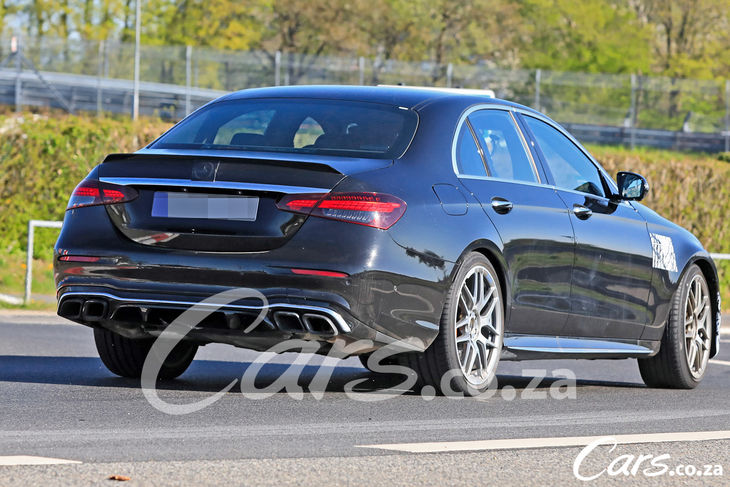 Big wheels and quad exhausts mean this is the performance version of the Mercedes-Benz E-Class.
Further Reading
Mercedes-Benz previews E-Class facelift
Mercedes-AMG E63 S 4Matic (2017) Launch Review
Will It Drift? BMW M5 vs Mercedes-AMG E63 S
Drag Race: BMW M5 vs Mercedes-AMG E63 S