The subtly updated BMW 5 Series executive sedan will soon be available on the local market. Whereas the line-up no longer has a 3.0-litre 540i derivative, marking the first time a 5 Series range won't feature a straight-6 engine in the Republic, it will gain the thumping M550i xDrive, which combines 390 kW of V8 muscle with all-wheel-drive traction.
BMW SA has put the January 2021 price list for its refreshed executive sedan range on its website – and it makes for interesting reading! Setting aside the revamped M5 Competition flagship for the moment, it's clear that the Bavarian marque has had a rethink of its G30 LCI line-up, because the range now begins with the 530i and 520d, which are powered by 2.0-litre 4-cylinder turbopetrol and -diesel engines respectively.
Whereas the 3.0-litre straight-6 turbopetrol-engined 540i used to split the 4- and 8-cylinder derivatives, it has been substituted by the "thinking man's [sic] M5" – the all-wheel-drive 390 kW/750 Nm M550i xDrive, powered by a twin-turbo V8. This suggests demand for a tastefully appointed mid-range 5er has all but dried up – we assume that driving enthusiasts who crave BMW's iconic inline-6 will flock to the M340i xDrive.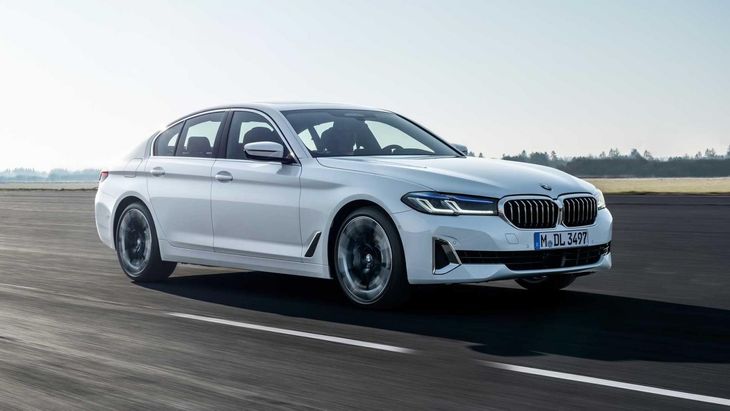 BMW stopped short of going full X7/7 Series on the updated 5 Series' grille, but it has indeed been enlarged.
The easiest way to spot the updated model is by its revised double-kidney grille (now effectively a single piece), which is wider, higher and drops down further into the bumper. The LED headlights are slimmer in design and feature either 2 U- or L-shaped daytime driving lights ­– depending on which version of the LED headlights are fitted – either the standard ones or those with adaptive cornering function, non-dazzling matrix technology (including High-beam Assistant) and outer daytime driving lights that double as turn indicators. BMW Laserlight is also optionally available.
At the rear, the 5 Series' new LED tail-light clusters feature black edging and an L-shaped graphic that combines the rear- and brake lights into a single feature, while the exhaust-end finishers are trapezoidal in shape on all derivatives. Other updates include a beefed-up M Sport body kit.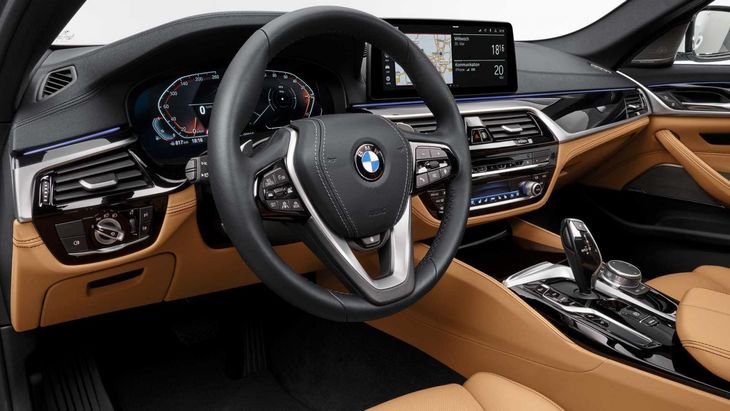 Updated switchgear (including on the multifunction steering wheel) and a larger infotainment display are the most obvious tweaks.
When the G30-generation sedan was launched in South Africa in 2017, it featured the M Sport package as standard. The updated 530i and 520d, however, come without it (perhaps to ensure the asking their asking price (yes, they technically cost the same before you add CO2 emissions tax) remain under R1 million on the official price list. The sportier look costs R66 900 and R56 700 for the turbopetrol and -diesel versions respectively and it incorporates an M Aerodynamic package, M Sport suspension, BMW Individual high-gloss Shadowline and 19-inch double-spoke alloys.
The M550i xDrive comes with the top-spec LED headlights, the M Sport package's body kit and Shadowline trim and additionally features M Sport brakes (optionally available with red calipers), Adaptive M suspension and M Differential and, of course, Bicolour Jet Black Y-spoke 19-inch alloys.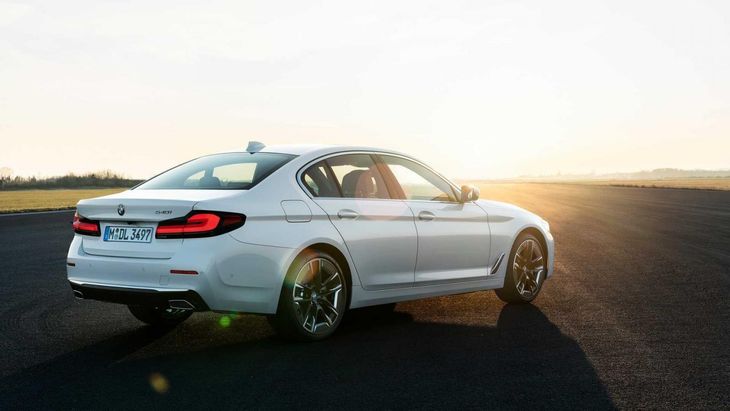 This 540i is shod with BMW's optional lightweight, drag-reducing Individual Air Performance Wheels.
The interior updates are arguably more noteworthy: automatic climate control with extended features is standard throughout the range, as is the 10.25-inch Control Display (upgradable to a 12.3-inch unit, which is standard in the M550i xDrive); the switchgear on the centre console and the standard sports leather steering wheel has been revised, while the options list includes features such as fully electrically adjustable front seats with/without heating, ventilation and massage function, head-up display and instrument panel trimmed in Sensatec material.
The M550i xDrive comes equipped with a handful of additional accoutrements over its 4-cylinder brethren, including front sports seats, 4-zone climate control and a Harman Kardon surround sound system.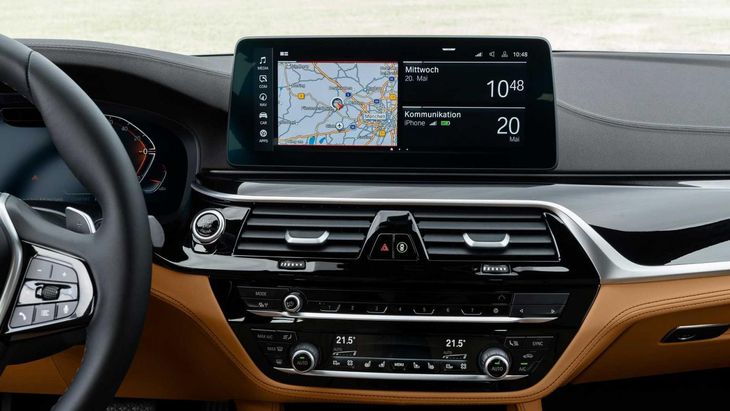 The 5 Series comes standard with a 10.25-inch touchscreen infotainment system with BMW Live Cockpit Plus.
The hardware update is significant: The BMW Live Cockpit Plus and the optional BMW Live Cockpit Professional are underpinned by the brand's Operating System 7 and includes Intelligent Personal Assistant, together with a host of extra digital services, including a cloud-based navigation system that updates traffic date in real-time. The 5er further supports Android Auto (in addition to Apple CarPlay) and remote software upgrades.
Meanwhile, the introduction of a 48V starter-generator and a 2nd battery on the 4-cylinder derivatives significantly increases the amount of brake energy that can be regenerated and stored. This energy is used not only to power the sedan's electrical system and ancillaries, but to produce an 8 kW electric boost to aid either overtaking- or off-the-line acceleration. The mild-hybrid setup also benefits efficiency by assisting the engine when driving at constant speeds and improves comfort when the Auto Start-Stop and coasting functions are in use.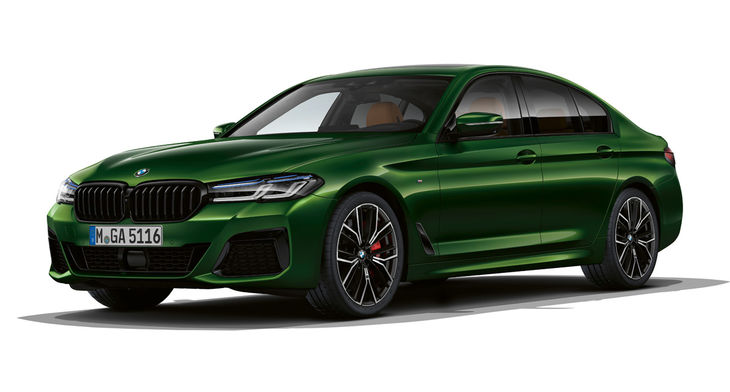 The M550i xDrive looks just mean enough not to steal the limelight from its M5 Competition sibling.
The 530i's 2.0-litre 4-cylinder turbopetrol is mated with an 8-speed automatic transmission (as are all the engines in the local G30 5 Series). It produces 185 kW/350 Nm, is claimed to accelerate from 0 to 100 kph in 6.4 sec and said to consume, on average, 6.7 L/100 km.
The 520d's 2.0-litre 4-cylinder turbodiesel motor produces 140 kW/400 Nm, is claimed to accelerate from 0 to 100 kph in 7.5 sec and said to consume, on average, 5.2 L/100 km.
Do you really need that M5 Comp?
The M550i xDrive, however, is an altogether different proposition. Its twin-turbo 4.4-litre V8 produces 390 kW from 5 500 to 6 000 rpm and 750 Nm from 1 800 to 4 600 rpm (peak torque is available in a 2 800-rpm spread). The super sedan transmits its copious propulsive force to terra firma dynamically via an xDrive all-wheel-drive system and the result is an astonishing 0-to-100 kph sprint time of only 3.8 sec and a 250-kph top speed.
To put those figures into context, the M5 Competition produces 70 kW more power, but exactly the same torque as the M550i xDrive (750 Nm, albeit over a wider spread of revs – 1 800 to 5 860 rpm) for a 0-to-100 kph sprint time of 3.3 sec and a 305-kph top speed. But here's the clincher: The former costs about R2.3 million and the latter "only" R1.5 million.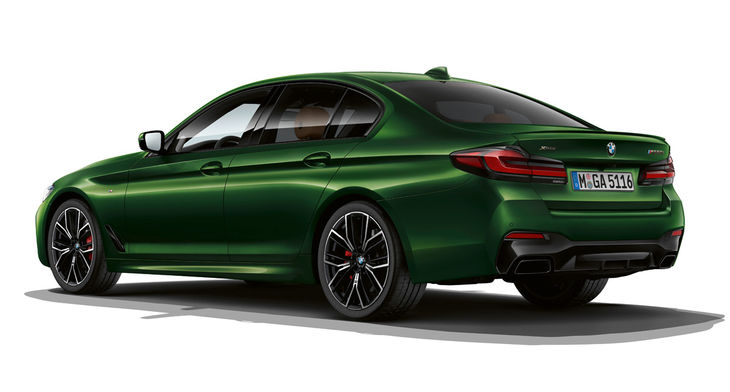 Compared with the M5 Competition, the M550i xDrive takes 0.5 sec longer to get to 100 kph, but it delivers just as much torque!
In terms of driver assistance systems upgrades in the updated 5 Series range, the latest iteration of the optional Integral Active Steering can aid manoeuvring by turning the 5 Series' rear wheels as required at speeds under 3 kph and the Lane Departure Warning system (included with the optional Driving Assistant) now features a lane-return function by means of steering assistance.
The updated Steering and Lane Control Assistant included as part of the new Driving Assistant Professional package utilises navigation data to anticipate when a lane change will be required along a route, and this can then be performed "with ease" using the Lane Change Assistant. There is also an "automatic formation of emergency lane" function, which steps in to guide the car to an appropriate side of its lane in a freeway traffic jam.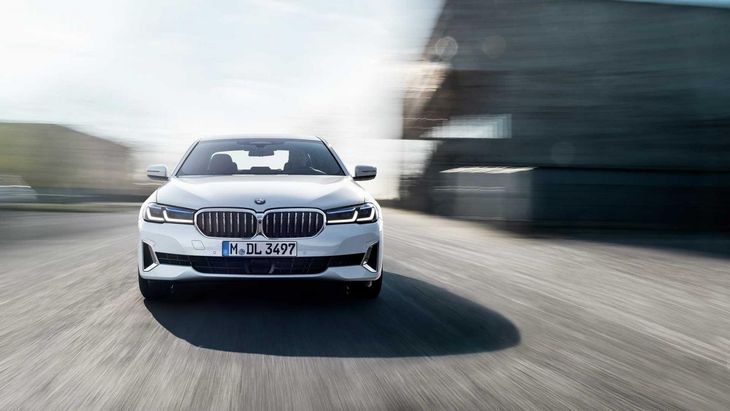 This frontal view provides a rare glimpse at what a 5 Series looks like when it's not festooned in an M Sport trim package.
The Parking Assistant's range of functions has been extended with the addition of the reversing assistant, which takes control of the steering while reversing for distances of up to 50 metres. A Drive Recorder function lets drivers shoot and store videos of the scene around the vehicle (a feature that insurance companies will love) and the 3D visualisation of the surrounding area in the instrument cluster provides an enhanced overview of traffic situations, the status of driver assistance systems and possible courses of action they offer.
BMW 5 Series price in South Africa (January 2021)
The prices below include CO2 emissions tax, as well as a 2-year/unlimited km warranty and a 5-year/100 000 km maintenance plan.
| | |
| --- | --- |
| 530i | R989 500 |
| 530i M Sport | R1 056 542 |
| 520d | R987 297 |
| 520d M Sport | R1 043 996 |
| M550i xDrive | R1 509 938 |
| M5 Competition | R2 328 224 |
Further reading:
Another BMW leaked: Facelifted 5 Series
BMW 540i M Sport (2017) Review [with Video]
Facelifted Mercedes-Benz E-Class Revealed
Audi A6 (2020) Price in South Africa