The ID.4 GTX is a dual electric motor crossover that brings more fun to electric mobility.
Volkswagen's ID.4 electric crossover was recently crowned the 2021 World Car Of The Year and now the Wolfsburg-based firm has added some performance spice to its winning formula by introducing the ID.4 GTX.
Much like what GTI is to the combustion-engined Golf or Polo, GTX represents the sporty side of Volkswagen's growing electric vehicle range.
"Electric driving is simply great fun – and with the ID.4 GTX we are adding a new dimension of sportiness and dynamics," explained Ralf Brandstätter, CEO of the Volkswagen Brand. "The most emotional member of the ID. family to date shows that electric mobility and top sporty performance are not mutually exclusive."
How fast is the Volkswagen ID.4 GTX?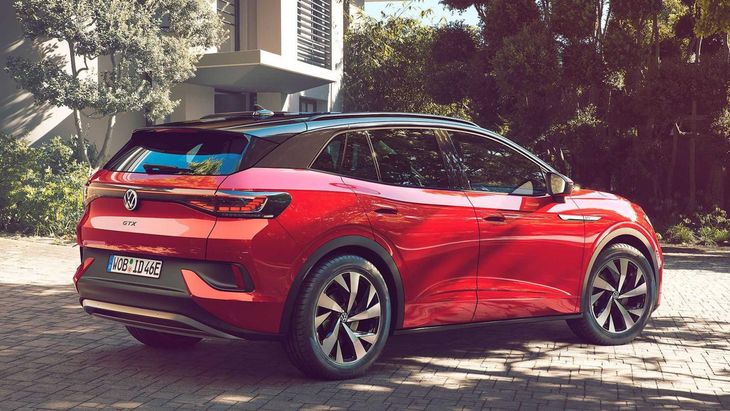 The ID.4 GTX has 2 electric motors that generate no less than 220 kW.
Unlike the standard ID.4, the sportier ID.4 GTX is equipped with an electric motor on both axles making it the first ID. model to feature electric all-wheel-drive. Total system power output is pegged at 220 kW (VW has yet to divulge a torque figure) and in conjunction with a 77 kWh battery, Volkswagen claims a range of 480 km which is some 40 km less than the standard ID.4.

The ID.4 GTX is able to sprint from zero to 100 kph in about 6.2 seconds, which is significantly quicker than the 8.5 seconds it takes in the standard ID.4. Top speed electronically limited to 180 kph.
Under normal driving conditions, the ID.4 GTX is predominantly rear-wheel-drive but when higher levels of traction are required, power can be directed to the front axle, which is useful when the driver decides to pin the throttle.
In terms of charging, 300 km of range can be charged in just 30 minutes using a 125 kW fast charger.
As Volkswagen South Africa continues to explore the viability of introducing its new ID.3 and ID.4 on local soil, indications are that the ID.4 is perhaps more likely, especially if you consider how popular crossovers and SUVs are in our market. Also, South Africans are GTI-obsessed which might even strengthen the business case for this ID.4 GTX to make its appearance at some point in Mzansi.
Buy a Volkswagen on Cars.co.za
Related Content
VW's Accelerate Plan: Golf, Tiguan to live on