Not long after the 2015 launch of the original Volkswagen Up! in South Africa, a facelifted model was announced. That refreshed Up! went on sale here towards the end of 2016. What has changed, and will this new Volkswagen Up! continue the tradition of offering impressive build quality and great driving traits in an affordable package? We drive what is likely to be on of the strongest sellers in the line-up, the Volkswagen Move up!
We like: Ease of use, excellent refinement in this class, willing engine, surprisingly spacious for such a compact body
We don't like: Becoming quite pricey, no standard service plan/alloy wheels
Alternatives
Similarly-priced, more traditional, German: Volkswagen Polo Vivo. If you require space and practicality, then this is a serious rival and unfortunately it comes from within the VW family. The Vivo has nailed that affordable family hatchback recipe time and time again since its launch in 2010. The Up! though, is vastly superior in terms of refinement, driving manners and cool factor.

For something similarly stylish: Opel Adam. The (relatively) new kid on the block from Opel offers Up!-matching style and city chic. The Adam has a higher-capacity, 1.4-litre motor, but doesn't feel as engaging to drive and with 3 doors only, is less practical. The base price is also significantly higher than the Up!

If you need more space: Renault Sandero Stepway. Recently facelifted, this new model outguns everything in this segment in terms of specification and cabin space. Power comes from a 0.9-litre 3-cylinder turbopetrol providing a decent, if unremarkable, driving experience. However, it loses out to its rivals in terms of fit and finish. Two derivatives are now on offer with the high-spec Dynamique most likely applicable when comparing with the Move Up!
Compare the Volkswagen Up with the Renault Sandero and the Opel Adam here.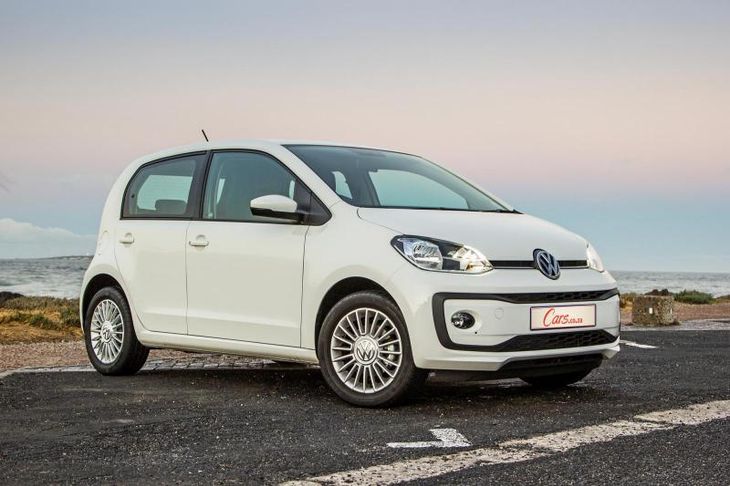 The recent facelift has introduced subtle but effective styling revisions. Up! still turns heads.
Facts & Figures
Price: R179 900 (April 2017)
Engine: 1.0-litre three-cylinder naturally-aspirated petrol
Transmission: 5-speed manual
Power: 55 kW
Torque: 95 Nm
Fuel Consumption: 4.6 L/100 km (claimed)
Top speed: 173 kph
0-100 kph: 13.5 sec
Facelift Summary
The changes to a winning recipe have predictably been small, yet effective. The new Volkswagen Up! is now only available with five doors, with the differences between the models being mostly trim and mild cosmetic changes. In terms of design, Up! now looks even more chic. LED daytime running lights dominate the front, while the rear lights have been modernised. Inside this Move up! you get a more sophisticated audio system which replaces the old-school white-on-black LCD setup. It's a good-looking little car with lots of charm.
The good:
Packaging and Finish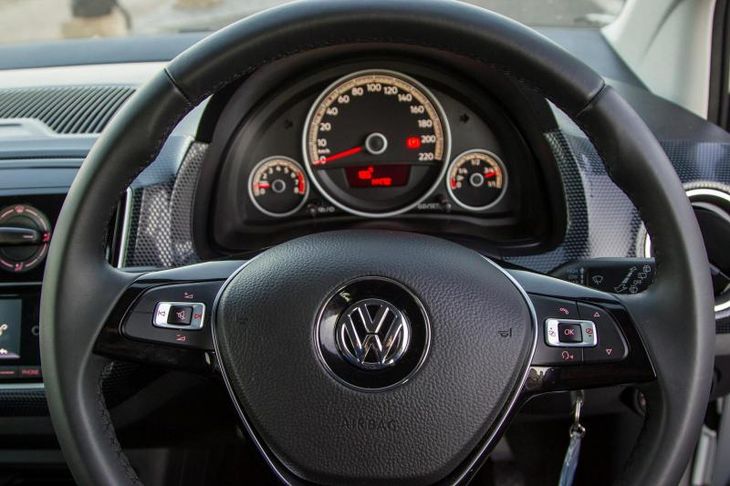 Though this is one of VW's more affordable offerings, the Up! feels like an upmarket product from behind the steering wheel.
As mentioned previously, the Up! is now only offered in the 5-door bodyshape. This makes the Up! a far more practical offering compared to the 3-door model offered previously. Access to the rear seats now no longer requires gymnastics and once seated, the space on offer (for 2 in the rear) is actually to be commended. But it's still a smaller, less practical car than a Polo Vivo, so make sure of your requirements. The boot (251 L) is of a decent size and features a clever drop-down mechanism, which increases the luggage capacity. Of course, you can also fold the rear seats down.
Being a Volkswagen product, one of the Up!'s big positives is the build quality. Few cars are this well assembled at this price point, and offers such design refinement and attention to detail. The tactile quality of the materials endows the cabin with a near-premium feel that none of its direct (on price) rivals can compete with.
Performance and Economy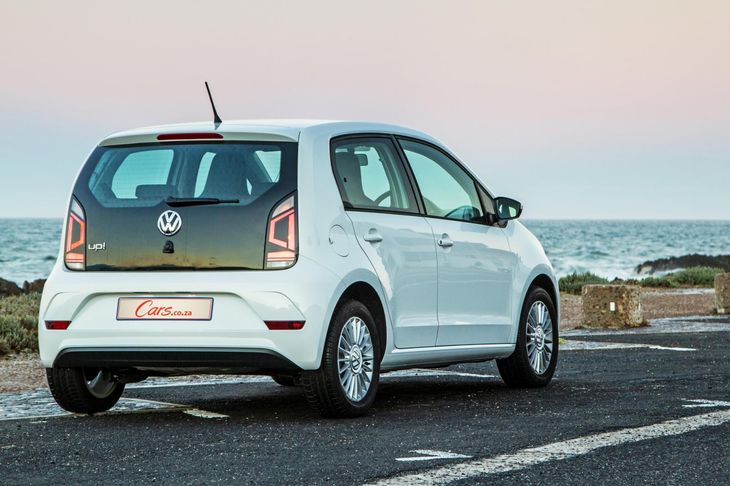 Although Up! is now more practical, it remains small and light, so feels nippy to drive.
Power comes from a naturally aspirated 1.0-litre 3-cylinder petrol engine which delivers 55 kW and 95 Nm. That may sound woefully inadequate, but then, the Volkswagen Up! weighs very little and its engine is of the willing and responsive variety. Add in a light and precise gearbox action and you have a vehicle that performs with more verve than you might expect. It's not going to win the traffic light grand prix, but it certainly won't be last. Plus, its size means you can squeeze into the smallest of gaps.
A big positive is the fuel consumption of the Volkswagen Up! The engine doesn't need to work extremely hard to keep pace with traffic. Consequently, unlike turbocharged engines which are thirsty at full boost, the Up tends to be more frugal. While on test, the Volkswagen Up! returned figures well below 6 L/100 km. It's interesting to note that a staff member once achieved 3.6 L/100 km in his own, previous shape, Up!
The Drive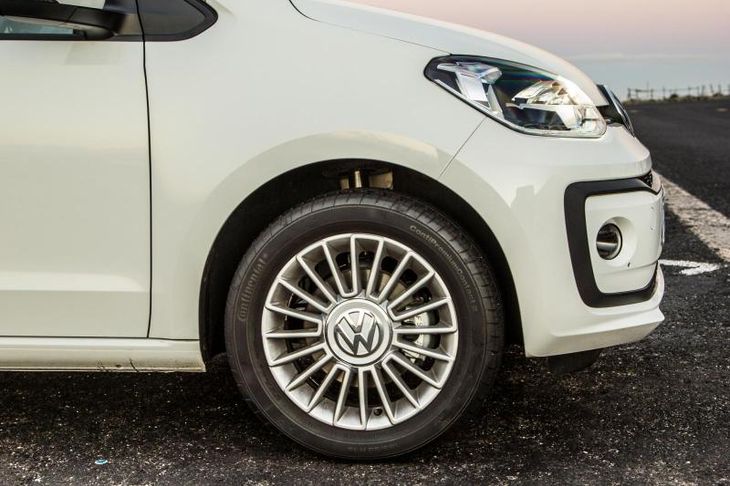 Move up! rides on steel 14-inch wheels as standard but stylish multi-spoke 15-inch items are offered as options for R3 100.
Volkswagen's Up! has lovely inner city manners; its diminutive size and the responsiveness of the little engine mean you can take gaps that drivers in other vehicles perhaps wouldn't consider. Riding on (optional) 15-inch alloys with substantially chunky rubber, the superbly refined Volkswagen Up! soaks up most road imperfections, only becoming unsettled over harsh irregularities such as errant tree roots.
Another boon to driving enjoyment is the steering: direct, yet wonderfully light in terms of weight, multiple-hour stints in traffic are a breeze. The fact that our more performance-orientated testers found themselves enjoying the Up! in tight corners only serves to underline the Up!'s fun factor, aided of course by that previously mentioned 5-speed manual gearbox and a light clutch pedal action. In summary then, the Volkswagen Up! is an effortless and refreshingly uncomplicated vehicle to pilot around the city.
The bad:
Standard specification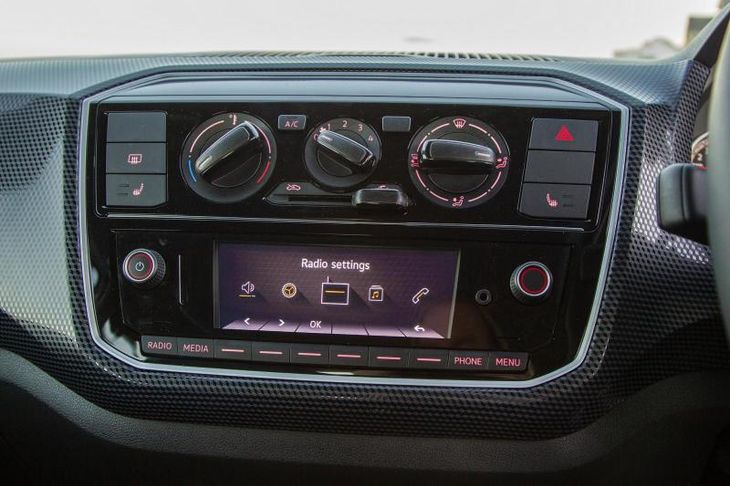 Much improved infotainment system is clear and easy to use. Simple user experience is often the best.
Equipment and trim for the Volkswagen Up! can only be described as fair. In Move Up! specification you have a number of options to consider that quickly bump up the price: The Maps & More dock for cellphone connectivity (R5 700); additional audio speakers (R1 000); Driver Pack comprising cruise control, park distance control and enhanced multi-function display (R4 250); and Winter Pack comprising heated mirrors, fog lights and heated seats (R2 500). Of particular interest is the Maps & More dock which promotes hands-free calling and uses the phone's features to integrate into the vehicle.
The standard Radio Composition Phone infotainment system is, however, a big step up from its predecessor's unit and we found it fuss-free to use. An SD card slot, Aux port and Bluetooth connectivity are thrown in too. In terms of safety features, the Volkswagen Up! comes with stability control, ABS and 4 airbags.
For such a stylish little city car it is annoying to have to pay extra for alloy wheels (the standard items are 14-inch steel), and a service plan costs extra too (starting at R4 576).
Verdict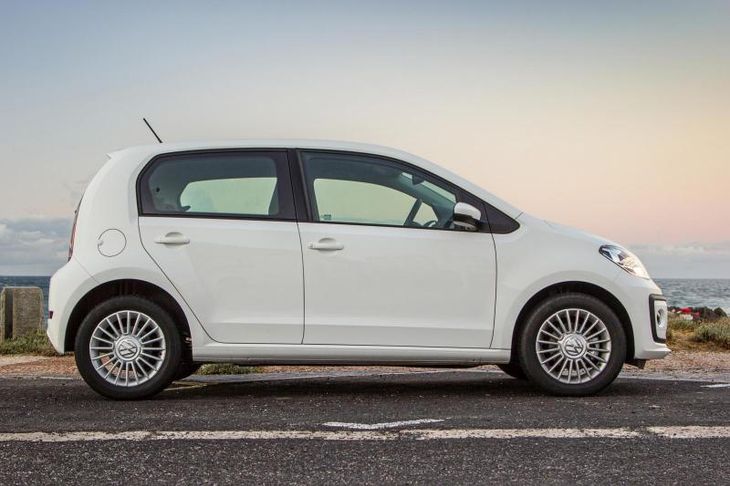 New 5-door body has significantly improved the practicality of the Up!
There's so much to like about the Volkswagen Up! Provided you can afford it, and spend extra on the options list, it'll make an excellent first set of wheels for a well-to-do student, while hardworking city dwellers will love that they can park it anywhere, and the budget-conscious will delight in its low running costs and meagre fuel consumption.
The Volkswagen Up! has, however, become quite expensive and can no longer be considered a budget car. That won't concern Volkswagen much because having the Polo Vivo play a practical value leader role leaves the Up! with its chic design, elevated interior quality and feel-good factor to appeal to those looking for something more trendy and upmarket. If it's the latter that you like, and can afford, you won't be disappointed by the Up!
Related content:
Facelifted Volkswagen Up! – Specs and Pricing
Comparative Review: Volkswagen Cross Up! vs Smart ForFour
Budget Car Comparison: Volkswagen Move up! Vs Toyota Aygo X-Play
Volkswagen Up! vs Polo Vivo - Which Is Better? (Video)
Volkswagen Up! Video Review: What's it like?
Volkswagen Up! (2015) Review
Interested in buying a used Volkswagen Up?