It has taken more than three years for the Volkswagen up! to reach the South African market since its debut at the 2011 Frankfurt Motor Show. Talk about being fashionably late. As they say, all good things come to those who wait, but how good is the up! in reality? We spent a week with the new up! to find out how it squares up against some pretty stiff competition in the crowded A segment.
Don't miss our video review at the end of this article.
What's Up!
The three-door Volkswagen up! is the brand's new entry-level offering that slots in snuggly below the Polo Vivo and is available with a choice of two models, namely the base model Take up! and the top-spec Move up!, the latter being tested here in Tornado Red.
The up! is a small, compact four-seater city car that brings fresh Euro-styling to the South African market and targets the lifestyle generation as opposed to the Polo Vivo which is aimed at the more practically minded first-time buyer.
Simple Yet Modern Interior
With its compact dimensions and a wheelbase of 2420 mm, the up! is well packaged for the city commute. Space for the driver and front passenger is generous and the front seats can be easily adjusted to provide extra rear legroom when your buddies hop in the back. Hats off to the designers for maximising interior space!
The interior is vibrant and well put together. Although the facia is finished in hard plastic, the off-white coloured dashboard and door panels make the up! feel airy and spacious. The dash layout is simple and functional, featuring a central module that houses the air conditioning controls as well as a minimalistic CD/Radio connected to four front speakers and two speakers in the rear as part of the optional Sound Plus Package. Unfortunately the front speakers had a crackle to them, even at low volume, which was rather annoying.
Sadly, no USB or Aux ports are included and the flat-bottomed steering wheel has no mounted controls, but is height adjustable. The up! did have an aftermarket Bluetooth unit fitted, but it looks awkwardly stuck to the right side of the dashboard. Electric windows are standard on this model and optional for the Take up! model.
Other optional features fitted to this vehicle included a Panoramic Sunroof, the Driver Package, which includes cruise control, park distance control and a multi-function display as well as a Winter Package, which adds heated front seats, front fog lights and electrically adjustable side mirrors.
In terms of storage space, the Volkswagen up! offers a tight 251-litres of boot space, which increases to a commendable 951-litres with the rear seats folded flat. There's also ample storage in the doors and dashboard for smaller items as well as front and rear cup holders. Not too shabby for such a small car!
Rev up!
Hiding somewhere beneath that small bonnet is a 1.0-litre, 3-cylinder petrol engine that kicks out 55 kW and 95 Nm of torque transferred to the front wheels via a smooth-shifting 5-speed manual gearbox. Small numbers yes, but when you consider that 90% of that torque is available from 2 000rpm, the up! feels more sprightly than the numbers suggest. Apart from the
Opel Adam 1.0T Jam we reviewed recently
, the engine in the up! is one of the most refined 1.0-litre, 3-cylinder engines I have driven so far.
The up! handles itself well out on the road and ride and handling was surprisingly good. The optional 15-inch Waffle alloy wheels also helped in this regard, but 14-inch steel wheels are standard. On the highway, the up! felt well-planted and inspires more confidence compared to its rivals. Cruising at 120 kph is effortless and the up! was eager to press on even further without any hassles.
The up! offers enough grunt to get you around the city, but don't expect too much in terms of performance. Accelerating to 100 kph will take 13.2 seconds while the up! tops out at 171 kph. Claimed fuel consumption is 4.7L/100km and I easily achieved 6.2L/100km during my week with the up!, so it's quite economical too.
In terms of safety, the up! is fitted with four airbags including driver and passenger airbags as well as head and thorax airbags. ABS is included as standard, but EBD and traction control are skipped over.
Volkswagen up! Price in South Africa
The Move up! model on test here is priced at
R159 000
while a standard Move up! is priced at
R140 500
. The base model Take up! is priced at
R133 500
. The price includes a 3-year/120 000 km warranty. Service plans are optional with 15 000 km service intervals.
Optional Features
Panoramic sunroof –
R8 000
Sound Plus Package –
R800
15-inch Waffle Alloys –
R3 000
Driver Package –
R3 500
Winter Package –
R3 200
Aftermarket Bluetooth -
R3 177
Volkswagen up! – Verdict
The Volkswagen up! is an attractive and unique 3-door offering that somewhat defies the perception of 'cheapness' in the A segment.  The up! gives you the impression that you are driving something a little more sophisticated and upmarket. That alone will crack a few hundred sales as will the badge on the bonnet.
The up! is certainly worth consideration, but it isn't the best bang-for-buck proposition on the market. My concern is that at this price point, the up! lacks features that are offered as standard on its rivals and Volkswagen could offer buyers more value in this segment. Buyers should be wise to consider all the options before signing on the dotted line.
Second Opinion
I was blown away by the European charm and appeal of this fun-sized city slicker. It's cute to look at and effortlessly simple to drive. For the money though, it's a little down on standard specification like USB which the cellphone generation will be annoyed by. Still, what a lovely little car! 
-David Taylor
We Like: Upmarket Euro-styling, good drive and handling, refined engine
We Don't Like: Lack of standard features, a bit pricey
Also Consider: Renault Sandero, Hyundai i10, Honda Brio, Citroen C1
Compare the Volkswagen up! with the Sandero and i10 here
Volkswagen up! Quick Specs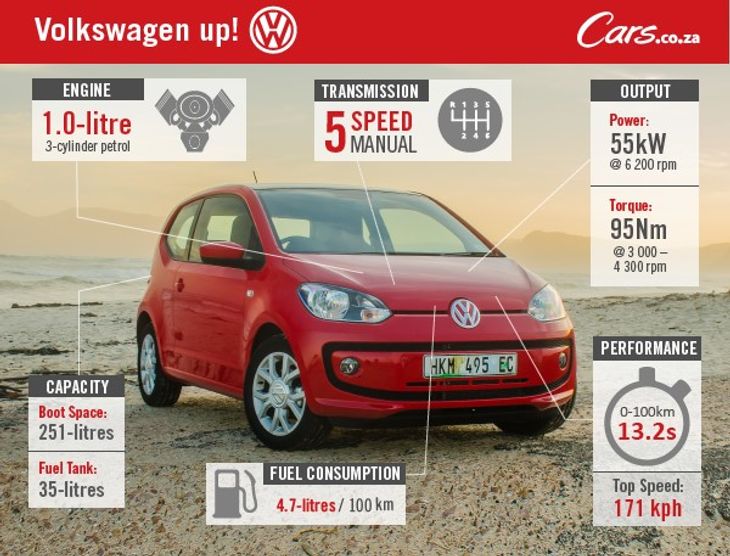 Volkswagen up! Video Review: What's it like?