Our international correspondent Greg Kable has had an early taste of the 8th-generation Volkswagen Golf, which again raises the bar for the premium hatchback segment. The Golf 8 will be revealed in GTI guise early next year and that's the version South Africa will get first, late in 2020. And, judging by the talents of the standard car, the GTI's going to be phenomenal...
What is it?
The story of the Volkswagen Golf began in 1974. Back then few would have imagined just what sort of success the Giugiaro-styled compact hatchback (as the successor to the legendary Beetle, no less) would become. The Golf was not crushed under the ginormous weight of expectation, however. Forty-five years on, the Golf has firmly established as the world's best-selling car, with more than 35 million sales worldwide.
Predictably, then, Volkswagen takes the development of each and every Golf model very seriously indeed; the Wolfsburg-based firm carefully preserves what is cherished, while diligently updating elements considered old or flawed.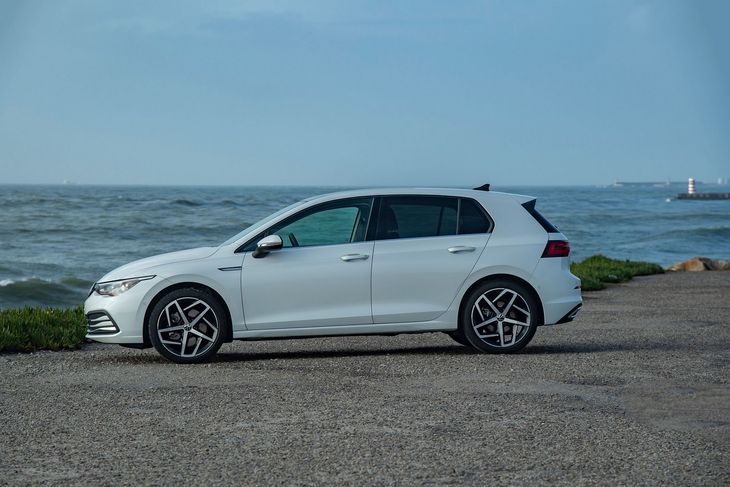 The Golf 8 will join the SA market in late 2020 but initially in GTI guise.
As a result of this step-by-step approach, the Golf (now decidedly a mid-range offering, with several smaller hatchbacks sitting under it in Volkswagen's product line-up) has managed to remain relevant and competitive in a hard-fought segment without resorting to any radical or contrived changes for 7 complete model cycles – something which none of its rivals can claim.
Engineering-wise, this new 8th-generation model is more of a revision than a replacement (in contrast with what the Wolfsburg claimed at the time of the 8's reveal and we quote: "the Golf's biggest transformation in 45 years"). The new Golf retains the same front-wheel-drive MQB platform as its predecessor, albeit updated to offer greater structural rigidity. In truth, its chassis draws heavily on the car it replaces without any significant changes in geometry or hardware.
The exterior is more individual looking than that of the previous Golf. The flamboyant design of the LED headlamps is particularly out of character for Volkswagen's best-selling model and the most controversial aesthetic element in a distinctly lower front end. There's also a more defined swage line running from the leading edge of the front doors through to the rear lights.
In a development that helps to bring the Golf into line with some of its rivals, buyers can spec Volkswagen's IQ light package. It includes automatic main beam, strobe-like indicators, and gives the rear lights a distinctive LED graphic.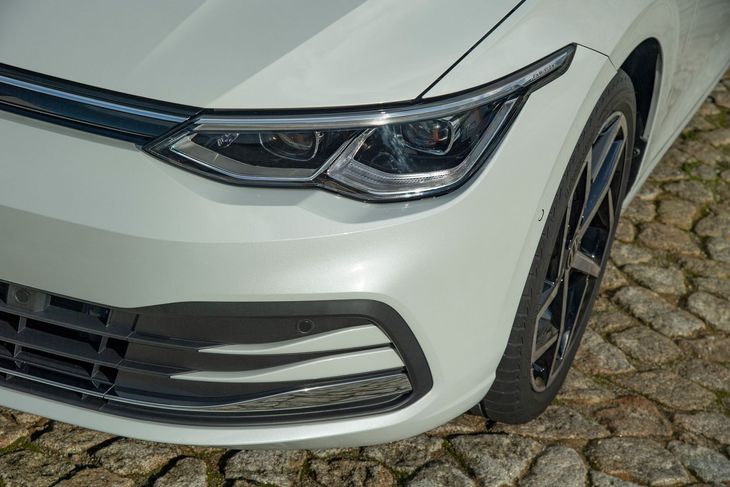 The headlight treatment on the 8 is its most polarising feature.
Slipperier through the air
The new Golf is 29 mm longer, 10 mm wider and 4 mm taller than before, with the same wheelbase. Yet Volkswagen has managed to improve aerodynamic efficiency; the standard model boasts a Cd of 0.27 compared to the 0.30 of its predecessor. The new Golf will be offered exclusively in 5-door guise. As ever, it's a well-made quality product, but we did spot some cost-cutting measures: it eschews gas struts for the bonnet, relying on a simple manual strut. Volkswagen says this is because the new model adopts 2 bonnet latches instead of a single latch. The underside of the bonnet is also finished in black undercoat rather than body colour, a move that's claimed to "streamline assembly".
The new Golf's engine line-up includes 3 new turbopetrol-based eTSI mild hybrids that use a 48V electric drive system and a revised petrol-electric plug-in hybrid drivetrain in 2 states of tune. The mild-hybrid eTSI units are a 1.0-litre 3-cylinder petrol engine developing 66 kW, and a 1.5-litre 4-cylinder petrol powerplant offering 96 kW and 110 kW, all of which offer a claimed 10% improvement in fuel economy over the non-electrified powertrains they replace.
The plug-in hybrid drivetrains combine Volkswagen's 1.5-litre 4-cylinder turbopetrol engine with a gearbox-mounted electric motor, offering 110 kW and 180 kW in a performance-focused GTE model. Both use a 13 kWh lithium battery, claimed to provide a 50% increase in electric range of more than 60 km.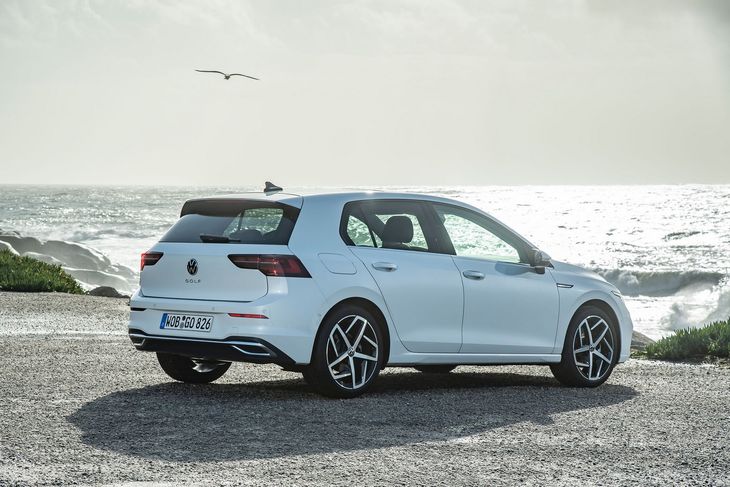 The engine range is completed by more hybrids than ever and an incoming 238 kW R model.
The launch range also includes a 2.0-litre 4-cylinder turbodiesel (TDI) engine, available with peak outputs of 84 kW and 110 kW respectively. Gearboxes include a 6-speed manual and 7-speed dual-clutch units (depending on which engine they are mated to), although South African versions will be available in automatic guise only. Alongside standard front-wheel-drive versions, selected derivatives will also be available with optional 4Motion all-wheel drive.
Volkswagen will launch new GTI, GTD and R variants of the new Golf in 2020, the latter of which is expected to run an updated version of its predecessor's turbocharged 2.0-litre 4-cylinder turbopetrol motor developing up to 238 kW.
What's it like inside?
Over time, Volkswagen has seemingly refined the Golf's premium interior ambience to near-perfection, and every new model faces a tough task to improve on the version it replaces. Does the new Golf indeed improve on the "7.5"?
The answer comes the moment you step inside the newcomer. It's the eminently practical interior of the Golf 8 in which arguably the biggest changes have taken place, which is just as well, because the plethora of updates will help to extend the appeal of Volkswagen's enduring hatchback. The Innovision cockpit features a fully-digital dashboard and, compared with the relatively conservative interiors of previous Golfs, it's clearly aimed at younger buyers.
The area ahead of the driver is dominated by a 10.3-inch digital instrument cluster with either an 8.25-inch or (optional) 10-inch central touchscreen for the infotainment functions. Together with a new multifunction steering wheel, they form a vastly different driving environment than that of previous incarnations of Volkswagen's bestseller – one that is appealingly functional the moment you begin to poke around the cockpit.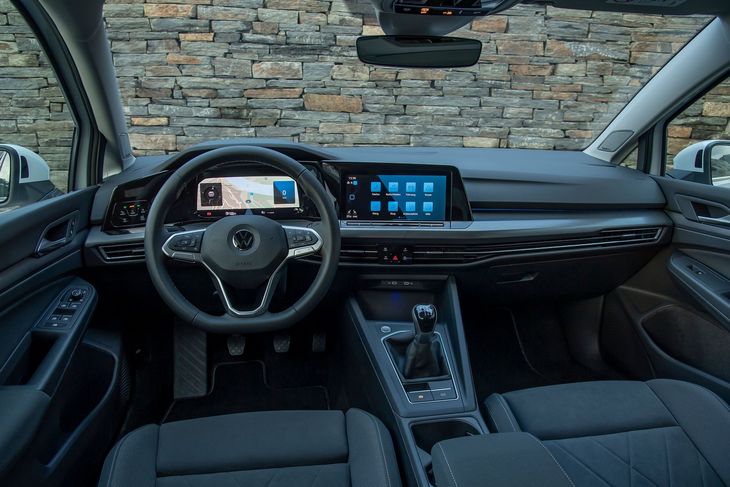 Fewer buttons on the dashboard as the Infotainment system becomes the primary input method.
It's similar to the new electric ID.3, with the controls positioned higher and closer to the steering wheel than before, which gives the dashboard a more top-heavy nature. The centre console is wider and, in models featuring a dual-clutch (automatic) transmission, it houses a stubby shift-by-wire transmission lever in combination with a start-, electric handbrake and hill holder buttons.
In fact, there are very few physical buttons. All the major controls, including those for the ventilation and driving modes, are housed within a touch-sensitive panel below the central display. A "slider" is used to regulate various functions, including the volume of the audio system's playback. It's clearly meant to mimic the swipe of a smartphone, but it's a bit hit and miss. As an alternative, Volkswagen offers a voice control system.
Perceived quality, always one of the Golf's biggest strengths, has improved too. Some might argue there is too much hard black plastic, but I suspect most prospective buyers will be impressed by how well the dashboard is assembled and how expensive the interior materials feel. The haptic feedback generated by the centre display and the system's snappy responses to user inputs also impress.
Continuing the modern look are ambient lighting strips within the dashboard and door trims as well as a host of other new optional features, including an excellent new head-up display, which is available on the Golf for the first time. The 3rd-generation Volkswagen MIB infotainment system, meanwhile, is permanently connected to the internet via an embedded eSIM, which enables online music streaming and real-time traffic information among other on-line features.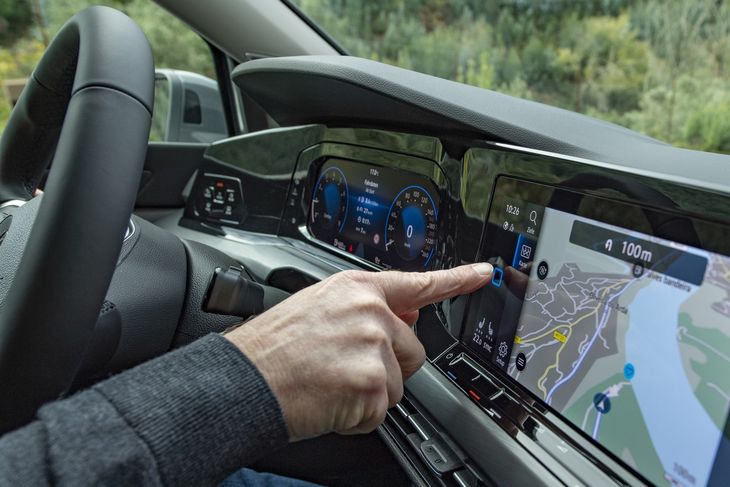 Digital screens will appeal to younger buyers.
Volkswagen has also upgraded the Golf's driver assistance systems, including optional Travel Assist, which combines adaptive cruise control and lane assist to enable "assisted hand-off driving" at speeds up to 210 kph. The new Golf is the first Volkswagen model to feature Car2X (car-to-everything) technology, based on the harmonised European Union standard, which uses the information generated by other vehicles and the road infrastructure to warn of upcoming traffic problems. It's only really useful to those who don't connect to Android Auto or Apple Carplay built-in maps, though, and unlikely to be offered in SA-spec derivatives, but we'll find out for sure at the launch in about a year from now.
While the Golf 8's dashboard represents a major departure on past models, the driving position and overall interior packaging will be familiar to "7.5" owners. The front seats provide a good amount of lateral support, and the driver benefits from a wide range of steering column- and seat adjustment.
On the road...
The most powerful of the new Golf's mild-hybrid drivetrains –the 1.5 eTSI – distinguishes itself with inherently effective properties that should ensure it finds favour among traditional petrol-engine car buyers and turbodiesel stalwarts alike.
With 110 kW available at 5 000 rpm, the turbocharged 1.5-litre 4-pot motor doesn't exactly brim with energy. However, it is remarkably smooth and revs freely to its 6 400 rpm electronic limiter, endowing the new Golf with a moderately sporting performance when you dial up Sport mode. In everyday driving, though, there's no need to work it hard, because with 250 Nm of torque available from 1 500 rpm it delivers a good amount of mid-range urge.
The 7-speed dual-clutch gearbox (DSG) boasts improved step-off qualities, while the latest petrol-electric powerplant propels the new Golf from 0-100 kph in a claimed 8.5 sec, with a top speed of 225 kph. By comparison, the non-electrified 1.5 TSI it replaces boasted figures of 8.7 sec and 217 kph. The 48V belt-driven starter motor brings additional functions, including brake energy recuperation, a coasting function and a more immediate stop/start system.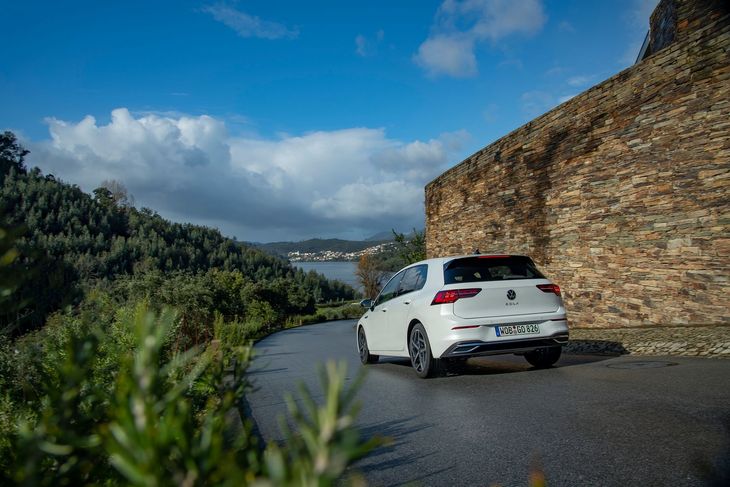 The new model with equal power can accelerate faster and is more efficient.
Crisper reactions to steering inputs
There's a persuasive maturity to the on-road characteristics of the latest Golf, whose handling is distinguished by its progressiveness, balance and accuracy. The new model is noticeably more direct in its actions than before. This might surprise those coming from the comparatively relaxed confines of the "7.5", but for driving enthusiasts, it makes for a more compelling car... one with the dynamic ability to firmly challenge the likes of the Mazda3 in the driving stakes.
The Wolfsburg-based firm would have you believe the Golf 8 is all-new underneath its sheet metal. However, the latest Golf is based on a carry-over platform and chassis. Lower-end derivatives continue to sport a MacPherson strut (front) and torsion-beam (rear) suspension configuration, while upper-end versions, including this 1.5 eTSI, run a more sophisticated combination of MacPherson struts up front and a multi-link setup at the rear.
All derivatives come fitted with passive dampers as standard. Having said that, as was the case with its predecessor, the Golf 8 rides best when equipped with the optional continuously variable dampers, which come as part of the Dynamic Chassis Control (DCC) system. The latter also features a driver profile system with 4 modes: Eco, Comfort, Sport and Individual.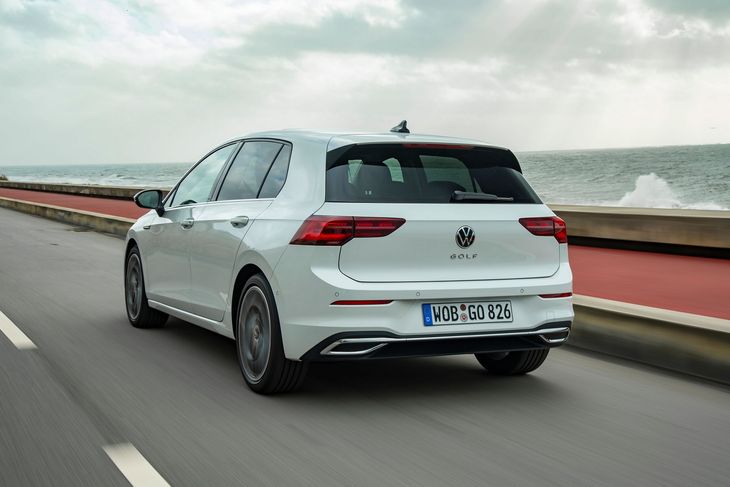 This Golf 8 proves dynamically superior to its predecessor and could well scare the likes of the Mazda3 too.
We've yet to sample the standard fixed-ratio steering, but the progressive steering system fitted our test car proved nicely weighted, wonderfully precise and quite predictable in its actions. The new Golf communicates with greater feel and boasts faster reactions than before, especially in the initial degrees of steering lock.
It might not deliver the overall feedback of some of its key competitors, but the Golf 8 is meticulously accurate and always dependable, allowing you to confidently place it at corner entries. Turn in on a trailing throttle and you will discover excellent body control with progressive movement as lateral forces build before the fast-acting steering allows you to feed off the lock at the exit. On the right road, the newcomer's never anything less than entertaining to drive.
World-class ride quality
When fitted with the optional continuously variable dampers, the ride is brilliantly controlled. Quick reactions and excellent absorption properties help to moderate bump shock and quell vertical movement before the latter has a chance to build on more challenging road surfaces. There is genuine compliance and subtlety to the way the Golf 8's suspension soaks up bumps and maintains its ride height, leading to a relaxed and settled feel in Comfort mode.
The spring and damper rates are a touch firmer than that of its predecessor in Sport mode, giving the new car greater immediacy in its most sporting setting, although it is never abrupt under an unloaded wheel. Hit a sharp-edged rut mid-corner with the outside wheel loaded and an inevitable thump will make its presence felt. You can't fail to notice the added agility relative to the car it replaces: the balance is fine, making the new Volkswagen hugely satisfying to drive.
Another key attribute of the new Golf is its excellent directional stability. As a result, it feels right at home at higher speeds on the motorway, with long gearing providing it with hushed driveline properties and its improved aerodynamics bringing about a noticeable reduction in wind buffeting.
Should I buy one?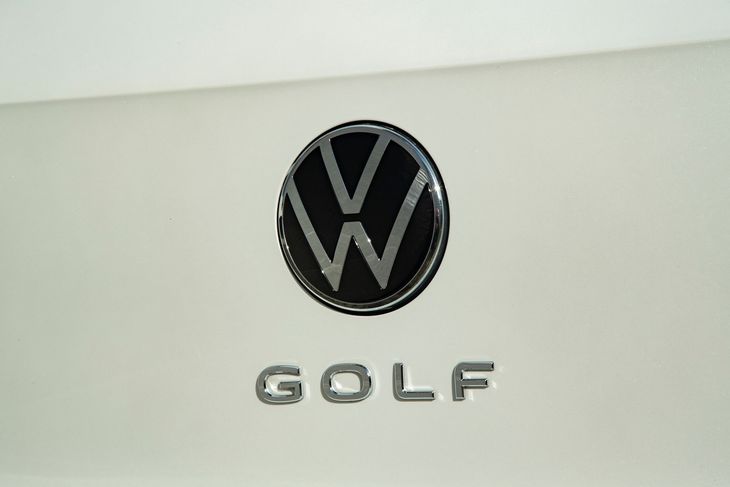 The Golf 8 will be the first VW to wear the new logo in SA.
The superiority of the Golf over its volume-market hatchback rivals may not be quite as marked as it once was. But this new 8th-generation model has managed to raise the game and distance itself from the competition.
It betters its predecessor in a number of key areas, delivering a familiar range of qualities bundled together with newfound dynamic attributes and new-age digital and connectivity functions.
The attention to detail in Volkswagen's comprehensive engineering effort helps the new Golf 8 top instil an immediate feeling of deep-seated integrity from the moment you turn the 'wheel. The added performance and refinement from the electrified drivetrain and inherent maturity and resolved qualities of its chassis make the newcomer a highly gratifying car to drive on just about any road and in any environment. It's a marvellous platform for the upcoming GTI variant.
If Volkswagen's claims are to be believed, the Golf 8 is also significantly more efficient, with improved fuel economy and fewer emissions than ever before no matter what model you choose.
And the interior? Although highly contemporary in appearance and a clear advance in ergonomics, I suspect it might prove a step too far down the digital road for some, especially more mature, customers. It will no doubt appeal to younger buyers, but the execution and design run counter to the simple and straightforward traits that have traditionally made the Golf so popular. But that's something that can only be judged over time.
Related content:
Volkswagen Golf 8 - 3 Things You Need to Know
Volkswagen Golf GTI TCR (2019) Specs & Price
Spy Shots: 2020 Volkswagen Golf 8 GTI