I probably shouldn't say this, but the Volkswagen Crafter borders on "cool". The newfound ambitions of entrepreneurship are steadily putting a sparkling sheen on the workhorses of the automotive world and, where this large VW is concerned, not even its bitter rivals ever seem to faze its rising popularity.
It's been on sale for a great number of years now, but despite the relative interest in commercial vehicles by the population in general, the Crafter has become a household brand. Many South Africans are likely to get their taste of Crafter in passenger bus form. I know I have, even with the typical South African V8 conversion added; it's massively spacious; the chairs mostly comfortable for long stints and has always had an air of robust reliability about it.
VWSA has just availed a brand spanking new version to the South African market. Aesthetics, aside from what many may think, have become rather important in the commercial vehicle business too. A fleet of carriers is an extension of a company's appearance and thus they have marketing duties.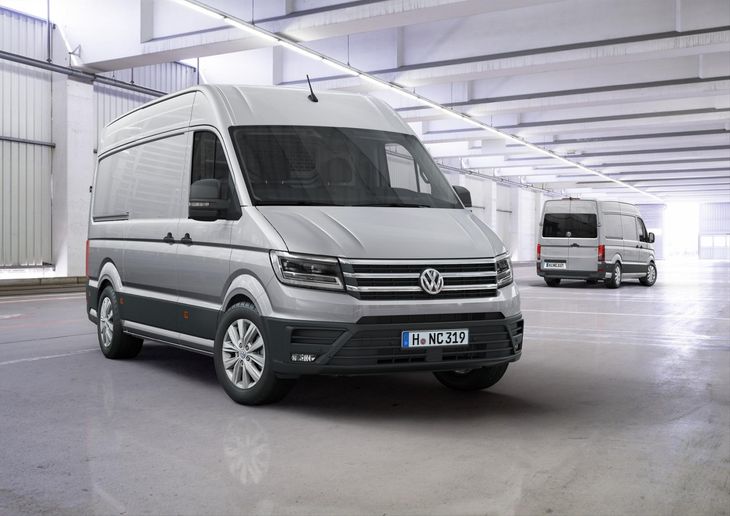 The Crafter may be produced by Volkswagen's Commercial Division, but its appearance takes its cue from the brand's passenger car line-up.
I'm confident that vinyl wrappers will be delighted to enhance the exteriors of the new Crafter with crafty designs thanks to its slick new expression of large letterbox type headlights and a bejewelled grille. The new Crafter is now closer in physical commonality with smart VW passenger cars on the roads.
The changes
Looks aside, VW says with the new van enjoys a larger permitted maximum cargo volume of 5.0 metric tonnes, with 17.5 m³ unshackled for squeezing in extra cargo while the option of various drive types and derivatives is there to meet bespoke applications.
It comes in three length options (5 986 mm, 6 836 mm or 7 391 mm in panel van guise. Heights vary from 2 355 mm, 2 625 mm and 2 637 mm for the panel van while more options include closed body alternatives as well.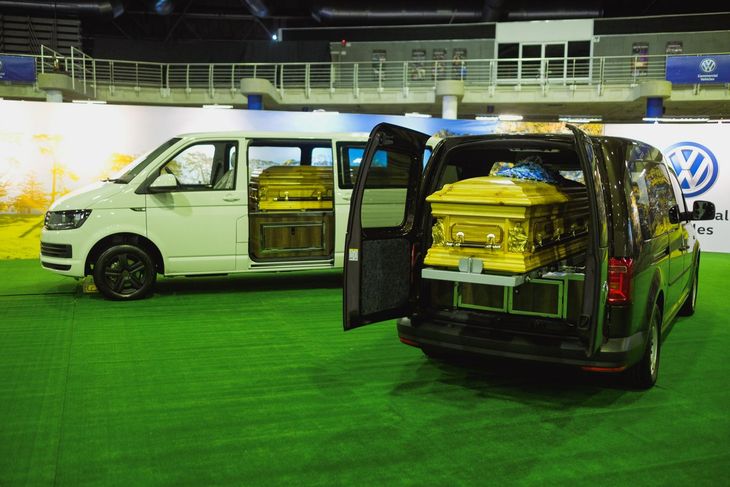 The Crafter can be adapted to transport some passengers on their very last trip in this plane of existence... in some style, we may add.
Additional improvements and specification include safety features such as side-wind compensation system – a key danger mitigating system in the sector; hill hold assist – for those treacherous steep angled stops – and automatic a post-collision braking system. A steering wheel with height and telescopic adjustment also adds to driver comfort and safety by enhancing various driver postures.
More enhancement can be had through an electro-mechanical steering system; Park Assist; Trailer Assist and as optional extras: a reverse-view camera, rear traffic alert; cornering LED lights, adaptive cruise control and EBS. Available passive safety systems include front, side and head airbags for driver and front passenger.
Entrepreneurship
As it is aimed higher than the usual 1-tonne pick-up start-up, there are a number of business sectors where a large carrier such as the Crafter is highly sought-after and VW says it gathered the opinions of typical Crafter customer bases to get a better understanding of what it needed to refine in building this new iteration. The questions included: what can assist the daily lives of courier drivers in inner-city traffic? How can construction vehicles manoeuvre more easily through muddy building sites? How can accidents caused by tired drivers on long trips be prevented? These are the exact concerns of fleet owners who are adamant to reduce risk and raise profitability.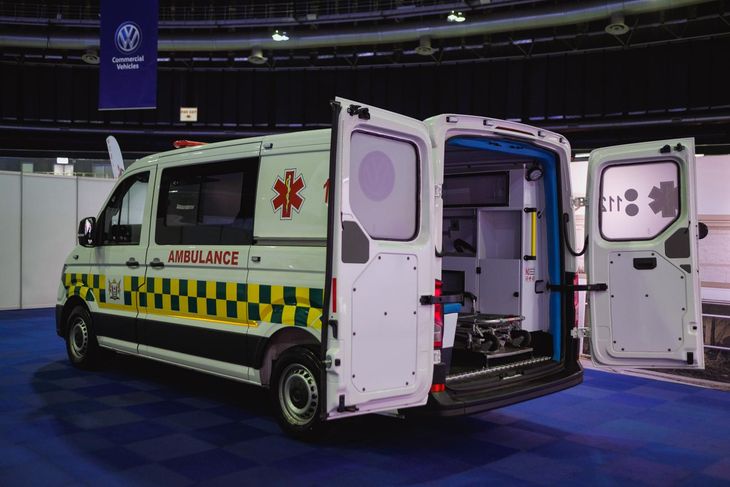 At the media launch of the new Crafter range, VW displayed a unit that had been customised to perform as an ambulance.
The engineers at VW were then able to gain insight into various customer needs and which systems can be used effectively to achieve these objectives when creating this new Crafter. I'm not entirely certain about the importance of the new Crafter's standard electric windows fitment, but I'm confident that central locking with wireless remote control is a must have. VW further did its homework on convenience features too: the Crafter cabin has storage designed specifically for a mobile phone, laptop and tablet, folding rule and working gloves.
Fuel economy is a crucial aspect in running a fleet business and according to VWSA: "The Crafter's fundamentally new exterior design gives the model improved consumption and emission figures." South Africa exclusively gets a 103 kW 2.0-litre TDI engine either in front or rear-wheel drive configuration. The 4-cylinder TDI engine has peak torque of 340 Nm and its average fuel consumption is claimed as 7.3 to 7.6 litres/100 km depending on the derivative.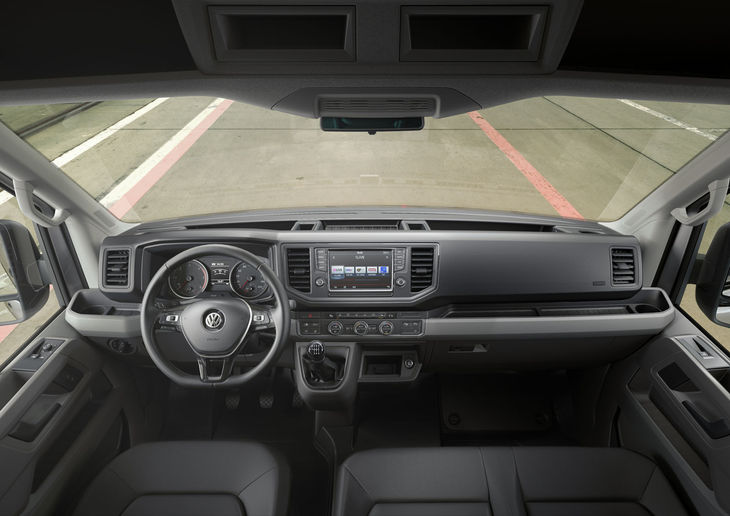 In its highest spec, the Crafter's interior is decidedly car-like, although various storage options make the cabin very practical too.
VWSA promises reliability from the engine, which it says is designed for both local and long-distance operation, as well as low maintenance and repair costs.
Functionality
To accommodate current fleet operators who'd like to upgrade to the new Crafter, an optional universal cargo floor is equipped with shelving mounts, so that existing shelving systems from lease vehicles or previous models can be installed for all common suppliers of customisation solutions. A second compressor for refrigeration or fresh produce applications, four variants of a 2nd battery and a 2nd air conditioner are optionally available.
The new Crafter comes standard with a 2-year/unlimited km manufacturer warranty, a 5-year/120 000 km Genuine Automotion service plan and a 12-year anti-corrosion warranty. The service interval is 20 000 km.
New Crafter Prices (VAT and emissions tax included)
Crafter 35 (MCV) Panel Van R509 700
Crafter 35 (LCV) Panel Van R588 100
Crafter 50 LWB (Bus Conversion Ready) R625 800
Crafter 50 LWB (Panel Van) R625 800
Crafter 50 LWB with overhang (Bus Conversion ready) R635 800
Crafter 50 LWB with overhang (Panel Van) R635 800
Related content:
Hyundai H-1 2.5 VGTi 9-seater Bus (2016) Review
Ford Tourneo Connect 1.0T Trend (2015) Review
Interested in buying a VW Crafter?