With the Alltrack version of the new Caddy, Volkswagen attempts to marry the convenience of a delivery van with the comfort of a crossover and the rugged appeal of an SUV. Is it trying to sit on too many chairs at the same time?
We like: Fuel economy, practicality, car-like interior
We don't like: Price, easy to stall
Alternatives:
For greater practicality: If you're looking at a Caddy in the first place, then clearly practicality and overall spaciousness are important facets. If that's the case, then you must consider the Ford Grand Tourneo Connect 1.6 TDCI Titanium. It sells for similar money, but makes use of a long-wheelbase platform, so there's significantly more space in the back. Plus, for less than R2 000, you can add two extra rear seats.
For more style: Similarly, if you are considering this Alltrack derivative, you clearly want a degree of stylishness. The Nissan X-Trail 1.6 dCi XE may not match the Caddy's overall cargo carrying ability, but it is spacious enough for a family and can also be specified with third-row seating.
For greater value: If it's a particular combination of turbodiesel engine, manual transmission, delivery van-like practicality and SUV styling cues that you want, then the Caddy Alltrack is unique and your only option. We think, however, that the long-wheelbase Caddy Maxi offers truly outstanding versatility (with the sacrifice of some style), for only slightly more money.
Jack of all trades?
While status-obsessed South Africans have largely eschewed trusty station wagons and van-based vehicles, Volkswagen has made a concerted effort with the new-generation Caddy to make the product more appealing to families. We were mightily impressed with the long-wheelbase version of the new Caddy (read the review here), but if that vehicle is too utilitarian in design, the Wolfsburg-based brand believes the Alltrack, as tested here, could be the answer. Unlike the Maxi, however, the Alltrack is only offered in the short-wheelbase body which makes us wonder... Has too much versatility been sacrificed in the pursuit of (some) style? And... at the price, can it successfully battle a crossover such as the X-Trail, an MPV such as the Citroen C4 Picasso or even Ford's decidedly more spacious Grand Tourneo Connect? Let's find out...
How does it fare in terms of...
Practicality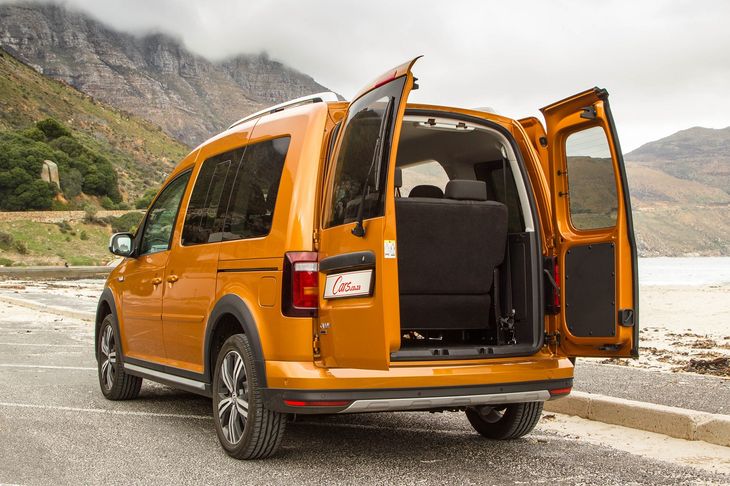 Optional "wing-style" rear doors don't offer a significant advantage. Boot space limited with optional third-row seating.
The reason why you would consider a Caddy in the first place is likely to be versatility. Sure, this particular derivative may be smartened up with various SUV-inspired addenda and luxury car features inside, but at its core, the Caddy retains the packaging of a delivery van.
The boxiness of its design and the height of its roof are the main reasons for its palpably practical cabin. In standard guise, it comes as a five-seater, but for R8 000 extra you can get a rear bench fitted as well. Our test unit had this option fitted, but to be frank, if it is ultimate spaciousness and people-carrying ability you're after, then the long-wheelbase Maxi is definitely a better bet. We removed this optional bench and left it at the office for most of the test unit's tenure at Cars.co.za. In this, five-seater guise, the Caddy Alltrack offers a deep, spacious boot that can accommodate some very bulky objects. If you want to load up even larger items, the second row of seats can be folded, double folded or also completely removed.
Besides cabin space, the Alltrack also offers a number of convenient storage systems. A very practical shelf is positioned above the front occupants' heads and makes for a good place to put books, magazines and maps etc. Sliding drawers are placed underneath the front seats, too.
Performance & Efficiency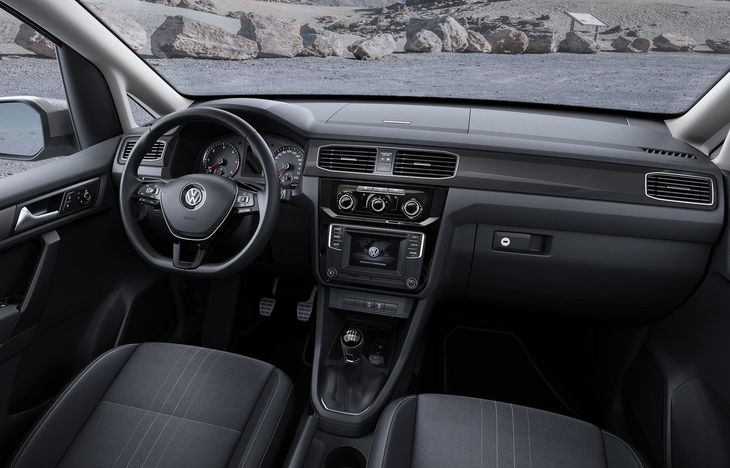 From behind the steering wheel, the Caddy is remarkably car-like to drive. (European spec shown)
The manual version of the Caddy Alltrack utilises the well-known and widely used 2.0-litre turbodiesel Volkswagen engine. In this application, it develops 81 kW and 250 Nm of torque, the maxmum of which is available from only 1 500 rpm. A typically solid-in-feel five-speed manual transmission sends power to the front wheels. The engine impressed during the duration of the test term, offering good mid-range grunt and excellent fuel economy. Volkswagen claims a combined cycle consumption figure of 5.8 L/100 km for this model, while we achieved (with relative ease) 6.5 L/100 km.
With regards to refinement, the engine also generally impressed; its audible "dieselness" actually suits the character of the vehicle. What owners will have to get used to, however, is the clutch action. It is very light and quite springy, which combined with a little bit of lag low down the rev range makes the Caddy quite easy to stall. For ultimate comfort (and more power), you may want to seriously consider the DSG version, which is priced at R30 000 more.
Comfort & features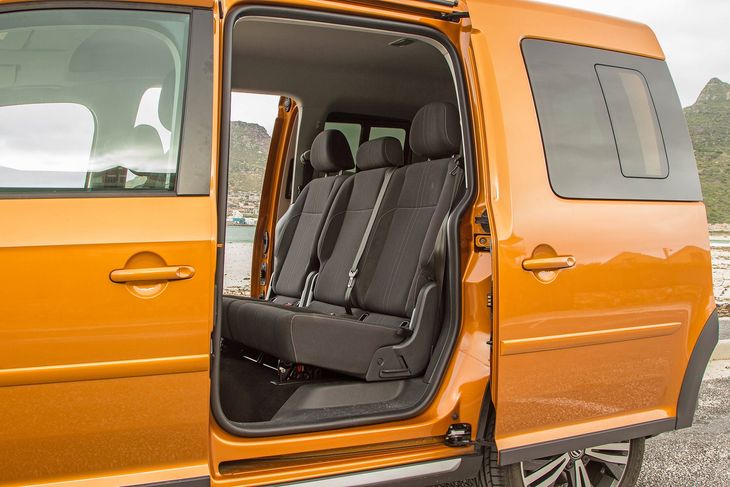 Sliding rear doors offer easy access. Legroom is acceptable for second-row passengers.
The Alltrack is the flagship of the Caddy range and, as such, comes with an extensive list of standard equipment. Firstly, the sliding doors arrangement is standard, and they do make access to the second row of seats easier – especially when it comes to fitting child seats. Those seated in the second row may not have vast legroom on offer (it is sufficient, however), but the perception of space is heightened by the copious amount of headroom. Little ones will also appreciate the flip-up tables attached to the front seatbacks.
It is, however, at the front where the usual Volkswagen focus on passenger comfort really shines through. Firstly, though the plastics are generally hard, the clever use of chrome accents and cloth inserts create an upmarket ambience. In fact, at first glance, you could be in a "normal" Volkswagen passenger car. In that regard, Volkswagen's efforts to move the Caddy away from its utilitarian origins have been very successful. And then there are the features...
Standard on this model are; cruise control, a touch-screen "Composition" media interface with USB/aux and Bluetooth support, remote audio controls, auto lights and wipers, height-adjustable front seats (with heating) and electrically adjustable and heated rear-view mirrors, among other items. The seats, by the way, deserve a special mention, as they are very comfortable. The driving position, aided by the standard rake/reach adjustable steering and height-adjustable seat, is also spot-on.
So, in terms of features, there's precious little that is lacking from this Caddy, and yet its impressive overall occupant comfort is not dependent on these "luxury" items. The Caddy's general ride refinement, as well as the quiet cabin, are major factors to consider, too.
Safety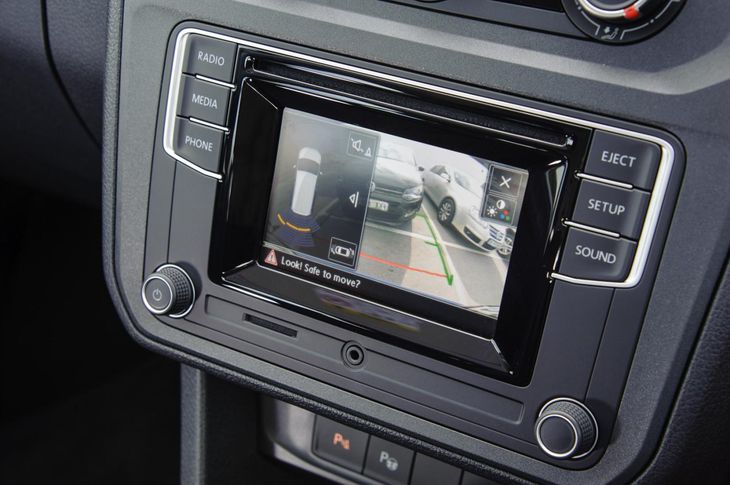 A number of safety features are offered on the Caddy, including optional front/rear PDC with rear-view camera.
The Caddy Alltrack is likely to do duty as an oft-used family car, therefore a good safety specification is paramount. Historically speaking, the most advanced safety features on the market have not generally found their way to these utility van-based products. But... the Caddy Alltrack is different.
Included as standard are: ESP, automatic post-collision braking system, Rest Assist (fatigue detection), six airbags, hill-hold assist, automatic headlights with separate daytime running lamps and a coming/leaving home lighting function. You can also get front and rear park distance sensors (R6 500 for both) and even a reverse-view camera (R9 000, including the front and rear sensors). Note, however, that if you want a rear-view camera, you can't have the so-called rear "wing-doors", which are a R1 600 option.
In a 2015 EuroNCAP crash test, the new Caddy scored 84% for adult occupant protection, and 78% for child occupant protection, neither of which are poor by any means, but still not as good as Volkswagen's own new Touran MPV (not offered here).
Verdict
The Caddy Alltrack is quite a pricey vehicle and will appeal to a very select clientele. If you want something entirely versatile, the long-wheelbase Caddy Maxi is the one to have. However, we appreciate this Alltrack version's blend of family friendliness, versatility, features and refinement. It would suit families with a very active, outdoorsy lifestyle that require lots of "gear" to a tee. With its SUV-inspired styling (not least the bright orange paint finish of our test unit), it turned plenty of heads, so it's unlikely to embarrass mom and dad (or the kids) on the school run. In the end, it appears that everyone, indeed, wins.
Pricing and Warranty
The Volkswagen Caddy Alltrack 2.0 TDI sells for R387 600 and comes backed by a 3-years/120 000 km warranty and 3-years/60 000 km service plan. Service intervals are scheduled for every 15 000 km.
Compare the Volkswagen Caddy Alltrack with the Ford Grand Tourneo Connect 1.6 TDCi Titanium and Nissan X-Trail 1.6 dCi XE