With news breaking that Volkswagen is developing a 301 kW 3.0-litre twin-turbo V6 version of its Arteon, replete with an all-wheel drivetrain, it's worth remembering that the Wolfsburg-based brand will introduce its business class "fastback" on the South African market in April 2018. The newcomer exudes class and sophistication, but, like its CC predecessor, is an acquired taste. Our UK correspondent Matt Saunders drove the newcomer in Europe earlier this year and herewith his findings...
You're looking at the new face of the Volkswagen brand. That, above and beyond being a rival for added-desirability executive options such as the Audi A5 Sportback and a replacement for the old Passat-based VW CC, is what the Arteon 5-door hatchback represents. Except that VW calls this a "fastback" because hatchbacks are, by and large, smaller, cheaper and far more ordinary. Of course they are. "Fastback" executive cars are special; instantly much more appealing than a sedan with an otherwise mainstream badge might have been.
It's about the looks
Where the Arteon leads, at least in styling terms, much of the rest of Volkswagen's passenger car range will follow. Let's wait and see if that's necessarily good news. The Arteon's grille and headlight styling will be particularly influential, VW says. The way those horizontal grille bars run seamlessly into the headlights is intended to make the front end seem wider and more impactful, helping to give this practical 5-seater the visual presence of a sportscar. Those curvy rear haunches, blistered wheel arches and sharp body creases are there to achieve the same effect. Likewise the availability of an optional 20-inch alloy wheel for those who want one (naturally, VW wanted imposing wheels on the cars in its press demonstration fleet).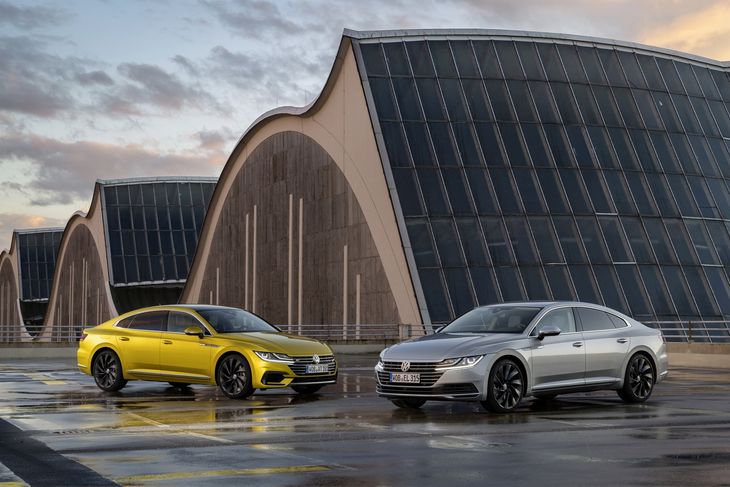 Get used to this face as VW plans to slap it on many of its upcoming models.
It's at this point that a diplomatic reviewer would normally reserve judgement on a car's aesthetics and crack directly on with matters less subjective. I'm not going to do that because it would be to ignore what ought to be one of the chief selling points of any car in this part of the executive car market; arguably an even more important one, too, in a Volkswagen starting at something of a disadvantage on brand allure when judged against many of its peers.
In the metal the Arteon is short on visual charisma and distinctiveness to my eyes; it's smart enough if a bit unimaginative and half-hearted. You can make your own mind up, of course. But having been down this road once before with the Passat CC and seen others follow its lead, I think VW should have known that it would take more than a plunging roofline and some frameless doors to make this car really stand out.
What bits does it use?
The Arteon is built on the same MQB platform as the current Golf, Passat, Touran and Tiguan: a sentence that says all you need to know about how flexible modern vehicle architectures have become, and how much freedom they now grant designers and engineers. This is certainly no rebodied Passat; its wheelbase is longer, its axle tracks wider, its roofline lower and its driving position quite different.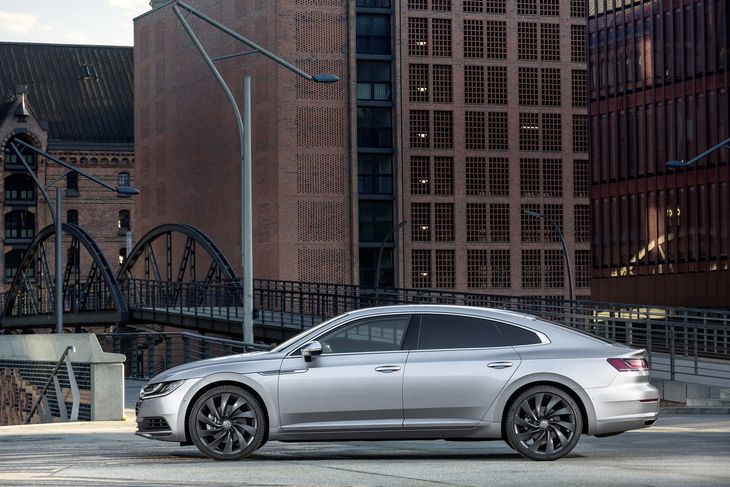 The MQB platform is used for the Arteon, its comfort and adaptability well-respected across the lineup that uses it (Golf, Tiguan, Passat).
The car will be available with in a choice of 3 turbocharged petrol engines and a trio of turbodiesels in many global markets, as well as manual or twin-clutch gearboxes and either front- or four-wheel drive. But VWSA is yet to decide how widely it'll flesh out the Arteon range – and, presumably, how much the car might be allowed to cannibalise Passat sales.
As a more stylish option than the Passat, it's likely that the top-of-the-range 206 kW 2.0-litre TSI petrol and 130 kW 2.0-litre turbocharged TDI will make the trip here, both getting seven-speed DSG transmissions. Prices are also still to be confirmed, but we expect that it will start at around R500k.
How is it different from the CC?
And one of the ways the Arteon will justify that price, where the old CC certainly didn't, is the old-fashioned way: with size. This is a relatively long and wide car; it looks big enough to be approaching R50k-worth, to put it simply. On the inside, it offers a very roomy and accessible boot and more than enough legroom for a couple of larger adults to sit in the back quite comfortably (albeit, predictably, not as much headroom as a more conventional saloon might).
Up front, the seats of our "Elegance"-spec test car were snug and adjustable, and the seating position lower and more enveloping than in a Passat. The Arteon's door consoles rise much higher at your shoulder than its sister car's, its roofline staying lower and its glasshouse slimmer, leaving quite a large B-pillar to peer around when you're overtaking and pulling out of oblique junctions.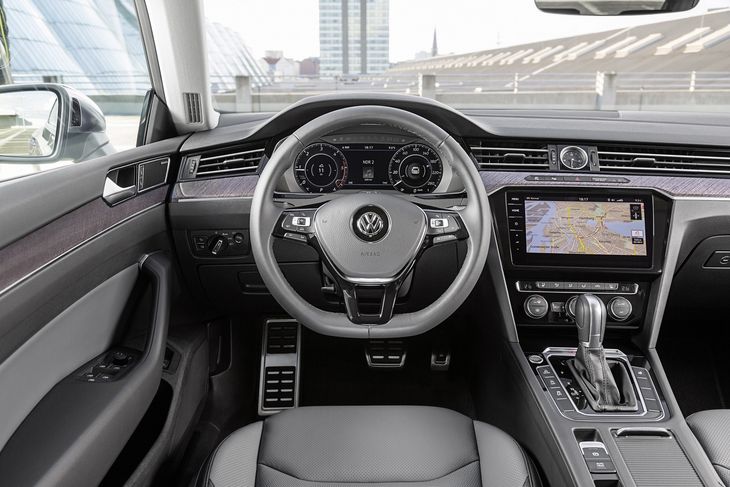 The interior is almost a perfect copy and paste of the new Golf. Some differentiation could have gone a long way to building the Arteon brand name.
Onboard technology is one of the key prongs of the car's appeal, VW's thinking being that younger buyers probably care more about sophisticated safety and infotainment technology than perfect 50:50 weight distribution or some modern pastiche of century-old European luxury. It certainly seems a sensible philosophy – but it's debatable if it's a real selling point for this car. The Arteon gets the same optional glass-fronted 9.2-inch Discover Pro infotainment system as has just been installed in the smaller Golf; and just as it did in the Golf, it seems powerful and feature-rich but much-the-worse on usability for the loss of VW's old volume and map zoom knobs and shortcut buttons. The car also has the Golf's Active Info Display digital instruments, which we like – but ultimately not quite as much as we like one or two other digital instrumentation setups that this kind of cash might buy.
How does it drive?
There can be few complaints or reservations about the slickness of the Arteon's driving experience. With its mechanical refinement and the consistent obliging lightness of its controls, the car feels every inch the modern Volkswagen. The 2.0-litre turbodiesel engine remains remote and quiet even at moderately high revs, but its considerable torque, its responsiveness and the intelligent shift behaviour of the car's DSG gearbox all mean you very seldom need to venture much beyond 3 500 rpm if you don't want to.
The car's ride is laudably quiet on a level surface, too, even on those optional 20-inch wheels and low-profile tyres. Rather than simply retune the same suspension hardware you'll find on a Passat, VW has gone shopping for new adaptive dampers and bushings for this car in the knowledge that those 20-inch rims would be tricky to integrate into the driving experience without also accepting a harsher edge to the ride than Wolfsburg might otherwise like.
The upshot is that the Arteon offers greater dynamic configurability than any other Volkswagen, it's damping being tunable on a sliding scale from a more compliant setting to a more resolute one when you choose 'individual' mode on the modal controller, instead of being restricted to discrete Comfort, Normal and Sport presets.

20-inch wheels may only be an option but they are surprisingly good over all but the harshest of bumps.
But, while the greater control over the car's ride is welcome, what it amounts to is debatable. The Arteon is at its most effective when cocooning you from the world outside with its generally supple ride and its isolated steering. Damper upgrade or no, there's an unmistakable thump to the car's ride when those 20-inch rims hit sharper bumps – though it's tolerable.
But if you select a firmer suspension preset in search of the driver engagement the car's positioning promises and you'll likely be left disappointed. The car's "progressive" variable-rate power steering picks up marginally more weight, but still feels starved of feel and its ride becomes choppier/only a little more intimately (or meaningfully) connected to the road surface.
Summary
The Arteon's grip level and handling agility are both good enough to make it feel more athletic than the average executive saloon, but it doesn't inspire much greater excitement than that, and, as such, it's not a car we'd recommend to the keener driver. In other respects, though, it's plainly a very refined, sophisticated and surprisingly practical car with a sense of class extending well beyond what many brand-obsessed buyers will be willing to credit. As with so many Volkswagen sedans, it's a charming car that will grow on you – if only you'd let it.
Quick stats
VW Arteon 2.0 TDI 240 4MOTION Elegance
Price R600 000 (tbc)
Engine 4-cyl in line 2.0-litre twin-turbocharged diesel
Power 177 kW at 4 000 rpm
Torque 500 Nm at 1 750-2 500 rpm
Gearbox 7-speed twin-clutch automatic
Kerb weight 1 753 kg
0-62mph 6.5 sec
Top speed 245 kph
Economy 5.9 L/100 km
Rivals: Audi A5 Sportback, BMW 4 Series Gran Coupe
Related content
Volkswagen Golf GTD & R Prices Announced
Volkswagen Passat 2.0 TDI Luxury DSG (2017) Quick Review
Update: BMW 4 Series (2017) Specs & Price