The long-serving coupe version of the Audi A4 business class sedan has been replaced. We got a chance to test a few derivatives of the new range in the Western Cape to see if Ingolstadt's latest could sway customers from the sporty BMW 4 Series and stylish Mercedes-Benz C-Class coupe.
The Audi A5 was first unveiled to the South African public in 2008 and the range was bolstered by the A5 Sportback and A5 Cabriolet in 2010. So far, almost 10 000 units have found homes in South Africa. Now, almost 10 years on, there's an all-new Audi A5. Not much has changed from a visual point-of-view: it's still a svelte-looking coupe with more curves and less sharp angles than before.
It's unmistakably an Audi and those characteristic daytime-running lights underline the brand identity... um, brilliantly. Some might suggest this design is less sporty, but more stylish than its predecessor's, but, whichever way you look at it, the new A5 2-door is a fairly good-looking and ultra-modern interpretation of what a luxury two-door German coupe should look like.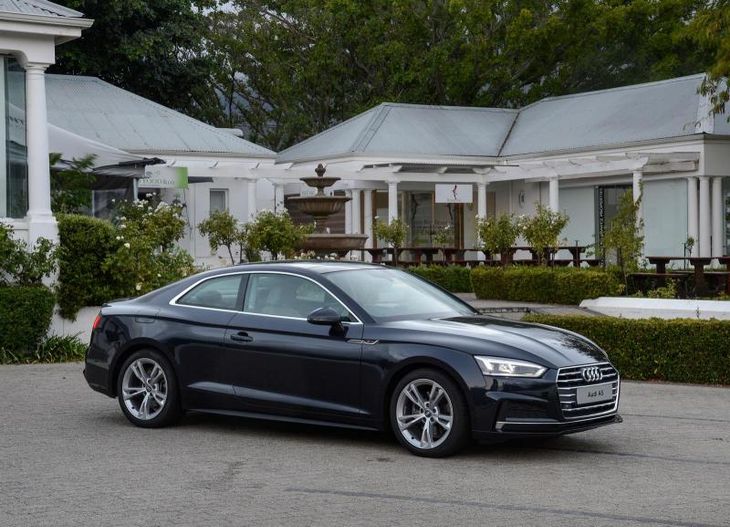 Audi A5: Fairly generic styling that will take some time to grow accustomed to. It's not ugly, but it's not striking. Hmm...
Audi claims that while visual changes to the A5 are not that dramatic, the real work has occurred under the sheet metal. The newcomer appears to benefitted from a successful diet and has shed some kilos (the body is 60 kg lighter than before) the A5 rides on the latest version of Audi's MLB chassis architecture, so excellent ride quality can be assumed. However, no matter how much sportiness you can infer through marketing material, there's a real fear that the sporty-looking A5 will only be as exciting to drive as the sedan it is based upon.
That's not to say this is a bad thing as the superb ride quality and driving characteristics of the A4 are some of the reasons it walked away with a Cars.co.za Consumer Award in the 2016/17 iteration of the programme. This is a sportier Audi though and enthusiasts. even the mildest ones, would be disappointed if more driver engagement could not be coaxed out of the chassis and suspension. Audi has fitted stiffer springs in the A5 to give it some excitement that potential customers will be looking for... some go to match the show, if you will.
Uprated powertrains
The new Audi A5 comes to market with 2 turbopetrol and one turbodiesel engine. Audi claims these motors offer up to 17% more performance with a 22% improvement in fuel economy. The first engine up is the 2.0-litre 4-cylinder turbopetrol. It produces 140 kW and 320 Nm, which is enough to see it reach 100 kph from standstill in a claimed 7.3 seconds and go onto a limited top speed of 250 kph. The 2.0-litre 4-cylinder turbodiesel motor is next and it too offers up 140 kW, however torque is a significant 400 Nm. Its real strength is fuel economy, which sits at a claimed 4.1 L/100 km. If you're wanting to sprint, it'll reach 100 kph from zero in a claimed 7.7 seconds.
Finally, there is a beefedup version of the 2.0-litre turbocharged petrol now pushing out 185 kW and 370 Nm, which should be good for a sub-6 second sprint to 100 kph. For those craving even more performance, there is the Audi S5. It features a 3.0-litre TFSI motor with 260 kW and 500 Nm, and it's capable of sprinting from 0 to 100 kph in just 4.7 seconds.
Trim and features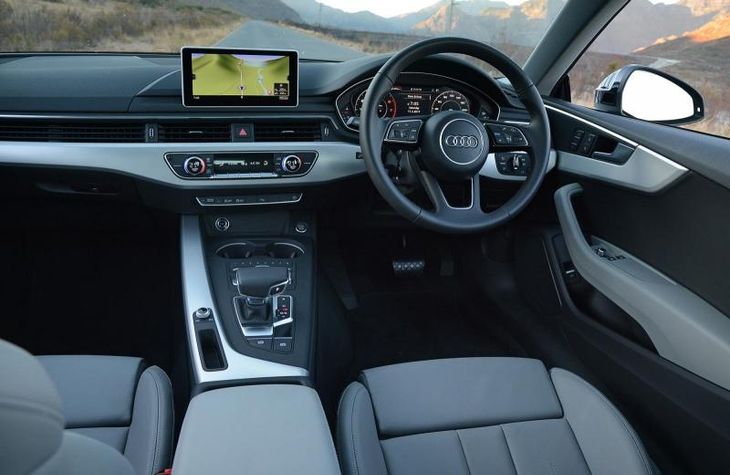 Well-assembled cabin, but it feels like a combination of Audi interior bits rather than an all-new interior offering.
There are two trim levels for the Audi A5 range called Base and Sport, with the option of further customisation via S line sports pack and Audi Design. As always, Audi offers a tremendous number of optional features for the vehicles and some of the cars we drove features the digital Virtual Cockpit dashboard, heated seats, dynamic indicators, and interestingly, a wireless charging pad for smartphones. Being tech-focused, we're delighted these pads are becoming mainstream as they're efficient and easy to use.
The following spec is available as standard on the 2.0T FSI 140 kW and the 2.0 TDI 140 kW.
17-inch alloys
Automatic boot opening
Dynamic suspension
Space-saving spare wheel
Leather steering wheel with multiple functionality
Audi Drive Select (Driving modes)
ISOfix child seat mounts
Folding rear seats
Tyre pressure monitoring system
Xenon headlights and LED rear lights
Cruise control
Automatic air conditioning
Audi sound system
Bluetooth
MMI radio
Leather upholstery
USB and Aux inputs
Sport models gain:
18-inch alloy wheels
Front sport seats
Sportier radiator grille
Chrome air intakes
Exhaust tailpipes in chrome
The 2.0T FSI 185 kW quattro features:
Front seats which are electrically adjustable
quattro all-wheel drive with a self-locking centre differential
Rear parking assist
Audi S5 V6 features the following:
19-inch alloy wheels
LED headlights
LED rear lights with dynamic indicators
Audi pre-sense
Comfort key
Electrically adjustable front seats with massage functionality
Fine Nappa leather
quattro with self-locking centre differential
S front sports seats
S sports suspension
How Does It Drive?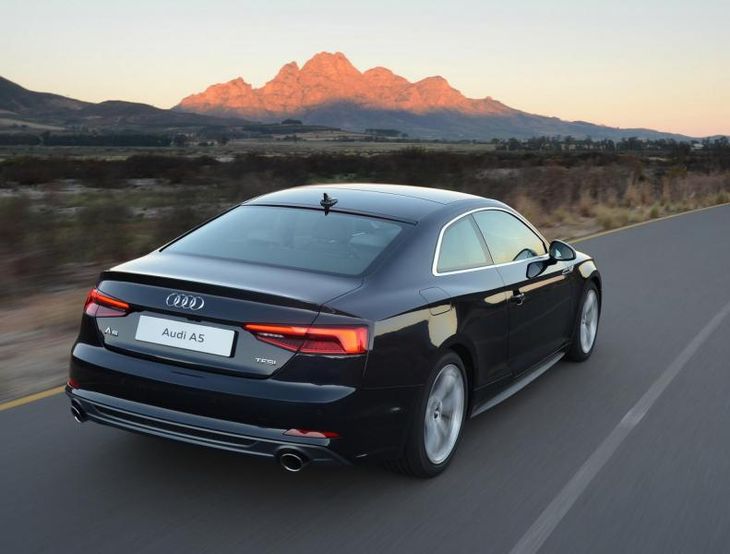 The Audi A5 doing an Audi A5: An excellent grand tourer combined with polite road manners, refinement and a healthy dose of performance. But it's lacking in driving entertainment.
On the launch of the A5, we were offered the entire range to sample and we opted to sample the derivatives that customers are likely to buy. First up was a 2.0T FSI quattro, packing 185 kW and 370 Nm. Our route consisted of a combination of national highway, mountain passes and urban road environments. After the first few kilometres were eaten up, 2 realisations came to the fore: firstly, this is an exceptionally refined vehicle and secondly, it doesn't feel that fast even though it obviously can deliver a fair dash of speed.
Let's talk about that refinement. Despite the varying degrees of tarmac quality around the Western Cape, the A5 soaked it all up, despite riding on bigger alloy wheels with sportier rubber. This is one fine car for touring. Not only is the drive quiet and restrained, but it's also doused in luxury and premium finishes – something owners will appreciate. One thing's for certain, many A4 owners are likely to look on in envy and longing for the day when their children will have flown the nest and the requiement for a 4-door sedan is all but gone.
The engine, fast-shifting S tronic and Audi Drive Select make for an excellent combination and the Audi is able to offer relaxed cruising capability in Comfort- and facilitate frugality in Eco mode. If you're in the mood, you can engage Dynamic mode which summons up every last kilowatt and maximises responsiveness for some performance driving. By taking the reins and using the steering-wheel-mounted paddle shifters, you're afforded a more hands-on driving experience and the steering feels responsive and reasonably light in your hands. Quattro all-wheel drive means you can boot it out of corners earlier, without any loss of traction and the car feels poised and capable of delivering more thrills.
However, there is a drawback. We've come to appreciate and love the distinct exhaust pop after each dual-clutch gearshift, like the Audi S3, but in A5 application it's strangely missing. There's no sporty soundtrack whatsoever, so if you're after some noise, then best you save up for the V6-powered S5, which offers some aural satisfaction.
We also discovered that the 2.0T FSI 185 kW features launch control and we tested it out. It scooted off to 100 kph in such a calm and undramatic manner, it left us flabbergasted. Surely something as sporty as an A5 coupe needs something to let you know its capable of such brisk off-the-line prowess? A chirp from the tyres, a pop from the exhaust or an induction bark would have been something, but it is quite incredible how clinical and athletic this offering is.
Meet the Audi S5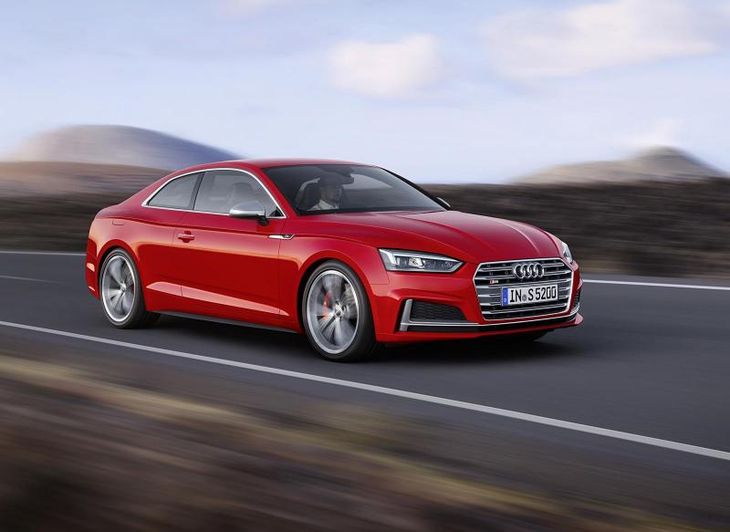 A bigger grille, bigger brakes, S5 badging and quad exhausts are the visual cues that you're looking at the hotter model in the Audi A5 range
If you want an A5 with performance credentials, consider the Audi Sport-fettled S5. At the start of the second day at the launch, we got the chance to drive the current flagship of the range. With an all-new 3.0-litre turbocharged motor (it replaces the old supercharged unit), the S5 offers up respectable numbers and commendable performance. That said, it's no BMW M4 and Mercedes-AMG C63 beater and you'll have to wait until the fourth quarter of 2017 for the mighty RS5, which should give the aforementioned chargers a run for their money.
Still, there's nothing lacklustre about a 260 kW/500 Nm package. Those naysayers who suggest the older supercharged motor was a little more responsive don't really have a case as this engine comes on song under 2 000 rpm and will deliver maximum shove all the way to the redline. Reach for the right paddle on the steering wheel and summon the next gear into action. Then rinse. And repeat.
Look, as a sportscar, the S5 is certainly not pedestrian, yet it feels somewhat lacking in the fun and involvement factor. Perhaps the brand did not want to tread on the toes of its forthcoming been-at-the-gym brother, or maybe Audi was just going about its "we do subtle and classy" business as usual. Let's be realistic for a second, most Audi S5 owners would probably frown upon seat-of-the-pants driving and rather use the engine's performance for quicker overtaking.
The numbers don't lie: Zero to a hundred in under 5 seconds is not slow and getting to its top speed of 250 kph is effortless. Our earlier critique of the A5's lack of soundtrack has been addressed in S5 application and the mild roar from the V6 is much more like it. There are distinct exhaust pops during each gear change and the car makes a lovely growl at full throttle.
We had the opportunity to put the Audi S5 through its paces on some spectacular fast sweeps in the Overberg. The driving position is low and the S5-specific seats offer both style and support in abundance. Unlike its S Tronic-equipped siblings, the S5 makes do with an eight-speed Tiptronic transmission, mapped to feel like a dual-clutch 'box. Downshifts aren't as slick as the marvellous S Tronic though. The steering could be a bit firmer, but given its role as a fast grand tourer, it was never going to be an ultra-direct action like that of, say, an Alfa Romeo Giulia Quadrifoglio.
Throw some corners into the mix and the combination of an excellent chassis and quattro surefootedness instils confidence in the driver. It's an easy car to drive quickly and each corner coaxes you into pushing the handling boundaries into the next. It lacks that hands-on feel and involvement that we've come to expect from this corner of the market, and recent experience with a BMW 440i and a Mercedes-AMG C43 coupe highlighted how a rorty engine mated with competent chassis can prove to be entertaining. The Audi S5 will make you happy if you're after a comfortable, sophisticated and competent grand tourer, but if you're after some fierce with your flair, then look to its rivals to get your driving jollies.
Summary
The Audi A5 is a clear indicator of how the brand is reading the market. It's well aware what its rivals can do in the driving dynamic stakes and it's not going to try take them on until the RS5 arrives. But driving dynamics is just one small facet of motoring; there are many more important aspects such as comfort, practicality and technology, and this is where the Audi really excels. The A5 is a classy, supremely refined vehicle. Given its excellent chassis, exceptional comfort and ride quality, and wide selection of efficient powerplants, we can heartily recommend it as a stylish and sensible luxury coupe. The range will be expanded with the launch of a 5-door Sportback, a convertible and finally the fiery RS5 at the end of the year.
Audi A5 Pricing in South Africa (March 2017)
| | |
| --- | --- |
| 2.0T FSI 140 kW S tronic | R589 000 |
| 2.0T FSI 140 kW S tronic Sport | R623 000 |
| 2.0 TDI 140 kW S tronic | R619 000 |
| 2.0 TDI 140 kW S tronic Sport | R653 000 |
| 2.0 TDI 140 kW quattro S tronic | R652 500 |
| 2.0 TDI 140 kW quattro S tronic Sport | R686 500 |
| 2.0T FSI 185 kW quattro S tronic | R723 500 |
| 2.0T FSI 185 kW quattro S tronic Sport | R757 500 |
| S5 Coupe 3.0 TFSI | R928 000 |
Related content:
Meet the Audi RS5!
Find a new Audi A5 coupe here
Find a used Audi A5 coupe here
Search for a new Audi S5 coupe on Cars.co.za
Search for a used Audi S5 on Cars.co.za
Interested in buying an Audi A5?