Calvin Fisher takes a closer look at an online car community in bloom in a time of self-isolation under national lockdown.
It happened on Facebook
There I was, scrolling through my newsfeed, when I saw something at once alien – but familiar. An array of attainable 4-wheeled road machines gathered in a parking lot – warmed up and stickered, from Mk1 Golfs to GTIs of various vintage, plus a collection of Honda Civics. Soon, older BMWs and AMG sedans rolled in, a few Japanese rear-wheel-drive coupes and roadsters (the likes of S2000s, Mazda RX7s and Nissan S13s) joined them. Nothing you wouldn't see at a local car meet, but the Forza logo in the bottom corner of the screen couldn't evade my suspension of disbelief any longer.
It was a live stream, I clicked on it and my TV speakers were immediately filled with car banter. At first, the chatter was general then quite specific. Races were being organized, drags and drifting, and several had a convoy planned just for kicks, and would soon head out and explore the twisting asphalt of, well, Britain. See, This is Forza Horizon 4, set in the UK. But don't let that put you off.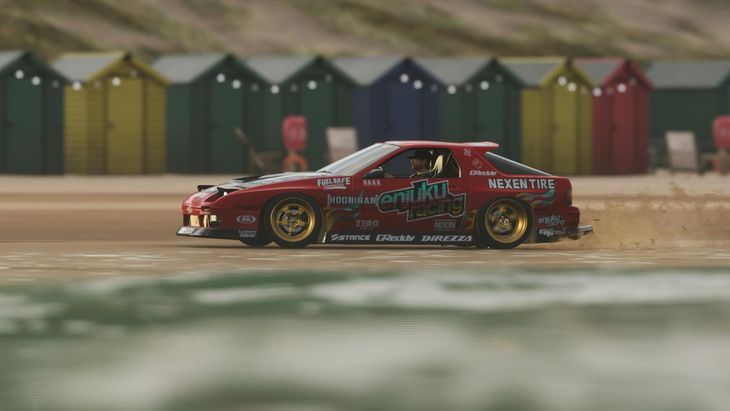 Without being able to congregate in the real world, petrolheads are turning to online meetups.
Cars.co.za contributor and #CarsAwards judge Ernest Page is among this lot. Besides being a YouTuber, he has experience commentating at the weekly Robot Racing drag events at Killarney Raceway, so I wasn't surprised to find him doing the same here, just virtually. He has taken temporary steps substituting his usual Wednesday stream of real races with virtual ones. Emphasis on temporary. And this is still small-scale. "Top-flight drivers, F1 boys, big companies and sponsors, they're all looking closely at this new virtual way of doing races," he says.
It's true, Formula One and NASCAR have been rapid adopters of the new reality. Other forms of sport have followed, but it hasn't been without drama. Just look at what happened this weekend during a virtual IndyCar race when Indy driver Simon Pagenaud took out F1's Lando Norris just as he was looking to take the win. It was deliberate, it was ugly, and now it has real-world ramifications... complete with death threats. Clearly it's not just a videogame, because racing makes it real. And while the lockdown won't be permanent, there's no telling what the world of motorsport will look like when things go back to something resembling normality.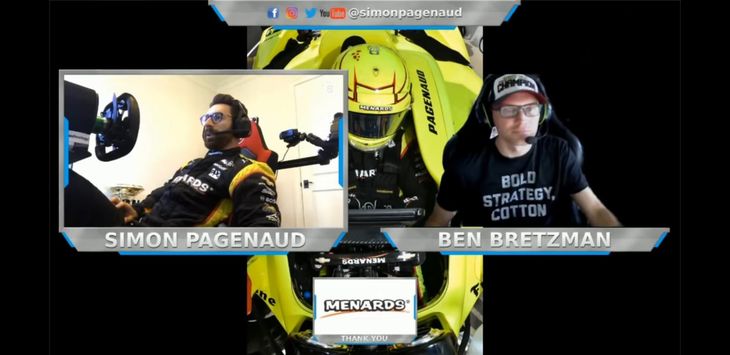 There was even drama in the Sim Racing world as Simon Pagenaud deliberately wiped out Lando Norris.
Money is being poured into this, and I predict a split between track and TV-based racing going forward. Professional drivers seem to have made the leap quite easily thanks to years of simulator training. But technology is a great equaliser and they'll soon encounter 14-year old wunderkinder primed to put them in their place. Whether it's in Gran Turismo, iRacing, Asetto Corsa, or whatever comes next, the world is their oyster, the factors have played into their hands courtesy of Covid-19.
But if you think the pros are just rolling up with regular controllers and keyboards you'd be sorely mistaken. Pundits are getting high-tech with their rigs, with integrated racing seats and wraparound screens, for example. If you've seen mods in pro drifting then it's probably happening here too with 900-degree angle steering wheels and oversized stick shifts. Just like in the real world, racing gets very expensive, very quickly. And whether races are being streamed on Twitch, Mixer, Facebook or YouTube, it doesn't really matter. The public is starving for competitive racing and sport in general.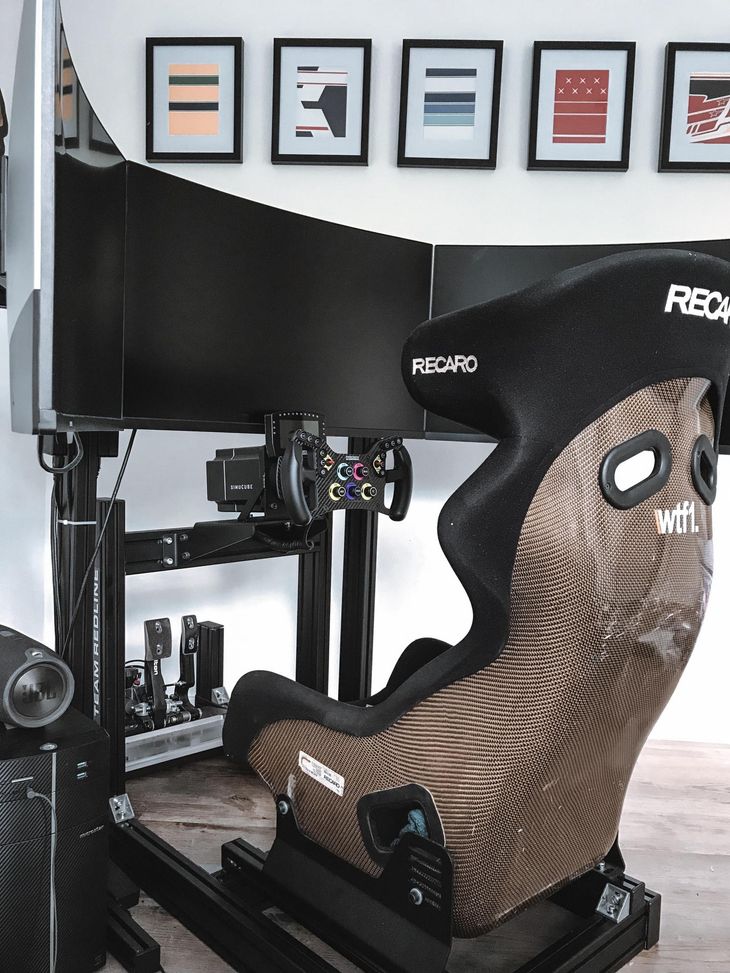 Local race ace Kelvin van der Linde's setup is something to lust after. He regularly competes online and appears to be just as fast there as in the real world.
It's not just about racing
I alluded to it earlier with my Forza example. The denizens of this virtual world are happy just to cruise around – a basic activity, now a privilege as a worldwide lockdown has confined us to our homes. It's easy to see why, as real-world photographers and tuners also get in on the action. I myself, a car photographer and videographer, have lost hours – nay, days – to the photography mode in Forza. Then there's the game's extensive tuning and styling modes, both of which are time-eating monsters.
On that note, meet Rouen Abrahamse. We met over a decade ago during the drift remote-control car phase. He was already cutting and shutting, spraying and decaling-up custom Tamiya and Yokomo chassis and shells for himself and his crew. Fast forward to now, and he is producing slick liveries for several online racers. "It's therapeutic hey. And it tickles my love of Japanese cars, just like the RC cars did," says Rouen. "I doubt it will have a permanent effect on motorsport however as many disciplines have postponed their events for later in the year or as I saw in Japan, they are hosting pro Drift events without spectators. Sponsors-wise and financially, it will adversely affect drivers and teams. On the flip side, we are seeing a lot more e-sports leagues and events pop-up featuring the world's top pro drivers competing in official virtual races. James Deane drifts on Assetto Corsa on PC and Ferrari driver Charles Leclerc emerges as a regular on the virtual podium."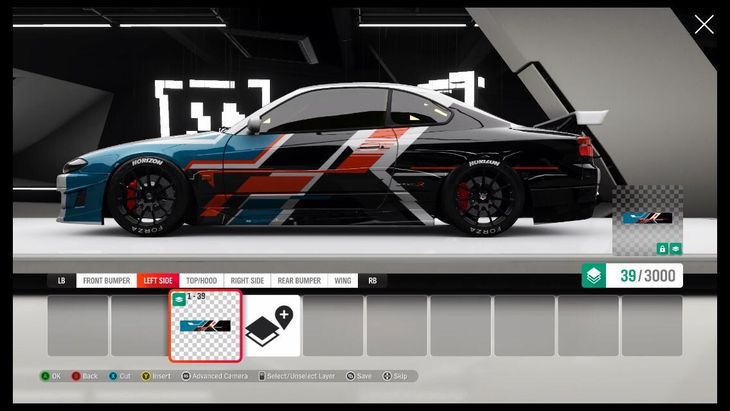 Custom paintwork and liveries are a great way to show originality at a fraction of the real-life cost.
Before I go offline
By now, I've had my fill of cruising the virtual streets and so pulled into a parking lot to join another large congregation of cars. I've had the good fortune of joining most of the SentiMETAL events here in Cape Town and this immediately felt like that. A Dodge Viper took centre stage, flanked by a classic BMW 2002 and Audi ur-Quattro S2.
Fords in attendance included an RS200 rally thing, plus a Cosworth or two. A group of muscle cars soon grumbled and burbled their way into the group. Yet the most exciting car there had to be a rare (even digitally) Toyota 2000 stealing attention away from a handful of 80s era supercars. None of these were marred with stickers or after-market wheels. They're as they were originally cast. Fantastic.
Even in a video game where the sky is the limit, where virtual currency is depressingly more attainable than the real stuff, it's a pleasure to find that there are still collectors, enthusiasts who don't just go for the unobtanium, opting instead for cars that are important to them, cars that are meaningful. Yet, I'd argue that while the virtual world will never replace a lockdown-addled reality for petrolheads, it will certainly help sustain us. Videogames will save real cars and real car enthusiasts. Until we can drive freely again.
Related content:
Automobile saved the video star?