In the hours preceding this year's Tokyo Motor Show, Japanese auto giant Toyota wheeled out several high-tech concepts to the world's media, but on its exhibition stand on the following day, you had to really look around to find an actual car... Between several odd-looking concepts and interactive displays, however, stood the stunning, Tron-like, e-Racer concept, which demonstrates that there's hope for the motoring enthusiast, after all...
Toyota is the sponsor for the 2020 Summer Olympics, which will be staged in its home country, as well as the Paralympic Games, and used this year's Tokyo Motor Show to preview several autonomous and battery-driven vehicles that will play a role in the world's biggest sporting event next year. The marque is transitioning from being a car company to being a "mobility company", which in itself is nothing new – several other car brands have made similar statements in recent years. However, Toyota seems to be taking its new philosophy particularly seriously.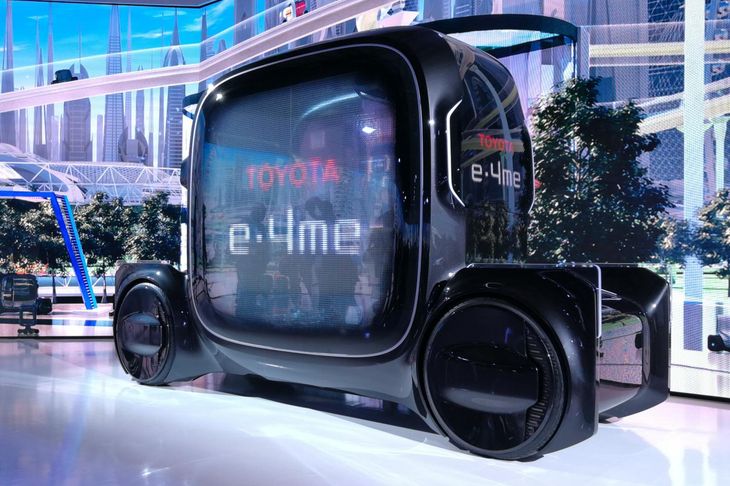 Autonomous, battery-powered, and with loads of personalisation options, the e-4me provides private, single-seat transport in luxury.
From robotic vehicles that will fetch the hammer in hammer throw events, to autonomous taxis for the physically disabled, to a hydrogen fuel-cell bus, Toyota put on a staggering display of technical prowess. But what about the cars? After all, Akio Toyoda, current president of the company, is a known car enthusiast and one who believes cars are different to other machines: we love them and that looks set to remain the case for a while yet.
Let's take a look at what's in store from Toyota in the near future.
Toyota Mirai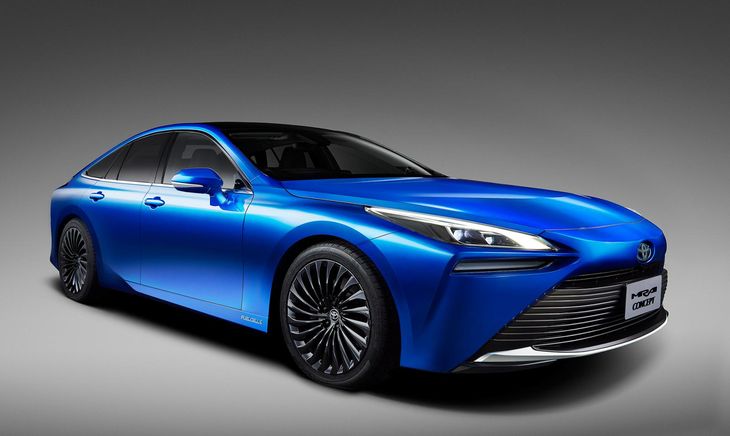 What a difference! Scheduled for launch in Japan late next year, the new Mirai boasts a striking design.
While plug-in battery electric vehicles are all the rage in Europe, Toyota continues to forge ahead with its hydrogen fuel-cell technology. At the recent Frankfurt Motor Show, BMW revealed that it will soon join Toyota in putting a fleet of hydrogen fuel-cell vehicles on the road in Japan. Ultimately, this is the cleanest and most sustainable energy, though there remains significant challenges ahead, particularly in terms of storage, hydrogen-refuelling networks and manufacturing. Of course, Toyota came to market with the first Mirai hydrogen fuel-cell vehicle in 2014, but it was a low-volume "exploratory" vehicle. Only around 10 000 have been sold worldwide; the US happens to be the biggest market, followed by Japan.
And if I'm being honest, the previous Mirai was also rather ungainly. In Tokyo, Toyota wheeled out a dramatically different 2nd-generation Mirai, one that now appeals not only for its green tech, but its sophisticated styling, as well as advanced interior and premium finishes. It will reach the Japanese market late in 2020 and you can bet that Toyota has far more ambitious volumes in mind this time round.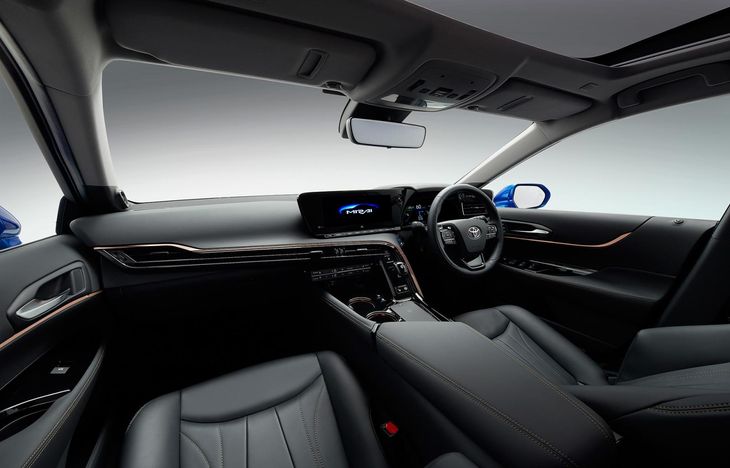 New Mirai interior is a big step forward in terms of spaciousness and luxury.
Boasting improvements in fuel-cell system performance and hydrogen storage capacity, the new Mirai is claimed to have a driving range that's 30% better than that of its predecessor. Built on Toyota's TNGA platform, the new Mirai is spacious and offers seating for 5 (the current Mirai can only accommodate 4 occupants) and the interior is dominated by a 12.3-inch screen on the centre console. I had a peek inside and can confirm that it looks Lexus-like in there. Sadly, as South Africa has no hydrogen refuelling infrastructure, this car is not destined for our shores any time soon.
Toyota LQ Concept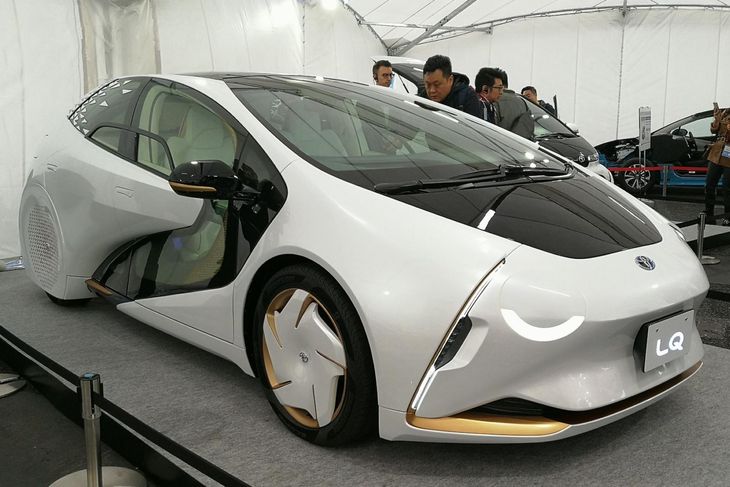 Battery-powered and autonomous, the Toyota LQ could be the Corolla of 2030.
This strange-looking concept features Level-4 autonomous driving and the latest version of Toyota's artificial intelligence system, called Yui. It is claimed to be able to learn the preferences of the vehicle's driver and to adapt settings by itself to better suit their desires. One of its most interesting features is an air-conditioned seating system that automatically monitors the driver's alertness, and adjusts airflow as needed.
Artificial intelligence (AI) and machine learning were major topics at Toyota in the lead-up to the Tokyo Motor Show, which included live displays of several robotic systems to help the elderly or disabled. As cars become more autonomous, Toyota is of the opinion that AI could be key to keeping occupants engaged and occupied during the journey (if required).
Toyota E-Racer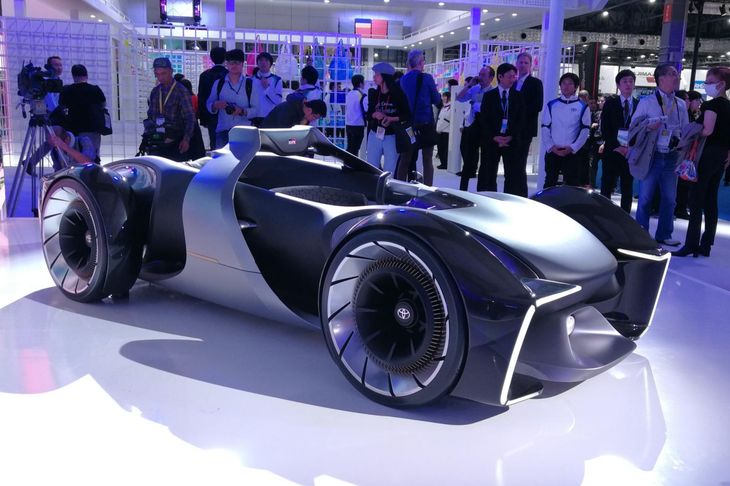 The Toyota E-Racer concept looked like it had come straight off the set of the sci-fi blockbuster Tron.
Easily one of the most photographed and exciting-looking concepts at this year's show, the e-Racer is a 2-seater sportscar that is ostensibly entirely electrically powered. Toyota revealed no further details of the concept, but simply stated that the pleasure of driving will remain part of its philosophy, even as increasing autonomy is achieved by an increasing number of cars on the market.
Toyota Ultra-Compact BEV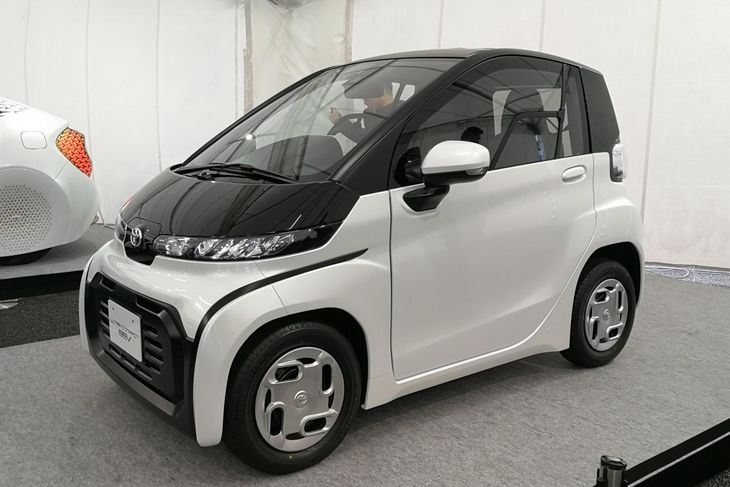 It's no beauty queen and it lacks a name at this point, but for short distances it sure beats walking.
The first of Toyota's Tokyo Moto Show cars to reach production will be this odd-looking BEV (Battery Electric Vehicle). It is aimed at drivers who need a vehicle for short distances, and particularly the elderly who may just want to pop out to the shops. It has a range of 100 km (quite impressive, actually), and a top speed of 60 kph, which is more than sufficient for Tokyo traffic. The car is less than 2.5 metres long and only 1.3 metres wide.
Development chief Akihiro Yanaka says: "We want to create a mobility solution that can support Japan's ageing society and provide freedom of movement to people at all stages of life. With the ultra-compact BEV, we are proud to offer customers a vehicle that not only allows for greater autonomy, but also requires less space, creates less noise and limits environmental impact."
The Toyota BEV will hit the Japanese market next year.
Toyota i-Road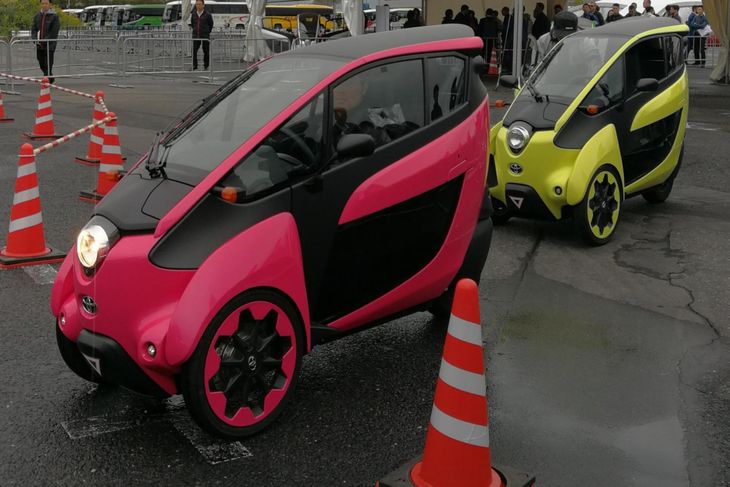 Quirky, but fun to drive, the i-Road is a cool short-distance alternative to a motorcycle.
We've seen the i-Road before (we drove it in South Africa last year) and Toyota again displayed it in Tokyo. For a concept car, the i-Road has had a remarkably long life. It was first shown as far back as 2014, but Toyota has continued to refine the concept. It's a 3-wheeled, self-stabilising vehicle with electric power. It offers seating for 2 (in tandem) and is said to provide a safer, enclosed, short-distance driving solution to a scooter.
You may also be interested in
Toyota C-HR (2019) International Launch Review