The Prius has received a facelift, as well as a few specification tweaks, to make Toyota's eco-warrior more appealing to efficiency-conscious local buyers. Has Toyota done enough, or will the Prius continue to struggle to find favour?
We like: Comfort levels, spaciousness, fuel economy
We don't like: Awkward design, no navigation or Android Auto/Apple CarPlay compatibility
Fast Facts
Price: R490 200 (May 2019, without options)
Engine: 1.8-litre 4-cylinder petrol + electric
Gearbox: CVT
Fuel economy: 3.7 L/100 km (claimed)
Power/Torque: 100 kW/142+e Nm
Own a Toyota? Tell us about your experience here.
SERIOUS ABOUT BUYING?
Where does it fit in?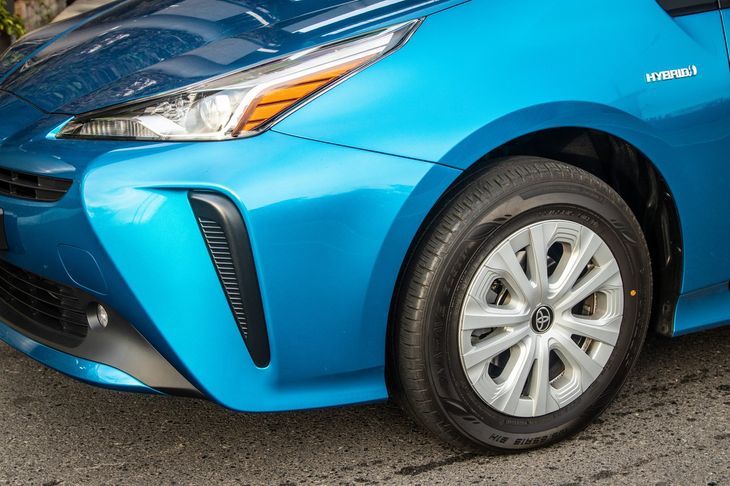 The significantly revised front-end is sleeker and sharper in appearance. Wheels are 15-inch steel items with alloy-look covers.
It's hard to believe, but in global terms, the Toyota Prius has been around for more than 20 years, following its initial introduction in Japan in 1997. Since then around 4 million of these ground-breaking hybrids have been sold and it remains, to many, the "green face" of the Japanese motoring giant. South Africa, on the other hand, had to wait until the launch of the 2nd-generation Prius in 2005 to experience hybrid motoring, and since then a mere 1 155 have found homes in Mzansi (according to Lightstone Auto). In fact, according to the latter's sales figures, only 4 were sold last year.
Nevertheless, Toyota recently introduced a subtly-reworked offering in an attempt to tone down the highly polarising design of the current-generation Prius and, to up the family car's value-for-money factor.
How it fares in terms of...
Design & Packaging

This is arguably the least flattering angle of the Toyota Prius, but there is a new bumper as well as revised tail lamps.
When the current generation Prius was launched in 2016, there was much discussion about the fact that the petrol-electric sedan/fastback was designed by a youthful team, who wanted to imbue it with "ego". This Prius undoubtedly looked "different", but distinctiveness does not always equate to attractiveness... So, to make the facelifted model's looks less polarising, Toyota's design team gave it a sleeker, sharper appearance.
Consequently, the updated Prius has new bumpers, combined with slimmer headlights (with bi-beam LEDs) and a change to LED foglamps at the front, while the rear sports revised combination LED light clusters that accentuate the width of the vehicle. What's more, the Prius is slightly longer than before, the 15-inch wheels have new covers and Toyota has introduced 2 new paint finishes – Fierce Red and Sky Blue metallic (shown here).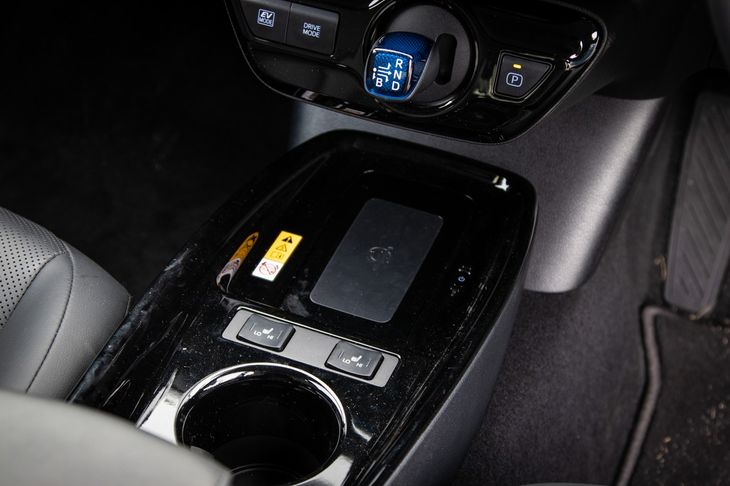 The revised centre console is now finished in Piano Black (as opposed to "Bakelite" white) and features a wireless charging pad.
Do the design revisions work? Well, that is up to each individual to decide, but we'd say that the front-end revisions are probably effective in making the Prius appear less "weird", to put it kindly, or less "outlandish", to be critical. Its rear 3-quarter aspect is still decidedly odd-looking, however.
Inside, the current Prius is far more convincing, with good quality materials, excellent spaciousness and some (surprisingly) nice detailing to give it an upmarket look and feel. You'll have to park its predecessor next to it to spot all the changes, but they're effective – the centre console has been redesigned and features 2 drinks holders, seat heating switches and, perhaps most importantly, a wireless charging pad (for smartphones). The interesting frosty white colour of the pre-facelift car's centre console has been replaced with a more practical – and classier – Piano Black.
Comfort & Features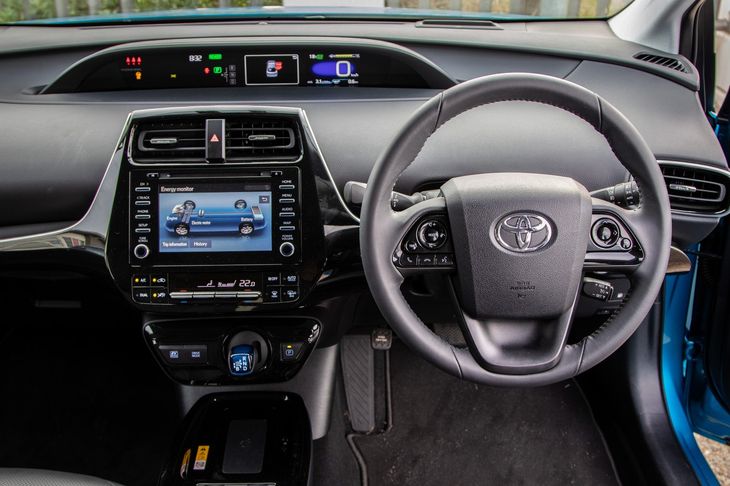 Only slight revisions for the interior – note the addition of a wireless charging pad in the centre console.
With a 2.7-metre-long wheelbase, the Prius offers stretch-out space for all occupants, although really tall rear seat occupants may find their heads brushing against the Toyota's rearward-sloping roof lining. The Japanese firm has also placed great emphasis on visibility out of the vehicle, all of which combines to create an airy, "techy" and upmarket-feeling cabin, the latter due to good tactile quality from the materials used and the multitude of digital displays. Under that large tailgate is a load bay with a quoted capacity of 502L, making it larger than, for example, the Honda Civic's.
With a price of nearly R500k, buyers expect a fairly luxurious car, and the Prius does not disappoint. Dual-zone climate control, cruise control, a reverse-view camera, rain-sensing wipers, heated front seats and a fairly large, customisable display screen are standard. The infotainment system does, of course, feature USB and Bluetooth compatibility, but sadly, there's no Android Auto/Apple Carplay or an integral navigation function.

The Prius's load bay measures 502 litres and the rear seats fold flat to create a capacious space for loading long or bulky items.
Ultimately, however, 2 of the greatest boons to overall comfort in the Prius don't stem from any specific interior feature or fitting, but the quietness of the cabin and the petrol-electric hybrid's supple ride quality. The Prius wafts along in relative peace and quiet.
The standard suite of safety features is very comprehensive, including 7 airbags, stability control and ISOfix child seat anchors for the rear seats. There's also a neat little head-up display (HUD) unit; seeing as the main display is centrally-mounted and not really in the driver's natural line of sight, the HUD allows to the Prius' pilot to easily keep an eye on vehicle speed, which is quite useful...
Performance & Efficiency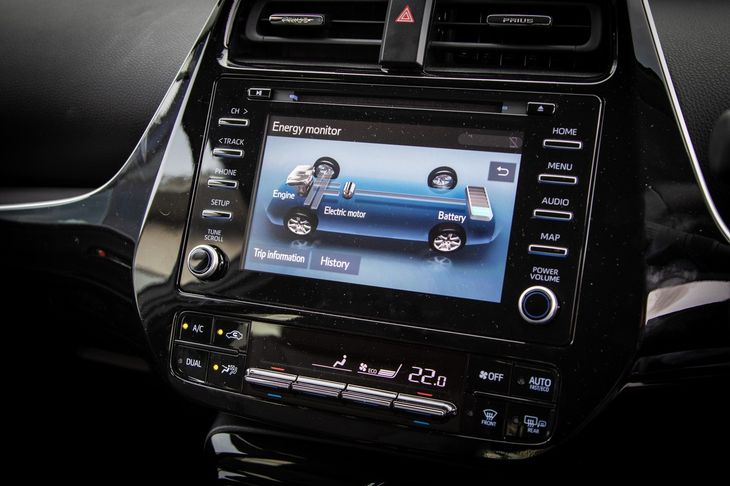 Front occupants can keep an eye on energy consumption via the large display screen.
As ever, the Prius utilises a combination of an ultra-efficient Atkinson cycle 1.8-litre (naturally aspirated) petrol engine and electric motors for its propulsion. The combined output is 100 kW, and the Prius is claimed to accelerate from 0 to 100 kph in 10.6 sec and reach a 180-kph top speed.
It's interesting to note the packaging of the transaxle, which houses 4 major components, but most importantly, the 2 electric motor-generators (MG1 and MG2). MG1 mostly serves as a generator, converting power from the engine (that would otherwise go to waste) into electricity that can be stored in the nickel-metal hydride battery, which is located beneath the rear seats. MG1 is also the engine's starter motor, while MG2 is the electric drive motor, which doubles as a generator when the car is in regenerative braking mode. MG2 drives the car at low speed, in EV mode and reverse.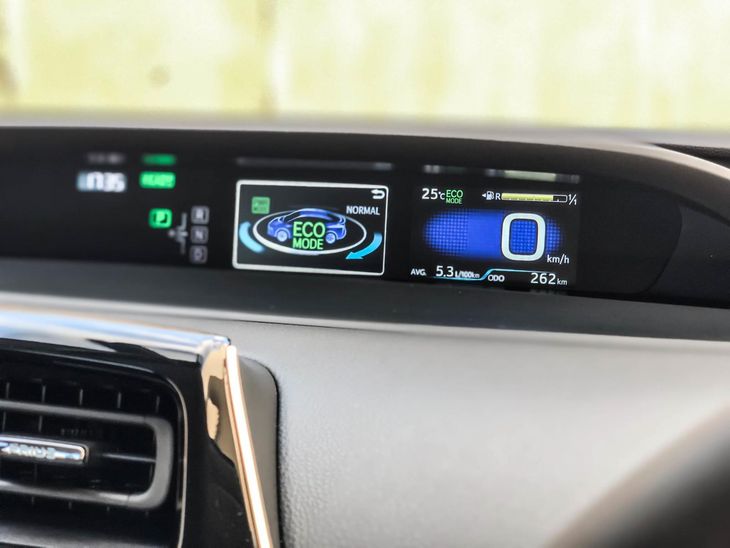 The Prius offers three hybrid driving modes (besides the additional EV mode), namely Power, Normal and Eco.
Toyota claims an average fuel consumption figure of 3.7 L/100 km, which is attainable (with some effort), but we achieved a real-world figure of just over 4.0 L/100 km, which is still impressive, because there is simply no other sedan-like vehicle of this size and luxury that can match or better that.
One quickly learns to adapt one's driving style, because if you're smoother on the throttle and less hurried, the Prius will use electric power for longer. Compared with its predecessors, it is indeed possible to make use of pure EV mode more often, but only up to speeds of around 50 kph.
And don't think of the Prius as a lazy performer – should you require a burst of overtaking urge, there's ample power available – but if you use it often, your "economical driving score" (indicated as a number out of 100 on the display), will plummet. For extra punch, there is a "Power" mode.
Ride & Handling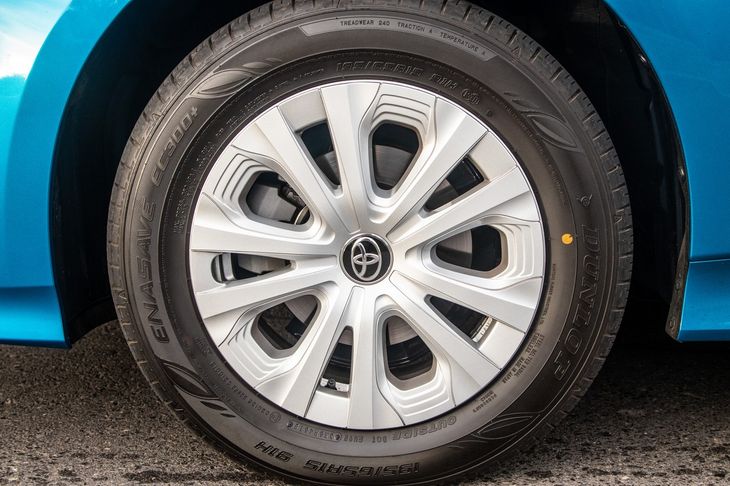 Standard Michelin 195/65 tyres are said to contribute to the Prius's efficiency. They also help the ride.
Built on the brand's still-fairly new TNGA platform, the current generation Prius boasted a 60% rigidity improvement over its predecessor when it was launched in 2016. It was also claimed that the new car was more engaging to drive, but we doubt that will be of much consequence to local buyers, at least most of them. Of far more importance is quietness and ride comfort and in those areas, the Prius excels. The only NVH (noise, vibration, harshness) negative is the slight vibration that occurs when the petrol engine kicks into action after a period of driving on electricity alone.
Otherwise, the Prius is an easy-handling car with light steering that makes city driving a cinch – bear in mind, however, that there are no parking sensors (only a camera view), so don't wait for beeps before you apply the brakes.
Price and warranty
The Prius is available in only one derivative and sells for R490 200. A service plan for 6 services/90 000 km is included, with servicing required every 15 000 km. The standard warranty for the vehicle is 3-years/100 000 km, but the hybrid battery has a longer 8-year/195 000 km warranty.
Verdict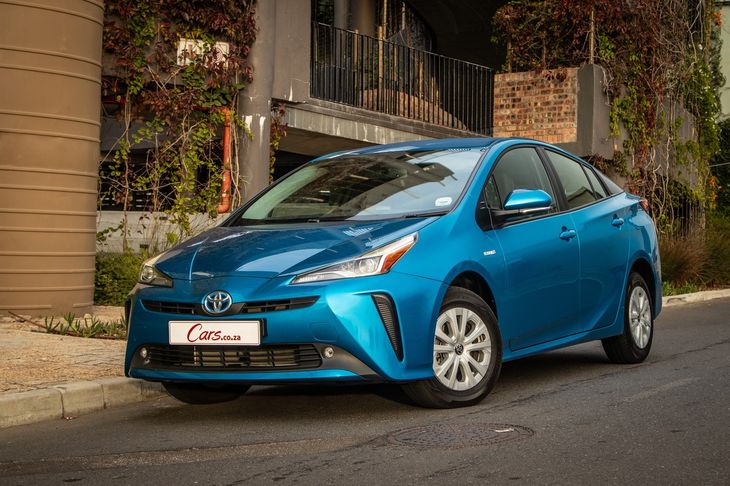 The Prius has no real rival in South Africa, but sales remain slow. Challenging design and not enough of a fuel economy advantage play their part.
The Toyota Prius has no direct rival in the SA new vehicle market... There is no similarly sized or shaped hybrid for sale, and the family sedan market has stalled, so a potential rival (on ultimate efficiency) such as the VW Jetta TDI no longer exists. So, if you need a family-friendly vehicle that offers this kind of fuel economy (and you're buying new), then the Prius is it... or you'd have to consider switching to a turbodiesel compact crossover such as the Renault Captur or Peugeot 2008 to achieve similar practicality and a vaguely comparable level of fuel efficiency.
Still, there's much to admire about this Prius, and it does look less divisive than before, but we can't see the facelift version achieving significantly better sales numbers than its predecessor. In the below-R500 000 segment, compact SUVs and crossovers are all the rage, so in the local context, we think a hybrid C-HR would do better, and above the magical half-million mark, Toyota should consider offering the hybrid RAV4 family car, too.
Looking to buy a new/used Toyota Prius?
Find one on Cars.co.za by clicking here