Having been at the forefront of battery-electric vehicle proliferation, Toyota is now preparing for the next step of its EV strategy: to unleash an array of battery electric vehicles (BEVs) on the market. Next year, the Japanese firm will introduce a production model based on this, the RAV4-sized bZ4X concept.
Cars.co.za recently reported that Toyota had introduced its BZ sub-brand to rival those electric-vehicle divisions of Volkswagen (ID), Hyundai (Ioniq), Kia (EV), Audi (e-tron), BMW (i) and Mercedes-Benz (EQ), to name just a few of the more obvious ones.
Now, whereas the bZ4X could be dismissed as just another fanciful concept vehicle to be rolled out at the Shanghai Motor Show, this RAV4-sized battery-electric family car, which is based on the e-TNGA electric platform co-developed with Subaru, will go into production as early as 2022; it will be first of no fewer than 7 "beyond Zero" models that Toyota will bring to market by 2025.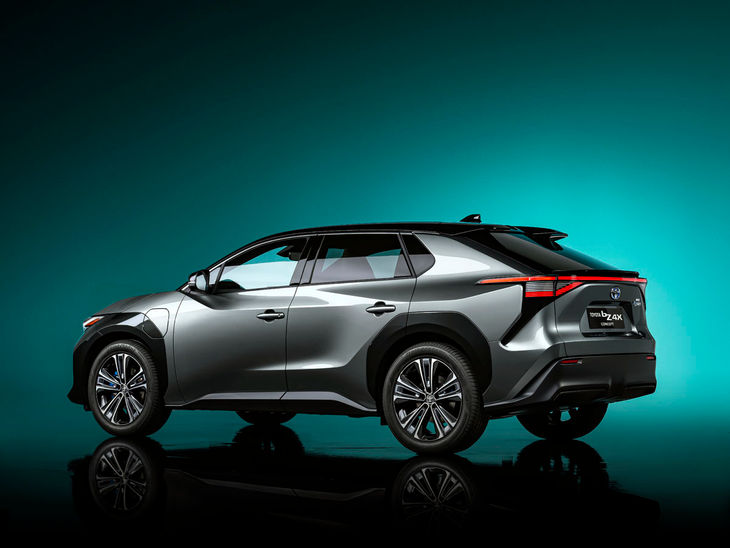 The upcoming model is earmarked for global introduction; that's right – including right-hand-drive markets, which could (and should) include South Africa. Toyota has observed its rivals and knows that the mid-sized crossover/SUV segment is where the intersection lies between price parity and product demand for electric vehicles.
Based on its proportions, the bZX4 is about the same size as the popular RAV4, but without being encumbered with a bulky internal combustion engine that fills the engine bay at the front of the vehicle, its packaging is much better. Furthermore, the newcomer ostensibly has an extended wheelbase, which means the cabin is comparatively more spacious.
Technical details are a bit thin at this stage, but Toyota has confirmed the bZ4X is all-wheel-driven, which suggests it features a pair of electric motors (one at the front, plus one at the rear). Apart from the ability to be recharged via household AC outlets and at charging stations, as well as harvesting kinetic energy (through regenerative braking), it is understood the newcomer can also be partly replenished through solar charging (we assume Toyota may have fitted solar panels to the roof of the vehicle, but more will be revealed at a later stage).
Interestingly, Toyota is keeping mum about the bZX4's battery configuration and capacity; the firm might be keeping that as a surprise, because it is widely reported that TMC will soon unveil its first solid-state battery, which will be a game-changer within the context of the EV mass market... The next-gen batteries might still be too expensive to install in a family-car application cost-effectively, however.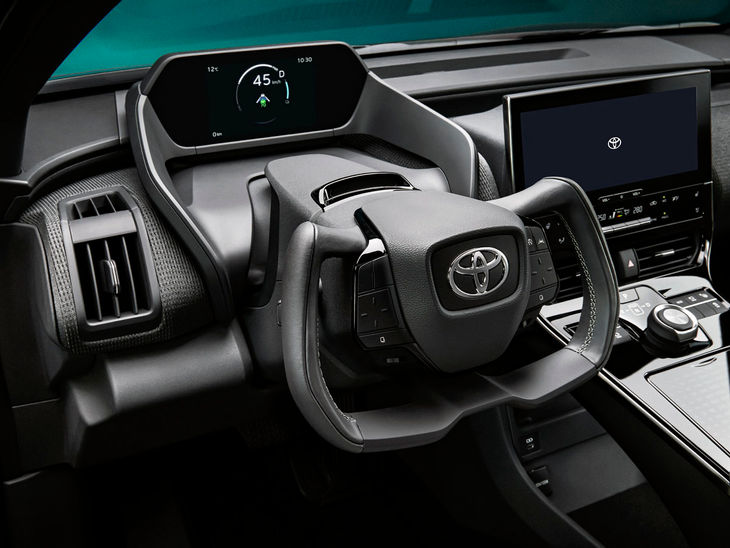 By virtue of using a solid electrolyte, a solid-state battery is comparatively smaller and lighter than its lithium-ion counterpart, but offers a higher energy density (therefore, an improved charging capacity), a longer lifespan and it is safer. A solid-state battery could, theoretically, store twice as much energy as a lithium-ion battery...
Styling-wise, the bZ4X has the sharpest-looking front end ever seen on a Toyota crossover, replete with slim LED headlamps, and a high front bumper that is separated from the edge of the bonnet by little more than an ornamental slot. Inside, the newcomer features an aeronautical-spired (or yoke-like, if you like) steering wheel, a deep-set digital instrument cluster and tablet-style infotainment touchscreen, as well as a floating centre console with a piano-black finish.
Toyota currently offers 55 electrified models globally. By 2025, the Toyota global line-up will be expanded to approximately 70 EV models, including HEV (hybrid electric vehicle), PHEV (plug-in hybrid electric vehicle and (fuel-cell electric vehicles), which will include a total of 15 battery-electric vehicles (BEVs).
Related content:
2021 Toyota Hilux Arctic Trucks Revealed
Toyota working on battery Cruiser (Updated)