Toyota has given its iconic Land Cruiser a small update. Here is a list of the changes.
If there's a list of iconic vehicles, the Toyota Land Cruiser is surely right up. It has been around for almost 70 years, sold in more than 190 countries and given its success, it's vital the Japanese brand doesn't mess with what's clearly a winning formula.
For 2020, Toyota has upped the power of the Land Cruiser. The 2.8-litre 4-cylinder turbodiesel motor now produces 147 kW and 500 Nm. Previously, it made 130 kW and 450 Nm. The additional shove is most welcome, as its acceleration figure to 100 kph has dropped down to 9.9 seconds - a 3-second improvement. Toyota also claims a fuel consumption improvement with the 2021 Land Cruiser said to consume 7.4 L/100 km.
Inside, the 2021 Toyota Land Cruiser receives an updated infotainment system that features new software, a newer touchscreen and introduces Apple CarPlay and Android Auto into the mix. In terms of safety, Toyota offers the 2nd generation Toyota Safety Sense which features things like Pre-Collision System (PCS) with both nighttime pedestrian and daytime cyclist detection and Intelligent Adaptive Cruise Control.
Toyota is offering a Black Pack styling package to the portfolio. The optional package includes sportier front and rear bumpers, a dark chrome front grille, dark alloy wheels and clear tail lamps. Plus, you get a badge.
These updates form part of a Toyota Europe model strategy. As soon as we hear from Toyota South Africa regarding the updated Land Cruiser, we'll update this piece.
Want a Toyota Land Cruiser? Browse stock.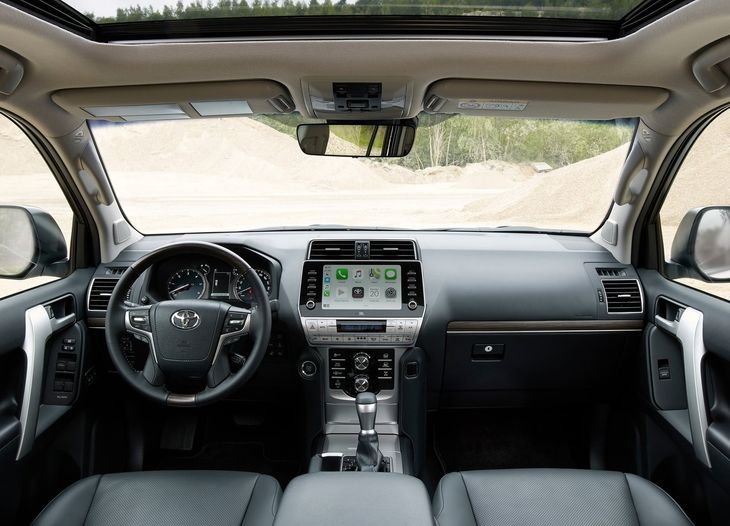 Further Reading
Toyota Prepares All-New Land Cruiser
Testing the Land Cruiser Legend in Angola
Toyota Land Cruiser 200 4.5 GX (2016) Review