If you're looking for a vehicle with which to tackle unknown territory, but don't want to compromise on comfort and safety, then look no further than the upgraded version of Toyota's iconic "Cruiser"
We like: Sense of indestructibility, comfort, spaciousness, off-road ability
We don't like: Lack of a few "nice-to-haves" at the price
Also consider: Not much direct competition (at GX spec), but you could consider the cheaper Nissan Patrol and Mitsubishi Pajero
Legendary Capability
Let's state this clearly at the outset: it's very likely that the Land Cruiser 200 GX won't be suited to you. Its size, awkward looks and relatively meagre specification (for the price) will eliminate it from many buyers' many shopping lists, but… if you're about to set off on a journey that requires you to tackle seriously rough terrain, but want a vehicle with excellent comfort and a legendary reputation for reliability, the Toyota is possibly unmatched, at any price.
The key facts for 2016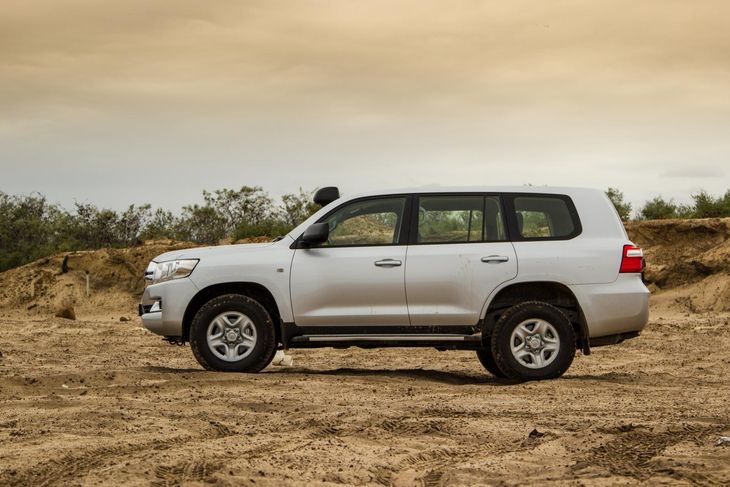 The Land Cruiser 200 offers a claimed 230 mm of ground clearance. Side steps are standard.
Well, it's had a facelift, so there are some cosmetic tweaks – not that most of the Land Cruiser 200's target audience will be too fussed about that. The GX wears its more utilitarian heart on its sleeve: the wheels are plain, 17-inch steel items, a snorkel is affixed to the right A-pillar, there are handy side steps (because the vehicle stands so tall) and, at the rear, you get sideways opening "barn doors" instead of the typical tailgate. Of course, because the Toyota is rather plain in appearance, buyers are likely to feel less reluctant to bash over, let alone through, some obstacles.
The specification level is a little odd, given the price of the vehicle. The grey cloth upholstery is not likely to withstand abuse as well as leather, and given the typical get-in-get-out nature of adventure driving, as well as the locations that the GX's off-road prowess would allow it to reach, hard usage is something the Toyota needs to be prepared for. That said, as is the case with bakkies, most owners are likely to fit seat covers anyway, so this criticism may be not be all that relevant. Also absent from the features list are things such as remote audio controls, an automatically dimming rear view mirror and, most alarmingly given the size of the vehicle, no parking sensors or reverse-view cameras… You do, however, get a satellite navigation function on a small touchscreen infotainment system, dual-zone climate control, cruise control and numerous 12V power points for charging appliances out in the bundu.
How Does It Fare In…
Off-Road Conditions?
The Land Cruiser 200 is probably peerless in this department. The figures and specifications don't quite tell the full story. Yes, it has 230 mm of ground clearance and can wade through water 700 mm deep, but its ability to bulldoze obstacles while transporting its occupants in comfort is irrepressible.
The GX offers a number of features to further enhance this inherent capability. There is Crawl Control, for example, which allows the driver to set a crawl speed in off-road conditions. The Cruiser will stick to this speed as long as you don't touch the accelerator or brake pedal. A Turn Assist function improves the vehicle's ability to negotiate tight corners when Crawl Control is active. Then, there's also ECT Pwr, which is great to boost momentum in mountainous driving conditions, and ECT 2nd, when pulling off in slippery conditions. Gosh, there's even a function called Idle Up, to boost the heating effect in very cold conditions when the vehicle is not moving. And… of course… a trusty centre differential lock switch is mounted to the right of the steering wheel as well.
The result of all of this hard (and soft) ware? In a word: "Unstoppability".
Practicality?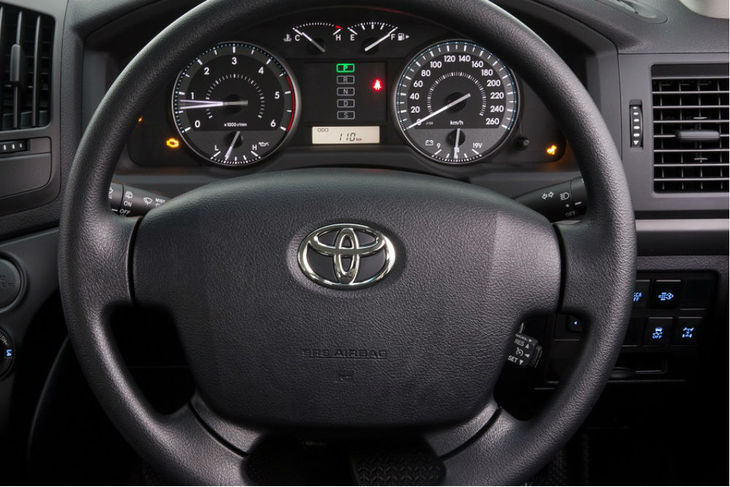 Plain steering wheel one example of a cabin that is short on "frills".
Inside, it looks rather plain for such an expensive vehicle, but it's most definitely not uncomfortable. The seats are huge and comfortably padded, there is plenty of legroom in the rear, and the luggage compartment is very large, too. Remember, this version doesn't have to accommodate a third row of seats. Instead, you get a very durable-looking floor cover. As far as oddment space in the cabin go, there is a truly massive storage box between the front seats. A full-size spare is located underneath the vehicle.
As an aside, the Land Cruiser is quite a comfortable vehicle to drive on tar, too. Yes, it's perhaps not the easiest vehicle around town, especially as it has no parking assistance, but once on the move, it hides its bulk quite well. In the corners, however, the multi-purpose Yokohama Geolandar G94 tyres do tend to squeal rather earlier than expected.
Performance?
The GX (like the VX) is powered by a brawny 4.5-litre turbocharged V8 diesel that delivers 173 kW and 615 Nm of torque, the latter figure from 1 800 to 2 200 rpm. The engine is mated with a six-speed automatic transmission. The Land Cruiser is a heavy vehicle, but the engine/transmission combo works well enough to endow it with quite sprightly performance. In fact, mash the throttle to the floor and the nose lifts speed boat-style before the GX sets off on a sprint to 100 kph that takes less than nine seconds… Yes…, that's not a typing error!
Besides offering the ability to hilariously give hot hatch drivers a fright, the engine delivers great long-distance cruising ability as well as the opportunity to tow braked trailers of up to 3 500 kg in weight.
Fuel Economy?
Toyota claims a combined cycle fuel consumption figure of 10.3L/100 km, but our average worked out closer to 12L/100 km. Keep in mind, however, it has two fuel tanks as standard (93L + 45L), so a long tank range is on offer. Further good news for those adventurers keen on escaping civilisation is that the Land Cruiser 200 GX has been specified to run on 500 ppm diesel.
Verdict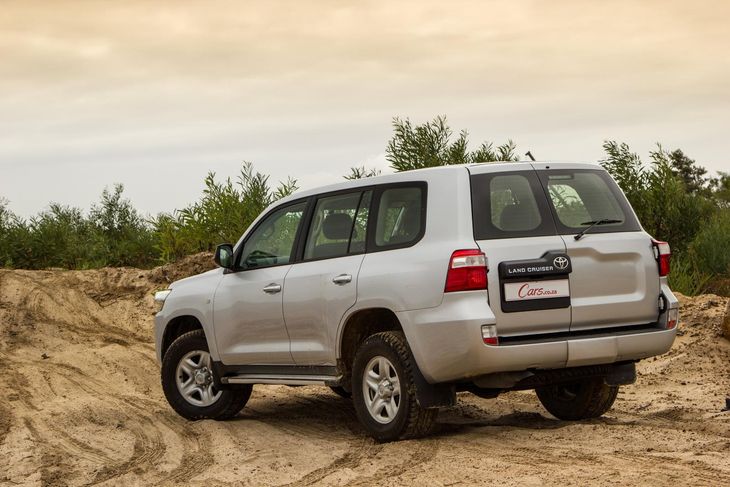 Want to head into the unknown with confidence. Take a Land Cruiser 200 with you.
The Land Cruiser 200's particular blend of talents have made it an icon. With the "affordable" new GX model, this capability is in reach of a significantly larger number of enthusiasts who may otherwise would have to consider a used previous-generation model… or similar but ultimately less capable vehicles such as the Nissan Patrol and Mitsubishi Pajero. As new, the Land Cruiser 200 GX doesn't really have any direct rivals. It does what it says on the tin, so if that is what you're looking for, you'll love this very honest, extremely talented machine.
Pricing
The Toyota Land Cruiser 200 4.5 GX retails for R914 900 and is backed by a three-years/100 000 km warranty and five-years/90 000 km service plan. It requires servicing every 10 000 km.
Compare the Toyota Land Cruiser 200 4.5 GX with the Nissan Patrol 3.0Di GL and Mitsubishi Pajero 3.2DI-D GLS Exceed here