Toyota – a brand renowned for introducing budget-oriented people carriers in the local market – has launched the Rush. The Indonesian-made newcomer is poised to find favour among financially-constrained consumers seeking a vehicle with excellent space and practicality. We attended the local launch of the newcomer to assess its merits.
Toyota South Africa's portfolio is diverse and comprehensive. There's a vehicle catering to everyone's needs, or is there? Given the B-segment SUV's rise over the past few years, Toyota has decided to introduce a second practical SUV to the segment. Currently, the 7-seater brigade consists of the Toyota Avanza, Honda Mobilio/BRV and Suzuki Ertiga. The new Rush will tangle with the likes of the Ford Ecosport and Renault Duster as a more family-oriented, dual purpose vehicle.
Introducing the Rush, a 5-seater compact SUV made in Indonesia. Keen-eyed observers will note uncanny similarities between the 2018 Toyota Rush and the latest version of the Daihatsu Terios. The South African market Rush is a 5-seater only, whereas the Indonesian variants offer a 7-seat option. Market research, according to Toyota South Africa, has shown that our market favours a 5-seat setup and a huge luggage bay, as opposed to 7 seats and a reduced cargo area. We would have preferred having the option of putting in the 3rd row of seats for a nominal fee, as there may be customers who require the extra passenger carrying capacity.
Click Here for Detailed Specifications and Pricing of Toyota Rush
Engine and features
The Toyota Rush is powered by a 1.5-litre naturally-aspirated four-cylinder motor. On paper, it delivers 77 kW and 136 Nm, and you have the option of either a 5-speed manual gearbox or 4-speed automatic transmission. The Toyota Rush is rear-wheel driven and appears to be quite frugal too, with a claimed economy figure of 6.6 L/100 km. The automatic is said to consume 6.7 L/100 km.
The Rush comes with a 6-speaker, touchscreen audio system with USB and Bluetooth functionality, Android Auto Plus Show, Apple CarPlay and navigation. Dual-zone climate control and a 12V socket is also seen on the lower section of the dashboard. The 3-spoke leather steering wheel is only rake-adjustable and comes equipped with mounted controls. Apart from the features already mentioned, the Rush is also equipped with electric and retractable side mirrors, auto-off LED headlights, an integrated reverse camera with park distance control, keyless entry and a push-start ignition. In terms of safety, a total of 6 airbags are fitted as well as ABS, Vehicle Stability Control (VSC) and Hill Control Assist (HCA).
What is it like to drive?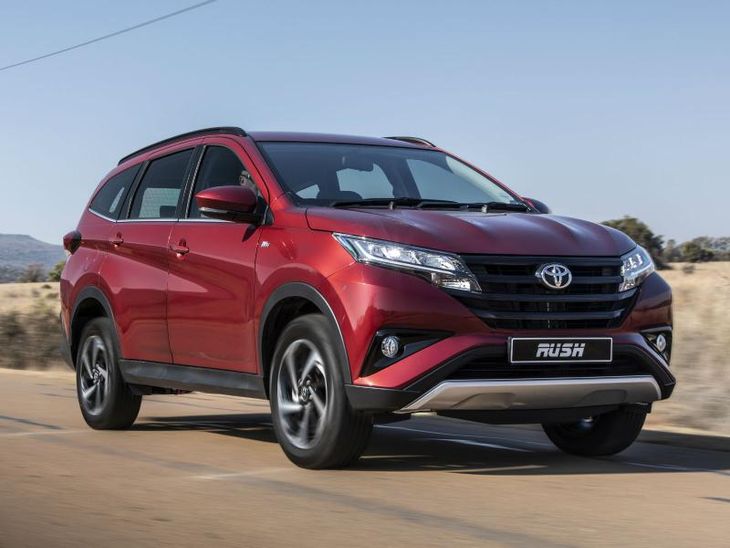 The Toyota Rush drives well, but the lack of a sixth gear makes for a noisy highway ride.
What the Rush isn't is a 4x4 vehicle. Sure, it has an excellent ground clearance of 220 mm along with 31-degree approach and 26.5-degree departure angle, but it lacks all-wheel drive for that final off-road stamp of approval. Interestingly enough, our launch route took us through Addo Elephant National Park, near Port Elizabeth, which had many gravel roads in varying states of quality. We can happily report that the Toyota Rush was more than adequate in this environment and there's an air of solidity about its ride.
While some may scoff at the idea of a compact normally-aspirated 1.5-litre engine powering something as big as a Toyota Rush, but the reality is that a combination of short gear ratios and low mass means that performance is not sluggish. There's plenty of go in the first 3 ratios and around town we were happy with the performance. Things go awry when you're on the national highway. See, that final gear ratio is too short and at 120 kph, the engine revs noisily at 4 000 rpm, far from ideal for cruising. The Rush needs a 6th gear, just to keep the noise and fuel consumption down.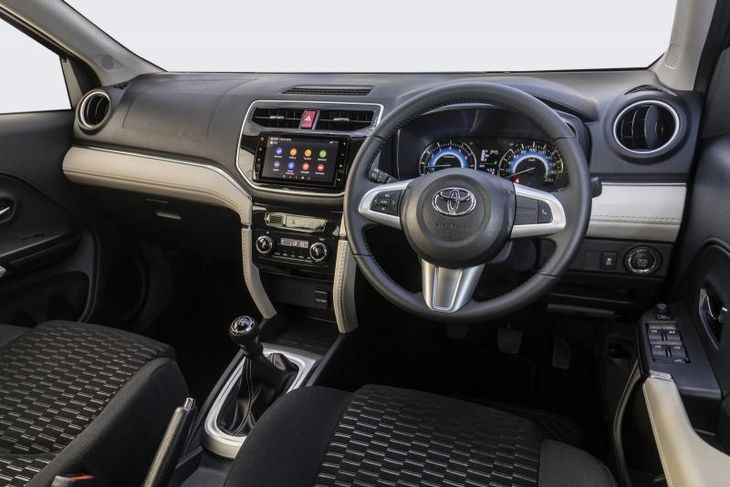 The specification and safety equipment is good, but the driving position for taller folk is a little awkward.
The ride quality was fair on some of the more well-worn sections of road in and around Port Elizabeth and Uitenhage, despite the Rush riding on attractive 17-inch alloy wheels. The steering is light but it could do with a touch more weighting to give it a more solid feel. Vehicles like this typically have a cheap feel both to the cabin quality and drive, something which Toyota has managed to work around, despite it being very reasonably priced. The driver's seat is height-adjustable, but some drivers might feel it won't go low enough and, because the steering column is rake-adjustable only, the driving position is a bit awkward, or at least one that tall folk won't be completely comfortable with.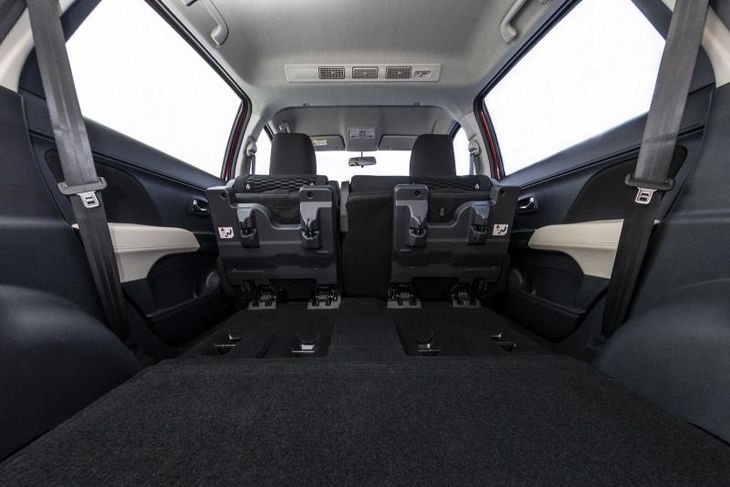 The cavernous boot grows even bigger with the second row of seats folded down. Toyota Rush panelvan, anyone?
Final Thoughts
The budget small SUV/crossover market may be a tiny segment, but that hasn't stopped Toyota from adding a 2nd (Avanza-based) vehicle into the segment. Those looking for a well-priced family-oriented 5-seater with renowned reliability is the target market, as well as the Uber market, to some extent. Do you remember the runaway success that the keenly-priced, commercial vehicle-based Condor achieved more than a decade ago? The Rush is in the same mould, although, of course, it is a far less rudimentary vehicle and certainly not stripped out, in terms of its specification.
The luggage bay of the Rush, for example, is by far one of the biggest we've seen on a vehicle of its type – it even surpasses that of its RAV4 family car sibling. Should you need even more space, fold the seats down, which converts the Rush into a makeshift panel van. We wish it came with that 6th gear at the top. The noise level on highway cruising is irritatingly high, but the car's short gear ratios in an urban environment mean it does not feel as underpowered as its figures suggest. Our final gripe is the seating arrangement, give people the option to put in the 3rd row of seats for a nominal fee. Overall, we can't be too picky at this price point. R299 999 puts you behind the wheel of a well-specced, solid and capable family SUV.
Toyota Rush - Price in SA
The Rush is sold with a 3-year/100 000 km warranty and a 6-services/90 000 km service plan, with intervals every 15 000 km.
Rush 1.5 M/T - R299 900
Rush 1.5 A/T - R313 500
Buy a new or used Toyota on Cars.co.za
Related Content
Toyota Rush (2018) Specs & Price
Toyota Rush in SA (2018) Pricing Details