The 5th-generation RAV4, which is due to arrive in South Africa in March 2019, was launched in Barcelona last week. Boasting an eye-catching new exterior design, the latest RAV4 is primed to cement Toyota's success in the local family car segment. Gero Lilleike travelled to Spain to take the new RAV4 for a drive; herewith his feedback…
If I'm honest, the outgoing RAV4 didn't quite do it for me. It was just too... well, ordinary-looking. Nonetheless, the RAV4 has done very well for itself in its 25-year existence – it's practical, offers reasonably good performance and like most Toyotas, it's very reliable.
It's for those very reasons that the RAV4 has been so formidable in its segment and it keeps buyers coming back, time and time again. Given the rampant popularity of family cars, it's no surprise that the RAV4 is a key volume model for Toyota with a 14% market share year-to-date 2018. And, with more than 9-million units sold since its introduction in 1994, the RAV4's one of the most successful SUV nameplates in the world.
Now, at 38 000 ft, somewhere above the Mediterranean Sea, I am happy to report that the latest RAV4 has more of an edge and after driving it, my opinion of Toyota's family car has changed, for the better.
The RAV4 needed a drastic styling makeover and with this new RAV4, Toyota has steered away from its generally conservative styling approach and endowed the 5th-generation car with a striking polygonal design theme that makes it look bolder and far more expressive than ever before.
While its styling is, yes, polarising, we think Toyota deserves some praise for giving the new RAV4 a more exciting and attention-grabbing design that will make it stand out against its rivals in this segment.
Own a Toyota? Tell us about your experience here.
What's coming to South Africa?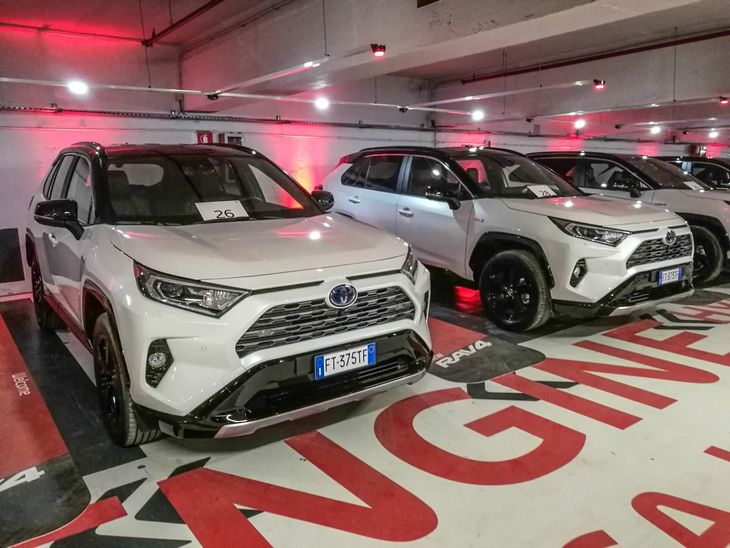 Only 2 petrol engines will make it to SA while no diesel engines will be offered. The RAV4 Hybrid is not destined for SA, yet...
Firstly, no turbodiesel engines will be offered for the new RAV4 and while the new RAV4 Hybrid plays a key role in other markets around the world, it hasn't been earmarked for South Africa at this point in time. Hybrids just don't seem to do good business in South Africa, at least not yet...
With the new RAV4 expected to launch in South Africa in March 2019, South African buyers will instead have the choice between 2 higher output, naturally aspirated petrol engines, 3 transmissions and 3 trim grades including the entry-level GX, the more rugged GX-R Adventure derivative and the range-topping VX grade. Both front-wheel drive and all-wheel drive formats will be offered, bringing the total derivative count to 5.
The RAV4 GX is powered by a 2.0-litre petrol engine with 127 kW and 207 Nm and will be offered with either a 6-speed manual transmission or CVT in front-wheel-drive guise.
The all-wheel-drive RAV4 GX-R Adventure derivative, which we drove in Spain, is also mated with a CVT, but is distinguished by pronounced skid plates and wheel arch cladding and a larger, protruding grille which makes it look more rugged to suit its ambitions as an outdoor lifestyle offering.
The 2.0-litre engine will also come to market in the luxury-focused VX trim grade also with a CVT and in front-wheel-drive guise, while the range will be headlined by the all-wheel drive, 2.5-litre VX with 152 kW and 250 Nm, but equipped with an improved 8-speed automatic transmission.
What's the interior like?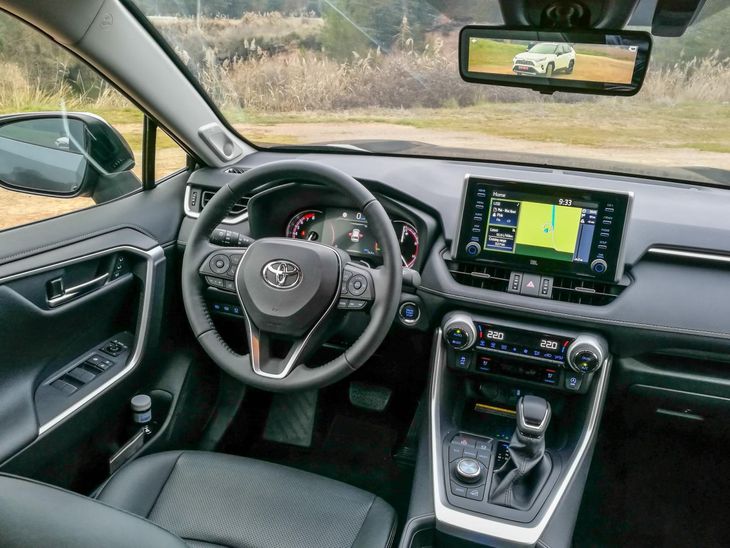 The interior is robust with a premium look and feel. Note the new digital rear-view camera.
At 2 690 mm, the RAV4's wheelbase has been extended by 30 mm, which has had a positive impact on cabin space. We were pleasantly surprised by the truly generous legroom afforded to rear passengers and the load bay (492 litres, 572 litres in the VX) should prove very useful for families.
Interior build quality is good with a premium look and feel and the GX-R derivative we sampled featured plush leather upholstery and soft-touch surfaces on the dashboard. It's definitely a comfortable place to be.
A nifty feature is the new digital rear-view mirror, which can project an adjustable reverse-view camera feed that enhances rearward visibility but this feature has not been confirmed for the SA market. The larger instrument cluster display is also more attractive than before and it lifts the interior ambience substantially.
In contrast with cars that we drove (pictured here), South African-spec RAV4s will receive an in-house 7-inch infotainment system, but it won't feature navigation. Apple CarPlay and Android Auto won't feature initially either, but will likely be introduced at a later stage. A wireless charging pad is offered on the GX-R Adventure grade and up, plus the RAV4 can be equipped with up to 5 USB ports (3 front, 2 rear), which is a boon.
What's the RAV4 like to drive?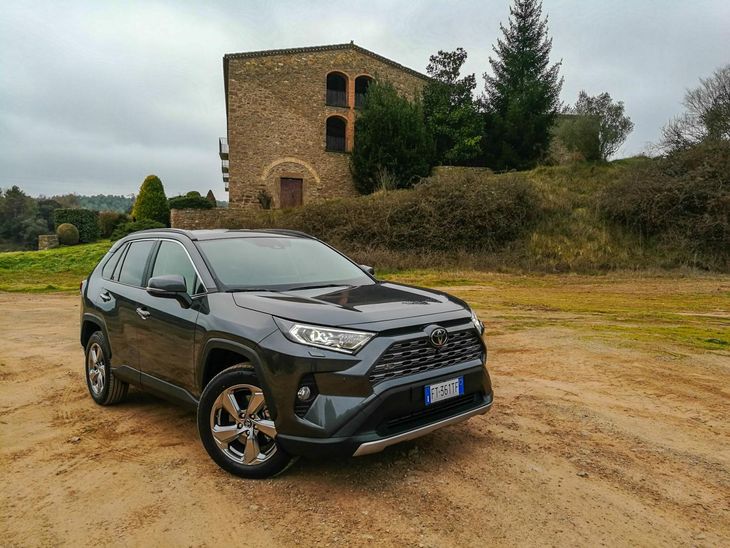 The new RAV4 2.0 GX-R performs well overall and should serve well as a family car.
In a basement below the streets of Barcelona, 40 new RAV4s lay in wait. While most were hybrids, four 2.0-litre all-wheel-drive GX-R Adventure derivatives were allocated to the SA media. Preset routes navigated us through the bustling city and into the Spanish countryside.
We found the 127 kW/207 Nm 2.0-litre RAV4's performance to be adequate rather than exceptional. It didn't feel underpowered, but we were at sea level, which means some gusto will be lost at altitude. With that said, more torque would give this RAV4's motor a bit more bite.
Although the RAV4 gets up to speed at a fair pace, we found the CVT to be a tad lazy and moany under a firmer right foot, but the powertrain's hum was never so intrusive that it became annoying. Responsiveness improves in manual mode and by using the steering-mounted paddles; the CVT is more easily exploitable to suit your driving situation. There are also 3 drive modes including Eco, Normal and Sport.
The RAV4's ride quality is more refined than before – we were mightily impressed with its road manners. The body structure is some 57% stiffer and because the new RAV4 is wider by 10 mm, it hugs the road with reassurance and handles cornering with more confidence and poise. The Toyota's ride is buttery smooth and combined with a well-weighted steering feel, it should be a pleasure to drive daily and even more so on longer journeys.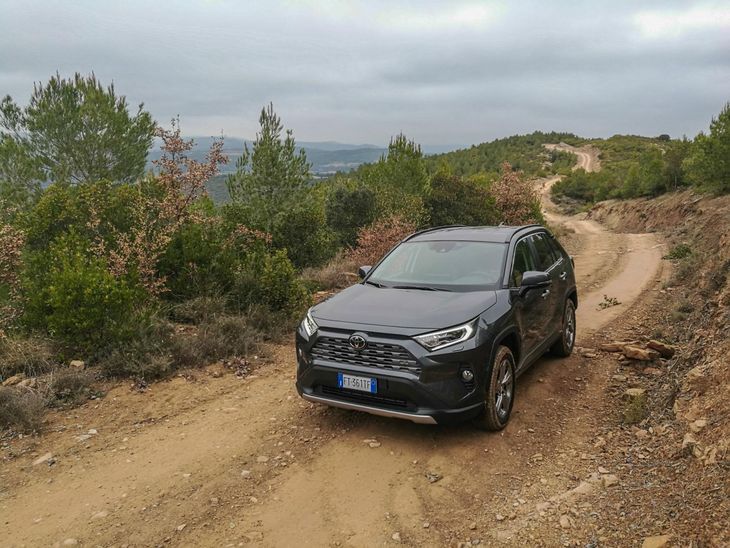 The new RAV4 can tackle a rugged mountain track with ease thanks to a new all-wheel-drive system.
We also took the RAV4 GX-R Adventure on a mild 4x4 track where the new mechanical all-wheel-drive system, which now features a dynamic torque vectoring system with Rear Driveline Disconnect for the first time, was put to the test. The twin couplings on the rear axle allow for torque distribution between the left and right rear wheels, which enhances traction performance in a variety of conditions. A graphic display in the instrument cluster also shows you exactly where and how much torque is being apportioned to each of the wheels, which is a nice touch.
The RAV4 hardly broke a sweat on the rugged mountain road, but we look forward to putting the new RAV4 to the challenge of tougher conditions in South Africa. The driver can also select an appropriate mode to suit the conditions by using the dial on the centre console... Driving modes include Mud & Sand, Rock & Dirt and Snow.

In terms of safety, the RAV4 is equipped with no fewer than 7 airbags, ABS with EBD, Brake Assist, Vehicle Stability Control, Hill Ascent Control and Trailer Sway Control. The GX-R Adventure adds Downhill Assist Control. The top-spec VX derivatives will also be equipped with features such as Lane Departure Alert, Blind Spot Monitor, Cross Traffic Alert and Adaptive Cruise Control.
Final thoughts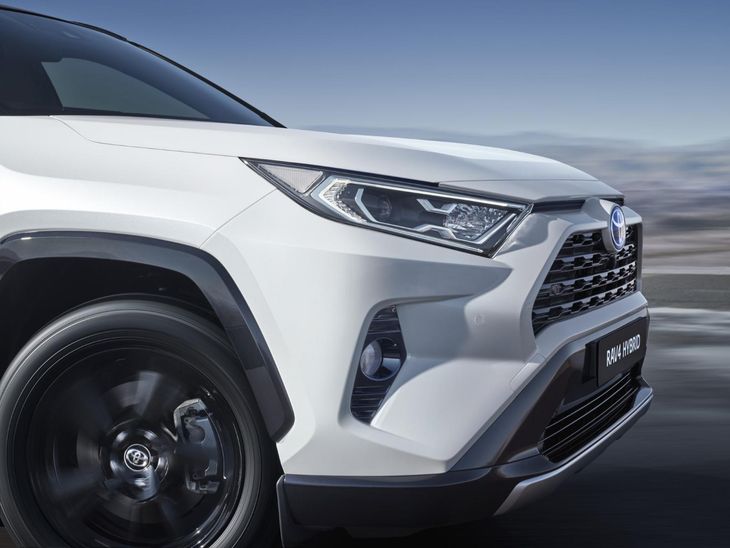 The new RAV4 is an impressive offering and should be well received when it arrives in March 2019.
Overall, our first impressions of the new RAV4 are very positive. We like the more purposeful exterior styling and the spacious and well-equipped interior will undoubtedly serve its target market well. Furthermore, the RAV4's ride quality is excellent. Performance of the 2.0-litre petrol engine should suffice, but we fear that those living on the Highveld may find it to be marginally underwhelming. The RAV4 2.5 VX AWD will likely offer better performance, but we will only be able to drive the flagship derivative upon its local launch in March 2019.
Toyota expects the RAV4 2.0 GX CVT and GX-R Adventure to be the volume sellers in our market and while pricing has yet to be confirmed, a Toyota representative has assured us that the pricing structure will be competitive. If that is indeed the case, buyers looking for a competent family vehicle may want to delay their prospective family car purchases until the new RAV4 arrives. It may very well be worth the wait…
Buy a new or used Toyota RAV4 on Cars.co.za
Related Content
New Toyota RAV4: 5 Things to Look Forward To
Toyota RAV4 2.2D AWD GX (2016) Review
2020 Toyota Supra Finally Goes Official
2018/19 Cars.co.za Consumer Awards – powered by WesBank; Finalists