Dramatically different in overall appearance and under-the-skin construction, the 5th-generation Discovery boldly steps further upmarket. However, has Land Rover discarded too much of what made the previous model such an icon?
We like: Superb refinement, spaciousness and luxury, off-road ability
We don't like: Fuel consumption, pricey options
Alternatives
The off-road S-Class: The Mercedes-Benz GLS 500 may sell for just over R1.5 million at base-price level, but if you add a few pricey options to the Discovery, the Benz's price no longer looks that daunting. The turbocharged 4.7-litre V8 in the GLS is significantly more powerful than the supercharged V6 in the Land Rover, and (remarkably) has a lower claimed fuel consumption figure, too. The GLS has 7 seats as standard and is luxuriously equipped even before you delve into the options list... but it can't match the Disco off-road.
Sweet Swede: The Volvo XC90 T8 Twin Engine R-Design is a more affordable 7-seater luxo-SUV for folks who don't require the Discovery's outright off-road ability. With its petrol-electric drivetrain it outpunches the Landy, too, but it's not as spacious inside and can't match the Discovery's devastatingly good ride on all surfaces. Still... an appealing and classy offering at a considerable saving.
Compare the Land Rover Discovery Si6 HSE with the Mercedes-Benz GLS 500 and Volvo XC90 T8 Twin Engine R-Design by clicking here
The same, but different?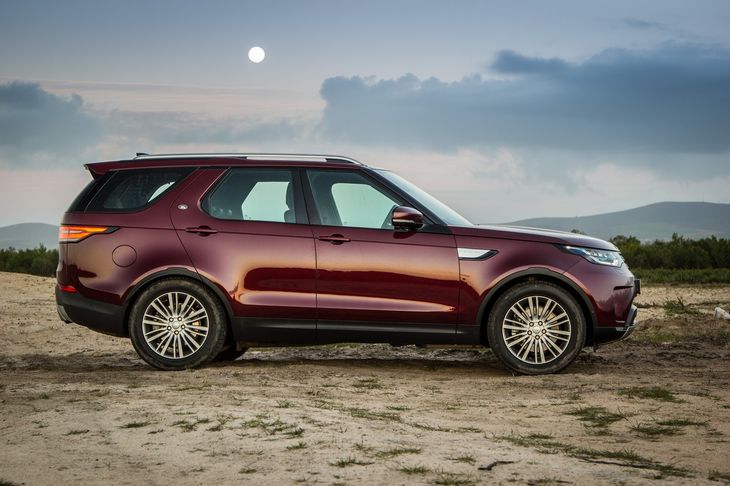 Not a trace of its predecessor's boxiness remains on the outside, and it's all change underneath too...
How do you replace a vehicle that has pretty much defined its segment for more than a decade? That's exactly the conundrum that faced Land Rover when work started on the all-new 5th-generation Discovery. After all, the squared-jawed Discovery 3, launched way back in 2004 and which evolved gently into the Discovery 4 in 2009, had not only improved with age, but also showed no signs of diminishing in popularity.
What was the core appeal? Well, that's the million-rand question and Land Rover would be right to point at the Disco's unbeatable combination of luxury, 7-seat practicality, on-road refinement and off-road ability. So, when work started on this new model, none of those attributes could be compromised, but greater efficiency, weight-saving measures and modern in-car safety and entertainment technology had to be incorporated, too. That's a tall order indeed...
How does it fare in terms of...
Design & Packaging?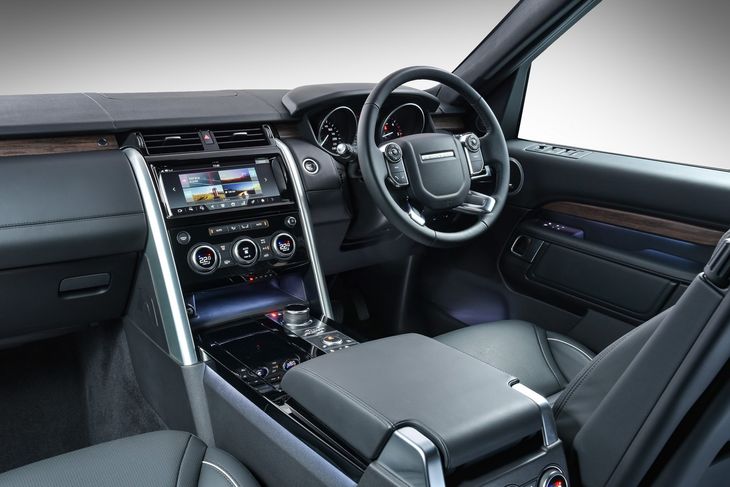 Practical, yet luxurious, the Discovery's cabin marries functionality with feel-good premium design and materials.
We're not going to delve into a lengthy analysis of the new Discovery's exterior design except to say that we sorely miss the old car's visual character. Land Rover has tried to incorporate a few of its idiosyncrasies, however, such as the unsymmetrical rear number plate solution and there's a much less pronounced stepped roofline, but overall the new Discovery can easily be mistaken for a Range Rover Sport. Admittedly, for some people that won't be a bad thing.
The relationship with the Range Rover Sport is not merely an aesthetic one, however, because for the first time the Discovery doesn't have a steel ladder chassis at its core, but rather the Sport's aluminium monocoque. This move has been key to the shedding of weight – nearly half a tonne compared with its forerunner. We'll get back to the underpinnings later, but from a packaging point of view Land Rover has taken care to evolve the Discovery's trademark cabin practicality.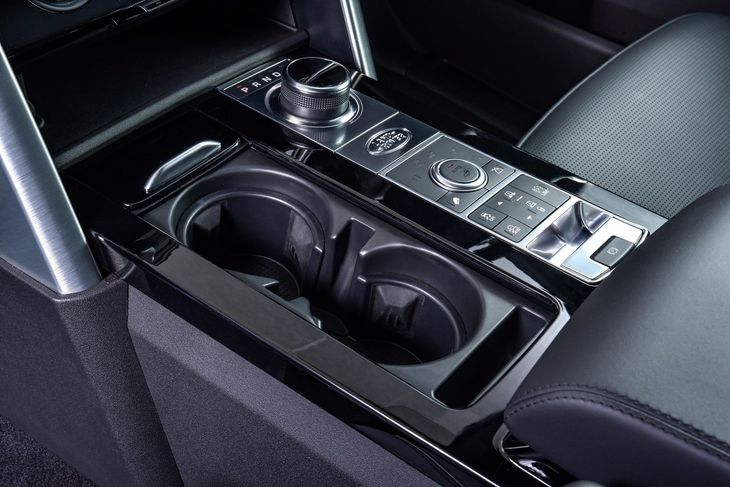 The cupholder area slides forward to reveal a large storage "box" underneath.
The Discovery 5 has grown in most key dimensions, including in its wheelbase, which is 38 mm longer than before. From behind the steering wheel, however, it feels much the same as before. You sit high, peering down at drivers of "lesser" vehicles, and are always aware of the Land Rover's sheer size. It's a feeling not too dissimilar to driving a Rolls-Royce, in fact... What is new, however, are the surroundings.
The design has been neatened up considerably, with most of the switchgear having migrated into the touchscreen control interface. At first glance the fascia can look a bit stark and minimalist, but there is a staggering number of hidden storage solutions... Besides the very spacious storage box between the seats (cooled as an option), another "secret" (and very deep) storage area is revealed by sliding the entire cupholder section on the transmission tunnel out of the way. Furthermore, the climate control interface lifts out of the way electrically to reveal another hidey hole.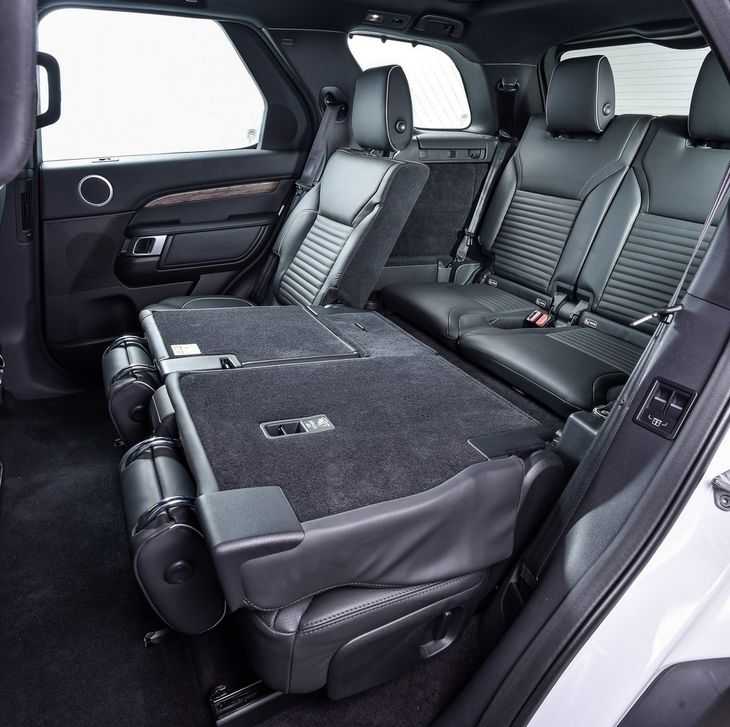 Note buttons on door frame to control the seat adjustment.
A key difference between the new model and its predecessor is that you now have to choose whether you want third-row seating... and then pay extra for it (R21 800). It's an option box we'd eagerly advise ticking, as the Discovery's cabin is so vast, and the seating arrangement so cleverly packaged, that it is one of the very few truly useful 7-seaters on the market.
Certainly, those seated in the second row will have very little to complain about, seeing as they are afforded reclining backrests as well as fore/aft legroom adjustment. The 2 seats in the back also offer enough legroom to make them practical for transporting more than just small kids. It's also interesting to note that the 2 rearmost seats (when fitted) come standard with Isofix child seat mounting points.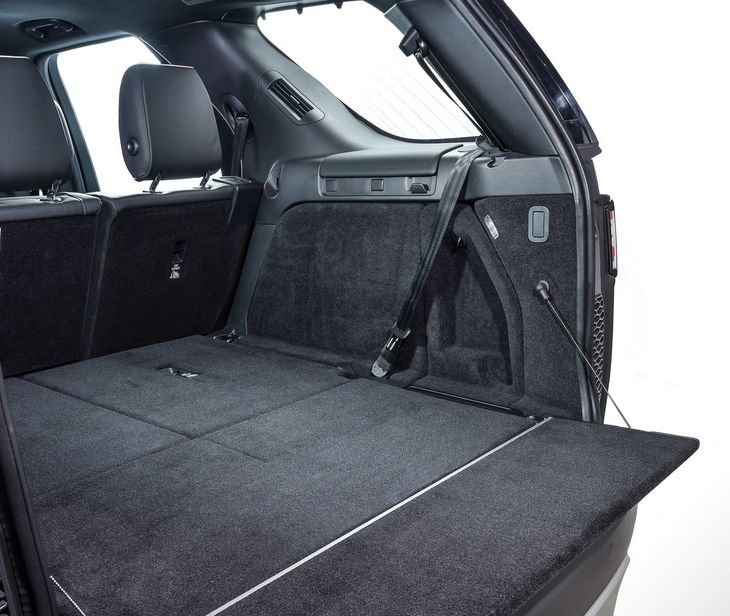 With the optional third-row seats folded away, the luggage area is vast.
As before, the packing space with the seats folded down is nothing short of cavernous. Even with 5 seats occupied there is more than 1 000 litres of luggage capacity on offer, and the total utility volume of 2 500 litres remains unmatched in this segment.
Our test unit was equipped with several interesting gadgets, including the ability to fold down the seats (second and third rows) electrically. It certainly beats clambering all over the cabin pulling on hooks and latches! When fitted with the Remote Intelligent Seat Fold pack (R22 100) one can adjust the seating configuration one of three ways; via the touchscreen system in the front of the car, buttons mounted in the cabin, or even by using an app on your smartphone.
As standard, and even more so once a few option boxes have been ticked, the Discovery is loaded with modern features that will boost its appeal to tech-savvy buyers. Depending on specification, you can have up to 9 USB ports, no fewer than 6 twelve-volt charging points and even an in-car 3G WiFi hotspot that caters for up to 8 devices. So... no more entertainment complaints from the teenagers seated in the back when you hit the long road to grandma's! They can remain very much "plugged in". Needless to say, the infotainment system offers seamless iOS and Android connectivity.
Performance & Efficiency?
While the new-generation Discovery is up to 480 kg lighter than its predecessor, it's by no means a featherweight SUV – it still tips the scales at more than 2 tonnes even in its most basic configuration. That means it still needs some serious grunt under the bonnet. While a review will follow of what is most likely going to be the top-selling derivative, the Td6, this write-up focuses on the Si6 with its supercharged 3.0-litre petrol V6.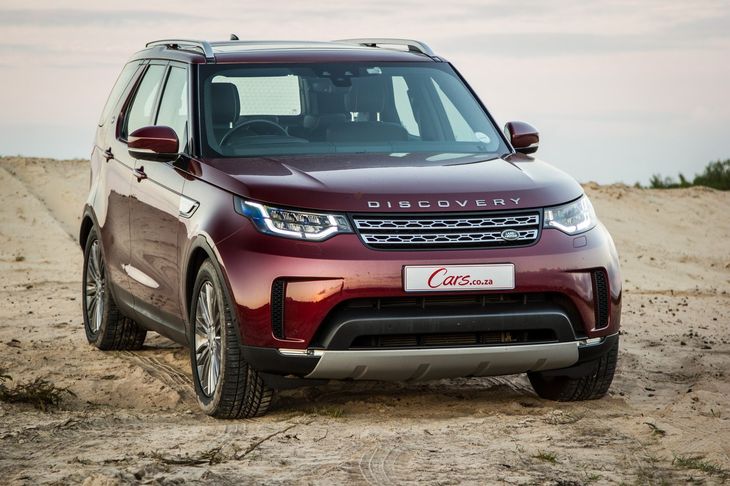 Although the petrol engine delivers pleasing performance, it is outpunched by the competition and is thirstier, too.
To be honest, we're not sure why buyers would opt for the Si6... Sure, its peak outputs of 250 kW and 450 Nm are plentiful, but only when considered in isolation. The Discovery 5's German (Mercedes-Benz GLS) and Swedish (Volvo XC90) rivals offer more grunt and, perhaps surprisingly so, the turbocharged 4.7-litre V8 of the Mercedes-Benz GLS 500 manages to theoretically offer better fuel consumption. Land Rover claims a figure of 11.5 L/100 km for this Discovery, which is on the high side and still proved impossible to match in the real world – we achieved a consumption figure of just over 13 L/100 km during our test period.
In the real world and in performance terms, there also appears little tangible benefit to going the superpetrol Discovery route. Due to the very nature of the Discovery driving experience (it's a vehicle to waft in... not rush around), it's throttle mapping is such that it's not the briskest vehicle off the mark. Don't misunderstand us... The Discovery Si6 is a lovely vehicle to drive and there is more than enough power for most needs, as well as excellent refinement, from the engine in general as well as the silky-smooth 8-speed transmission. We just believe that the torquey and more efficient turbodiesel better suits the likely owner profile and driving character of the vehicle.
See the Discovery's advanced towing tech in the video below...
Ride & Handling?
Any concerns that the new Disco's Range Rover Sport-derived underpinnings have radically altered the driving experience are dealt with convincingly within the first few minutes behind the steering wheel. As before, the driver is always reminded of the Discovery's size and height, and the trademark Discovery sense of "superiority" is therefore very much intact. It also "feels" similar to the previous car in the way that it responds to inputs, either via the steering wheel or the throttle pedal.
The steering may perhaps feel a smidge lighter than before, and the Land Rover arguably feels less top-heavy in the corners, but it comes across much more as an improved/refined Discovery 4, than a Range Rover Sport with different suspension and drivetrain settings. That's a compliment, by the way...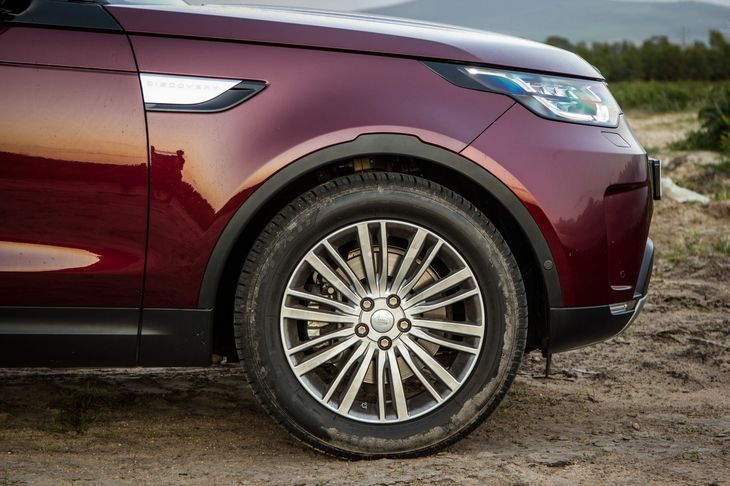 20-inch wheels are standard but buyers can also choose 21- or 22-inch optional rims.
In HSE specification air-suspension and the high/low-range transfer box are included as standard, but Terrain Response 2 and ATPC (All-Terrain Progress Control) are optional extras. Don't confuse Terrain Response 2 for a replacement for the well-known Terrain Reponse system, which is still offered as standard (with Rock Crawl mode) and allows the driver to manually select the appropriate mode for the upcoming terrain. Terrain Response 2 simply automates the selection. Even without ATPC and Terrain Response 2 there's little that will trouble the Discovery when it sojourns off the beaten track.
Then again, it's not so much the fact that the Discovery can overcome such obstacles, but the manner in which it does it that is so deeply impressive. With the correct settings selected and the ATPC set at a steady low speed, the Discovery will crawl over or through whatever comes its way, while the occupants of its 7 seats can relax while ensconced in the lap of luxury, merrily oblivious to the machinations of the immensely capable vehicle in which they're being transported. Land Rover claims a ground clearance of 283 mm (up by 43 mm) and a highly impressive maximum wading depth of 900 mm (an increase of 200 mm).
See more detail on the various off-road systems in the Land Rover-supplied video below:
The air suspension has another benefit... you can stand behind the vehicle and at a press of a button lower the rear end to easier load items in the luggage area, or to make the hooking-up of a trailer easier.
Ultimately, the Discovery 5 drives (on- and off-road) just as fans of the previous models would expect. Refined and quiet, it makes for a great long-distance touring vehicle. On gravel, it is arguably without peer, with its air-suspension, cabin insulation and various safety and comfort-boosting tech making it impervious to surface changes.
Pricing & Warranty
The Discovery Si6 HSE's base price is a heady R1 273 502, which includes a 3-year/100 000 km warranty and 5-year/100 000 km maintenance plan. HSE specification includes the following items as standard: electrically adjustable front seats (driver's with memory), 20-inch alloy wheels, LED headlights, Meridian sound system and Navigation Pro, detachable tow bar, electronic air suspension, twin-speed transfer box (high/low range), auto lights/wipers, 3-zone climate control, reverse-view camera, front/rear PDC, keyless entry, cruise control and a powered tailgate, amongst other items.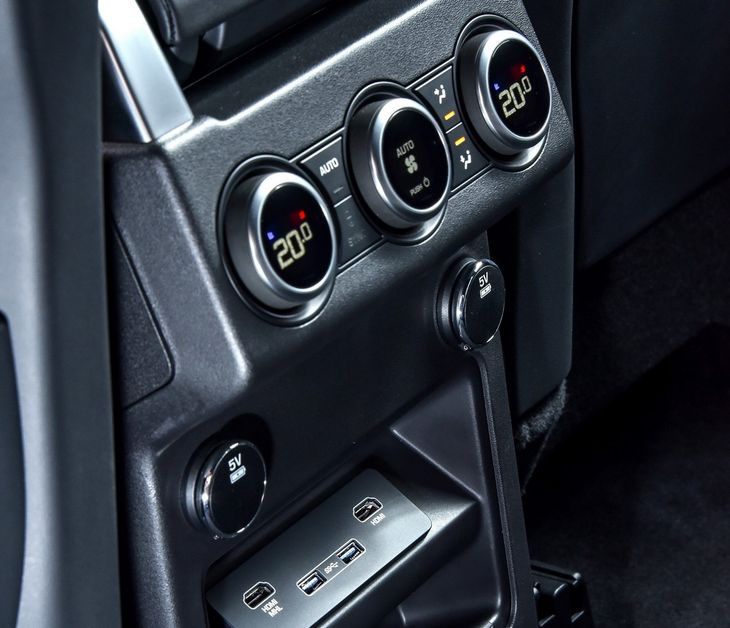 4-zone climate control and several rear-seat entertainment options are available.
The options list is littered with attractive features, however, and we believe some should have been standard at HSE level, especially given the vehicle's high purchase price. For one, 7-seater versatility is core to Discovery appeal but costs R21 800. If you want the ability to electrically fold those seats (2nd row included) remotely, then that'll be another R22 100. The Discovery is a big vehicle and therefore tricky to park... so you'll probably want Park Assist. That'll cost R19 200, but excludes the 360-degree surround view which you must then also specify for an additional R5 400. Want to really use your Discovery's off-road ability to the fullest? Then you'll have to get the Capability Plus pack (R26 800) which includes Terrain Response 2, an active rear locking differential and ATPC (All Terrain Progress Control).
So, while you ultimately have the freedom to "build" your Discovery to your very specific needs, it does rapidly escalate the Land Rover's already heady price very quickly. We spent some time on the Land Rover configurator and managed to build an HSE specification Discovery that would cost significantly more than R1.7 million!
Verdict

Overall, the Discovery 5 remains the most versatile luxury SUV one can buy. The manner in which this newcomer seamlessly blends the roles of practical family tourer with status SUV, genuine off-roader and refined all-rounder is just about priceless, which just about justifies its hefty price tag. We'd humbly suggest, however, that the buyer's speccing journey should start with the Td6 derivative, which offers an engine more in tune with the overall character of the car, as well as greater efficiency.
You may also be interested in:
Land Rover Discovery goes hardcore with SVX
Land Rover Discovery (2017) launch review
Facelifted Mercedes-Benz GLS revealed
Volvo XC90 T8 Twin Engine Inscription (2016) Review
Looking for a new / used Land Rover Discovery to buy?