The new Mercedes-Benz G-class has been revealed at the 2018 Detroit Auto Show! Take a look at the details...
We've been fortunate enough to experience the Mercedes-Benz G-Class in a multitude of hardcore scenarios, but the pinnacle has to be the near-impassable mountain track known as the Schockl in Austria. Of course, it just has to be the testing ground for these road-legal tanks too. The 5.6 km route up a 1 445 metre mountain features tough 60% gradients and lateral inclinations of up to 40%, making it a critical test for only the toughest of off-road vehicles. To allay fears that it's watered down, the Germans have gone up and down the mountain repeatedly, to the tune of 2 000 km. 'Benz claims it does the route with 'noticeably more control and comfort.'

It could be called the most hardcore offroad vehicle in Merc's arsenal, perhaps only surpassed by the iconic Unimog, but the goal for the new G-Class was to make it even more potent when it comes to the dirt. Due to standard ladder-type frame setup, the three 100-percent differential locks and low-range off-road 'box, the new G-Class is a potent rock climber. The new suspension is a combined effort from Mercedes-Benz G GmbH and Mercedes-AMG GmbH, and comprises an independent suspension with a double-wishbone front axle in combination with a rigid rear axle.
Offroad Capability
Slope climbing ability of up to 100% on suitable surfaces
Ground clearance between the axles, 241 millimetres, plus 6 millimetres maximum fording depth now 70 centimetres in water and mud passages, plus 10 centimetres
Driving stability at angles of 35°, plus 7°
Angle of departure: 30°, angle of approach: 31°, plus 1°
Breakover angle: 26°, plus 1°
Suspension travel: Front axle: Spring/rebound travel of 85/100 millimetres; rear axle: Spring/rebound travel of 82/142 millimetres
The new Mercedes-Benz G-Class now features an offroad mode called G-Mode which comes into play as soon as one of the three diff locks or low range has been activated. G-Mode will then 'adapt the adjustable damping of the chassis and the steering as well as the accelerator characteristic which avoids unnecessary gearshifts and ensures maximum off-road capability.'
Key styling details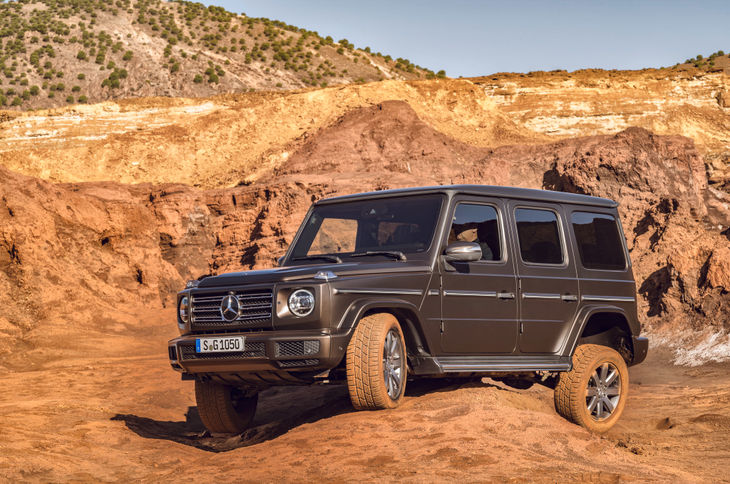 The latest iteration of the G-Class retains its iconic offroad ability but now offers more comfort and technology.
Mercedes-Benz has retained the familiar boxy shape of this latest iteration but it stands 53 mm longer and 121 mm wider than its predecessor. It's also some 170 kg lighter due to the use of aluminium. The new G-class wears a familiar grille which is complemented with newly-shaped round headlights while the bonnet takes on a more sculpted, refined look. The new rounded front bumper adds to its front-end design while also improving aerodynamic performance. The rear-end features a new taillight design and a spare wheel is still mounted on the tailgate. Overall, the new G-Class looks far more sophisticated.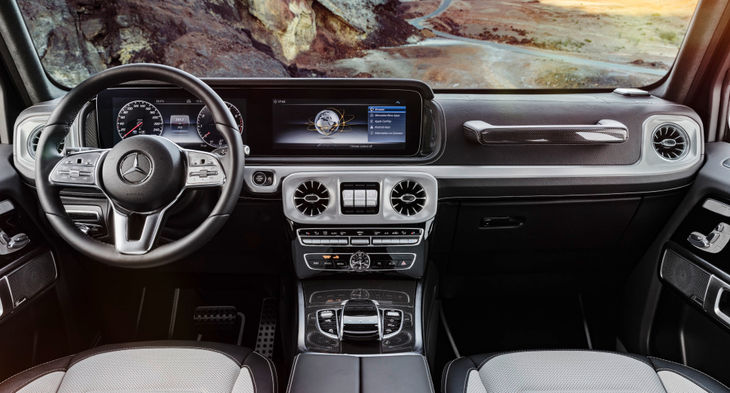 The interior of the G-Class has been redesigned and features a host of new technology including a Widescreen Cockpit.

The interior, however, is where the most significant change has taken place. The cabin design is new, yet familiar, and the G-Class is kitted out with premium materials such as metallic accents, wood and carbon fibre finishes. Perhaps the most noticeable feature is the Widescreen Cockpit, much like that seen on the E-Class and S-Class, which comprises two high-resolution 12.3-inch screens making up the instrument cluster and infotainment system. The G-Class is also fitted with a new steering wheel, heated seats, 7-speaker sound system and a host of new storage compartments for added convenience.
Thanks to its larger footprint, the G-Class also offers improved space for passengers as well as reduced NVH, making it far more comfortable than the model it replaces. Rear passengers now benefit from an additional 150 mm of legroom, which is substantial. As you can expect, a wide range of options are on offer for the G-Class and some key options include a 16-speaker Burmester surround sound system, designo leather upholstery, heated seats with ventilation and massage function (Active Multicontour Package) and Nappa leather interior finishing as part of the Exclusive Interior Plus Package.
Engine Power
The new G-Class (G500) will be powered by a 4.0-litre V8 engine at launch that develops 310 kW and 609 Nm of torque in conjunction with a new 9-speed automatic transmission which has been calibrated specifically for the G-Class. Fuel consumption is claimed at 11.1 L/100 km.
The new G-Class can be expected in South Africa later in 2018. Naturally, we will keep you updated when local specification and pricing details become available.
Buy a Mercedes-Benz G-Class on Cars.co.za
Watch the new Mercedes-Benz G-Class in action
Related Content
New Mercedes-Benz G-Class Interior Shown
Mercedes-Benz G-Class Bakkie Spied
Five Questions: Klaus Hartmann (Mercedes-Benz G-Class)
Update: Mercedes-Maybach Reveals G650 Landaulet (Video)
Mercedes-Benz E-Class 4x4² All-Terrain Might Actually Happen