Toyota South Africa Motors (TSAM) has invested in the expansion of its Hiace Ses'fikile production process at the brand's Prospecton plant in Durban.
The Minibus taxi industry is an important cog in the wheel of the South African economy with approximately 15 million commuters relying on taxi transport every day. The local taxi industry's annual turnover is in the region of R90-billion and employs approximately 600 000 people.
The Toyota Hiace has a long history in South Africa with its lineage spanning 5 generations since 1977.
The Hiace Ses'fikile is built at Toyota's Prospecton plant in Durban and the Japanese automotive giant has entrenched its commitment to Hiace production by announcing a R454-million investment at its production facility that will ensure increased local content, more jobs and a larger contribution to the economy.
Andrew Kirby, President and CEO of TSAM, made the announcement last week, alongside Minister of Trade, Industry and Competition, Ebrahim Patel.
"In terms of the South African Automotive Masterplan (SAAM), local automotive value addition needs to be exponentially increased. TSAM is committed to support the SAAM and has therefore proactively increased the local value addition of the Hiace Ses'fikile from 38% to 44%. This localisation has added R422 million per annum local value addition to the economy. Even more encouraging is the fact that we've been able to create an additional 80 jobs in the process." says Kirby.
This latest investment combined with Toyota's initial investment in 2012 totals over R1-billion and production volumes has increased by as much as 37% from 9 300 units to 14 000 units per annum. Demand for the Hiace Ses'fikile has now grown to 15 000 units per annum and Toyota is responding by deepening localisation which will secure affordability of the Hiace in the future.
Minister Ebrahim Patel commented, "Since TSAM's localisation programme began, more than 80 000 taxis have been assembled locally by Toyota. If each of those taxis opened their doors to commuters right now, more than a million South Africans would be able to climb in. The increased level of local content is an important part of the 2035 vision for the industry and will increase the participation of more South Africans in this thriving sector of the economy".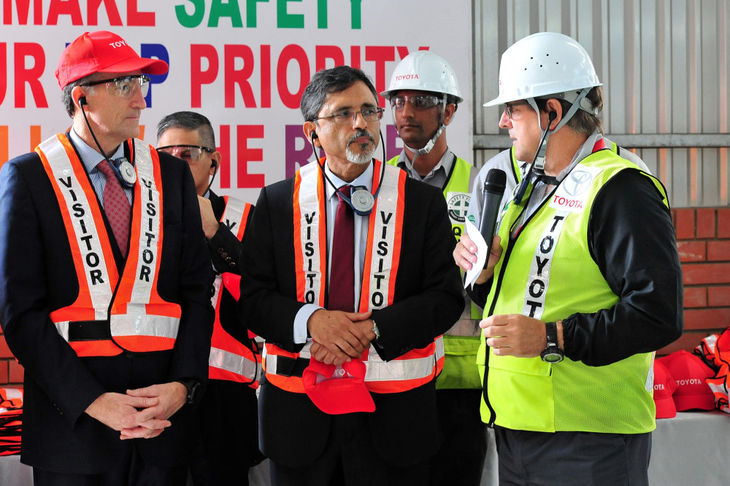 TSAM CEO, Andrew Kirby and Minister Ebrahim Patel enjoy a plant tour at Prospecton, Durban.
As part of Toyota's commitment to the industry, the brand supports the Safe2School, Safe2Home project which focuses on improving transport for learners by educating drivers, learners, teachers and parents about road safety. The project is said to impact 120 drivers and 6 800 learners in 24 schools in KwaZulu-Natal.
In addition to this, Toyota also runs a Taxi Education Programme which aims to empower taxi operators by providing business, leadership and entrepreneurial skills. So far 600 taxi operators have benefitted from the programme with another 645 planned over the next 2 years.
Toyota also took the opportunity to announce the start of its export operations to support the local assembly of the Toyota Hilux bakkie in Kenya. Toyota invested close to R20-million to establish a packing facility that prepares the Hilux knock down kits for export. Kenya will begin local build of the Hilux in October 2019 and Kenyan consumers will now benefit from competitive prices.
Buy a new or used Toyota Hiace Ses'Fikile on Cars.co.za
Related Content
Toyota Hiace Ses'fikile (2019) Specs & Price
Toyota Quantum (2019) Specs & Price
Toyota's new Quantum – SA's motoring future?