Toyota has announced pricing and specification details for its new Quantum minibus and panel van. Here's how much the new model costs.
The new looks of the latest Quantum have been quite polarising. Not everyone has taken to it, but given how much reliance is on these vehicles to ferry the working class to their jobs, looks probably feature low on the list of priorities. What's new, you ask? There's a new engine, extra convenience, more cargo carrying capacity and additional safety features.
Physically, the overall length and passenger space has increased and there's a bit more leg room and Toyota claims improved seating comfort. At the front, the GL Bus derivative receives some chrome splashings as well as LED daytime running lights, fog lights and colour-coded bumpers. There are also 16-inch steel wheels, as well as new large mirrors which are power retractable on GL spec. There's a choice of 3 colours (Ivory White, Quicksilver Metallic or Light Blue Metallic) for the bus, with the utility-focused panel van and crew cab variants are offered in Ivory White and Quicksilver Metallic.
The new Toyota Quantum range
Quantum Bus

Quantum 3-seater Panel Van

Quantum 6-seater Panel Van

2.8 LWB GL Bus 11-seater
2.8 SLWB GL Bus 14-seater

2.8 LWB Panel Van 3-seater
2.8 LWB Panel Van 3-seater (AC)
2.8 SLWB Panel Van 3-seater
2.8 SLWB Panel Van 3-s (AC)

2.8 LWB Crew Cab 6-seater
2.8 LWB Crew Cab 6-seater (AC)
2.8 LWB Crew Cab 6-seater (Front & Rear AC)
Powerplant
New for 2019 is the addition of a 2.8-litre turbocharged diesel engine which delivers 130 kW and 420 Nm. This engine is available for the vans and 11-seater bus, while the 14-seater bus engine proves 115 kW and 420 Nm. All derivatives have a 6-speed manual transmission.
Other changes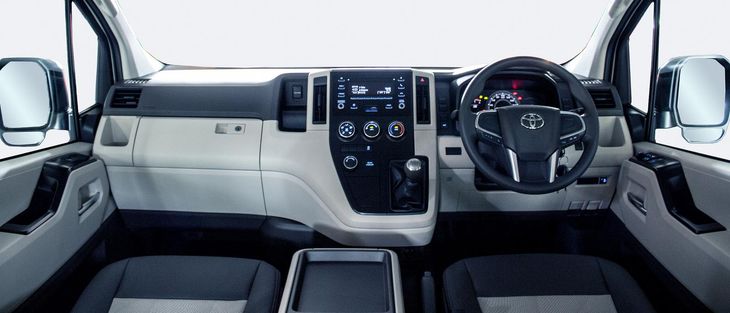 The sliding door width has been increased by 70 mm, making it easier to get in and out, while the sliding door on the panel van has been widened to accommodate Euro-sized pallets to be loaded. Another nice convenience feature is the high-performance air conditioner which provides cool air to the rear passengers.
In terms of safety the new Toyota Quantum boasts Anti-Lock Braking System (ABS) with Electronic Brake-force Distribution (EBD) as well as Vehicle Stability Control (VSC) and Hill-Assist Control (HAC). For those who do a lot of towing, the new Quantum now features Trailer Sway Control (TSC) which will automatically detect excessive movement of the trailer and uses the brakes and engine power to help reduce it, keeping you in control. There are also driver and passenger airbags.
The current 16-seater Ses'fikile Commuter is to be renamed Hiace and continue to be assembled on the current Quantum platform at the Toyota plant in Durban. The Hiace Ses'fikile will retain the 2.7 litre petrol and 2.5 diesel engine and drivetrain.
Toyota Quantum Price in South Africa (May 2019)
All Quantum models come with a 9-service/90 000 km service plan with service intervals set at 12-months/10 000km. Toyota's standard 3-year/100 000 km warranty is also provided.
Quantum 2.8 LWB GL Bus 11-seater R 597 700
Quantum 2.8 SLWB GL Bus 14-seater R 613 500
Quantum 2.8 LWB Panel Van 3-seater R 473 900
Quantum 2.8 LWB Panel Van 3-seater (AC) R 481 400
Quantum 2.8 SLWB Panel Van 3-seater R 509 500
Quantum 2.8 SLWB Panel Van 3-seater (AC) R 517 000
Quantum 2.8 LWB Crew Cab 6-seater R 482 600
Quantum 2.8 LWB Crew Cab 6-seater (AC) R 490 100
Quantum 2.8 LWB Crew Cab 6-seater (Front & Rear AC) R 495 600
Hiace Ses'fikile 2.7 16s R 419 100
Hiace Ses'fikile 2.5D 16s R 444 200